The article has been automatically translated into English by Google Translate from Russian and has not been edited.
Woman-borscht-decree: why working mom always looks bad in the eyes of others
How to find a balance between leisure with a child and night meetings and stop worrying about what others think of you, writes Valeria Kasamara especially for Forbes Russia.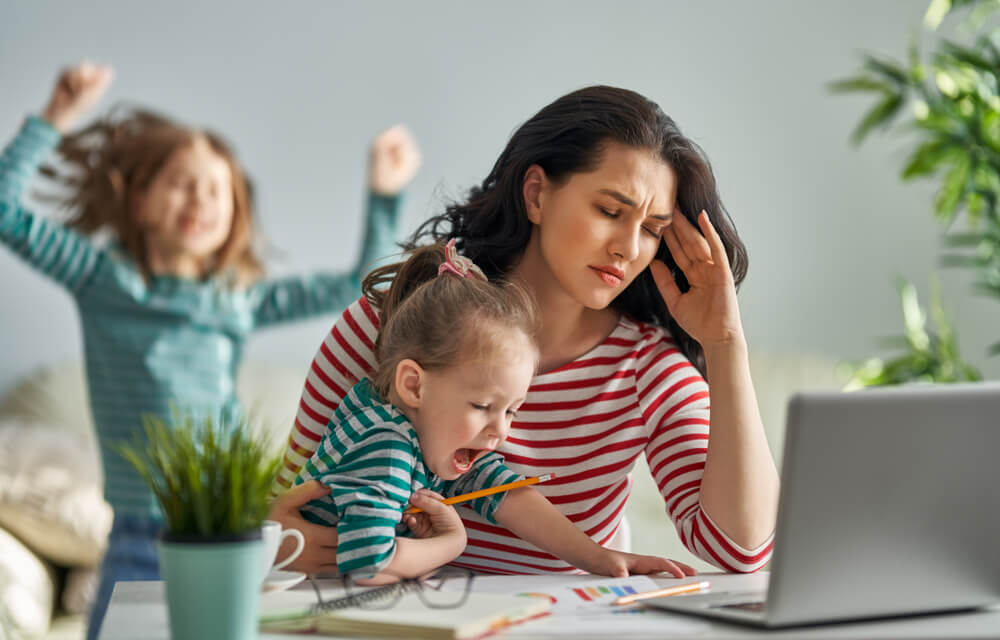 The most important thing that I understood from my three-time experience of motherhood: no matter what you choose, breastfeeding or using formula, sleeping together or separately, getting or not vaccinating - in the eyes of relatives and friends, you will still be a bad mother.
Similarly with the decree. If a woman takes leave to care for a child, then after a while in the eyes of the public, she becomes a "wedge", if you don't go on maternity leave, and leave for the maternity hospital practically from the workshop, as in my case, then get ready for the stigma "Careerists" and "mothers of echidna". Therefore, my main advice to working moms is to relax and be happy. The last thing you should care about the opinions of others.
Russian society is quite conservative. We still have very strong gender stereotypes: "man-breadwinner" and "woman-borscht-decree."
In European countries, working mothers live much easier. In Sweden, for example, there are so-called "father's days": dad has the opportunity to go on maternity leave with a child for 90 days, but mothers cannot transfer them. If a man does not use this opportunity, then the paid days of parental insurance will simply disappear. This is part of public policy - this approach helps fathers to become more responsible. After all, sometimes the choice of bedtime stories and answers to the child's difficult questions is a far more complicated and important task than the preparation of annual reports and business meetings.
Another reason why European mothers live much easier is the environment "kids-friendly". You can not worry that you are a working mother, because calmly go to work with a child. In large companies and universities, there are necessarily children's rooms where a woman can leave a child with a nanny or come and breastfeed a child. Slings allow babies to be taken at lectures, conferences, or to speak with them at sessions of the European Parliament in Strasbourg, as is the case with MP Lichia Ronzulli, whose daughter did not leave her working mother for a minute.
On the subject: 'Don't Think It's a Paradise for Women': Three Americans on the Life of Working Moms in the USA
A modern working mother is not an exception even for Japan, where for centuries a woman who has been married has become the keeper of the hearth. The Abe government has set itself the task of increasing the number of women in the management of companies. And it really increased. But there is no loosening for women. If you go on leave to care for a child, then you easily lose your place. Therefore, the decree Japanese women take unprofitable. Private kindergartens are helping out, which take children from birth and work until mother comes home from work. A working woman in Japan and a private kindergarten are a sign of elitism. Therefore, no one spreads rot to himself for "sacrificing motherhood."
A working mother is a global trend, and she will definitely not pass over Russia. Therefore, do not worry that you do not pay proper attention to your child, remember, the main thing is not quantity, but quality. Let you be banned for work hours when you give up the laptop and phone and belong only to the child. Evening tale, joint breakfast, Sunday trips to the theater. So tell your colleagues: I'm sorry, but I am a "Sunday Mom" and I have a "Kolobok".
If your work allows, do not be afraid to take the child with her. Sometimes it's for kidsоmore happiness than going to the circus or the zoo. A working printer, office organizers, shelves with books can be much more exciting than a Montessori room.
But a lot depends on the child. There are children calm, but not very much. A three-year-old can quietly draw in a corner while you are in a meeting, or maybe smash your office to the ground. Someone is willing to put up with a bottle, and someone takes only the chest. Therefore, there are no universal recipes here, and in each specific case you will have to look for an option that will suit you, and most importantly, your baby. It may be more convenient to leave the baby at home, and to go to work with your new friend - the breast pump. My second daughter was from the category of antiblocs. Therefore, they accompanied me to work, to a conference abroad, and to Ostankino with a nanny or grandmother, when I was invited to the broadcasts.
On the subject: Who was the mother of Princess Diana and why did she abandon her children
And most importantly, you must be sure that you enjoy your job and bring happiness. Probably, only in this case it will be possible to combine career and motherhood.
A recent study by Kaitlin McGin, a professor at Harvard Business School, found that the daughters of working moms in adulthood are more successful than their peers, whose mothers were housewives. According to researchers, mothers influenced daughters by their example.
My younger children, without tears, accompany me in the morning, because they understand that work is important, and my mother does not give up on them, just have to wait. I realized that it was more natural and comfortable for me to be a working mom, because only in this way can I be happy. Developing myself, I can give more to my children. But I stress that everyone has their own way. Someone likes to sit with a child at home, walk with him, draw, sculpt. I admire such people, because modeling for me is a nightmare, much worse than a night meeting.