The article has been automatically translated into English by Google Translate from Russian and has not been edited.
Petrosyan's wife explained why she named her son Vagan and what this name means
And she told about the character of the baby, writes "Letidor".
The famous pop artist, humorist writer and TV presenter Yevgeny Petrosyan and his wife Tatyana Brukhunova became parents in the spring of 2020.
They had a son, whom they named Vagan. The artist's wife on the Instagram social network was often asked why they chose such a name for the boy.
Tatyana Brukhunova explained their decision to the subscribers. She also talked about the character of the baby. The star mom believes that she gave the correct name to the child.
On the subject: 'I did not want to jinx it': why was Petrosyan's son hidden from Stepanenko for six months
"Vagan. That is my son's name. More often than others, I read here the question: "Why did you choose such an unusual name?" I answer. Translated into Russian from Armenian, it translates as "Shield" (under protection). Today I see that we have chosen the most correct and strong name for the boy, "noted the wife of Yevgeny Petrosyan.
"A real man, no whims, whose day begins with a disarming smile, stubborn and persistent, but one with whom you can always negotiate. I dream that Vagasha will grow up like his grandfather, after whom he was named ", - shared Tatyana Brukhunova (spelling and punctuation preserved).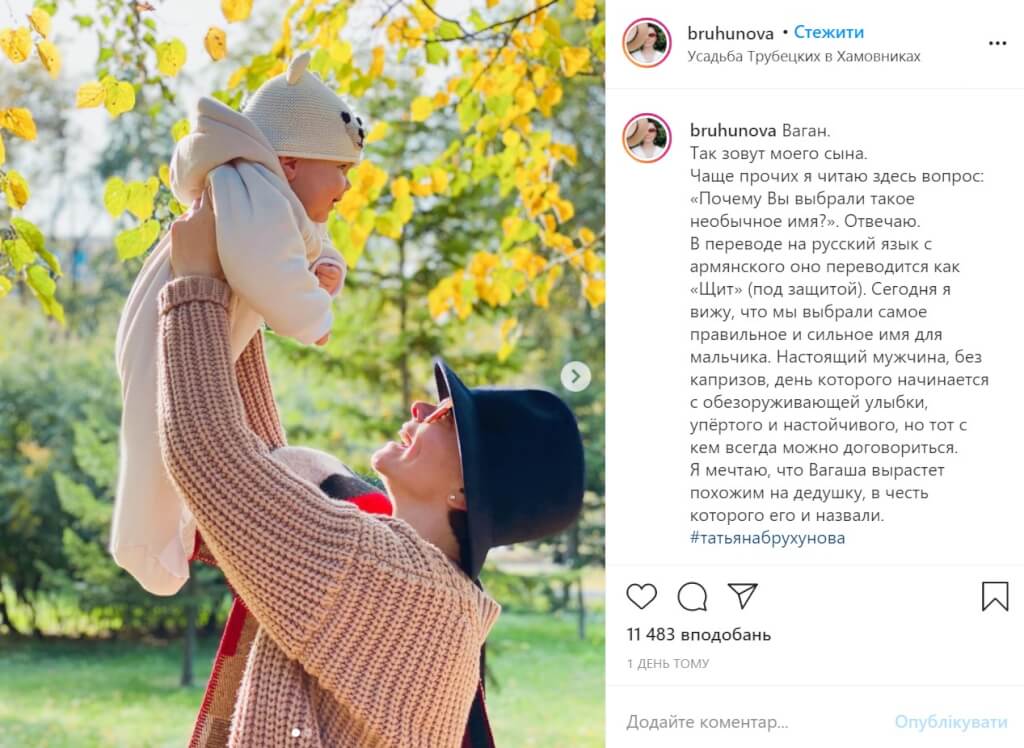 By the way, the couple carefully concealed the birth of their son. The artist's wife did not publish a photo with a rounded belly in her personal blog. Then there were rumors that the baby was born with the help of a surrogate mother. However, the humorist's wife recently denied them.
By the way, the star couple does not advertise their personal life. Evgeny Petrosyan and Tatyana Brukhunova practically do not publish joint photographs and do not devote touching posts to each other on social networks. It is not surprising that the spouses did not report anything about the addition to the family for six months.
On the subject: She hid her belly and published archival photos: Brukhunova said that she herself gave birth to a child to Petrosyan
Recall that the humorist has a daughter from his first marriage. The quiz is 51 years old. She gave her dad two grandchildren: Andrey and Mark. With his fifth wife, Tatyana Brukhunova, the artist officially formalized the relationship in December 2019.