The article has been automatically translated into English by Google Translate from Russian and has not been edited.
'I'll kick my hooves if she doesn't say yes': 12 facts about the love story of George and Amal Clooney
How to win the most important bridegroom of Hollywood? Amal Clooney knows for sure, writes the author of the channel "Lilith magazine" on "Yandex.Zen". Here are 12 facts about the life of the beloved woman, George Clooney, and the novel of a famous actor with an equally famous human rights activist.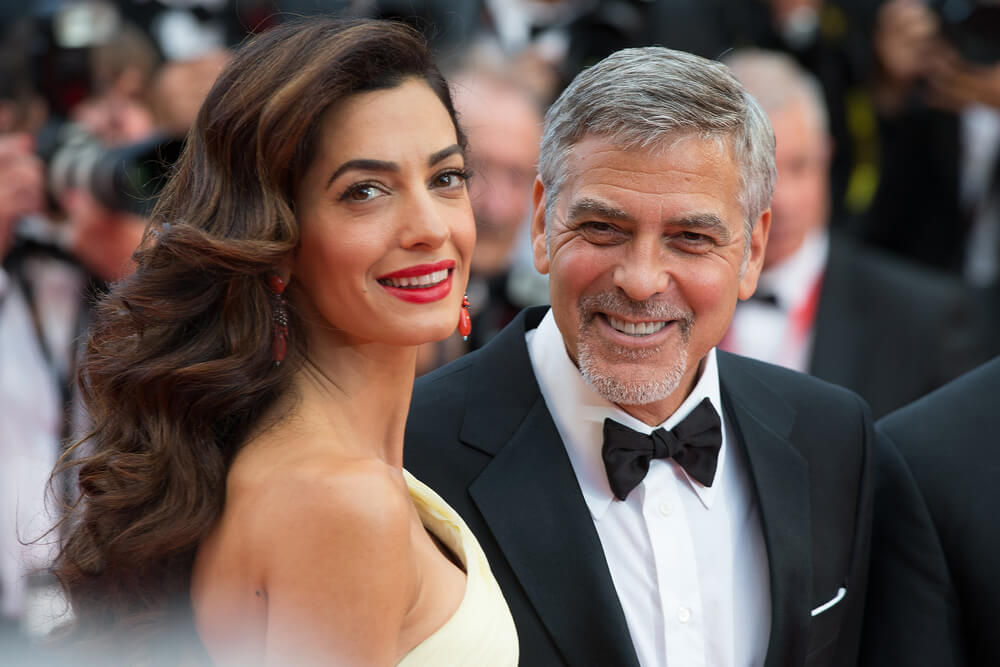 1. She was born in 1978 in Lebanon in an intelligent and wealthy family: father Ramzi Alamuddin taught at the university, founded a travel company. Mother worked as an editor in the influential Al-Hayat, founded the PR company ICE.
2. From two years she lived in the UK, in the "green county" of Buckinghamshire. She went to a prestigious school for girls, then to Oxford College, where she received a scholarship and was even awarded an academic prize.
3. Then - the University of New York, again an award for excellent studies and part-time trainee in a law firm.
4. She worked at the UN International Court of Justice in The Hague, was an adviser to UN Secretary General Kofi Annan.
On the subject: The Way to Happiness After Treason: A Love Story by Sarah Jessica Parker and Matthew Broderick
5. In 2010, Amal returned to London and worked at the respectable law firm Doughty Street Chambers, where her clients were Julian Assange, the founder of the Internet resource WikiLeaks, sensational for its high-profile political revelations, former Prime Minister of Ukraine Yulia Tymoshenko and other celebrities.
6. One fine July evening in 2013, George Clooney was sitting in his villa on Lake Como, Italy. A friend called and said that he would drop by on a visit with his friend Amal. Next, the agent's agent called and said that he was already aware of who was going to him, he saw this "acquaintance", and was sure that she would become Clooney's wife. At the same time, Clooney was visited by his parents.
7. "I thought - oh, and she is beautiful, funny and very smart," - described his impressions of the first meeting of Clooney. After that, they corresponded for six months by email.
8. In April 2014, he invited her to a romantic dinner by candlelight. She flew in from London, they ate pasta, drank champagne. George was already preparing to utter the cherished words, but Amal suddenly decided ... to wash the dishes! And when Amal returned, he said casually: "There, behind your back, is a lighter in a chest of drawers, please get it." Amal opened the drawer and saw the ring.
9. Clooney describes: "She says:" There is a ring. " As if someone there forgot it. Well, I, as expected, knelt down and said that I could not imagine my future life without her, and let her rather say "yes", because I'm already 52 years old, and I can kick back if she doesn't say "yes ". He was incredibly happy when Amal said: "My God ... Yes!"
10. The design of the ring seems to have been invented by Clooney himself, and this jewelry masterpiece with a huge diamond cost him 750 thousand dollars. However, the bride very soon said that she, a lawyer and a human rights activist, could not afford to wear such an expensive thing at work and attract unnecessary attention. Then I went to the nearest Cartier store and bought myself a modest platinum ring for a replacement. George fully endorsed the bride's choice.
On the subject: Between Russia and America: a love story of Igor Krutoy and his wife Olga. PHOTO, VIDEO
11. At the end of September 2014, the luxurious Aman Canal Grande Hotel in Venice began hosting celebrity guests. 1980s supermodel Cindy Crawford with her husband, groom's best friend Matt Damon with his wife, fashion trendsetter Anna Wintour, rock star Bono and other celebrities gathered for a walk at the wedding of Amal and George.
12.On June 6, 2017, Amal gave birth to twins - a son, Alexander and a daughter, Ella. And after a while she returned to the practice of law, is engaged in charity work, is friends with Meghan Markle and other celebrities.
Original published on channel "Lilith Magazine" on "Yandex.Zen"
ForumDaily Woman is not responsible for the content of blogs and may not share the views of the author. If you want to become the author of the column, write to us - woman@forumdaily.com.