The article has been automatically translated into English by Google Translate from Russian and has not been edited.
'I found my calling - to help people': how an immigrant from Siberia became a firefighter in Miami
Each of us is trying to find our life calling. Some choose a specialty at the behest of their parents, while others want to build their own destiny, despite the many obstacles in their path. As part of a series of interviews from Miami, Maria told the portal The vmeste about her move to America and how she came to the fireman profession.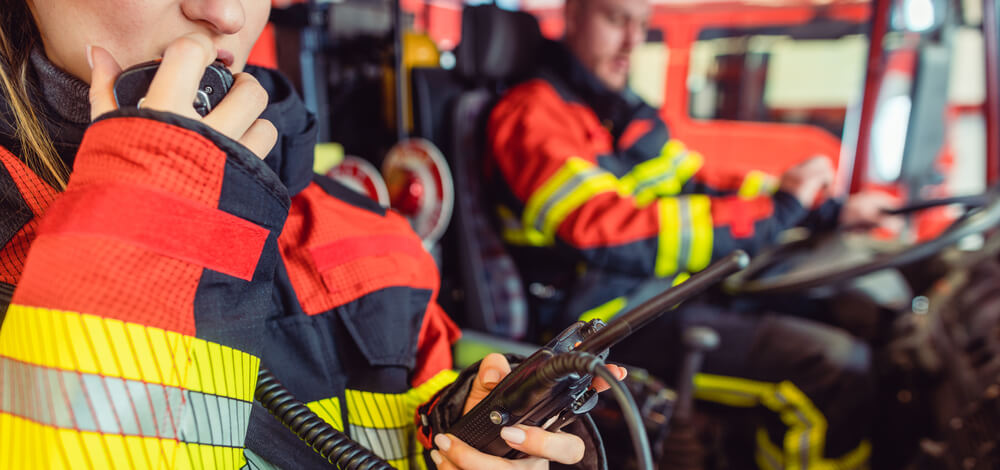 - Masha, tell me how your journey to the USA began?
- I came to America in 2010 from Siberia, from the city of Omsk. I went to New York for 3 months under the Work and Travel program. Then she decided to stay and get an education at Kingsborough College in Brooklyn. But I quickly realized that I see no reason to continue studying. By that time, I already knew English perfectly, so studying was no longer a priority goal. I ended up living in New York for five years.
- What have you been doing all these 5 years?
- They were quite saturated: during this time I managed to get married and get a divorce, changed many places of work: a dental office, a company selling windows and doors, various salons - wherever I went. I learned a lot and during this time I understood what I want from life.
- And when I was traveling, what were your plans, what did you want from America?
- Independence, which was not in Russia. All I needed was freedom from my parents. When I realized that I could do what I wanted, and plunged into the sea of ​​impressions that New York gave at that time, I decided to stay. I consider myself lucky with my parents. When I was leaving, they said: "You're doing well, try. If it doesn't work out, we'll wait for you at home." I am grateful to them for this support.
- And why did you divorce your husband, if not secret?
- Tired of constant beatings and total control. It was such a toxic relationship that I was exhausted both mentally and physically - I weighed only 38 kg. She regularly ended up in hospitals, endured threats towards herself and her parents. Divorce at that time was the only way for me to survive. According to my story, you can write a script for a film (laughs). Then I left New York for Miami - to start life anew.
"Tell me why you chose Miami for your new life."
- Of all the cities in America, this one turned out to be my favorite. I realized that I love the sun too much to stay in gray depressive New York with its frantic pace of life. When I wake up, the state of happiness, peace of mind and good mood is important for me - this is what I found in Miami.
"Does Florida not relax you?"
- Not at all. I am not a beach person, especially since my house is far from the beach, in a real stone jungle. This is the right balance for me.
New Yorkers go to Miami when they want sun. Do you have a desire to change the climate, and if so, what do you do for this?
- Sometimes there is not enough snow, snowboarding - then I fly to Russia. In Miami, the heat is all year round and, of course, you get tired of this monotony. But to change the situation, it is not necessary to travel far. Sometimes I get out to the northern part of Florida. There is a completely different atmosphere.
- You moved to Miami to someone?
— No, I just packed my bags and flew alone. At the same time, I was not even 100% convinced that the conditions in which I would have to live are suitable for me. I just found an apartment online, looked at the photos, paid and arrived.
"Are you so good here that you're ready to stay forever?"
- At the moment, Miami is number 1 city for me. This is my house. But I do not know how life will develop further, who will be my soulmate or what proposals will appear. If there is no other way out than moving, I will do it with pleasure.
- That terrible situation with a failed marriage somehow influenced your future life?
— Yes, this stress is still with me. When starting a new relationship, I am afraid that something will go wrong, even if everything is perfect, I am constantly looking for some kind of catch. But it seems to me that it was thanks to this story that I found my calling - to help people. Not everyone decides to go to work as a firefighter.
On the subject: "Want to know who you are - go to America!": How a Russian woman created a successful business in Los Angeles
- Since you've started talking about this, tell me how you came to your profession?
- Once, while walking with a friend, we rented a scooter. We rode around, had fun, but suddenly a small accident occurred, the scooter crashed and rescuers arrived at the scene. The situation was not at all complicated, so we got off only with fright and phone numbers from the guys who came to the rescue. Friendship was made, I learned more and more about this area, and then another incident occurred, which became the impetus for determining my future profession.
I drove home behind the wheel and an accident happened before my eyes. No one was there, and I had no other choice but to stop and try to help. There were two girls in the car, one of whom was shocked by what had happened, and the second was unconscious. I called 911, I was praised for the prompt reaction. And after that I began to ask my new friends about how to get into this area.
- And how did your parents react to such a decision?
- The reaction was quite expected. It's just that at first I graduated from a journalism course - and here there is such a sharp change in occupation. Dad even asked: "So, maybe you'll still join the army?" No kidding, I even considered this option. But under the contract, I could not travel, and I can not do without it.
- What attracts people in this area - adrenaline, a desire to help or a good social package?
"Getting a place is not easy. To do this, you need to go through a serious selection. Of the approximately 15 applicants, only 000 people a year are taken. It attracts that you need to work only 800 days a month: a day in two or three. This is a great opportunity to spend time traveling. And the salary is decent - from 8 to 45 USD per year. But there are also negative points. When a child gets into trouble, it is very difficult psychologically, especially for such emotional people as I am. You must be able to calm the baby, parents and maintain composure.
- Are there many girls in the ranks of firefighters?
- Very few, and those that exist look courageous enough, so I don't know how to fit into such a team. Everyone tells me that I'm small, fragile and beg to gain weight. Often help if something fails. More, of course, under the pretext of a date, but I categorically reject such proposals.
- Please tell us in more detail about the difficulties that beginners experience when studying in your specialty.
- To be a firefighter, you first need to finish EMT - Emergency medical technician. This helps to learn how to provide first aid. Now I'm just finishing a five-month course and will pass the exam. The most difficult at first were the subtleties of terminology. The course allows you to work in a hospital or ride an ambulance anywhere in America. EMT provides basic knowledge, after which you can become a doctor. But I want to go to the Fire Academy. To do this, you need to undergo training and pass a physical exam. This is the main difficulty now, but I'm sure I can handle it.
- Are there difficulties in organizational matters? Documents? Checks?
- Not really. The main thing is to have a Green Card and provide a diploma. No tests are required in individual subjects.
"And you never regretted choosing such a profession?"
- I am a person who quickly loses interest in classes, routine. But in this area everything seems fascinating and something new happens every time. I have goosebumps when I see that a person needs help, and I realize that I really can help. This is what we and the team are doing in practice. Practice takes place in the hospital, sometimes we go by fire truck.
- Are there challenges for some stupid reasons?
- Certainly! Sometimes people call for services under the pretext of feeling unwell. We arrive, and the man asks for a bottle of water. There are also more curious cases. For example, a recently elderly man was unable to remove his genitals from a hole in his chair. I have a feeling there will be more!
- What do you do in your free time?
— I am a big book lover: I read both Russian and English equally a lot. I like to dance. Now I focus more on sports in order to prepare for physical training. To improve endurance, I do kickboxing with a trainer. I am confidently moving towards my goal and I am not going to stop there!