The article has been automatically translated into English by Google Translate from Russian and has not been edited.
'I was a dirty secret': the poor secret son of a millionaire achieved the truth and money after his father's death
Jordan Adlard spent his childhood in a poor nomadic community that lived in trailers and enjoyed cockfighting. He did not go to school, he rarely ate hot meals and did not know what a sewage system was. It never occurred to him that his real father was an English aristocrat with a multi-million dollar fortune. "Lenta.ru report»Found out how Jordan achieved the truth and reclaimed his legitimate inheritance.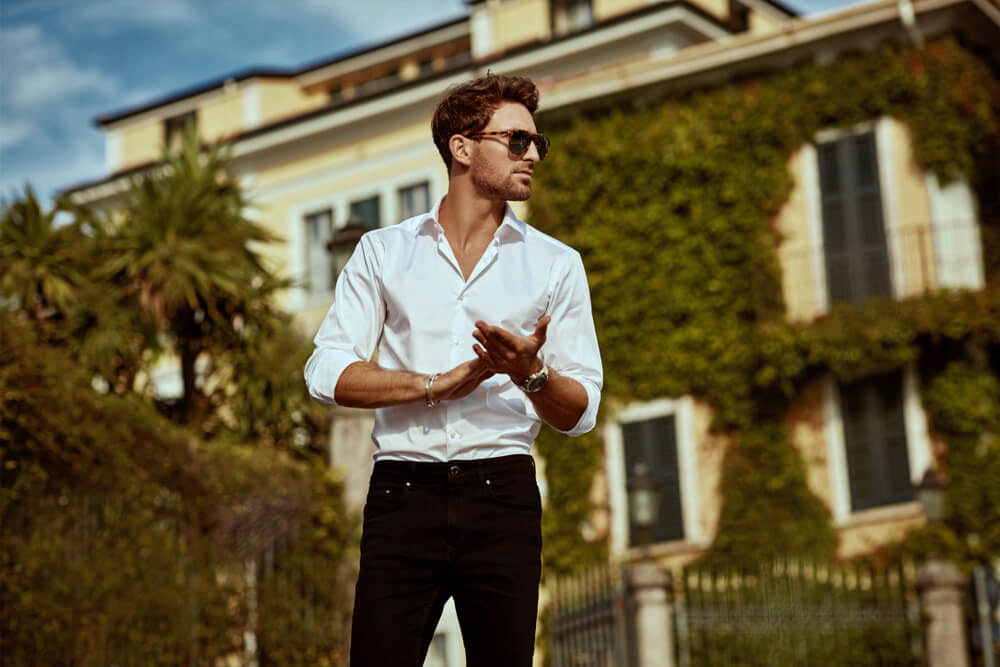 The body of 62-year-old Charles Rogers was found on the third of August, 2018. English aristocrat died in the car, standing on the edge of the ancient estate Penrose, which belonged to his family for more than one century. For three days before his death, he did not appear in public. The last to see him was Philip Keir, an old family friend who ran the Rogers possessions for more than 20 years. Charles did not have a family, so the future of the estate, whose value was estimated at 50 million pounds (62,7 million dollars), was in doubt.
In the middle of the 18th century, the Cornish landlord Hugh Rogers had to pay 11 thousand pounds sterling (13,8 thousand dollars) for it — a monstrous amount in those times. The former owners of the estate have lived there since at least the 13th century. Its first known owner, John de Penrose, was a contemporary of Alexander Nevsky, but this land fell into legend long before it. It housed the famous Loe Lake, over the waves of which, according to Tennyson, the boat with the body of King Arthur sailed to Avalon.
Son Hugh became a member of parliament, was elected six times as mayor of Penrin and was the right hand of the Lord Vicegerent of Cornwall. Other ancestors of Charles Rogers also showed themselves. It was difficult to forget about it: the rows of portraits in gilded frames still adorned the walls of the old mansion. Perhaps that is why Charles preferred to live not there, but in a modest rural house, where it is easier to forget about his own failures. Recently, he often spent the night in the car, so as not to do the cleaning in the cluttered dwelling.
According to the pathologist, the probable cause of death was an accidental overdose of methadone. The doctor, who knew the deceased, confirmed that he had been abusing drugs for many years. Relatives and acquaintances tried to help Charles many times, but it was impossible to pull him into the city. "In fact, I thought he would not last long," Philip Keir admitted at a meeting of the coroner's court, which took place on May 18. "Those who knew him were not surprised at all."
Charles was the last of his kind - at least, so others thought. Keir thought otherwise.
Charles Rogers
The male half of the family traditionally preferred a military career. Charles's father, retired Lieutenant Commander John Peverell Rogers, served half the life in the Royal Navy. Older brother became a military pilot. After college, Charles also joined the army. He was sent to Northern Ireland in the midst of a conflict with IRA separatists. People died almost every day. The young aristocrat wrote letters to his parents in which he shared his fears, and went home as soon as possible.
In 1974, John Peverell Rogers donated most of the objects of historical interest to the National Fund. He set two conditions: his descendants will be able to live in the estate for a thousand years, and Loe Lake will be closed for swimming, fishing and boats. Dumping the care of the land and the ancient buildings onto the state, the Rogers could enjoy life. The managers invested their money in stocks, donated land to farmers, and paid family members several thousand pounds every week.
On the subject: Millionaire died because of the money, but managed to hide the treasure. They are already looking for 20 years
To the displeasure of his parents, after returning from the army, Charles preferred to sit back and made only one attempt to find a job. The young man's sunk was not long enough: he settled on Monday morning, and by lunchtime he quit and returned to his cottage on the edge of the estate. There, Charles spent all day fiddling with motorbikes, letting go of the dreadlocks and listening to the band Jethro Tull. "He was a rather nice young man, but, frankly, a bit worthless," recalls his uncle's wife, Jen Rogers. "A terrible disappointment for his mother, who was so worried about him."
In 30 years, Charles met Julie Adlard - an impulsive 18-year-old girl who lived in the town of Helston near the estate. The novel was short-lived - she did not even tell him about the pregnancy, and three weeks after the birth of the child she married another. Most likely, Charles did not even guess about his son. He had enough of his own problems: just then his elder brother, who suffered from leukemia, died.
Jordan adlarde
Julie called the boy Jordan. When he was four years old, she left her husband for a man who, together with his family and friends, wandered around England in a motor home. This way of life are tens of thousands of people in the UK. In addition to Gypsies, there are so-called Irish travelers among them (the character of Brad Pitt in the film "Big Jackpot" was just one of them) and even the descendants of hippies who abandoned normal life and left to wander in 1970.
"I just started going to kindergarten in Cornwall — and suddenly I was traveling through the countryside with my mother and her boyfriend, Buster," says Jordan Adlard. For the next five years, he rarely ate hot meals, did not use sewage, was cold in cold trailers and barely studied. The boy everywhere felt like a stranger. The children of travelers did not recognize him for their own, and the urban ones were teased because of poor performance.
"I preferred to play with a pneumatic gun or jump on abandoned cars," he says. In the evenings, adult travelers staged cockfights. "Buster was harsh," says Jordan. "My best friend was a dog then, a black Labrador named Jess." One day, my pet attacked some of the Buster birds, and he decided to get rid of him. Once - and all. My dog ​​is no more. "
Jordan began to attend school regularly only at the age of nine. By that time, his mother broke up with Buster and returned to Helston. Now the family lived in a municipal apartment for the poor. The grandmother took the child up. She often took him for a walk to the manor of her father. Then Jordan could not have imagined that the centuries-old oaks and sycamores, among which he ran, belong to his grandfather.
Father and son
When Jordan was ten years old, Julie put him in the car and drove him to the Penrose estate. The door was opened by a well-groomed 40-year-old man in a white shirt and tie. He took the boy into the living room, smiled at him and said: "Your mother and I must talk." "They left, but you could hear her screaming and crying at him," Jordan recalls. "Mom kept repeating:" Can't you see that he is like you? "" The boy did not understand what she was talking about. There was nothing in common between him and the 40-year-old aristocrat.
Charles Rogers agreed to take a DNA sample and check if it was his child, but Julie never did anything. In 18 for years, Jordan put on a suit and went back to the Penrose estate - this time alone. Only eight years have passed, but Charles has changed beyond recognition. He came out in dirty clothes, his head had long disheveled hair, and his face was covered with a disheveled beard. He advised to seek a DNA test through the court and closed the door.
Charles inherited the estate in 2012 after the death of his father. By that time, he had long spat on himself. Unlike the late commander-lieutenant, who closely followed the affairs of the estate and once a week discussed them with the manager, Charles threw the business into drift and lived like a recluse. While his 86-year-old mother was collecting puzzles on the floor of all the 50 rooms of the mansion, he sat in his cottage and slowly lost his human appearance.
It was not the lack of money. The family fund still paid him a weekly allowance, which was enough for any expenses. "Charles was unable to do things that made him even a little nervous," explains Keir. "He stopped paying his bills, and although we could help him deal with business matters, he did nothing."
On the subject: 15 police have been searching for a DNA criminal for years: a shocking clue made her start anew
Letters from Jordan were lost among the unsorted papers. In 2013, Charles was declared bankrupt for not paying taxes. After that, he could not use the services of banks, and Keyru had to rescue him. "We regularly supplied it in cash," he told the coroner's court. "At some stage, it was about amounts from 300 to 1000 pounds per week (380-1250 dollars)." He was spending money on drugs.
In the last months of his life, Charles balked, finally stopped looking after himself, did not take out the garbage, rarely washed himself and hardly changed his clothes. "He was getting dirtier, didn't visit his mother, didn't do anything at all if it could have been avoided," asserts the estate manager. After the death of Charles in the estate remained his mother, but after two weeks she died.
DNA test
Philip Keir knew about the meetings of Charles and Jordan, who by that time turned 31 year. After school, the young man played football for the local team, worked as a van driver who transported fruit and vegetables, then graduated from college and became a social worker. Like his mother, he lived in municipal housing in Helston. His girlfriend was named Katie Hubber. She worked as a radiologist and waited for the child.
"Jordan always wanted to prove that he was Rogers," says his grandmother. "But he didn't care about money." And he didn't necessarily want Mr. Rogers to take on the role of father. He just wanted to know the truth. " Shortly before Charles's death, he sent him a DNA sample kit. Instead of answering, the phone rang. It was Keir.
The manager of the estate told about the death of Charles and hinted that he would not have another opportunity to make a DNA test. "I didn't want to hurry," Jordan says. "I think it would be disrespectful." But Keir did not lag behind. He believed that it was impossible to delay. Otherwise, the land and the mansion will go to distant relatives on the maternal side, with whom the Rogers did not get along for a long time.
On the subject: He dreamed of becoming a father, but he passed away in 25 years. In 7 years, a stranger gave birth to his child
To take a DNA sample, the permission of the deceased's family was required. Charles Sally Shaw and Julie Baines, cousins ​​of Watford, 500 kilometers from Helston, did not object. "We talked with Philip, found out that Jordan had been trying for a long time, Charles was not against it, and we agreed," explains Baines. "We did not want to stand in the way of the legal heir." There were only relatives on the maternal side. To prevent the test, they demanded that the bodies of Charles and his mother be cremated immediately.
"I was so worried that I could not sleep," says Jordan. "We have to work in two shifts, we need to focus on Katie and her pregnancy, but all my thoughts were only about the DNA test." His only chance was slipping away. When there is almost no time left, Jordan read on the Internet that a DNA sample can be done without the permission of relatives. He had a few days to hand over the documents, but he managed.
The results of the examination became known at the end of September 2018. "The trial has confirmed that I am one hundred percent of Charles's son," says Jordan. - I felt relief, but at the same time - terrible sadness. I found and immediately lost my father and grandmother. "
Legitimate heir
A few days later, Jordan and Katie first visited the mansion. "It's like we've got into a museum," says Kathy. The walls were decorated with swords with the arms of Rogers, and in the corridor hung a huge bronze gong, once collecting for dinner the inhabitants of the estate. In the dining room there was a six-meter table, impressive chairs and antique porcelain. One of the vases, as it turned out, was worth more than 20 thousand pounds (25 thousand dollars).
In March, Jordan quit his job, changed his last name to Adlard-Rogers, and finally moved to the estate of his ancestors. At the housewarming gathered all the friends. At the huge table fit everything. "For the first time, I didn't have to look for extra chairs, and no one needed to sit on the floor," says Jordan. Noodles and dumplings from the Chinese eatery ate silver cutlery with the family coat of arms.
After moving Jordan began to furnish the house to your taste. He bought an 65-inch TV and equipped a training area near the building of the 17th century. Vintage chairs in the spirit of "Game of Thrones" replaced by furniture from IKEA. "We're changing the house gradually," admits Kathy. - I insisted that Jordan redid one of the bedrooms in the nursery and designed it in a modern style in gray and blue tones. And we are updating the kitchen. There's not even a dishwasher. "
Jordan offered her grandmother to move to the estate, but she refused. "I don't want to live in a monument of culture and history," she explains. "Now this is Jordan's house, and I'm glad for it." He first met his relatives from his father at the commemoration. Shaw and Baines immediately invited him to visit, and Jordan invited them to become the godmothers of his newborn son. Uncle's wife, Jen Rogers is happy at least that the estate did not get hated by distant relatives. "I know that there were doubts about him, but not on our side of the line," she says. "We welcome Jordan with open arms." He is Rogers from head to toe. "
Jordan will receive a thousand pounds (1250 dollars) per week from the family fund. In addition, he plans to create a charitable foundation for residents of Helston and the neighboring town of Portleven. "I know how to grow when you have almost nothing," he says. "Ideas like paying for gymnasiums for unemployed people might be great to help them."
In the mansion, Jordan found a portrait of his father in his youth. Mother was right: they look like two drops of water. "It was at that moment that I realized that my place was here," he recalls. - If I saw this portrait of 20 years ago, everything would be different. I would not spend more than half of my life, not knowing who I am, and feeling inferior. And now I know where my place is. I am no longer a dirty secret. "