The article has been automatically translated into English by Google Translate from Russian and has not been edited.
'What are you turning a child's face into?': Kirkorov was convicted of the appearance of an 8-year-old daughter
The king of the Russian stage Philip Kirkorov took a walk with his children in the Moscow Dream Island amusement park, says Limon.postimes.ee.
The singer, of course, posted several pictures on Instagram. Daughter Alla-Victoria was born in November 2011, that is, she will soon be 9 years old. Her brother Martin is one year younger.
The artist took his kids to the amusement park and signed the photographs like this: "The place of our unbridled fun, exciting rides, and super mood for the whole week is guaranteed."
Many subscribers drew attention to the bright makeup of the child - blue eye shadow and tinted eyelashes and reacted rather angrily. Not everyone could see if there was a layer of foundation on the face of Kirkorov's daughter, but some commentators agreed that since there are shadows and mascara, then there is also a foundation. It should be noted that the makeup is done professionally, it can be assumed that the singer's little heiress resorts to the services of professional makeup artists.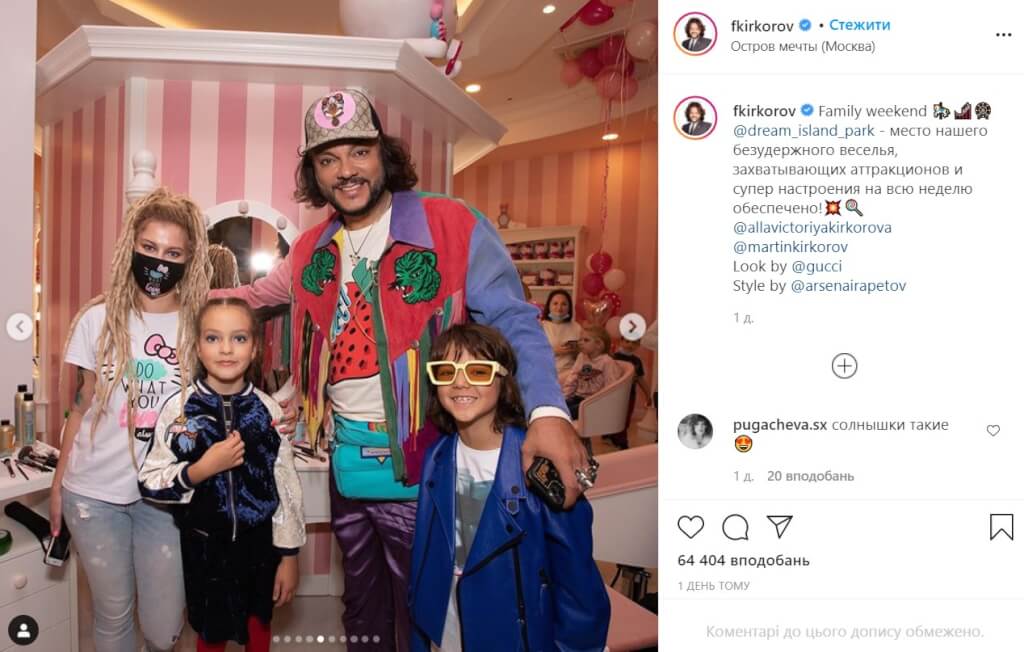 "What are you turning your little girl's face into?", "She's already cute, and the cosmetics add age", "Is Alla-Victoria made up? Doesn't look like herself "," Is your daughter already painting her eyes? "," Not too early for make-up? Everything has its time "," Why does the baby need makeup? Will still have time to bring beauty "," Why should such a little girl paint her eyes with shadows? Looks vulgar ", - commented users.
The children of Kirkorov call their mother their godmother, a close friend of their father, Natalia Efremova. Kirkorov and Efremova have known each other for a long time, since Efremova owned a large store of branded items in the center of Moscow, where Philip Bedrosovich often bought. As Alla-Victoria and Martin said in one TV show, "mother Natasha" always lives with them in the house on Nikolina Gora.
On the subject: They don't live at home: Kirkorov's father told why the artist's children moved to his director
Dream Island was designed by British architectural firms Cunningham Architects, Chapman Taylor and Italian architectural firm Land Milano. The space is divided into 9 thematic zones with 35 various attractions and entertainment for children and adults (including 5 shows and 5 extreme attractions), 18 restaurants and 10 shops. Meet & greet sessions with 26 characters are held in all areas of the amusement park, lasting from 5 to 15 minutes. Access to the amusement park is paid, by tickets (categories: adult or children's, weekend or weekday) with unlimited access to all attractions and entertainment.