The article has been automatically translated into English by Google Translate from Russian and has not been edited.
Vera Brezhnev's birthday showed a rare family video with Konstantin Meladze
February 3 Vera Brezhnev turned 37 years. The singer met her birthday in the circle of relatives and friends.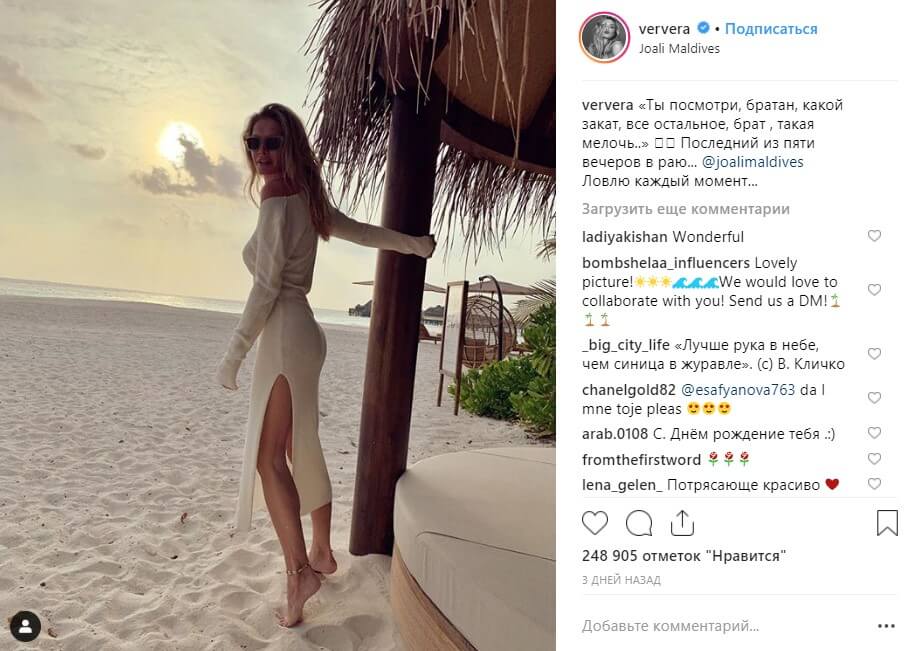 In her Instagram, Vera shared with the followers an episode of the holiday. In the video, she accepts congratulations, blows out a candle, and then kisses her husband Konstantin Meladze, writes WMJ.ru.
Yesterday I spent my Day as I wanted, in a narrow circle of my closest people and without the Internet. And only in the evening, when everyone was asleep, I eagerly read congratulations! I was covered with another wave of heat, stunning light energy and LOVE. Thank you for the fact that I felt yesterday and the matter is not even the number of congratulations (although there were a lot of them indecent), but the meaning they carry in themselves! This is my driving force. Thank you for what you are with me, what you have for me! And may all the tremendous wishes come true in my life, and you will return with tripled strength! - Vera commented on the video (author's spelling and punctuation preserved).
Note that Vera practically does not share family photos and videos with her spouse. But at the same time, the singer always publicly congratulates Constantine on his birthday.
Recall that the couple secretly married in the year 2015. For Vera, this marriage was the second official. From the previous relationship the singer has two daughters. Konstantin before the union with the singer was married in which he had two daughters and a son.