The article has been automatically translated into English by Google Translate from Russian and has not been edited.
In Russia, found a double Megan Markle: one person
Have you ever been told that you look like some kind of star? Most often, such comparisons flatter us, but in principle, everything ends with this compliment. But one girl from Russia accidentally appeared in the frame and the next day in the media she was dubbed "a copy of Megan Markle".
Photographer and videographer Vladislav Burnashev posted a photo of a stranger on Instagram, writes Fabiosa. That's how he commented on it.
He filmed a poll for the TASS press center on the streets of Yekaterinburg. And when installing @ne_zyzo, Lyudmila Zyzo suggested that one of the respondents looked like Megan Markl, the wife of Prince Harry, a former American actress and model. Do you think there are similarities?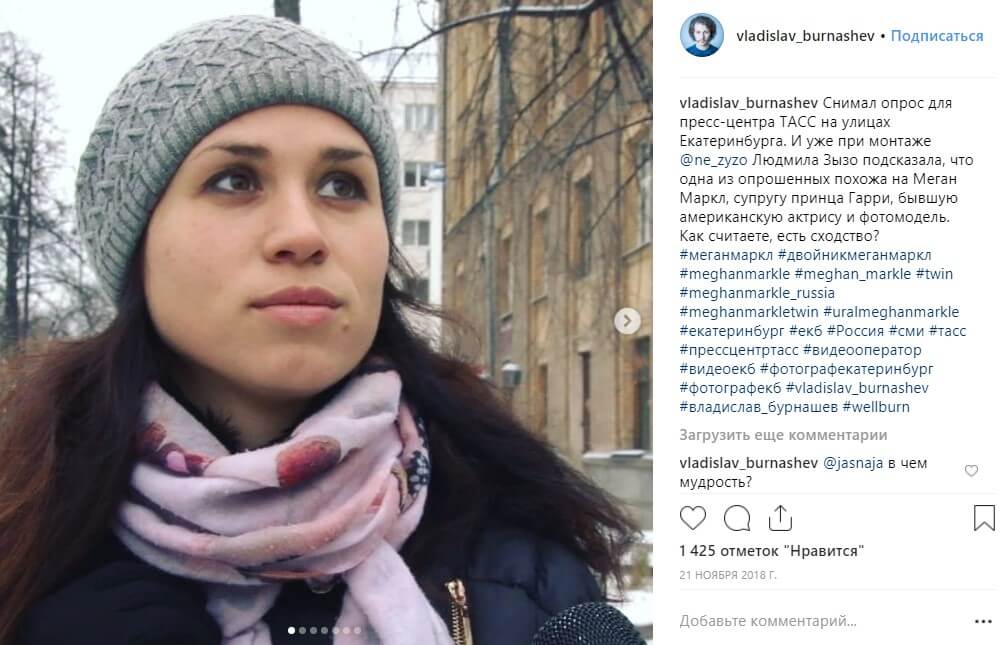 Vladislav's followers also noticed a strong similarity: "One face", "And the face, and even the shape of the teeth is similar," "There is definitely a similarity. If we still work on this, make similar eyebrows and apply blush, like the duchess's ... I'm sure she will be at her best. The prince will still regret that he hurried "," Very similar! "
Several people nevertheless objected, but they were in the minority: "If you lose 10 kg, it will definitely be similar", "Two different people".
The photographer wants to find the girl and make her a good photo, as he has only still pictures from the video.
Who knows, help her find, please! Her name is Ann.
Earlier it was reported that Megan has double - plus-size model. But it seems that Anna looks more like a duchess.
Does the girl look like Megan Markle? Share your opinion in the comments!