The article has been automatically translated into English by Google Translate from Russian and has not been edited.
"In Russia I would not have survived": how a Russian girl adopted by the Americans became a champion in the USA
Tatyana McFadden is a six-time champion and nine-time winner of the Paralympic Games in wheelchair racing. She stands for the United States, although the Russian herself was born in Leningrad in the 1989 year. At birth, the doctors told the girl's mother that the child would not be able to move on her own because of a spinal malformation, and the woman refused her daughter. From a boarding school where Tatyana learned to walk in her arms due to a lack of wheelchairs, at the age of six she was taken by a US citizen Deborah MacFadden. She raised a girl with her partner Bridget. Now the athlete is preparing for the 2020 Games, participates in popular American television shows, devotes much time to the struggle for the rights of children with disabilities around the world and demands the abolition of the Russian "Dima Yakovlev law."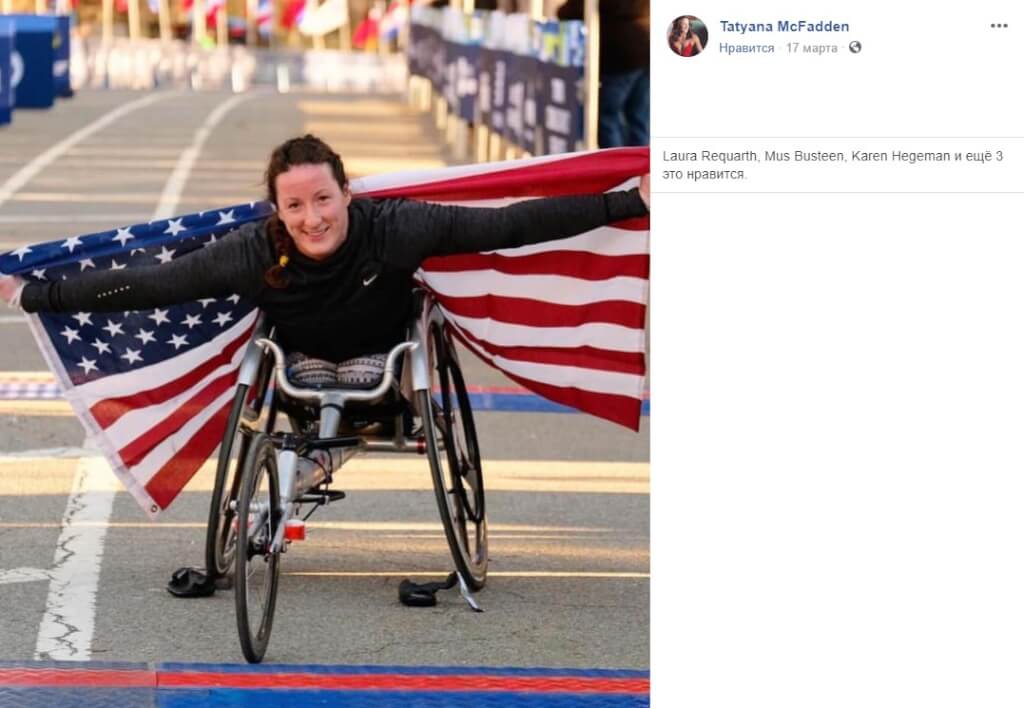 About a difficult childhood, life in the United States and the fight against discrimination Tatyana said:Tape.ru».
Rewrite history
On August 18 on August 2019, Tatyana McFadden won another victory at the prestigious New Balance Falmouth Road Race, which is held annually in Falmouth, Massachusetts. The athlete overcame the distance of 7 miles (11,3 kilometers) in 26 minutes 15 seconds and broke her own record for 2015 of the year (26 minutes 27 seconds). Participation in such competitions is part of the preparation for the 2020 Paralympic Games.
Now in her collection there are already six gold medals: three each from London-2012 and Rio de Janeiro-2016. McFadden also has a total of ten silver and bronze Games medals - nine for wheelchair races and one for ski races from Sochi-2014. In addition, Tatyana is a multiple champion of marathons in Chicago, Boston, London and New York and a three-time winner of the Grand Slam (he is awarded to the athlete who won all the main marathons in one year). She became the first ever athlete with disabilities (among women and men) to whom this achievement was submissive. And in the 2016 year, Tatyana set several world records in wheelchair races at 100, 400, 800, 1500 and 5000 meters. For all this, she was awarded the ESPY - Sports Oscar, awarded by the American television network ABC.
In the USA, McFadden is known even by people far from sports. In addition to advertising the brand of sports equipment Nike, in which the racer starred, she can also be seen in popular television shows. For example, she was a guest at Project Runway, a clothing design program that aired on Lifetime Television. Tatyana also repeatedly appeared on the radio Radio BBC, Voice of America ("Voice of America") and National Public Radio (NPR). Three years ago, the athlete released a book: "I decided to tell stories and show photos that are not published in the media, because I wanted you all to be surprised," she wrote on her website. In 2017, Forbes magazine included McFadden in the list of "Best 30 to 30 years." And on the website of the International Paralympic Committee, the athlete was called "perhaps the best racer of all time."
But Tatyana might not have all this - a sports career, fame, recognition. If in the 1995 year the American official Deborah McFadden hadn't taken her from the Children's House No.13 in St. Petersburg.
On the subject: Inga Artamonova: the story of the absolute world champion killed by her husband in 29 years
"I wandered around the orphanage in my arms"
"I didn't have a wheelchair, but I learned to walk in my arms. Fortunately, the staff and the director did not prevent me from wandering around the orphanage in this way, "Tatyana recalls in an interview with Lenta.ru.
She got into the children's home No. 13 when she was not even three months old. At birth, doctors diagnosed "spinal hernia of the spine," as a result - paralysis of the lower extremities. When the girl was a month old, she had a tumor removed in the lumbosacral region. The reason for the deviations could be that the girl's father was an engineer and worked in the Chernobyl region after the disaster at the nuclear power plant. The mother refused, Nina Polevikova mother, who hoped that in the institution of little Tanya doctors and educators take better care than at home. But it was at the beginning of the 1990's, so it was reckless to count on a lot.
"There was a playground with a sandbox and a swing, but I couldn't swing on them. Of course, medical opportunities were very limited, but the people who worked in the boarding school did their best. I really fell in love with the director Natalya. She was so kind to me, "says the athlete.
Intellectually, the girl developed normally. But according to the then existing rules at the age of four, she still had to go to an orphanage for mentally retarded children. The system was this: children, regardless of their state of health, lived in psycho-neurological homes of a child under four years old. The status of "neuropsychiatric" did not mean anything. Then they were transferred either to an orphanage or to an orphanage. Orphanages belonged to the Ministry of Education and accepted only those who can master the mass school program, that is, intellectually safe. Children with psychophysical impairments fell into boarding houses. Cases where disability did not involve intellectual disabilities were rare, and there were no separate rules for such children. These children were forced to live among peers with mental disabilities only because they had physical disabilities.
This did not affect the girls thanks to Natalia Vasilievna Nikiforova, the former head doctor of the No. 13 orphanage, which Tatyana now recalls with such warmth. (In July of the 2019 of the year, Natalya died in the 67 year of her life. Just at that time, Lenta.ru was trying to arrange an interview with McFadden. For the athlete, what happened was a big shock, so the conversation had to be postponed for several weeks.)
Natalya herself in an interview with the Nevskoe Vremya portal explained: "The diagnosis of" paralysis of the lower extremities "of the city commission was then enough for a girl with a clear mind, according to the old qualifications, to diagnose" debility ". Therefore, they wanted to take Tatyana to the Pavlovsky boarding school, but I did not give her up, despite two decisions of the prosecutor's office. Had a girl got to a boarding school, she would have simply disappeared. " So until the age of six, Tatiana grew up with children without disabilities and could, as far as her health allowed, participate in the daily life of the shelter.
"I remember the thin legs of Tannins, always cold"
Lenta.ru contacted the St. Petersburg Children's Home (Specialized Neuropsychiatric Children's Home No. 13) and asked the employees who found Tatyana in the institution to tell how she was in her childhood. It turned out that the former head physician Natalya Nikiforova had already collected electronically the memories of nurses and educators about the girl, and also recorded her own. Acting head physician Irina Polyanskaya provided us with this file. Here are excerpts:
Natalia Nikiforova: "I became the head doctor of the orphanage in May 1988. And on July 13 of 1989 of the year Tanyusha came to us. I remember a small pale body and wide open eyes. I am very upset when I read articles about Tanya, which says that she was very weak, on the verge of death, and I prayed for her every day. It is not true! I have never had anxiety for Tanya's life. We were very pleased with her psychomotor development. Tanyusha very early began to use her hands for active movement. But I definitely want to say that Tanya's life in the child's house was very difficult. 10-15 children lived in groups; they were transferred by age from one group to another. Tanya four times survived such transfers from one environment to another. But her good mental development and physical activity contributed to the fact that she was always in groups with physically healthy children.
It is very sad, but in the cold seasons, for fear of a cold, the staff often left Tanya in the arena or crib. I think at this time she watched the children at the tables draw, study. It is these experiences that are heard in Tanya's interviews when she says that she grew up in the poorest child's home, where there were not even pencils to draw. There was another very sad story. With Tanya, a girl grew up in the same group, also Tanya, Kuleshova. Very beautiful, lacquered pink shoes, decorated with a lace bow, appeared in the group, and they were put on Tanya [Kuleshova]. Tanya [in the future McFadden] reacted very emotionally, demanded these shoes. But some "kind" aunt rudely told her: "Why do you need it?"
I remember Tanya's thin legs, always cold, on which they wore warm knitted socks both in winter and in summer. Tanya called me "Vasilievna" and understood that if she screamed loudly, then I would come to the group. She lacked personal communication with adults, and she attracted me in every possible way. Once, when I was already at the door, Tanya screamed sharply and burst into tears, covering one eye with her hand: "Vasilievna, Vasilievna, my eye hurts!" Well, with such persistence I had to take Tanya to my office to "drink tea". I could sit at my desk, do any work. We talked quietly, and only after that the peaceful Tanya agreed to join the group. She understood that I could protect her, and I was afraid to disappoint her. "
Tatiana Mikhailova, pool nurse: "When Tatiana was younger, she had to be lowered into the pool and taken out of it. But every year she became more and more independent. Her frequent words were: "I myself." She wanted to prove to everyone that she can do everything, and on one hand she went up and down the stairs to the pool. She really liked to study in the pool, with open eyes she lowered her face into the water, blew on the water, swam with an inflatable ring, played with inflatable toys and watering cans. She liked the way the water flows. She did not leave the pool until the water left the bowl, and asked: "Can I wait for the water to leave? I will help to collect toys ".
She strove for independence in everything and when she grew up. She lay down on a small, low brown couch and dressed herself. The first time she did this, I was very surprised and praised her. In response, she said that she can do everything herself: wash, wipe, brush her teeth, eat, dress for a walk ... "
On the subject: RELATED: Wedding in the USA, Treason and Tragedy: Drama of the star couple Averbukh and Lobacheva
From the memoirs of other nurses: "Tatyana called all adults by name. In communication, she was an affectionate, sociable, inquisitive girl. It helped the younger children to dress: fasten buttons, buttons, pull tights, tie shoelaces. "
Of course, in the children's home they hoped that sooner or later they would adopt Tatyana. And not in vain: in 1994, Deborah Macfadden, adviser on the rights of children with disabilities under the US government, arrived in St. Petersburg with a humanitarian mission.
"They considered me an idiot."
The story of Deborah in 2018 was told by the BBC. This American woman took up the problems of children with disabilities after she was once paralyzed herself.
Deborah was a student and showed great promise in fencing, but suddenly she found a strong weakness. Doctors diagnosed Guillain-Barré syndrome - an acute autoimmune disease that ultimately immobilized the girl. The prognosis for this syndrome in 80 percent of cases is favorable: the ability to walk returns to patients. But recovery takes time.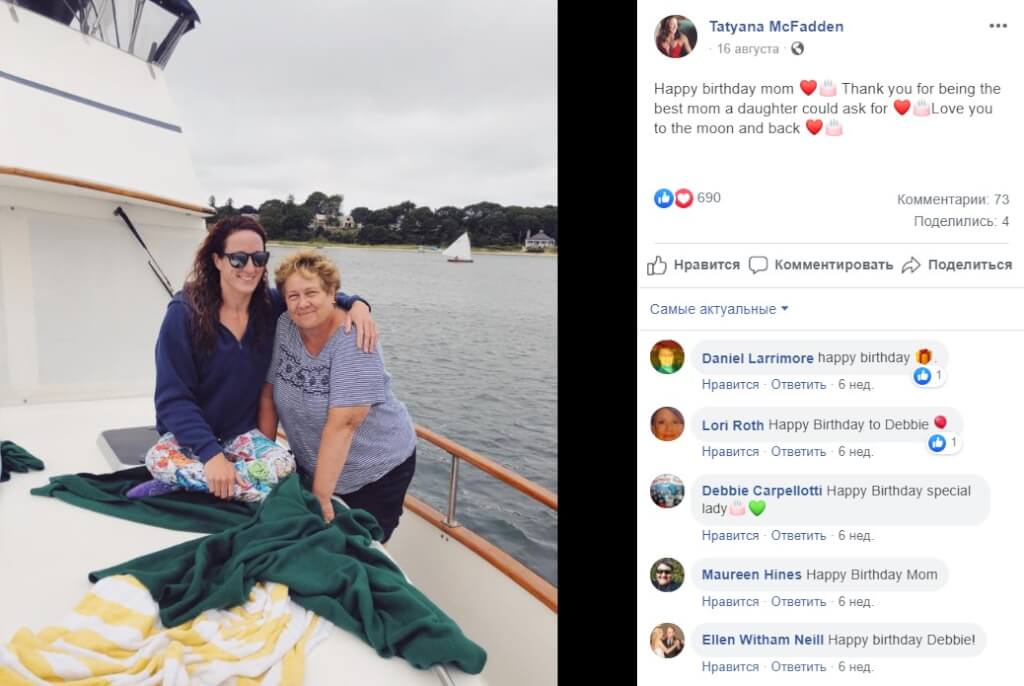 Deborah used an electric wheelchair to move around. It was hard, but it was much harder to adapt in society. The girl herself experienced how neglected people with disabilities are healthy people. For a long time, McFadden could not get a job, she was hardly taken to a call center. "They considered me an idiot. Why? "She asked. Only 12 years later, Deborah again rose to her feet. And she decided that to make life easier for people with disabilities in any way - her vocation.
She began to push for a law to protect the disabled in the United States. "I knew what discrimination was, so I tried to be very active politically to change the system," the American admitted. Her actions drew the attention of then-President George W. Bush, Sr., who appointed Deborah Commissioner for the Disabled in the United States. And soon the Americans with Disabilities Act (ADA) appeared - a law on Americans with disabilities (prohibition of discrimination on the basis of disability; it was equated to discrimination on the basis of race, religion, gender, national origin and was recognized illegal - approx. "Lenti.ru" )
American named Tanya
In fact, Deborah in Russia was not going to adopt anyone, but when she got into the child's house No. 13, she saw Tatyana there. "When I returned to the hotel, I could not stop thinking about it. I told my colleagues that I was going to return to that orphanage, "the BBC quotes her. And the woman really began to visit the girl every six weeks, until she was told that soon, if the child was nevertheless transferred to the Pavlovsk boarding school, it would become impossible.
Then Deborah contacted her partner Bridget, who was waiting for her in Baltimore, and asked her opinion about the adoption of a Russian girl. After 12 months Tatyana moved to a foster family and took a new surname. "There was a lot for me for the first time. To fly by plane. Have an unlimited amount of food, your clothes, room, toys. Go to school for the first time. Get the opportunity to explore the world with a wheelchair. But most importantly - for the first time I had a family. I was finally able to say that I have a mom! "- Tatyana recalls.
In the United States, the girl was provided with proper medical care. But this was not enough: "I was very weak when I came from Russia. Doctors said that I could not live a long life because of my weakened state. Parents decided that in addition to treatment and good nutrition, I should go in for sports. At first they put me on a swim and saw that it helps me to become stronger. " However, the girl did not stay long in this sport. She also tried basketball and hockey, but most of all she liked wheelchair racing.
At the same time, getting into the section was not so easy for the girl. Although the situation with the adaptation of persons with disabilities in the United States was better than in Russia, the system was not yet established in those years. So at first I had to deal in private.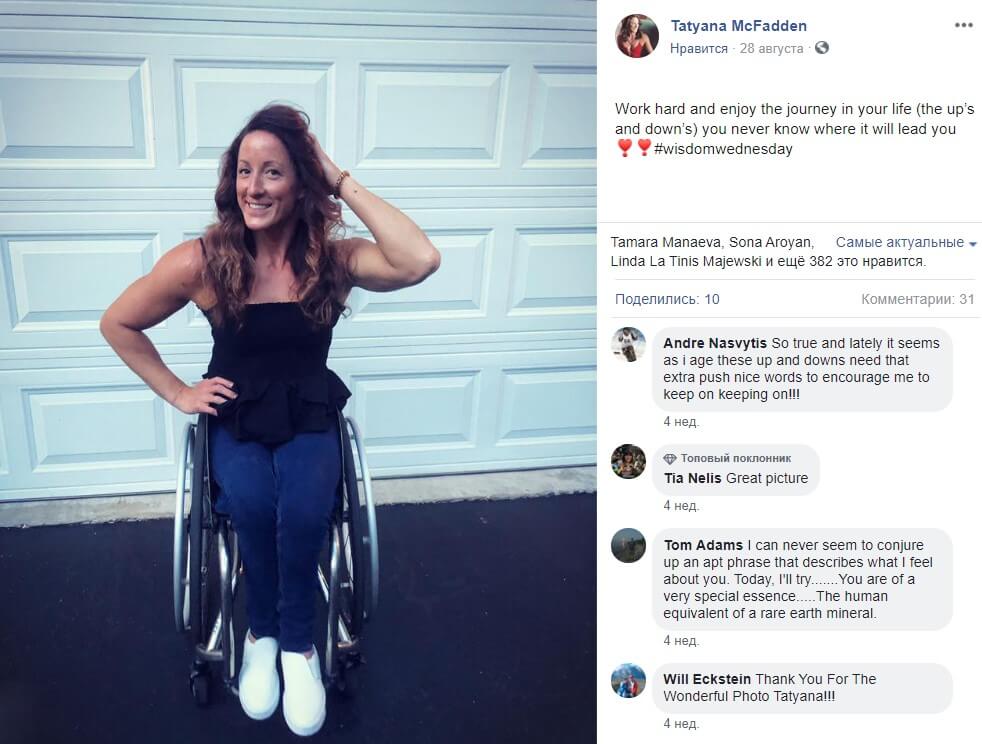 "They didn't understand that running didn't need legs."
Career McFadden developed rapidly. After a series of successful starts in the 2004 year, she entered the US team: 15-year-old Tatyana became the youngest athlete of the team. At the first Paralympic Games in Athens, the racer won two medals, silver and bronze at 100 and 200 meters, respectively. The desire to prove to everyone that she can become the best was only growing stronger.
But upon returning from the Games, the athlete unexpectedly ran into problems. "I decided to join the athletics team in high school. But they never saw anyone in wheelchairs and said that I could not be with them. They didn't understand that running might not need legs, you can use your hands when you are running in a wheelchair, "says Tatyana. For this reason, she had to join the struggle that Deborah devoted herself to - for the rights of people with disabilities.
"No matter how hard we tried to convince them, they said no. But my mom helped write the ADA. She knew what the law was about, so we sued the school for the right to run. And then I took part in drafting the new law. A year later, we introduced the Sports and Fitness Equality Act, or Tatiana's Law. At first only for the state of Maryland, but then we turned to President Obama, and the law became federal. It says that if you have a disability and are in school, the school must provide you with all the conditions, "explains McFadden.
This has borne fruit: "There are currently many Paralympic sports programs for children in the United States. Clubs have also been created in schools in which disabled students integrate into ordinary sports and can play, for example, wheelchair basketball or sled hockey (sleigh hockey - approx. "Lenti.ru"). I am so glad to see that many children play sports, "says the champion.
On the subject: Spouses from Russia took disabled children from the orphanage for money, and then dealt with them
"I wanted to return to Russia and show that disability does not matter"
At the second Paralympic Games in Beijing in 2008, Tatyana won three silver and one bronze medal. By that time, two more adopted girls, Hannah and Ruthie, who were born in Albania, appeared in the McFadden family. Ruti is physically healthy, and Hannah amputated a leg as a child due to bone deformation. She was also fond of wheelchair racing: high results allowed her to join Tatyana in the US team during preparation for the 2012 Games in London.
They became the first sisters to take part in the Paralympics. Hannah failed to get into the top three in the races, but Tatyana won four medals. Three of them are gold. When asked which award is the most memorable for her, the athlete replies: "My first gold, at a distance of 400 meters in 2012 year."
In 2013, McFadden won for the first time all the major marathons: in London, Boston, Chicago and New York (previously, she managed to win in each of them, but in different years). And then she made an unexpected statement: about her intention to participate in the Winter Paralympics-2014 in Sochi. Prior to this, Tatyana had nothing to do with winter sports. To come to Russia as an athlete, Tatyana went skiing. "It was very, very difficult. Both athletics and skiing require a good preparation of the cardiovascular system. In addition, I had to learn the running technique, "says the racer. In Sochi, McFadden was considered an outsider. But she finished second in the one kilometer race.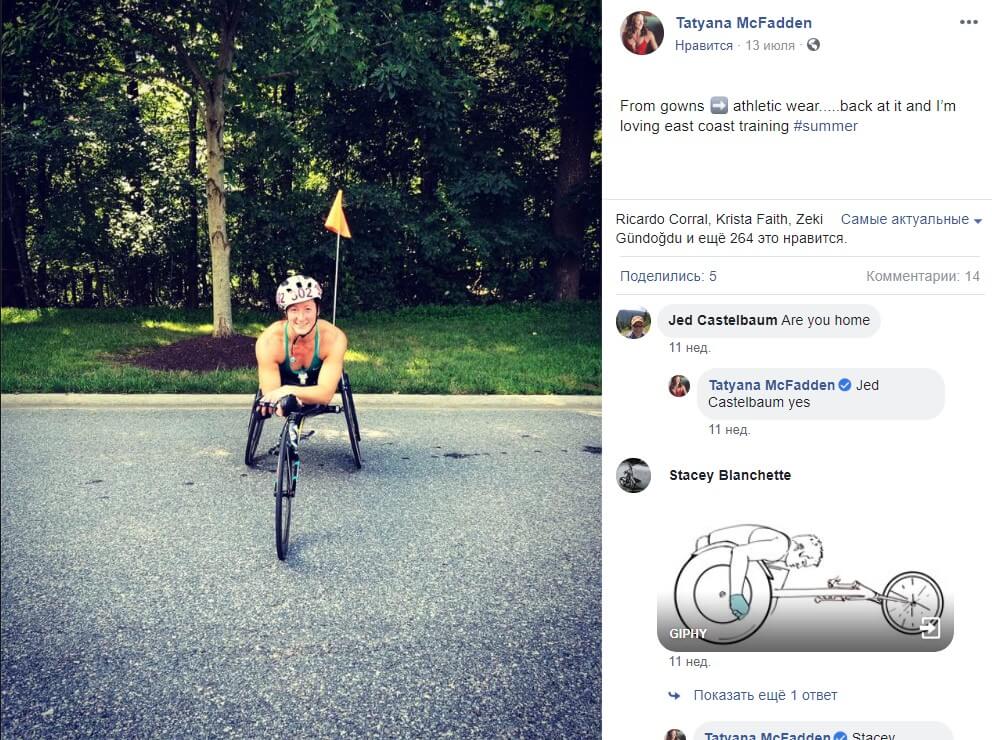 But why did she even need all this? "If I stayed in Russia, I think it would be difficult for me to stay alive, because at that time medicine was not up to standard. I'm not sure that I would have the opportunity to go to school or work. But most importantly, I can't believe that I would have a sports career. So I was very motivated, because I knew that if I could get into the team, I could return to Russia and show others that disability does not matter. Yes, I'm American, but I am Russian too. I wanted to win a medal so that people with disabilities in Russia have the hope that they too will be able to succeed, even if they have a disability, "she explains.
There was another, personal reason for coming to Tatyana's homeland. For the first time, her own mother and the head physician of the St. Petersburg orphanage were able to attend the competition. "I was so proud that in the stands I could see both my Russian family and my American family. It was a very important moment for me, because I was able to give a silver medal to them all, "said McFadden.
"Tanya always remembers that she has several mothers"
That visit to Russia was not the first for Tatiana. She came to St. Petersburg in the 2011 year and came to her child's house. Then she gave the head physician Natalia the gold medal of the New York marathon.
The psychologist at Orphanage No. 13 Maria Solodunova, in an interview with Lenta.ru, shared her impressions about that day: "Tanya came with her mother Deborah and wanted to see her mother. She does not forget her roots, very grateful. With great understanding to a biological mother. They maintained a relationship, talked on the phone, probably. Although Tanya does not know Russian, and her own mother does not know English.
Tanya walked along the corridors, wanted her to have some kind of memories, wanted to know the smells. And on the street I saw the playpen. We have these: there children who still cannot walk are left during a walk. Tanya said she recognized this playpen. She also recalled how she constantly complained to the head doctor when someone offended her. If something was wrong, she immediately reported to management. There is a lot of injustice in a child's life, especially if he is in an institution, and Tanya did not tolerate her from a very young age. Yes, she periodically says that if Deborah had not taken her, she would have died in Russia. Maybe this is a little exaggerated. It is clear that here the quality of life for her would be completely different, no one argues. And Natalya Vasilievna never condemned Tanya for these words, she understood. Even if I heard some offensive things about the child's home. Tanya has the right to it, she has come a long way, has achieved a lot.
She spent a couple of hours with us. I wanted to see some of the employees I knew, but I can't remember if any of them worked then. It seems to me that Natalya Vasilievna invited these people. We sat in the music hall, drank tea, talked. She talked about her plans, life. Tanya is open, very cheerful, cheerful, but not a simpleton: she is very purposeful, aimed at winning not only in sports, but in life in general. Sociable, but with a core. She told, for example, how she drives a car. Once I arrived with my friends at the store, and in the parking lot all the places were occupied, only for the disabled - free. They say to her: "Well, let's get into a place for the disabled", and she replies: "Who is the disabled person?" So she does not consider her limitations as such, does not perceive them.
Tanya also brought medals with her. Gave the gold to Natalya Vasilievna, so she is still kept in her office. I think she ordered a copy for her mother too. Tanya always remembers that she has several mothers, and this is very touching. "
"The adoption saved my life"
In the Russian press, the name of Tatiana McFadden rarely appears, and most of the references refer to the end of the 2012 of the year. The fact is that in January of 2013, the law "On measures to influence individuals involved in violations of the fundamental human rights and freedoms, rights and freedoms of Russian citizens" entered into force, which prohibits the adoption of Russian children by US citizens (article 4).
On December 27 of 2012, he was signed by Vladimir Putin, and on the eve of a group of 14 people gathered at the Russian embassy in Washington. They wanted to convey to the ambassador a petition addressed to the president with a request not to sign the law (the petition appeared on the GoPetition portal, it was initiated by student Alexander D'Jamus, nee Sasha Shulchev, who was taken away from Penza Orphanage by Mike and Helen D'Jamus in 2007. born with deformed arms and legs, in the US he underwent surgery so that he could wear prostheses. Seven thousand people signed the petition - approx. "Lenti.ru").
Among the gathered was Tatyana.
"My name is Tatyana McFadden, and I came to the Russian embassy with a petition to become the voice of those who do not have one. The adoption saved my life, changed it. I came with a petition in the hope that the fate of other children could change for the better, "she said then.
The Vedomosti newspaper, citing the PublicPost portal, wrote that although embassy staff had been warned in advance about the purpose of the group's appearance, the audience was not allowed into the building and they made 40 wait for an hour in the icy rain. After that, it was reported that embassy officials called the police, complaining of an unauthorized mass protest. In the end, the petition was taken away and asked the audience to disperse. Embassy officials later refuted some of this information. According to the then head of the press group of the embassy, ​​Yevgeny Horishko, within 20 minutes after the appearance of the group, the embassy employee took the petition from the audience, which was sent to Moscow three hours later.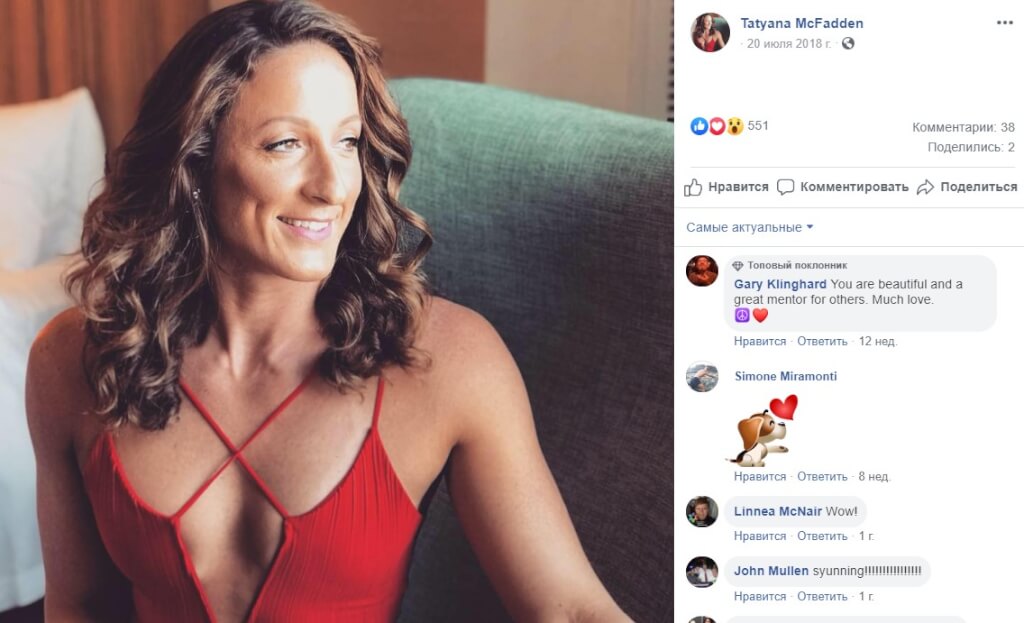 "Children are part of society, and I will always protect them."
But Tatyana pays special attention in the human rights work to people with disabilities. "I believe that I have already managed to change the lives of many people. And I will continue to work to ensure that children go in for sports not only in the United States, but also in other countries. It is important for me to think not only about myself. In addition, I just recently graduated from a university with a master's degree, and I have a certificate for working with terminally ill children. Children are part of society, and I will always protect their right to play sports, "she says.
So the athlete is a regular participant in charity races (the money collected is transferred to help children with disabilities). Sometimes she, however, refuses to run, but there are reasons for this. For example, in 2015, a major scandal occurred when McFadden decided not to start in Wings for Life after the rules changed. Now, each participant had to be accompanied by healthy athletes, and they should have been traveling in an ordinary wheelchair, not intended for racing. This, in the opinion of the paratlets, discriminated against them.
"I was confused and upset. I felt it was like asking other athletes to run in flip flops. Yes, I will never be able to walk. I accept this. But that doesn't define who I am. I do not like the term "disability", it means that I have no ability or my ability in some way less than others. On the contrary, I have abilities that others do not. Living with a disability does not limit the ability to succeed in life. Let's not allow our society or some element within it to clip our wings, "she wrote on her website. The International Paralympic Committee, which could not influence the decision of the organizers, according to the BBC, agreed with Tatiana's decision and "completely shared her disappointment."
"I myself was what I repeated when I moved to America. This is my motto. I believe that I can do anything. And I think that, being Russian, I am very strong, "says Tatiana.