The article has been automatically translated into English by Google Translate from Russian and has not been edited.
'A crowd was waiting for me in New York': Lyubov Uspenskaya - about immigration to the USA and returning home
The Russian pop star and the favorite of all karaoke regulars, Lyubov Uspenskaya, this year celebrated her 65 anniversary. It seems that this line only gave the artist new forces: she becomes a guest of fashionable YouTube shows, sings a duet with rappers and discourages the public with frankness. We decided to delve a little into the biography of Ouspensky, recall its main hits and find out what interesting things are happening now in her life.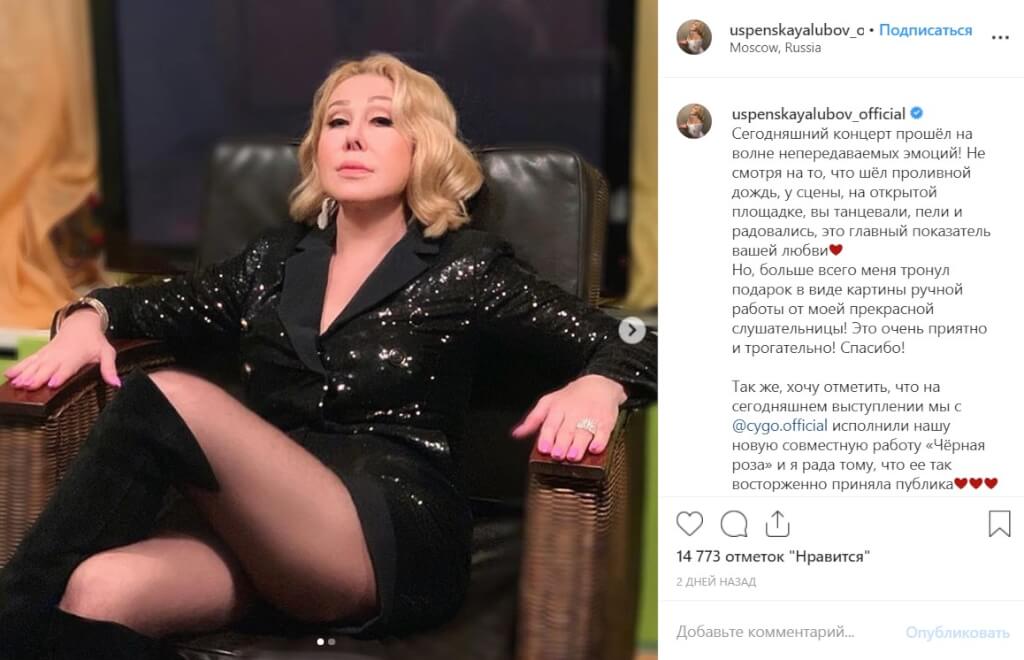 Carier start
The real name of Uspenskaya is Sitsker, she was born in Kiev, in the family of Zalman Sitsker, director of the Kiev factory of household appliances, writes Gossip. The star's mom was a nurse, but Love doesn't remember her: Elena died in childbirth. According to the artist, her mother died from the fault of the doctors who did not give her proper attention and went to celebrate the Day of the Soviet Army (Love was born on the night of February 23 on February 24). As Ouspenska says, all night long no one came up to the woman calling for help, she died from blood loss.
Before adolescence, the future celebrity did not know the truth: she was brought up by her grandmother, whom the girl considered to be her mother (and her father, brother). She learned about the tragedy by finding a hospital card. True, the singer said that she had guesses, so the revealed truth did not shock her.
When Ouspensky's father married again, he took her from her grandmother to his new family. It was he who taught her to play the piano, and later she went to study at the music school in the bayan class. However, most of all, the future star loved to sing and from childhood made it in front of the guests. And at 16, she sang in front of her father's acquaintance, the restaurant director. And he was so impressed that he offered her a job.
Love did not want to stay in Kiev. In an interview, she says:
"At the age of sixteen, I ran away from home to Kislovodsk with my loved one. My singing career, one might say, started there. This resort was considered a "bread" place: the best restaurants, wealthy vacationers from all over the Union. Money fell on me, a 16-year-old girl, like snow in Antarctica. "
Then, after the first divorce, she moved to Yerevan, where she became a celebrity: people came to the restaurant where she sang on purpose to listen to her.
On the subject: 'Like Pugacheva': 65-year-old Lyubov Ouspenskaya declared pregnancy
Emigration
The reason why she left the USSR, Ouspenskaya explains as follows:
"I was a freedom-loving person, I could say anything, sing and even had time to sit for my love of freedom in prison. And I didn't want to live in such a country at all. I knew that there was another life, and I strove for it. So when my father emigrated to Canada in 1978 and invited me to follow him, I agreed. "
By the way, Ouspenskaya repeatedly mentioned her experience of being in prison in an interview, but she prefers to keep the details secret. There are even rumors that there was no prison, just the chanson performer is supposed to have a similar legend in her biography. Openly Love speaks only about a case when, having drunk too much, arranged a race along the highway with the American police and as a result turned out to be in a cell:
"They handcuffed me, took me to jail and put me in a cell with drug addicts and prostitutes. Then the most dreary thing began. I had to pay a substantial fine, my insurance was raised, I was sentenced to forced labor, I attended an alcoholic class. Since then I have vowed: I will not drive drunk. "
Then, at the end of 70's, acquaintances convinced the singer that she could be realized in her musical career only in the USA, so she went from Canada to that place. And immediately received many suggestions:
"When I managed to fly to New York, a whole crowd of welcomers was waiting for me! These were the owners of almost all Russian restaurants who wanted to invite them to work ... The owner of the Sadko restaurant turned out to be the most efficient. He put me in a car and took me to a Brooklyn hotel. The next day I already performed in the "Sadko" hall packed to capacity. Soon my popularity reached such proportions that people began to come to Brighton Beach to listen to Lyuba Uspenskaya not only from other parts of New York, but also from neighboring states. "
By the time he arrived in America, Ouspenskaya already had connections there: some of her familiar musicians had emigrated to her. She met Willy Tokarev, who began to write her songs, with Mikhail Shufutinsky, who sang a duet with her. Thanks to them, she recorded the first album. The fact that her music is already being listened to at home, Ouspenskaya, she said, learned from her father when he went from Canada to the USSR to visit friends:
"Now I'll put Lyuba Uspenskaya for you," the taxi driver told him. "You don't know one?" "I know," Dad smiled. - For 30 years already. My daughter ... ". As it turned out, Piekha brought my disc from America. With the light hand of Edita Stanislavovna, they began to twist me.
On the subject: Chicken from Austria, nanny and separate bedroom: the heavenly life of the dogs of Lyubov Uspenskaya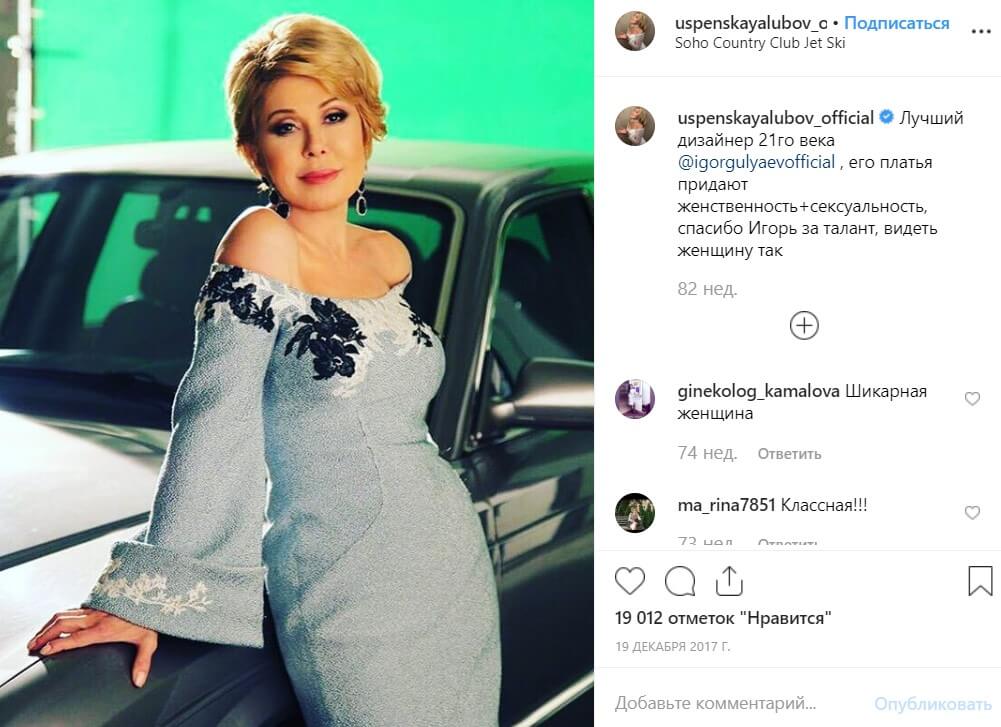 Return
When at the beginning of 90's songs, Uspenskaya became really popular in Russia, the singer decided to move to Moscow with her family and continue building her career there. Moreover, at this time, domestic stars had the opportunity to freely tour abroad, so that the Russian-speaking public in the United States was no longer so interested in singers who were rehearsing other people's hits.
The artist says in an interview with "Interlocutor": moving to America, she did not even think about what could come back. But "when the previous totalitarian foundations collapsed," I realized that I was ready to take this step, even though it was the "dashing 90s" - far from the most peaceful time:
"I will not hide the fact that this decision was a very serious step and it was not easy for me. Sudden changes in life always cause pain in people. And when you have to make an important decision with a small child in your arms, this implies a double responsibility. At that time, the country was mired in devastation, there was shooting and mud on the streets. But the audience at the concerts greeted me with such boundless warmth and love that I clearly began to realize that I was making the right choice ".
After the release of the clips "Carousel" and "Cabriolet" in the mid-90s, the singer, who was at that time about 40 years old, fully acquired the status of a star. In Russia, she was positioned as an American star of Russian chanson.
Long-suffering "Convertible"
By the way, the most "long-playing" scandal associated with the name of Uspenskaya is connected with the hit "Cabriolet". For more than 20 years, singer and songwriter Ilya Reznik has been sharing a famous composition. Reznik is sure that Ouspenskaya simply "stole" the Cabriolet from him, the performance of which brought her millions. The singer says that the poet, who at that time also lived in the United States, asked her to sing this song, but did not demand a fee or the signing of a contract until the composition became a megahit.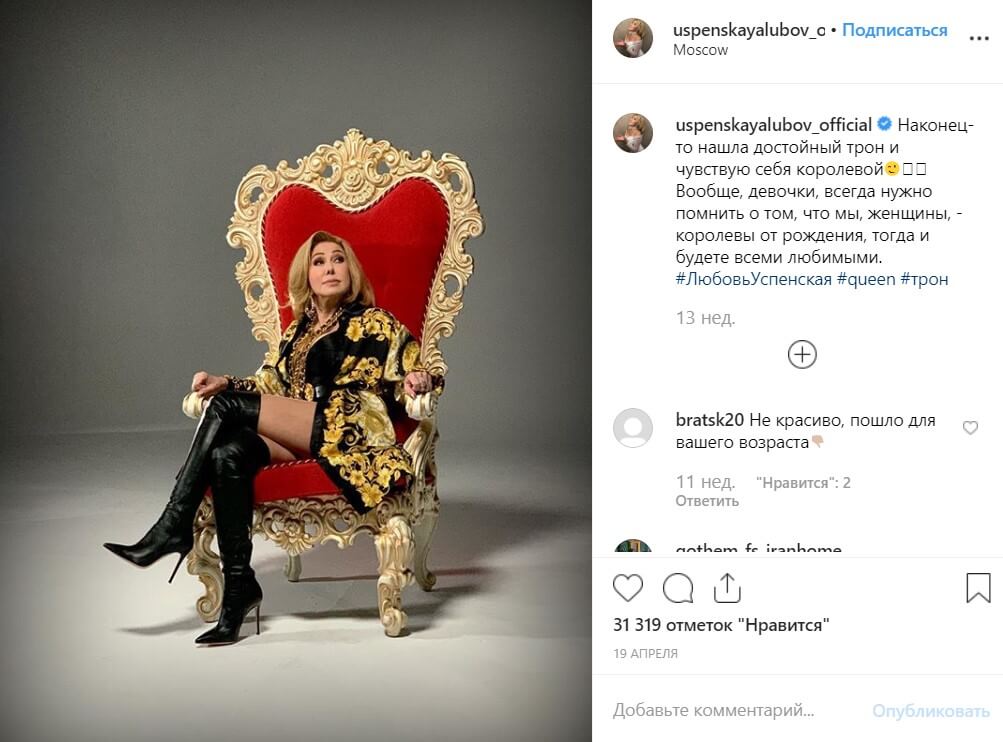 Ilya Reznik spoke in an interview with Komsomolskaya Pravda:
"I haven't received a flower or a greeting from her. She thanked me once: for 50 dollars she bought a tricycle for my son. I was silent for a long time. But the last straw was a call from a music company, which decided to release Uspenskaya's CD. I was offered to sell the rights to each song for $ 150. Of course, I did not agree to give permission for the circulation of the album for a penny and hung up. Ouspenskaya got angry. "
In 2011, Resnick officially got Ouspensky to legally ban his hits. The singer through the press replied to the poet:
"Let Ilya Reznik ask the people to forbid me to perform" Cabriolet "! This song stuck to me just as it did to Pugacheva's "A Million Scarlet Roses". Reznik was lucky that I sang "Cabriolet". I would give it to another singer, no one would know about this song. When the audience says to me: "Don't sing" Cabriolet ", then I won't. And I will prove to Reznik that this song is worthless! "
Husbands
Love got married four times. The singer says in an interview that for her, music has always been more important than her personal life and she "never got hung up on a life partner," who "can always be changed". According to the artist, if she was faced with a choice - a man or music - she chose the latter every time.
The first marriage was early: the singer was then only 17 years old. She and her first husband, musician Viktor Shumilovich, had a tragedy: their twin sons died. In the program "Alone with everyone," Ouspenskaya recalled:
"It was a shock: one child was born dead immediately, the second died two weeks later. The most painful period was when I was in the hospital and all the mothers brought babies, they fed them, they saw healthy children, and I was again an orphan, again useless to anyone. I felt that in my life I was not destined to have either a mother or children. "
After the tragedy, Love broke up with her husband.
The second husband, from whom the artist received a sonorous last name, was musician Yuri Ouspensky. Their marriage broke up after the couple moved to the US - as the artist says, the man was painfully jealous. In America, she married for the third time - for her long-time acquaintance Vladimir Lisitsa:
"Our love lasted for several years, and I still remember it with great fondness. The husband was engaged in serious business - oil and gold production. I remember sitting on the beach once, and he asked what I would like for lunch. "Lobsters," I say. And suddenly, half an hour later, waiters appeared on the beach with lobster and champagne on trays. Then he took a box with an expensive ring out of his pocket. Trying on the jewelry, I dropped it into the sand. No matter how I looked, I could not find it. Then Volodya hugged me and whispered: "Lyubochka, don't worry. You can lose one more - I have in stock. "
But this marriage did not last long: Love says that at that moment, when the feelings were cold, she met her fourth spouse and fell in love at first sight.
Entrepreneur Alexander Plaksin beautifully looked after the singer, even gave her a white convertible almost immediately after they met (by the way, this was even before the release of the legendary hit). Ouspenskaya assures that Alexander is her "final husband".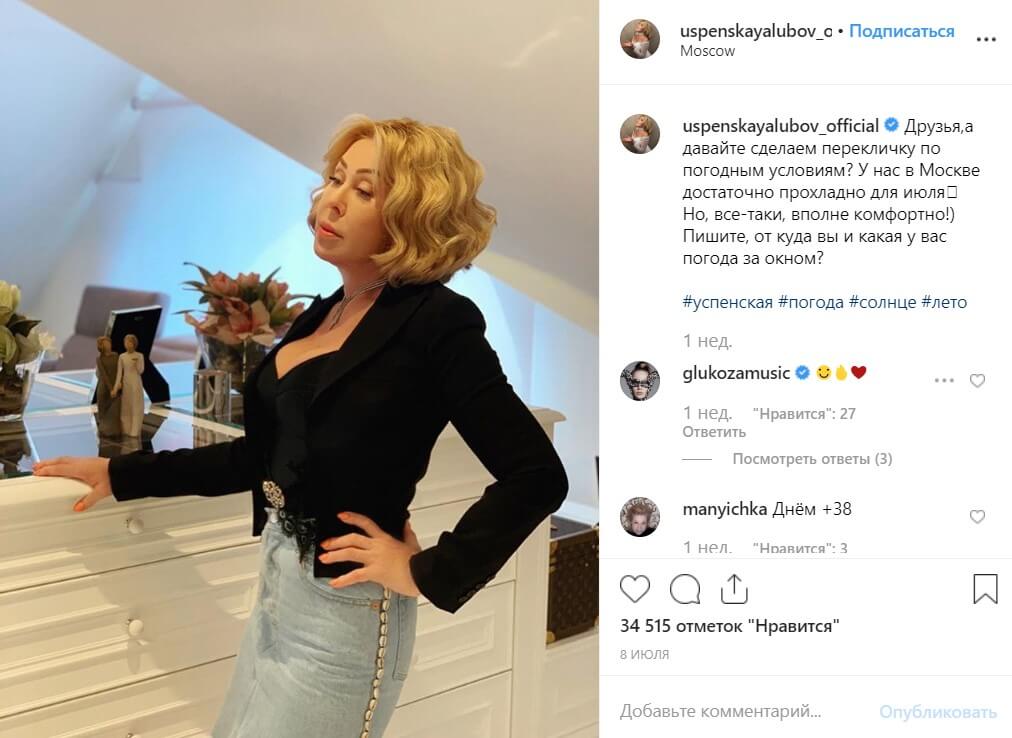 Earlier this year, there were rumors that the couple was getting divorced, but Love told Starhit in an interview with a correspondent that she and her husband didn't get to parting, although there were some prerequisites:
"He had different types of business in the States, he wanted to focus on them completely and at some point even offered to divorce. But you know my character: he could not convince, but I succeeded. He lived in the USA for six months, now he is back, and we are doing well. But he no longer has his business there. "
Every now and then Ouspenskaya may intrigue the public with unexpected confessions, for example, to report that the fact of marriage is no reason for her to stop falling in love:
"Each song is a story about my life. I am still recklessly in love. But I can love my husband and fall in love with a talented person who delights me with his talent, tenderness, optimism, enthusiasm. We are creative people, we cannot recharge from batteries, "said the star in a recent interview.
Daughter
The only daughter of the Assumption is now 30 years old. Tatyana Plaksina is a creative person, she lives in the USA, enjoys painting and loves to be photographed. Including very frank.
Love in an interview for Starhit said that Tatiana often changed interests, but all of them - in the creative field:
"A daughter is such a nature. If she falls in love with an astronaut, she will fly with him into space. It all started when she met an artist and started to create when she was living in France. A few years ago she had a relationship with a pianist, and immediately became seriously interested in music. I asked her then: where did such a passion come from? She did not want to confess at first, replied: "Rachmaninov brought me back to her." Still trying to create classic melodies. "
According to Ouspensky, her daughter as a teenager dreamed of becoming an actress and gave great hopes, went to classes to Galina Loginova, Milla Jovovich's mother. But acting classes had to be completed when the family decided to move to Russia.
Last year, in the press, the accident, into which the star's daughter fell, was vigorously discussed. Tatiana fell off a bicycle in Costa Rica, straight face on the asphalt. She was diagnosed with a bilateral jaw fracture, she had to undergo several operations. The fans were interested in why, after the accident, Tatyana decided to have a very short haircut. Ouspensky answers:
When she wanted to have a short haircut after the accident, it was not easy for me, but I fulfilled any wishes. Tanya explained: "I feel the negative in my hair, I must get rid of it." She cut off her curls herself. The daughter later said that she liked it so much: they say, she didn't even know that she had such a beautiful, ideally shaped head.
On the subject: Singer Love Uspensky was taken off the plane for a rowdy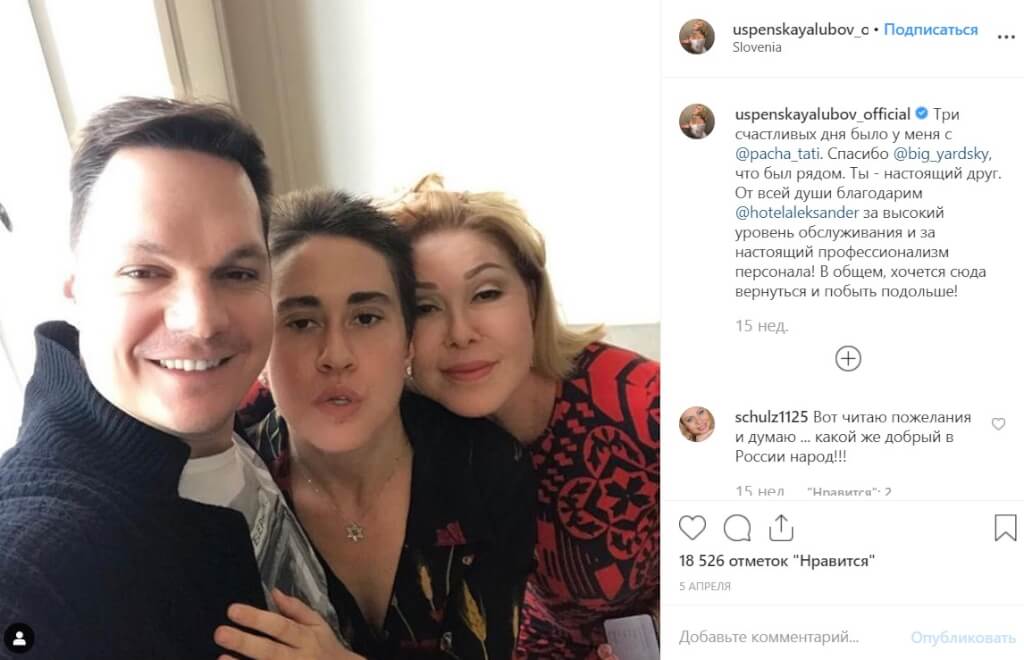 Hayters, outfits and duet with 50 Cent
The singer does not lag behind the idols of young people and actively leads her Instagram. There are also negative comments, especially celebrity criticized for using Photoshop. Ouspenskaya says that sometimes you have to block haters:
"I believe that those who write such comments are sick people, inadequate people, bots that have no followers, or losers who enjoy writing nasty things."
"Before there was some distance, the stars were inaccessible and all these losers could only see you on TV, but now they can pour out their bile at any moment by writing to you. I do not envy them, because they are unhappy people. If this writing makes them even a little happier, let them write. But, to be honest, when bad things start to write about my loved ones, my child, then I can no longer stand it and block, "Lyubov said in an interview for Teleprogramma.pro.
No star in Instagram and without bold frames. So, the other day she published her photo in mini and boots, which she signed:
"I am a versatile and multifaceted girl and I feel comfortable in absolutely different images and roles."
Ouspensky is generally not indifferent to brand outfits. In the film about her, shown on Channel One, viewers saw an impressive celebrity dressing room - about a quarter of the size of her huge mansion in the Moscow region. The artist has a large collection of dresses and shoes, but she, as she confessed, treats jewels more calmly
"I don't like jewelry very much, so I can safely walk past jewelry stores, some rings, chains. But I love to change the clock. But all sorts of earrings, necklaces are not mine, they bother me, annoy me, and I try to wear them on rare occasions, "she said in an interview with Pravda.ru.
The singer continues to actively tour, and the expression "pensioner" is perceived as an insult. Ouspenskaya promises to her fans that she will be "on stage until death". She often records duets, she has joint tracks with Irina Dubtsova, Slava, Philip Kirkorov. And recently she even sang a duet with the rapper Cygo - that very song about the Panda and the escape from the cheetah, which recently sounded from everywhere.
As Uspenskaya said, now she has many offers of duets from young performers, literally "there is a queue", but she herself dreams of recording a joint track with 50 Cent.
On the subject: 'I decided!': 65-year-old Lyubov Ouspenskaya announced the search for an egg donor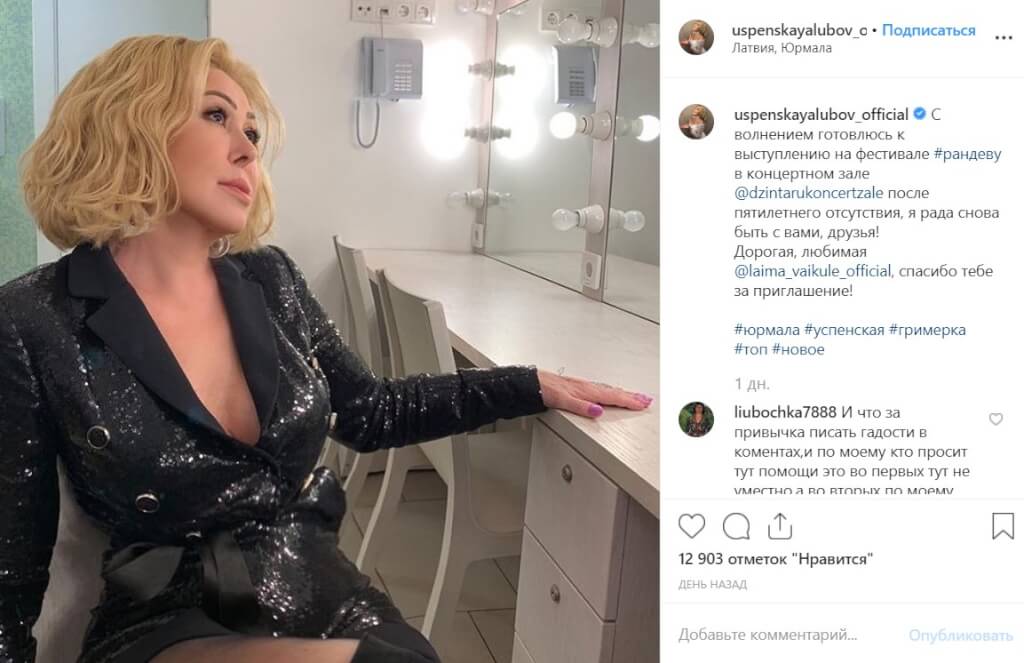 Loud statements
Recently, Love often gives a reason to talk about yourself, voicing unexpected ideas. For example, her desire to give birth, whether expressed as a joke or seriously, is still being actively discussed.
"Dear commentators, in particular those who write that it's time for me to babysit with my grandchildren, I want to tell you one thing: you are not in a hurry with your grandchildren, maybe I want to give birth to more children! What? Kirkorov gave birth, Pugachev and Galkin gave birth, Vitorgan went there, and I am the reddest? ", - Ouspenskaya stunned followers in one of the recent posts.
A few days later, even more shocked the audience by writing:
"Friends, well, I made up my mind. And seriously! I am looking for an egg donor for IVF, which I intend to use soon ".
The singer listed beauty, intelligence, talent, health, kindness, honesty as requirements for the candidate. The shocking celebrity asked the ill-wishers to "walk in the forest", and at the end added: "Do not offer sex."
A variety of reactions appear in the comments: some are horrified, others fully support the idea of ​​the star and give her advice, while reproductive health clinics unobtrusively offer their services to Love in the same place.