The article has been automatically translated into English by Google Translate from Russian and has not been edited.
Ukrainian woman told how to stay in the US and get used to the new life
Ukrainian Irina Rybchyn in 21 year decided to see the world and flew to the United States on a student program. The girl liked the life in the new country so much that, almost without hesitation, she decided to stay. Stepping toward the American dream, she discovered new professions, learned the language and comprehended the subtleties of communicating with the Americans.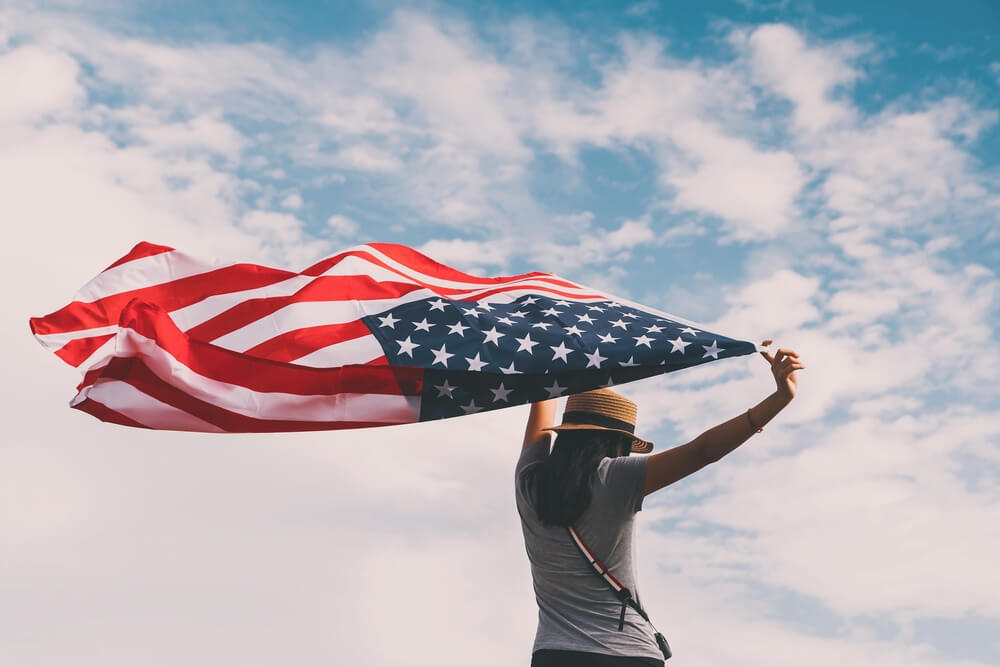 In conversation with "By the observer"She talked about what to expect for students while working in the United States, how insurance companies motivate a healthy lifestyle, and also debunked myths about fast food and an unhealthy American nation.
Next - from the first person.
I studied at the University of Oil and Gas in Ivano-Frankovsk. It was the third year, 2013 was outside the window. I have hinted to my parents more than once that I would like to go abroad and see the world. At that time, many of my friends tried the Work and Travel USA program. Each time I heard a categorical refusal, until in February 2014 my mother suggested: "Let's fly to America for the summer?". The next day we went to fill out the questionnaire. There was no limit to despair when the agent said that the recruitment for the program had been closed a few days ago. He probably noticed how sad I was. Then he said, if I have a sufficient language level, then they will think.
I could not wait for the end of the semester, because I already knew - I was flying to Minnesota! Before this trip abroad, I was only in Poland, under the student exchange program, when I was 14 years old. And she traveled only within Ukraine. Therefore, I packed my suitcase as if I was not leaving for three months, but for about five years. If only I knew then that I would not return!
The first days in the US
As soon as she arrived in the country, despite her fatigue, she wanted to quickly go out and see what America looks like. But the employer was in no hurry to pick us up (arrived with two guys from Ivano-Frankivsk, whom she met for the first time at the airport). We waited six hours, until finally we phoned one of the managers and agreed on something. Since we did not have telephones, we asked passers-by to call from them, and, probably, after the fifteenth attempt we were already looking askance.
The first two days we did not work, and since America was not going to show us to us, we went on foot and watched. The first thing that caught my eye was the empty streets. Everything is perfectly clean, even at first it seemed that there were flavors on the streets, but there were no people. In some places, we saw only jogging athletes who were shocked by their hospitality, simply for no reason smiled and wished a good day.
Work
I got a job at a cafe at the zoo. On the first day I received a comment for a manicure, which by the next day I was asked to remove, as well as my hair was loose. She worked on 13 hours on her feet, having only 30 minutes of break.
We were really treated like emigrants. We paid below the minimum, we worked overtime, but we didn't pay for overtime. Taxes, however, were minimal. And it was hard to get used to them. Each state taxes differently. But, in the end, the same amount is withdrawn, as in mathematics - the amount does not change from the permutation of the terms.
I remember that when we first came to the bar, they brought us water with an order. Americans believe that water is health, and you need to drink it as much as possible, and always with ice, regardless of the season. Well, tip. Not leaving a tip here means offending a person: a waiter, hairdresser, cashier, etc.
August was coming to an end, and the date of returning home was just around the corner. A double feeling appeared in the soul. It seems to have missed home as well, but at the same time I got involved in the local rhythm, and I really enjoyed living in Minnesota. Having collected my thoughts, and with the help of several American friends (helped with housing and transport), I still stayed.
Since my friends saw that I was just "getting on my feet", I did not pay for housing. In the first days I went to a lawyer who helped me to submit the correct documents. For the first months I was not allowed to work, so I sat with my landlord's dog, walked it and fed the cat.
I thought I was going to lose my mind. I had to wait for someone to come home to go somewhere, because in America you can't get anywhere without a car. In Ukraine it is a luxury, but here it is the only means of transportation. Finally, after several months, I began to make attempts to find a job when the relevant documents came. My Americans (I called them that) advised me to fill out an application in a chain of electronics stores. Everything is standard here - you go to the company's website, look for a page with job advertisements, take an identification document and start filling out a questionnaire. A few days later I was invited to work.
After almost a year in an electronics hypermarket, I started actively looking for another job. And I found it! After my third interview, I was hired as an assistant executive director at a car company. And the car epic began in the corporate office, which reminded me of offices from American films, with small "cubes" - workplaces.
I started every job with a fair amount of confidence, as if I knew what I was doing, but, as my boss says (I continue to work for the same car company), my positive energy will save the world. In two years of my career, I became a real car guru. Only in the form of taillights, at night, I can determine the brand, year and model of the car.
I never imagined that I would be part of a million-strong business empire. Despite the stress, work sometimes brings a pleasant bonus - these are extremely funny colleagues. For example, we have a golden rule: when you go to the printer, or for a cup of coffee, be sure to close your laptop (that is, turn on the password). One day, the boss sent a declaration of love to half of the workers from my open PC, and another time he wrote to everyone that today lunch is at my expense.
Every year we have a party where we celebrate our success. In the past two years, it took place in February. Both times, our owners rented huge banquet rooms in luxury hotels in Minneapolis. Mostly, the management pushes speeches, and then everyone starts eating, which is very much there.
The only thing you pay out of your pocket is alcohol. Although the first two glasses the company gives you. This year (after a mass of wishes about the possibility to take children with us for the holiday), a whole amusement park was shot for us. I'm really looking forward to it, because I have been to this park more than once, and there it is really fun.
Ukrainians in Minnesota
After two years of living in the USA, I decided to start looking for Ukrainian speakers in my state and found a Ukrainian festival. There I learned about the whole community. It was very hard to believe that there were so many of my fellow countrymen in Minnesota. After I found Ukrainian churches and got into the church choir, I even received an invitation to become one of the directors of the Ukrainian Chamber of Commerce in Minnesota.
Speech
I am glad that for the first two years I lived with the Americans, because English was the language of my everyday communication in all areas. I heard Ukrainian when I was off, and on Skype with my parents. The main thing is to understand sarcasm and jokes, then you really know the language.
I have funny colleagues. At first glance, they are serious people in suits, but suddenly, in the middle of a quiet office, my boss may start shouting something in Ukrainian. Thanks to google translator. Often my colleagues find my fellow countrymen who also work for the company. They are brought to me so that we can speak "our way".
Accomodation
Several months ago I moved to a new home. Apartments can be found online, by concluding a contract with the owner, or, as I - to find a house through friends, 7 minutes from work for a small fee. In general, housing can be rented from $ 800 per month. In the city where I live, Bloomington, the utilities are $ 180. Plus the Internet, for which I just bought a Wi-Fi modem. For this, the telephone provider charges me $ 35 a month.
Neighbors
As in the American TV shows, neighbors bring cookies for housewarming. Near me live people of many nationalities. On the one hand, a woman, a German, who came here 60 years ago, and on the other hand, Americans, who are almost never home. But the street is cozy, with ideal lawns and lovely houses.
Leisure
After work, my busy schedule continues. I come home, get some rest - and go to the gym. In America, I love the fact that people are encouraged to play sports. Watching their films, it seems that the only thing they eat is fast food, but in fact, the opposite is true.
In Ukraine, I would hardly have eaten broccoli with sour cream sauce, or even avocado. My employer offers various benefits, and health insurance is one of them. The gym costs me a 21 dollar per month (this includes exercise equipment, a shower, a hydromassage bed and a solarium), but I only pay the tax, that is, one dollar. And the secret is that my insurance company gives me back my 20 dollars if I go to the 12 gym or more than once a month.
I like to spend summer weekends somewhere near the pool or on the lake, especially on yachts. In Minnesota, you can rent a yacht starting at 25 dollars per day. Pools can be found in almost every city, at the entrance you need to pay 9 dollars, and you can sit there all day, taking advantage of all the available entertainment. The only thing that can not be there to smoke and make fire in their territory.
Usually, locals spend their free time watching games of their favorite teams in baseball, American football, hockey, lacrosse and basketball. All 10000 Minnesota lakes are filled with boats, boats and yachts. Mississippi also does not go unheeded: a huge number of mini-liners that make small cruises go along it.
Every day I am more and more delays the American dream. Leasing for a car (big loans to beginners are not given here), a few credit cards and weekends, mostly with friends by the fire with pizza and beer.
But suddenly I realized that this was not enough for me, and returned to my hobby - photography. Photo sessions began to be ordered quickly, because professionals with education take a lot, and amateurs often take better pictures, and ordinary people can afford it. I also started doing modeling business, advertising products from different manufacturers. I tried myself on the American "Voice of the Country". Having bought a car, I realized and was glad that at 22 I could pay for its maintenance myself.
Food
I never had a problem with food. I like to try something new, so in a country where you can find any kitchen in the world, it would be strange not to try something interesting. I liked Mexican and Chinese cuisines. Sometimes I cook something traditional, there are several Ukrainian and European stores here, and I already understand the local supermarkets well, so I know where to find all the right ingredients.
True, it happens, I will come home, and so I want to hear the voice of my mother from the kitchen, who announces the dinner, but then I understand that, although my mother is vociferous, I can't hear her for 10 thousand kilometers.
I always have two options - go somewhere in a cafe or restaurant or go for groceries and cook something myself. In eateries, you can meet an average of 10-12 dollars per serving, and if in a restaurant, then 20-50 dollars per serving (don't forget about tips).
Going to the store is probably better. You can buy food and cook a lot to take with you to work. On average, my total with grocery is 40-60 dollars, and this is enough for about 3 of the day.
Supermarkets offer many options so that consumers can save. The most popular - Walmart, Target, CUB - the most common, where you enter, buy and exit. There is also Costco, Sam's Club: to get into them, you need to pay 60-120 dollars a year. Without this, it is impossible to get into them, but this is still a saving, especially for large families, because these stores are wholesale stores.
Rules
I recently decided to go fishing. An officer approached me and warned me of a possible fine. Since fishermen must purchase a fishing license. It costs 23 dollar.
In general, where you are not moving, you need to have licenses and certificates, because the officer will have every right to fine you. Even if you sit on the bank of the river and catch fish, and there is alcohol in a carton box and at least one bottle is open next to you, you can be fined, as this is considered alcohol consumption in public places.
I remember being chased by blue and red flashes in Wisconsin - a policeman tried to stop me for speeding. I did not receive a fine because it was the first time I was stopped in the States. So the officer decided to limit himself to a warning.
Summarize
I love my life: photo shoots, mini-campsites, concerts, shops - there is always something to spend time here. The main thing that I realized over the three years of living in the United States is that you always need to take everything from life, do not miss the opportunity to try something new. The whole world is my home! My "bucket list" has many more points, and every day is a new story. I miss my family, but I hope that one day they will be here with me to master my "crazy" rhythm. In the meantime, I will continue to conquer new peaks!