The article has been automatically translated into English by Google Translate from Russian and has not been edited.
The teacher from Oklahoma has to beg at the office for students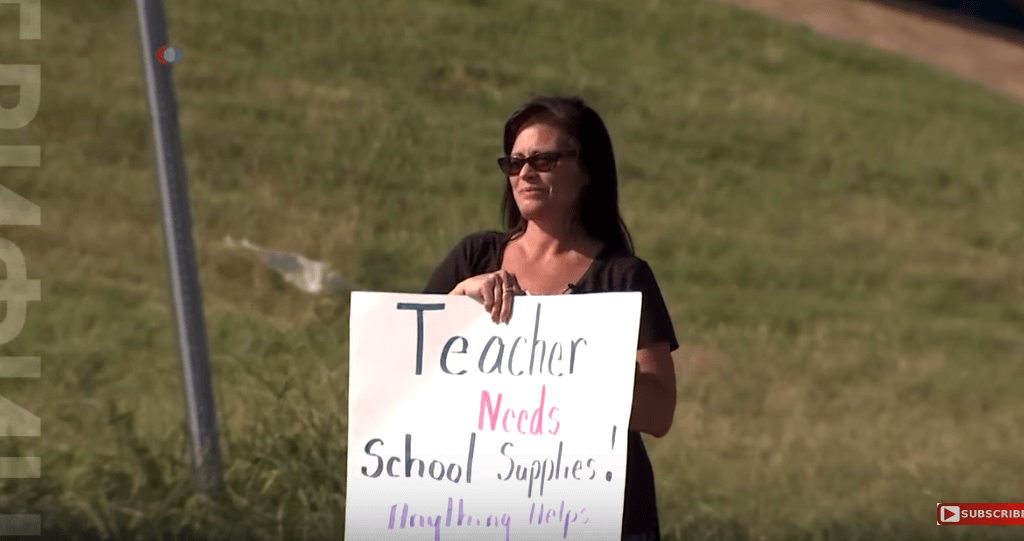 Lack of funding for education is a hot topic for many countries. The USA is no exception. Many teachers have to find the funds themselves for the necessary school needs.
So, recently, a primary school teacher from Oklahoma, Teresa Danks, had to walk to the side of the road with a poster asking to donate money to buy office supplies for her students.Voice of America».
The woman was not afraid to "beg" for the sake of her pupils.
Teresa Danks has been a primary school teacher in Oklahoma for 21 years. She left the classroom this week to step onto the side of the road, according to a video posted on the Voice of America page at Facebook. Teresa earns no more than 35 thousand dollars a year, of which 2-3 spends on school supplies for students.
"It turns out that we are begging. I don't like to call it that, but in fact this is how it is, "the teacher shared.
Teresa decided to take the initiative and try to raise funds for the purchase of stationery necessary for the students. In one day, she collected about 100 dollars.
"I am not alone, we are all in the same boat, my voice is just one of many other voices," Teresa added.
In more than 75% of public high schools in the United States, at least one teacher constantly posts requests on a platform where teachers try to raise funds for school needs. More than half of teachers raise money for basic stationery like pencils and textbooks. Teresa is just one of many teachers who are doing everything they can to ensure that the country's cuts in school funding do not affect students.
"I was so moved," the woman admitted. "People stop and say," Thanks to teachers like you, I am alive and quite successful today. Thank!".
In the comments under the video there was a stormy discussion of the teacher's deed. Netizens expressed their opinions.
"I don't know how in Oklahoma, in Los Angeles, our child went to a regular public school, where they never took money from their parents, parents bought office supplies (pencils, pens, notebooks), everything else was given out by the school: textbooks and everything needed. In families with low incomes - free meals. I have never heard of teachers spending their money ... various clubs (circles) were allowed to hold events and sell food to collect donations for the needs of the school, parents volunteered at school events, yes. I have not heard any fees for repairing the classroom, buying curtains and the needs of class teachers, and even more fees for gifts for teachers, unlike the USSR (where I studied) and Ukraine (where my daughter began to study), "she shared Oksana Andreyeva.
"The same people live on both sides of the ocean, and the path to knowledge is the same. There are fewer problems in private schools around the world. The key message is the kind heart of the teacher! "- wrote the user Alla zinovych.
"May God grant this teacher many years and thank her very much for her principles of kindness and light!" Ulan Dzhumakov.