The article has been automatically translated into English by Google Translate from Russian and has not been edited.
'We have a replenishment': 79-year-old Vitorgan again became a father and showed a newborn daughter. A PHOTO
The famous, but middle-aged artist continues to amaze his fans. Quite a little time has passed since he and his wife gave birth to a daughter Ethel, when the 79-year-old actor posted pictures with a newborn girl on his social network page.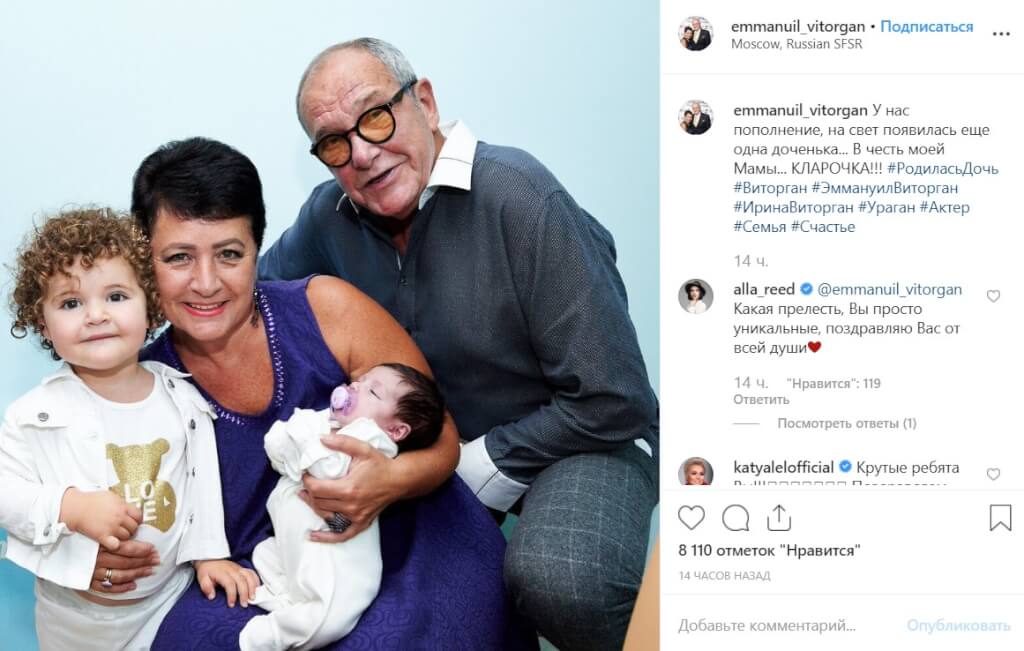 And so that no one would have any doubts, Emanuel Vitorgan wrote that there was a replenishment in their family: "Another daughter, Clara, was born." The eldest daughter Ethel is also visible in the pictures, who runs around the couple, either rejoicing at the appearance of her sister, or because of her cheerful character, writes Rambler.
After the publication, fans showered Vitorgan and his spouse with flattering comments, wishing them success in such a difficult matter as raising children.
On the subject: Dad again? 79-year-old Emmanuel Vitorgan puzzled fans. A PHOTO
By the way, as the IA Express-News found out, the birth of a second daughter in this family was a complete surprise for everyone. The couple did not even say halfheartedly that they were expecting a child. Therefore, some subscribers made the assumption that Clara still had a surrogate mother.
In general, some claimed the same thing with Ethel last year. But the spouses were categorical - the actor's wife, Irina, had a child herself, although she passed an in-depth medical examination before pregnancy. And by the way, Emanuel Vitorgan admitted that even then his wife admitted to him that she would not want to stop there. Like, where is the first, there is a second child.
On the subject: 'This is what happiness looks like': Emmanuel Vitorgan moved the picture with his daughter. A PHOTO
The artist said that when he heard this, he was shocked. But, apparently, either his wife still persuaded him, or he himself was not against continuation in his heart. In any case, the actor admits that he enjoys paternity and today is happier than ever. And at the same time he is well aware of his age.
"I understand well that when the time comes for my daughter to go to school, I will be well past eighty. And when she goes down the aisle, I may already be over a hundred years old. But what difference does it make if we are all happy here? The main thing is that a new wonderful man was born ... ", said the artist.