The article has been automatically translated into English by Google Translate from Russian and has not been edited.
Brandy Pumpkin Pie: The Best Halloween Recipe
What could be more delicious on Halloween than homemade pumpkin pie made from the freshest, delicious pulp of seasonal pumpkin? Is that the same cake, but with the addition of fragrant brandy. Recipe cake The New York Times - for you.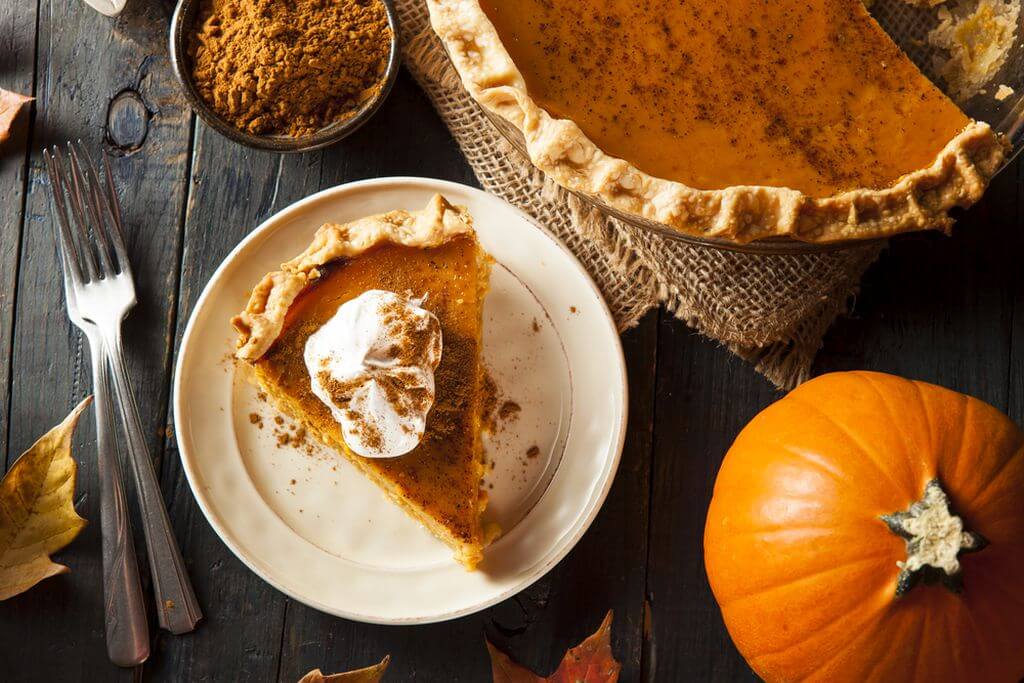 Spices and spices in this recipe are offered sparingly, but feel free to add more cinnamon and ginger if you like a more pungent taste. Brandy or cognac is also optional, this recommendation makes sense to add flavor to baking (can be replaced with bourbon).
Ingredients
For the test basis:
1 ¼ cup plain white flour (150 g);
¼ teaspoon of fine sea salt;
10 tablespoons (141 g) unsalted high-fat butter, chilled and diced;
from 2 to 4 tablespoons of ice water.
For the filling:
1 ¾ cup of nutmeg or pumpkin puree
(To prepare it, smear the slices or cubes of the purified pumpkin pulp without seed and grease with melted butter and bake at 400 degrees Fahrenheit (200 Celsius), turning several times until the flesh is tender, from 30 to 45 minutes; cool, puré the blender);
3 large eggs;
1 cup of cream;
¾ cup of brown sugar (160 g);
2 tablespoons of brandy;
2 teaspoons of ground ginger (4 g);
1 ½ teaspoon ground cinnamon (3 g);
½ teaspoon of kosher salt (3 g);
¼ teaspoon grated nutmeg;
a pinch of dried cloves.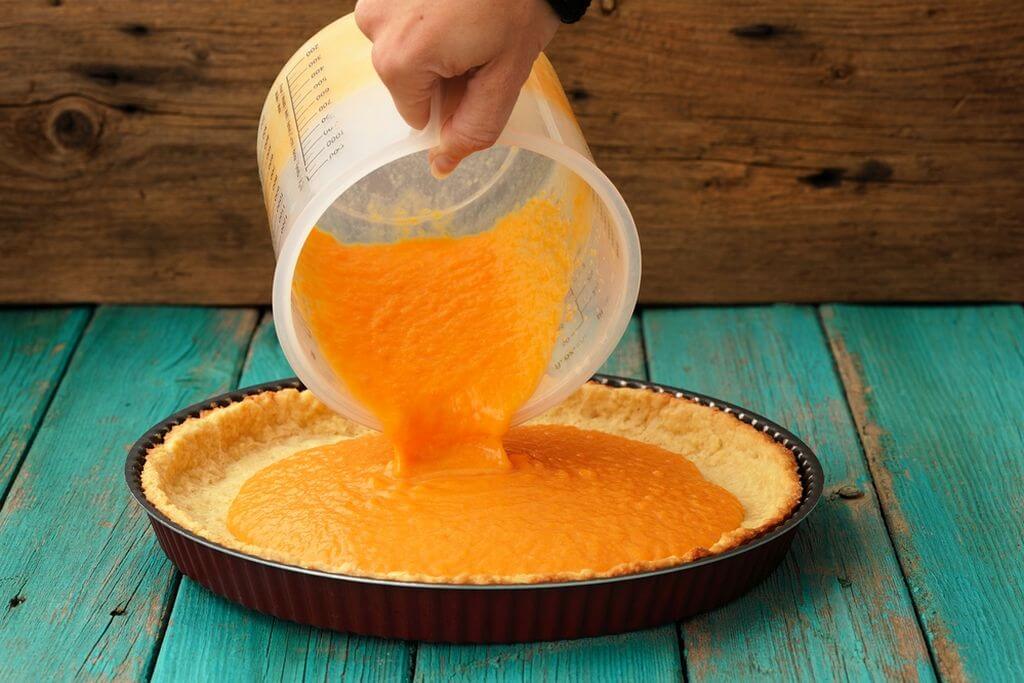 Preparation:
Make the base: Mix flour and salt in a food processor. Add the butter and whisk until the mixture begins to resemble individual pieces the size of chickpea nuts. Add iced water, 1 tablespoon at a time and beat until the dough is smooth. It should be wet, but not wet. Place the dough on a lightly floured table surface and roll it into a ball, with the back of your hand, form a disk. Wrap tightly with plastic wrap and cool from 1 hours to 2 days.
Put dough on a floured table surface or a board and roll to a circle with a diameter of 12 inches (30 cm). Transfer to the 9-inch (22 cm) shape with sides. Cut off the excess dough on top and crush hands. Knock the whole surface with a fork so that the dough does not swell in the oven, then cool 30 minutes.
While the dough cools, heat the oven to 375 degrees Fahrenheit (190 Celsius). Put aluminum foil into the dough pan and fill it with dry beans. Bake 20 minutes. Remove the beans and foil and bake another 5-7 minutes to golden hue. Chill.
Reduce the temperature of the oven to 325 (160) degrees. In a large bowl, beat pumpkin puree, eggs, cream, brown sugar, brandy, ginger, cinnamon, 1 / 2 a teaspoon of salt, nutmeg and cloves together. Pour the mixture into the cooled cake base. Transfer the cake to a large baking sheet. Bake until the crust turns golden, and the center shakes slightly when shaking. It takes from 50 to 60 minutes.
Cool completely before serving.