The article has been automatically translated into English by Google Translate from Russian and has not been edited.
Sofia Rotaru - 73: how the singer broke free from poverty and met the love of her life
On August 7, Sofia Rotaru turned 73 years old. The artist, as always, looks amazing. And it can give heat to younger colleagues on stage. Sofia Rotaru talks about her personal life and the path to success Lady.tut.by.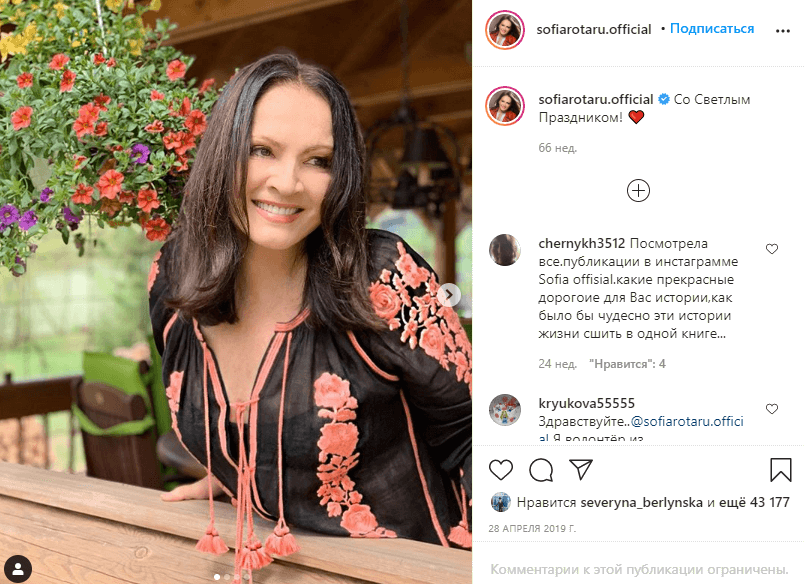 Sofia Rotaru was born in the village of Marshintsy, Chernivtsi region of the Ukrainian SSR, two years after the end of the Great Patriotic War. One of six children in a very simple village family. My father worked as a foreman of winegrowers, and my mother worked in the market.
"As a child, I couldn't even dream of a bicycle. Apart from me, the family had five children: two brothers - Anatoly and Yevgeny and three sisters - Zina, Lida and Aurika, we lived poorly, like all peasants. Parents from childhood taught us to work - I, for example, milked a cow from the age of six - and also support each other. Parents spend whole days at work, in the fields, and we babysit and feed each other. And how our elder sister Zinaida took care of us! She became blind at the age of four - a complication after typhus, but at the same time she managed to enjoy life, learned songs with me, became a second mother for us. So I learned early on that life can be very difficult. And I never forgot about it, "says the singer.
Sofia was a versatile child: sports - the all-around champion among school students, artistic - an active participant in the drama club, musical - she played the button accordion and domra, sang in the choir and performed solo. She was even nicknamed the Bukovinian nightingale. The first success was a victory in the Novoselitskiy regional amateur art competition (1962). It was followed by the first place in the regional review and in the republican one. After a dizzying victory in Kiev, the photo of the young artist got on the cover of the magazine "Ukraine" No. 27 for 1965, and Rotaru herself was invited to perform on the stage of the Kremlin Palace of Congresses.
At this time, Sofia was already a student of the conductor-choral department of the Chernivtsi Musical College. Where she met Anatoly Evdokimenko, a trumpeter in the student pop orchestra. These two immediately fell in love with each other, and a few years later - in 1968 - they got married. Looking ahead, I will say that this marriage will be incredibly long and happy.
"But our love began with the fact that I rejected him for two years. So far ... I don't know what happened in the atmosphere then, but one fine day I was walking with my friend Lyalya along the central square of Chernivtsi, and towards me - Tolik with his friend. We stopped, greeted, I looked into Tolik's blue-blue eyes and suddenly realized that the world had changed. It was a warm May day, and I got goosebumps. From that day we started dating, and a year later we got married - I was 21 then. I still remember our wedding in Marshintsy on September 22, 1968. The whole village was walking, and in the evening it started such a downpour that everyone was soaked to the skin - but they continued to dance! ", Recalls Rotaru.
On the subject: Sofia Rotaru showed her mansion near Kiev for a million dollars
It's 1968, and Sofia Rotaru's career is developing at a frantic pace. The singer is delegated to the IX World Festival of Youth and Students in Bulgaria. Seeing her performance there, the chairman of the jury, Lyudmila Zykina, noted: "Sofia Rotaru is a singer with a great future ...".
In pursuit of fame and success, Sofia somehow miraculously manages to be a wife and mother. In 1970, her firstborn, Ruslan, was born.
"My husband and the orchestra met me from the hospital - I think he gathered all the musicians of Chernivtsi," the artist recalled.
A very short pause after giving birth - and Rotaru goes to the shooting of the musical film "Chervona Ruta", where she is assigned the main role.
After its release, the film turns out to be so popular that Sofia is invited to work at the Chernovetsk Philharmonic, where the Chervona Ruta ensemble is specially created for her. Beloved husband - Anatoly - became the leader of the collective, as well as the director and organizer of all concert programs.
"So at concerts, and at rehearsals, and on tour, we were side by side. Tolik immediately said: "Your business is to look good and sing well, I will take care of the rest." And he did not deceive, he did literally everything for me. Tolik was not only the director of the collective, my producer, arranger, director, he also solved all everyday issues. I always understood that I was successful as a singer, because next to me was such a person as Anatoly Evdokimenko. He, like me, had one music in his head, he kept moving me forward, did not let me relax, he said: "You can do it better, sing more interesting ...", "the artist recalls.
"Chervona Ruta" has been touring the country for months. The audience just loves Rotaru. In 1973 she won first place in the Golden Orpheus competition and became a laureate of the Song of the Year final. By the way, if you count all the songs performed by Sofia Rotaru on "Song of the Year", you will get an absolutely record number - over 90 musical compositions.
"I am sure my strength lies in the fact that I remain true to the folk style of performance. Nationality both in the formulation of the voice, and in the simplicity, restraint of behavior on stage, and, finally, in the choice of the repertoire. And in a folk song there are no accidental, meaningless, empty words. All this undoubtedly taught me, among many new modern songs, to choose only those that are full of deep meaning, evoke reflection. Indeed, in three or four minutes, while the song lasts, the artist has to tell a lot to the listener, make him richer, "the singer said in an interview.
True, from Chernivtsi "Chervona Ruta" had to leave for Yalta. The singer's father was expelled from the party and fired, and her brother was expelled from the Komsomol and the university. The reason was someone's denunciation that the Rotaru family celebrates an unofficial holiday - the old New Year. Repressions could have affected Rotaru, but she moved to Crimea in time, where she was gladly hired by the local philharmonic society. In addition, the local air was more favorable for her voice, which often suffers from performances in the cold.
There were other difficulties that the singer had to face because of the authorities. After the most successful tour of Rotaru across Europe (Yugoslavia, Romania, East Germany, West Germany), the West German record company offered the singer to record an album with Italian and French songs. It was the company that made Mireille Mathieu and Karel Gott famous all over the world. However, the State Concert banned Rotaru from participating in this project. "You only need to sing Soviet songs! And the point. "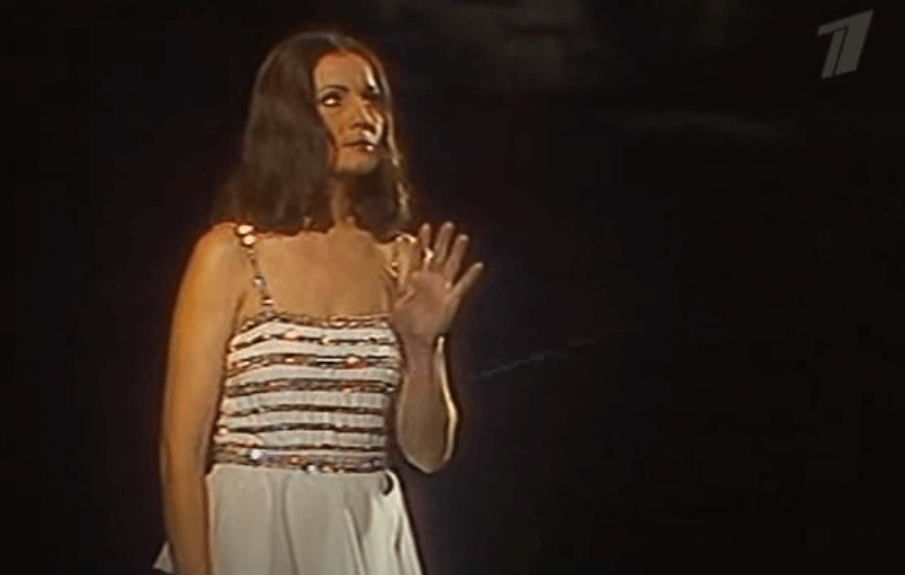 Successful on stage, Rotaru continues to act in films. In the tape "Where are you, love?" (1980) she played the role of a provincial singer. At the box office, the picture was watched by about 22 million viewers. And even more listened to the double album of the same name Rotaru, with the soundtrack to the film. Following "Love", Rotaru starred in the drama "Soul", the TV movie "Sofia Rotaru Invites You" and "Monologue about Love".
Rotaru and the team are invited to perform in Canada, and a disc with their recordings is released there. However, after this trip "Chervona Ruta" will be banned from traveling for five years. And to numerous invitations from abroad, the State Concert replies: "Rotaru? It doesn't work here. " And he sends the singer on tour around the country. So in 1983, only in the collective and state farms of the Crimea, Sofia Rotaru gave 137 concerts.
On the subject: Marriage of convenience, the war with Pugacheva: what Sofia Rotaru was accused of during 57-year career
The great popularity of the team did not ensure good relations within it. In 1986, the Chervona Ruta ensemble split up: the band's musicians part with their permanent soloist.
"I was betrayed," Rotaru reacted. - It was the peak of popularity when we were carried in our arms, when cars were lifted at concerts. It seemed to the guys that they could count on success without me, that I treat them wrong, that the repertoire is not the same, that they receive little money ... When Tolik and I left for their homeland, they gathered and decided that they did not need us. They left with a scandal and with the name "Chervona Ruta" ".
Without a soloist, the collective has sunk into oblivion. But she not only stayed afloat, but also became even more popular. Rotaru began collaborating with composer Vladimir Matetsky, who wrote many great hits for her.
On the subject: Sofia director Rotaru told how the 72-year-old singer remains in great shape
The difficult 90s did not become a big shock for the artist. The love of the people has not gone anywhere. People continued to go to Rotaru concerts. She tours a lot in the former Soviet republics: Lithuania, Latvia, Estonia, Georgia, Azerbaijan, Armenia - especially for them she prepared the program "Friends remain friends."
She is adored in Russia. Rotaru is a welcome guest at numerous concerts and "lights" on television. And her number in the ORT project "Old songs about the main thing" of the ORT television company (1995) has become practically cult.
At the beginning of the new millennium in Ukraine, Sofia Rotaru is recognized as the "Man of the XX century", "The best Ukrainian pop singer of the XX century", "The Golden Voice of Ukraine". Unfortunately, the "golden time" in public turns into a black time of pain and loss in the actress's personal life. On October 23, 2002, her beloved husband and producer Anatoly Evdokimenko died. For the first time, she canceled all concerts, filming and touring.
"Yes, I went through a lot. She lost her mother, then her husband, then her father, and soon after, at the age of 45, her sister Auriki's husband died. All the aunts and uncles on my mother's side are gone ... That is why today I value communication with my relatives so much. Loneliness is very hard, it never gets worse. But I don't think to look for a replacement for Tolik. One husband is enough for me, the love that we had. And which I still keep. To some, such devotion will seem strange, out of date. He is not, but he is still somewhere nearby. I am recording a new song - and I sing it for Tolik. I go on stage - and again I remember Tolik. Everything for him! We continue to communicate, and I don't need other men, "says Sofia Rotaru.
On the subject: Rotaru, Vasilyeva, Rip and other star grandmothers who dress like girls
Her beloved son saved the singer from depression. Thanks to Ruslan, his mother got an updated repertoire, which managed to interest the singer and help her again to get carried away with what she loved. New songs, new albums and new tours.
"I make the first selection from the mass of musical material, I recommend the songs I like. And we jointly decide the further fate of this or that composition. For example, they listened to Vladimir Matetsky's song "On the Seven Winds" together and immediately decided to record it without discussion, "Ruslan said about working with his mother.
Sofia Rotaru reappears on television, and her voice sounds from almost every speaker.
The son organizes solo recitals for mom in Chicago and Atlantic City in the USA, in Monaco and Nice. True, Sofia Rotaru deliberately reduces the number of performances. To be with my family more. Her daughter-in-law Svetlana said: "After returning from a tour, Sofia Mikhailovna always took her grandchildren to her place and let us go for a walk with friends."
"I don't regret not singing a hit or moving to Moscow. I only worry that at one time I devoted little time to my parents and son, - Sofia Mikhailovna later admits. - I make excuses that I was just too busy, I gave all of myself to work, but you can't deceive your heart. Little Ruslan was first raised by her husband's parents, then mine - Anatoly and I were on tour all the time, sometimes we were not at home for two months. Of course, we were very worried that our son didn't see us much, we always felt guilty. But they couldn't quit their favorite job. "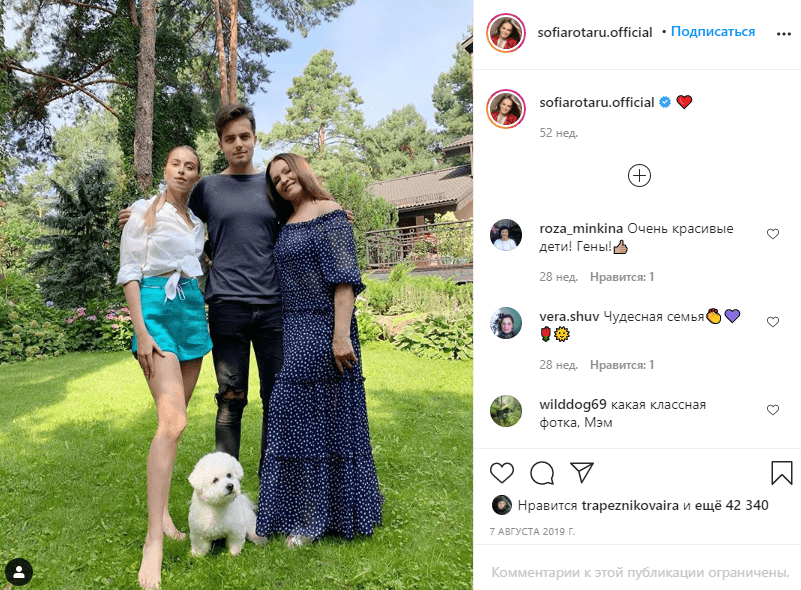 "I knew that Ruslanchik always lacked maternal affection, paternal advice, although he denies it, he says:" What are you, Mom, I had a wonderful childhood! ". But I remember that when Tolya and I arrived, Ruslan first of all asked how long we had arrived. And when I heard the answer "for a whole week", I jumped for joy. And in the evening he came to our bedroom, lay down between us, kissed Tolik, me and fell asleep, completely happy. Yes, I am guilty before my son, but he grew up with me as a real man, a support. And he never hid behind my name. I was not ashamed of her, I just always wanted to achieve something myself. It's great when you can be proud of your own son, really be friends with your grandson and granddaughter. "
Recently, Sofia Rotaru often says that her departure from the big stage is not far off. And although she is not in a hurry with loud statements, the singer is increasingly rejecting offers to perform on TV shows and in group concerts.
"Better to leave the stage a year earlier than a day later. But for now I feel young and strong. Look what support I have: a son who decides all organizational issues, a daughter-in-law who deals with my style, costumes. So I can sing until I'm 90. Tolik often repeated that you always need to be a little underdone - one song. So that the people, leaving, said: "Oh, how I wanted to hear this song." Not like this: "Oh, I'm tired, everything sings and sings ..." There must be some understatement, "the singer says.