The article has been automatically translated into English by Google Translate from Russian and has not been edited.
All ages are submissive to shopping: how a young fashionista Lisa graced the pages of Carter's
'15.04.2017'
ForumDaily Woman
Ukrainian mother Anna Latysheva tells how her passion for shopping made her baby daughter Lisa the star of the site Carter's.
I faced the problem of how to dress a child in high-quality and at the same time stylish things for a long time.
The Ukrainian market, of course, offered me its choice of children's clothes and shoes, but it was poor, boring, and with direct acquaintance it did not differ in quality. Things could fade, shrink in size, stretch after washing, change their original appearance: that is, they lived their own lives and, often, did not adorn the child.
If the thing was outwardly beautiful, stylish, using bright interesting prints and differed at the same time with a rare property like quality, then the price tag on it was sobering me up very quickly.
More than once I came across positive reviews about the brand, which is very popular in Ukraine and whose shops we unfortunately do not yet have: carter's.
American carter's offered a lot of nice bonuses: the loyalty program Rewarding moments, and cashback for purchases, which are very popular in the US, unlike in our country, where this functionality is born, was a nice addition to the money saved.
About a year ago I was flipping through the Gallery Share a little cute @ carter's with photos of children and wanted to share the bow of my eight-month-old daughter Lisa. In the closet at that time, almost all of her clothes were of this brand, because by ordering a couple of things to sample and paying very affordable money for me, I understood why Ukrainian women love this brand so much. Liza's wardrobe was replenished every month, since the sales there are permanent, and the items from the new collection are also available to my wallet. Well, in the end, I'm the girl's mother, burdened with love for shopping. Who, if not me, to earn and immediately spend?
So, having armed myself with a camera and cutting off tags from the next things, I made a miniphotot and sent a photo for pre-moderation.
Quickly enough, Lisa's photo turned up in the Gallery and it seemed to me that she looked very organically among children of different nationalities. The second photo of Lisa, who adorned Carter's Gallery, was made randomly on a walk, using her mobile phone in her 13 months, also in her pajamas, but even her mobile phone camera perfectly captured the color of her blue eyes and cheerful mood. Well, many pajamas of this brand look like suits.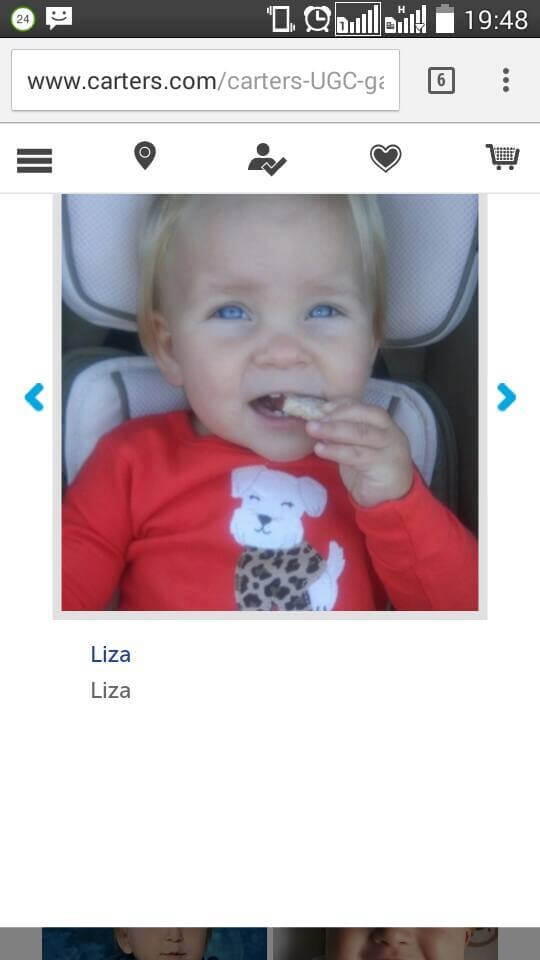 And now for the third time the photo of Lisa, where she 19 months, flaunts in the gallery of this site. Little fashionista becomes a little star. Our family is at least.