The article has been automatically translated into English by Google Translate from Russian and has not been edited.
Six original sauces you can make at home
The history of sauces goes back to the era of ancient civilizations. In those distant times, the main and probably the only sauce was garum. It was prepared from fish offal soaked in saline, and was used by the ancient inhabitants almost everywhere.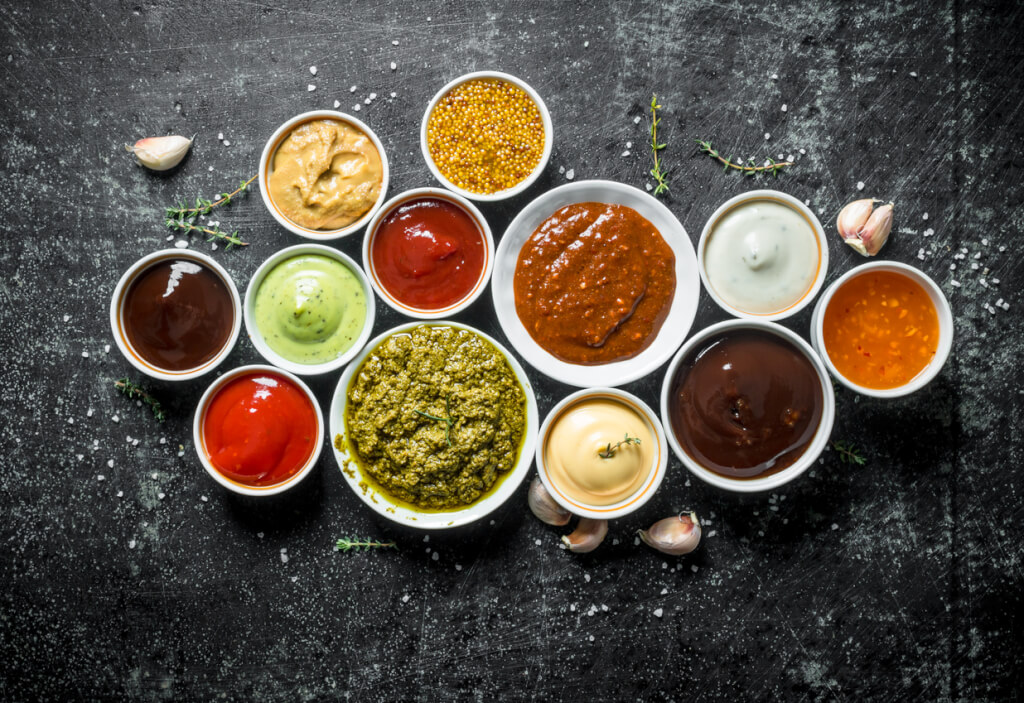 Today the situation has changed radically. Only French cuisine has more than three thousand sauces - choose from which, writes Rambler. Despite this, many continue to pour store-bought ketchup and mayonnaise on dishes, believing that homemade sauce requires some kind of transcendent culinary skills. In fact, among all the variety, you can also find simple liquid seasonings that can really be made at home and without much hassle.
Cheese sauce
What to serve: saute or steamed vegetables, baked potatoes, sandwiches, pasta
Ingredients:
1 cup (240 ml) skimmed milk, 4 tsp. flour, 1/4 tsp salt, 40 g grated spicy cheddar cheese, 1/4 tsp. freshly ground black pepper
Preparation:
Combine 1/4 cup milk and flour in saucepan; mix with a whisk. Add remaining 3/4 cup milk and salt. Bring to a boil over medium heat, stirring frequently. Reduce fire to minimum. Boil, stirring constantly, over low heat for 2 minutes or until the mixture thickens slightly. Remove from fire. Add cheese and pepper. Continue stirring the sauce until the cheese is melted.
Pikkata
What to serve: veal, chicken, any white fish, salmon
Ingredients:
120 g white wine, 15 g capers, 8 g olive oil, 25 g butter, 8 g lemon juice, parsley, salt, black pepper
Preparation:
Place white wine and capers in a pan. Place over medium heat and bring to a boil. Evaporate well so that about 1/4 of the original volume of wine remains in the pan. Add olive oil and butter (2-3 small cubes), melt. Then pour in the lemon juice. Add chopped parsley and stir.
Sauce "frying pan"
What to give: fish, meat, poultry
Preparation:
After frying the main course - fish, poultry, meat - in a pan, add a few ingredients that would add flavor to the sauce: garlic cloves, onions, fresh herbs, etc. Fry them a little, then pour in the wine, broth, water or their mixture. Scraping the burnt particles from the walls with a wooden spatula, boil the sauce to the consistency of syrup. Depending on taste preferences, add heavy cream, Dijon mustard or butter to the sauce. Mix and remove from fire. Add seasonings to taste.
Romesco
What to serve: vegetables, fish, meat with a bright taste (for example, lamb)
Ingredients:
1 garlic head, 45 g olive oil, 1 red sweet pepper, 40 g peeled hazelnuts, 2 canned tomatoes in an iron can, 5 g salt, 8 g sherry vinegar, 50 g hazelnut oil, 3,5 g smoked paprika
Preparation:
In garlic, cut the bottom. Put it on the foil and drizzle with a little olive oil. Wrap and send in the oven preheated to 200 ° C for about 40 minutes, until the garlic is soft and lightly browned.
Roast the peppers in the oven or under the grill until the skin is charred. Place in a bowl, cover and let stand 5 minutes. Remove skin from pepper. Cut, remove seeds and white partitions. Cut coarsely.
Put the nuts in a frying pan and fry until fragrant and lightly burnt. Put the hazelnuts in a blender and grind at medium speed until the consistency of the powder. Remove skin from garlic and add to blender. Put pepper, tomatoes, salt, vinegar and smoked paprika. Mix everything to a paste consistency. Set to low speed, pour in olive oil and hazelnut oil. Taste the sauce, add seasonings to taste.
Yellow BBQ Sauce
What to serve: hot dogs, sandwiches, grilled pork
Ingredients:
300 g Dijon mustard, 150 g distilled vinegar, 150 g apple cider vinegar, 60 g Worcestershire sauce, 8 g salt, 0,5 g cayenne pepper
Preparation:
Put all the ingredients in a large glass bowl. Mix gently with a whisk until smooth.
Wine sauce
What to do with: meat
Ingredients:
2 tbsp butter 1 cup (240 ml) finely chopped shallots 2 cups dry red wine 1 tsp. chopped fresh thyme 2 cups chicken broth 2 tbsp. butter + for frying, salt and pepper
Preparation:
Melt the butter in a large skillet over medium heat, and sauté the onion in it until golden brown (about 6 minutes). Add red wine, thyme and simmer until liquid is reduced by 2/3 (about 10 minutes). Pour in the chicken broth and simmer until the liquid has reduced to about 1 cup (about 1 minute). Add 2 tablespoons butter, salt and pepper and stir.