The article has been automatically translated into English by Google Translate from Russian and has not been edited.
Sedokova published a romantic photo with a new lover, but ran into criticism
Anna Sedokova published another photo with a new lover, who had previously left his wife with a newborn baby for the sake of a relationship with the singer, writes Rambler... Subscribers criticized the photo, reminding Anna that "happiness cannot be built on someone else's misfortune".
Singer Anna Sedokova confessed her love to basketball player Janis Timma, who plays for Khimki. A touching publication appeared on the artist's Instagram page.
The post was published on May 12. The photo captures kissing against the sunset Sedokova and Timm.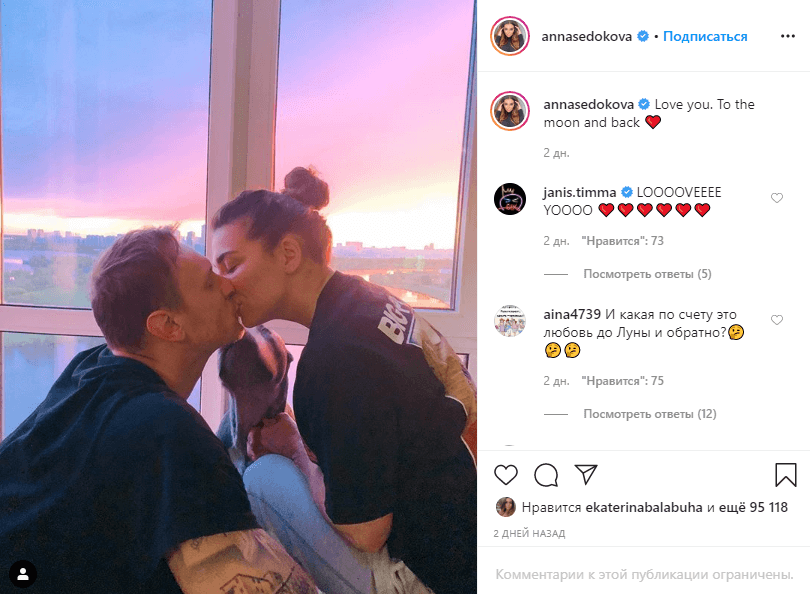 Love you. To the moon and back (which means "I love you. To the moon and back") - the singer signed the picture.
In the comments to the post, there was a response from the athlete, who stated that he loved Sedokova. Users diverged in assessments of the union of the artist and the basketball player.
"You cannot build happiness on someone else's misfortune ..." said a user under the nickname pavlinapalchikova, who recalled that Timma had gone to Sedokova, leaving his wife with a one-year-old child.
On the subject: 'He is my pride': Sedokova no longer hides her lover, whom she took away from the family
"And what kind of love is this to the moon and back?" - Aina4739 asked, hinting at the number of male singer in the past.
"So good, happiness to you and love," lena_yur_20 discharged.
Previously, Anna Sedokova shocked fans with "vulgar" Instagram photos, accompanied by Janis Timma. In the picture, the artist and the athlete are depicted in the bathroom in the same underwear. Social network users considered the photo too overt and vulgar, as, indeed, most of the other photos on Anna's page.