The article has been automatically translated into English by Google Translate from Russian and has not been edited.
The longest undeserved term in US history: what happened to Richard Phillips
The American got in touch with a gang of bandits and suddenly became a suspect in a number of crimes committed by his cronies. Unfortunately for him, one of his friends, whom he considered his best friend, decided to shift all the blame for what he had done to him. The plan succeeded, and the innocent man was sentenced to life in prison. The story of an American who served the longest undeserved term in American history is told Lenta.ru.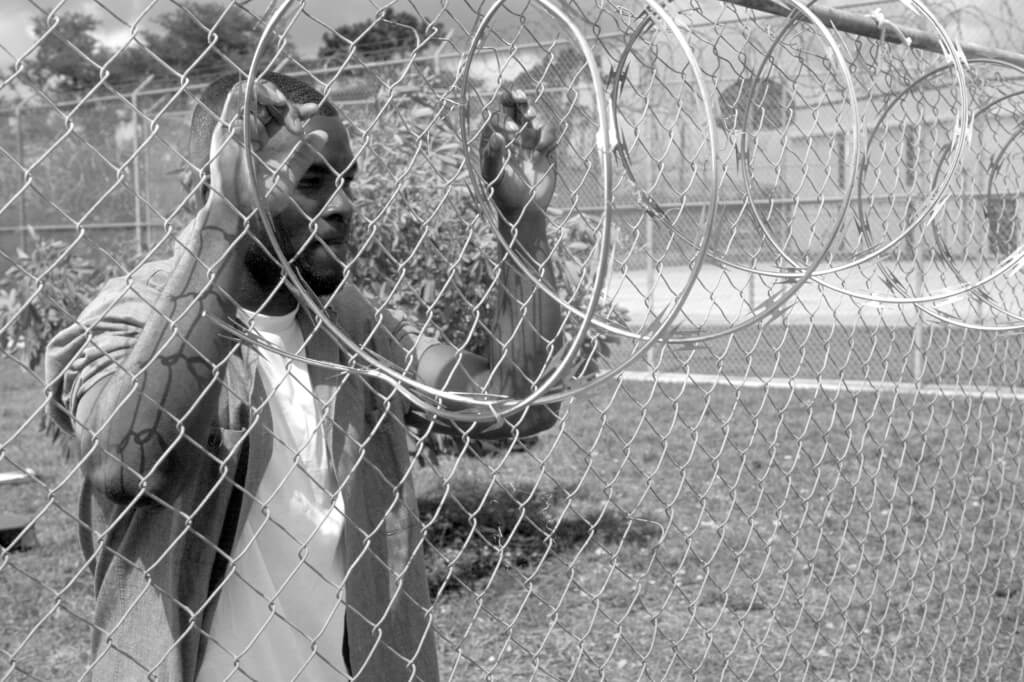 It all started in childhood
Richard Phillips was only 12 years old when he was first charged with a crime he did not commit. This happened in 1958 in Detroit, Michigan. His stepfather lost his wristwatch and thought Phillips had stolen it. The man took a thick leather belt, drank a Scotch whiskey and began his interrogation. He beat the boy again and again, demanding that he confess everything. Phillips' mother was at home, but too scared to intervene.
Phillips knew his stepfather wouldn't stop until he heard the confession. Finally, exhausted from pain, he lied and took the blame. He said he gave the watch to a classmate. His stepfather ordered him to go to school on Monday and take the thing back. That night, the boy could not sleep and kept pondering where to get the lost watch.
The next morning, Phillips ran away from home. He brought with him canned food, a bottle opener, a couple of slices of bread and an empty syrup bottle filled with powdered mixture for a sweet drink. The next day, the police found him in an abandoned house and took him to his stepfather. He gave Phillips another flogging and knocked out of his head the idea of ​​escape.
Another way
Phillips soon had a close friend, Fred Mitchell. Together they played baseball, skipped school, drank beer in backyards, got into fights, dabbled with weapons and played hide and seek with the police. It was 1967, Detroit - brutality and banditry reigned everywhere. Phillips and Mitchell at any moment could from underage hooligans to become inveterate bandits.
Phillips chose a different path. After a short prison sentence for carjacking, he took a typing course where he learned to type 72 words per minute. Having acquired a new skill, he got a job for a decent salary for those times - $ 4,10 per hour. Every morning he put on a suit and took the bus to his office, spending less and less time with his criminal friends.
On the subject: Tyrant husband, son's suicide and late love: the difficult fate of Tina Turner
He was popular with women, but did not enter into a serious relationship with any of them. One day, his friend Teresa told him that she was expecting a child from him. Phillips acted like a decent man and stayed with her. After the couple had a daughter, they got married. Later they also had a son.
Phillips tried to make his children have a childhood better than his. He was a loving and considerate father, pampering children with new beautiful things and leaving a mountain of gifts under the Christmas tree.
Unfortunate joke
In 1971, Phillips was 25 years old. He had a cocky personality, he liked to joke with colleagues on work on other people. One of the jokes went too far: someone put a lighted cigarette in one of the employees' pocket. The victim blamed Phillips for everything, and the bully was fired.
By then, Mitchell had been released from prison. Unemployed and lost, Phillips began interacting with an old friend again. Mitchell introduced him to his cellmate - Richard Palombo, nicknamed Dago. The three of them started going to nightclubs and using heroin in cheap hotels.
Phillips led a double life: at night he was a dangerous drug addict, and during the day - a caring and diligent father. One September day, he took four-year-old daughter Rita and two-year-old Richard Jr. to an amusement park. They rode a Ferris wheel, went to the race track and took pictures together in a photo booth. After that day, Phillips left home and never returned.
Mitchell or Phillips?
On September 6, 1971, two gunmen approached a grocery store on the outskirts of Detroit. The black man remained at the front door, while his armed white partner went inside and began to demand money from the cashier. They stole less than ten dollars and left quickly. Local residents noticed a car moving along a strange trajectory and called the police.
The patrolmen punched through the license plates and went to the owner of the car - Palombo. It was known that he was at the motel last night with Mitchell and Phillips. All three were detained. Palombo's fate was sealed. It remained for the court to determine the second participant in the robbery: Mitchell or Phillips. They looked like each other, both were dark-skinned and had a large build.
Two witnesses to the robbery were summoned for identification. They unanimously decided that they saw Phillips in the store that night.
In November, at a court hearing, Palombo described how the robbery happened. He did not mention the name of his accomplice. The prosecutor asked him: "Are you afraid of someone?" To which the defendant replied that he was not afraid of anyone. Although one of the witnesses doubted who exactly Palombo's accomplice was, Phillips was found guilty. He was sentenced to seven years in prison.
Corpse
On March 3, 1972, a road worker from Troy, Michigan walked into a thicket to relieve himself and noticed an object gleaming in the light. It was the frozen skeleton of 21-year-old Gregory Harris. The young man disappeared in June last year after leaving for a store to buy cigarettes. Harris's wife found his green convertible the day after it went missing. There were traces of blood on the seats.
Harris' mother told a police officer about the strange call later that year, according to the case file. According to her, an unknown woman called her and said: "I can no longer be silent, Fred Mitchell and his friend Dado pulled your son out of the car on Lasalle Street. They shot him in the head. They took him away and threw him in the thickets. " How the police reacted to this statement is unknown.
On March 15, Mitchell was arrested again - for crimes not related to the robbery of the store and the murder of Harris. The next day, he told police that he knew the details of Harris's death. He claimed that Palombo and Phillips were the killers.
On the subject: Why mother of many children Elizabeth II hid the pregnancy every time
From his testimony it turned out that he knew about the plans of his friends to commit murder. He claimed that he himself was indirectly involved in the crime: allegedly it was he who lured Harris into a death trap. Mitchell was arrested for possession of a weapon that allegedly fired at Harris. After cross-examination, investigators identified a possible motive for the murder: while Mitchell was in prison, Harris stole $ 500 from his mother's bag.
The case is fabricated
For unknown reasons, which will certainly remain undisclosed, the state authorities insisted on a different version of what happened. The prosecutor convinced the judge that Mitchell had unwittingly heard that Palombo and Phillips were plotting murder. According to their version, one of Harris's brothers allegedly robbed a drug dealer - Palombo's cousin. However, neither the attorney nor Mitchell tried to explain why Phillips suddenly began to take revenge for a practically unknown person.
It is not known whether the investigators checked the fingerprints and traces of blood from the victim's car. However, this evidence was not used in court. Phillips' court-appointed lawyer was not active in the defense. He did not call a single witness and did not provide any evidence that could save the client. When the lawyer was given the floor, he uttered a rather strange phrase.
"You know, the death of Gregory Harris is being discussed here. I am not sure that he is dead, "said the representative of the accused.
The judges found Palombo and Phillips guilty of conspiracy and first-degree murder. Before Phillips was sentenced to life in prison, the court summoned him to a final word.
"It is useless, Your Honor. I was not guilty, yet I was found guilty. Now almost nothing can affect the verdict, so I can only wait for some detail to turn the case in my favor, "said Richard Phillips.
Prison life
Phillips really waited, trying not to kill anyone and to avoid death himself. He knew that some prisoners could not stand the prison life with the most dangerous criminals and committed suicide. He also saw wives with children come to his cellmates, and how the warders examined even babies, probing diapers.
He didn't want his family to feel like that. Therefore, he sent his wife a letter asking her not to come to prison and not to bring children there. He advised her to forget about him and find another man. She did just that.
On the subject: American with schizophrenia pretended to be genius and handsome to father 36 children
In prison, Phillips began writing poetry. In 1989, he won ten dollars in a Christmas song contest. The following year, when he turned 44, he plunged into creativity and composed at least 31 poems.
"What I would never give is the opportunity to be young again," he wrote. - The hand of the clock rotates like a water wheel at an old hut. Everything had a plan. Nothing can be brought back, especially time. "
In the same year, he found a new hobby and abandoned poetry.
He asked to send him acrylic paints, and received a whole set for sketches from the Academy of Watercolor Painters. He studied on his own: he experimented, made mistakes, read books in the prison library to master the technique. He was inspired by the work of Pablo Picasso, Leonardo da Vinci and especially Vincent Van Gogh.
In painting, he found his consolation. When he worked, he forgot about the 20 years he lived in prison for a crime that he did not commit. During his imprisonment, he created about 400 paintings.
At some point, his work began to take up so much space in the prison cell that they were threatened with confiscation. Then Phillips made boxes out of scraps of cardboard and mailed the paintings to New York to his pen pal Doreen Cromarty. For many years she kept the works in the closet, sincerely hoping that one day her friend would be released and take them away.
Attempts to appeal the sentence
Between 1991 and 1992, attorney Helen Brown received applications to review the sentences of two prisoners, Palombo and Phillips. Based on their testimony, it seemed that they were unlawfully convicted only on the basis of the words of one witness. Brown believed that this could not happen, otherwise any person could accuse another of a crime and unfairly send him to jail.
The lawyer delved into the case materials and found a quote from the judge:
"Mr. Mitchell, when I read your testimony, I was going to sentence you to life in prison. Then I continued to immerse myself in the case and realized that you were just a tool for committing murder in the first degree, and you are listening to leniency, "she said.
The lawyer believed that Mitchell made a deal with the prosecution. The judge reduced his sentence to 10-20 years in prison, and later, after his next appearance in court in the Harris case, he was sentenced to a term of 4 to 10 years. Brown believed there was an agreement that Mitchell would never be charged with Harris' murder, despite his admission that he was the one who lured the guy into a death trap.
If Brown's assumptions were correct, then Palombo and Phillips received notoriously unfair sentences. She got the case reviewed. The Wayne County attorney denied the misconduct allegation. The judges stated that the evidence provided by the lawyer was insufficient. As a result, the sentences of Palombo and Phillips remained unchanged.
True
In 1971, Palombo declared that he was not afraid of anyone, but that was a lie. He later admitted in an interview that he was actually afraid of Fred Mitchell.
"I kept my mouth shut because I was afraid for myself and my family. He told me to keep quiet, which I did, "said Palombo.
However, over time, his health began to deteriorate, and fear mixed with guilt. He closed his eyes and saw the dead Harris in front of him. Palombo suffered from nightmares, so he began to pray and ask for forgiveness. He never stopped appealing, and when his sentence was commuted, he wrote to Phillips and urged him to try the same methods as he did.
In 2010, Palombo learned that Mitchell had died. On August 4 of that year, he again filed an appeal. However, this time he decided to make a frank confession. Previously, he supported Mitchell's version and said that Harris was killed after robbing his cousin. Now he provided the judges with a new version of what happened.
Palombo became friends with Mitchell in 1970 at the state prison for men. One day, Mitchell told him that several guys broke into his mother's house and stole $ 500 from a bag. Palombo promised to find and teach the bandits a lesson when he gets out of prison.
When both friends were free, they began to contemplate a robbery of a grocery store. Palombo did not like Mitchell's plan: he did not want to attack in the daytime and without a car in which to quickly hide. After discussion, he went to the bus stop to go home.
On the subject: A literary approach to murder: the crime was solved years later thanks to the novel
Suddenly a car drove up to him, in the back seat of which was Mitchell. Harris was driving. "Come on in," Mitchell called. "They'll give us a lift."
Palombo sat down next to his friend and prepared to rob. Harris parked and went to the store for cigarettes. Mitchell took the pistol from Palombo and said, "This is him. One of the guys who robbed my mother. I'm going to finish him off. " When Harris returned, Mitchell asked him to turn into an alley where they were to arrange a store robbery.
Harris obediently rode up to the indicated place. Then Mitchell drew his weapon and shot Harris in the head. Despite being seriously injured, Harris managed to open the driver's door and then fell out of the car. Mitchell followed him and fired a control shot. The accomplices pushed the corpse into the car and took it outside the city limits. They threw the dead man in the thicket, where a road worker found him.
After that, Palombo was asked to tell if Phillips was involved in the crime.
"I first saw Phillips on July 4, 1971, during a barbecue at Mitchell's house. It was about eight days after the murder, "he said, stressing that Phillips was not involved in the case.
Palombo never got out of prison. In 2020, he contracted COVID-19 and died on April 19. He was 71 years old.
Justification
Since Palombo's confession, at least three high-ranking Michigan officials have pushed for Phillips' acquittal. It took seven long years. On December 12, 2017, after hearing the testimony of Phillips and taking note of his good behavior in prison, District Judge Kevin Cox released him pending a $ XNUMX bail sentence.
In December, Phillips found himself out of jail for the first time in 46 years, serving the longest undeserved sentence in US history. He was temporarily sheltered by Julia Baumer, an employee of the nonprofit legal organization Innocence Clinic, which seeks to acquit wrongfully convicted people. She showed Phillips the city and helped him adapt to the world that had changed over the decades.
Almost 50 years after the murder of Harris, and almost all eyewitnesses to the crime have died, but the authorities were able to interrogate the victim's brother. He confirmed Palombo's words that Mitchell wanted revenge. One of the brothers, Alex, stated that they tried to kill him in June 1971, after which he left the state. According to his testimony, his sister knew that Mitchell was involved in the murder of Harris.
On March 28, 2018, all charges were dropped from Phillips and the life sentence was overturned.
New life
At first, Phillips tried unsuccessfully to find a job and found it difficult to get used to a new life. Then he remembered his paintings and called Doreen Cromarty, his pen pal. They kept in touch for 35 years, and all these years Cromarty carefully preserved hundreds of his works. He bought a ticket to New York and went to meet her.
On the subject: John F. Kennedy's 'Official' Assassin and His Russian Wife: The Story of the Oswald Family
Cromarty hoped Phillips would want to stay with her, but he had other plans. For many years he dreamed of returning to his old home and finding freedom, and finally he was given a chance. He took his paintings and sent them to Michigan. Later, he was helped to organize an art exhibition, where he was able to sell about 20 works in one evening. After that, he sent Cromarty a check in gratitude.
He bought a used car and learned to drive again. After his story became known around the world, there was a great demand for his paintings. But five months later, many countries, including the United States, have introduced quarantine. Phillips again found himself isolated and, like in a prison cell, plunged into creativity.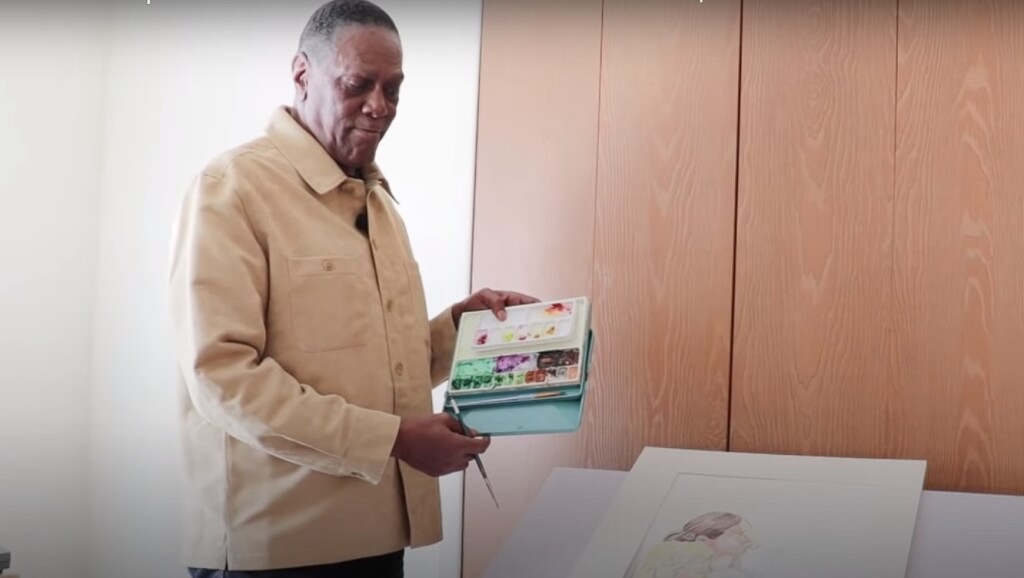 In addition, he has developed a relationship with his son, who is about 50 years old. Phillips last saw him when the child was only two years old. It turned out that in his youth, Richard Jr. was also fond of drawing, and in high school he won a prize for the portrait of actress Lisa Bonet. Phillips' daughter moved to France and refused to communicate with him.
"It's hard to think about it. I don't know what kind of life I could have, he reasoned. "It's very likely that I would have been dead by now, given that I lived in Detroit. What happened has brought me to where I am now. I am not complaining, because I am 73 years old and 95 percent of my acquaintances are already dead. "