The article has been automatically translated into English by Google Translate from Russian and has not been edited.
Beauty salons in America: my experience and impressions
Horrible American manicure and pedicure, how to choose masters, about male and female haircuts, about my sad experience of hair dyeing and about finding a beautician.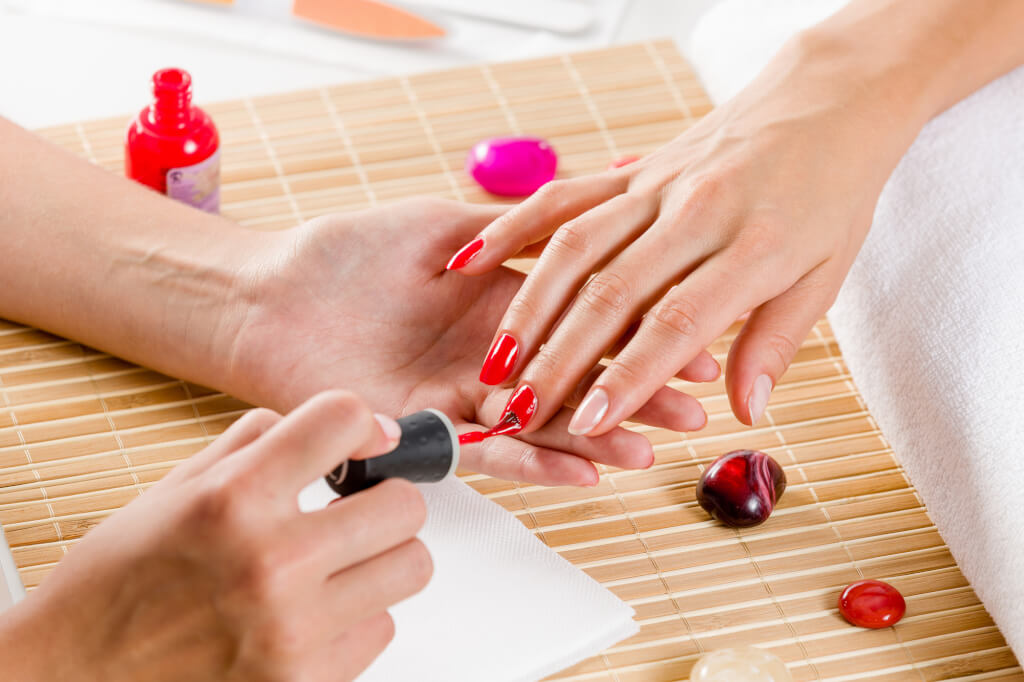 First of all, it's worth starting with the fact that in the USA there is no such boom for beauty like in Russia (yes, beauty bloggers appeared here, but the Internet and the reality are different worlds. And I think only New York will be except ...).
American women treat their appearance quite simply, especially in California, where it is always hot, and the lifestyle is generally relaxed. In the course there is only comfortable and simple clothing: sneakers or flip flops, leggings or shorts, T-shirt or T-shirt. And consequently, since such an outfit, what kind of makeup is there, when you can go to the store, or go to yoga or go for a walk with a dog, generally unpainted. From this all follows, in my opinion, such a plus that women here are not worn out by unnecessary difficulties, do not apply five layers of plaster on themselves, do not break legs on heels, go for bread, do not increase lips and do not increase nails for big money , and men love them as they are (of course, there are exceptions everywhere and women with fantastic colors and nails with rhinestones can also be found here, especially if they have gathered somewhere, in the same club). But, from here and minus. Due to the fact that the demand for beauty salons is not very large (or rather, the salons are full, but the requests from the clients are obviously quite simple), because it's good for everyone, the quality of all these services is quite bad. For all that, America is ahead of the rest, plus Hollywood still cinema, but making a beautiful haircut and perfect manicure here is very difficult. And I am completely dissatisfied with this.
It is also worth saying that the nail salon and the hairdresser in the USA are two separate establishments. There are such beauty salons, where you can come for haircuts, eyebrows, and nails, i.e. hang in one place for the whole day and become beautiful at once in all possible places, I haven't met anything here. At most, I can assume that this is already something not for mere mortals, and where they do everything at once - it will be very expensive. In the end, such a separate system, in my opinion, is completely inconvenient, because when it is time to tint the hair, and update the nails, and adjust the shape of the eyebrows, then you need to go to 3 in different places. And if you also choose good salons and masters for reviews, they unfortunately are usually located in completely opposite parts of Los Angeles.
Manicure and pedicure
In Russia, I always went to the same master for many years, but when I moved to the United States I was fascinated with varnishes and lived for a long time, doing this thing myself. Then I still had an attempt to go to the salon for a manicure and pedicure, but she did not meet my expectations.
The thing is that the Philippines are almost always involved in nails (if I am not mistaken, in general, ladies from somewhere in South Asia who are not very steamed on beauty). They are straight whole salons, and from this it follows that a) such salons are accessible to everyone; b) their salary is obviously small, therefore, there are low requirements for the quality of work; c) they do not speak English at all. And they make all these aunts nail services somehow and a complete conveyor, that is, as soon as possible, they smear, rub and paint. And then "Next!"
How it all happens: you come to the salon, choose the desired colors of nail polish from the shelf, and then you sit in the chair. One aunt makes hands, the second at the same time - legs. To this, everyone else can offer a mask on the face, massage and other nonsense (I personally refuse it all). In more decent salons are massage chairs, pultik usually lies nearby, you can manage yourself.
For example, two options "so-so" and "decent":
So, on my first trip to a similar salon, I was a little scared by such an active activity of the masters, there they have as a plant for the production of a mani pedi (as it is terribly called here), I got used to a more relaxed atmosphere in Russian salons when you draws flowers on nails and in parallel talks with you about any nonsense.
In addition, for my nails, I chose a dark blue color of lacquer, which is not so easy to paint my nails (when the varnish is dark and monophonic, all the flaws are very visible), and, naturally, I did not like the result (the next day I repainted the nails myself). I can also do a manicure myself, painting my nails on my knee, sitting on the couch and watching a new series. Not so hot, but come down! From the salon, I still expect a masterful application of varnish with a full hand, and not "how it happened, it happened so."
And besides all this, I was scratched with a pumice foot, ripped off some skin on the side of the foot. The lady who was doing the pedicure was very actively rubbing my heels, while not paying much attention to what and where she was rubbing at all, so she missed and harassed her too much. My blood even went out and I had to seal this sacrifice of beauty with a plaster, since I was in sandals. Of course, my legs are very skinny and skin is thin, but this obviously does not justify the "master". As far as I remember, this experience cost me $ 33 (without tips, which are mandatory here), which I will not call cheap.
After some time, my sister and I decided to take the risk again. This time I got down to business thoroughly and sat down to read reviews about manicure establishments in my area. You know, it was fun! In my opinion, one salon was worse than the other, but what is surprising, in their reviews, American women applied photos and many were "very pleased" with this, although, of course, there were also women who were not happy with this quality of manicure.
Here are real examples of what you can get from local craftsmen: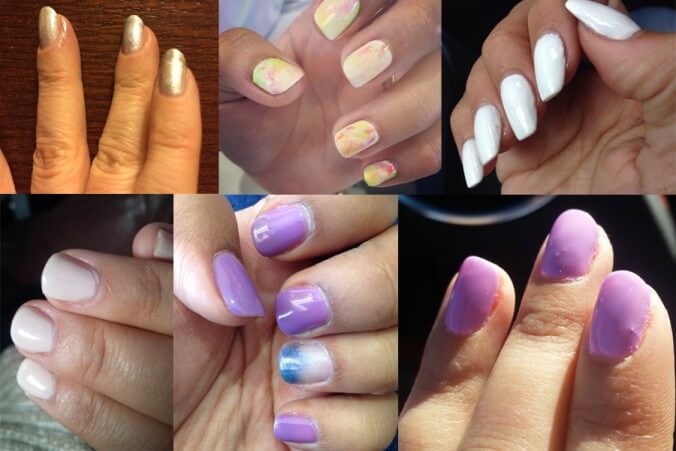 I also looked at more expensive options for services, even several times more expensive than a regular manicure, but photos of the works did not tempt me either. In addition, there is a clear problem with the design of nails. Of course, we also do it, but compared to my concept of nail design, what girls now paint on their nails, even in small towns of Russia, a clumsy flower on a nameless finger cannot be combined. If you want something fashionable, stylish, smooth ... do not expect much. Or if they make a design here, they make it to the full! First example: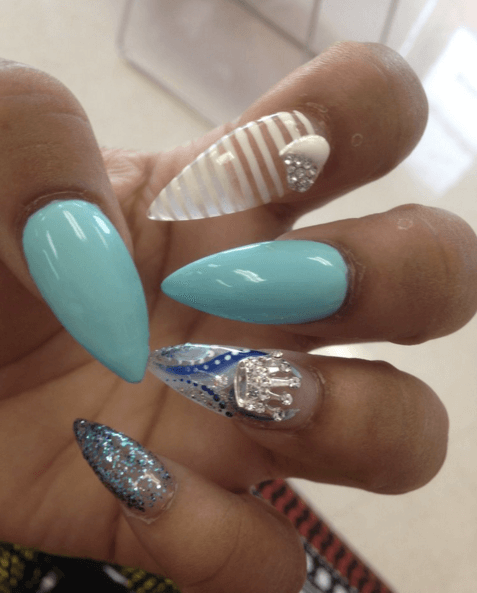 After killing a few hours to search, we still went to the nail salon in front of my house. All with the same Phillips, but more decent. And for the first time I really liked the manicure and pedicure. That's right, no complaints! The second time, the pedicure was made just perfect, but with the hands they adjusted a little. Painted smoothly, but the aunt was in a hurry and, as the last finishing touch, put the top-drying in a fat layer and not on the whole nail, but where the brush came. Thus, when drying drying, everything somehow pulled off, the varnish under the top and without it became a different color, and in general - at C grade. For manicure and pedicure in this salon I pay $ 35 (without a tip). This is my hand: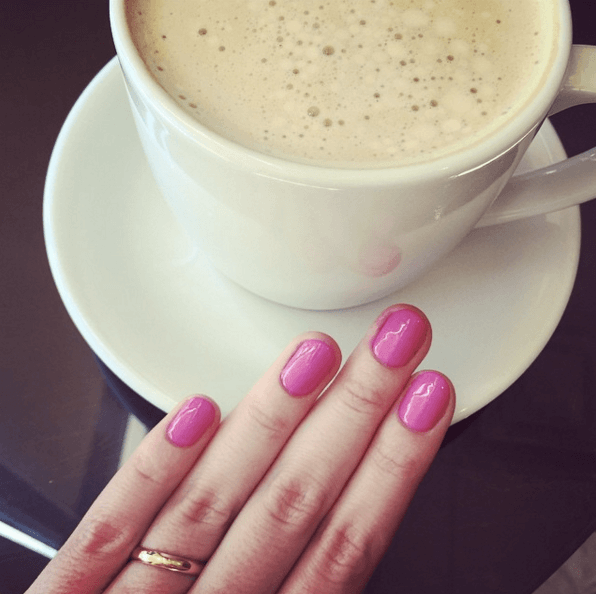 Tips and notes! Choose nail salon for reviews (on the same yelp.com) and watch photos of nails, go where they do it neatly and people are happy (but if you are used to a beautiful manicure in your country, then do not expect much here). In addition, choose a salon so that was decent inside, you can look into it, so that everything is clean and modern chairs. Pay attention to the tools of the masters, and also ensure that during the manicure you are applied to the nails a disinfectant. Do not be fooled by cheap prices!
If you don't find anything at all, look for Russian masters through familiar girls or through social services. network.
Gel polish is also being made in salons here, but I haven't done it, I can't say anything about it. With him, the more neat work is needed, otherwise it will be unpleasant to walk around the 2 of the week with smeared nail polish.
Split nails are not in fashion here (they are short or of small length, black ladies usually differ with very long and sharp nails, as in the photo above).
And also as a nuance, noticed by me. It is considered normal to have regrown toenails, including with a pedicure or even a jacket. I honestly do not understand this fashion (and how to wear shoes?) ... Therefore, having come to the salon, you immediately say what length of nails you want, not only on your arms, but also on your legs. Usually, the nails are simply filed, aligning the edge, and leave the length with which you came. I once sat in the cabin next to a woman who did pedyukur on nails that have grown up as half a centimeter.
I wanted to add pictures of such pedicures for an example, but I didn't find anything indicative and at the same time not disgusting. And I also watched women's hairy toes ...
Barber
With her search, I also didn't develop for many years and wouldn't say that in the end something concrete happened, it just somehow temporarily settled down. So far I have found a master who understands that 1 cm is one centimeter of hair, and a little tint is a little tint. Shear is almost always and everywhere normal here, of course, I would definitely not advise you to go to very cheap salons, but a women's haircut for $ 40 - a ladder or flat - no problem. That is, if you prefer a standard hairstyle, then here you will easily get it. There are a lot of hairdressers in the city, there is a big network in Los Angeles SuperCutswhere shear is acceptable, albeit very quickly. I remember when I went there for the first time to get a haircut, I was very surprised that I was shaved for 15 minutes, although my hair was not short. They have there just the same as with a manicure - a continuous stream. And "next, next!" Time is money. Americans do not like to sit in salons, here many people like the system - he came, cut his hair, left.
But if you want some special haircut, then be ready to look for a suitable master. My husband ran into this case. He has the usual modern hairstyle with a spike up, nothing directly so special, just a youth male haircut, but as it turned out, it can not be done everywhere. He rejected various salons for a very long time: where he was cut just not the way he wanted, one time he was even crooked, which, of course, he did not like at all, but somewhere normal, but too expensive for a male hairstyle. So over the years, he found for himself the best option - to go to the Asians. He now has a haircut in a small shabby barbershop held by aged Chinese spouses. This place is very reminiscent of our Russian cheap "basement" barbershops, which were popular with ordinary people in my childhood - centenary barbershop chairs, office cheap chairs in a row for those who are waiting, in the corner a tiny old TV. But they cut their hair well, very carefully and carefully (usually it takes at least 40 minutes to cut a husband's haircut!), But this pleasure costs only $ 15 (without a tip, but the husband always leaves them $ 20, and they only take cash). And the most amazing thing is that there is always a huge queue for them, sometimes the men sit for two hours, waiting for their haircut (they won't give the ladies a shave). Moreover, they have no record, and there are whole crowds of people who want to get a haircut, which cannot be said about many expensive and new-fashioned salons. That rare case when the quality is noticeably higher prices.
I, alas, with the Asians are not lucky. True, my bad experience happened to the Koreans. Never go to them to dye your hair if you are a Slav! First of all, they have terrible English, and it's just a disaster to explain what you want, and secondly, ideas about hair color, as it turned out, we have very different with them. They cut their hair well and at affordable prices, they dyed me a couple of times satisfactorily, but on the third, when I asked for my dark blond hair to be returned to me, she left them with red-black hair. I was so spoiled by my hair that there was simply no word to describe it. No masks and balms that I just poured on my head for hours in the bathroom did not help. I had a broom on my head, of a frightful color that didn't fit me at all (with white eyebrows!), And at the same time my hair fell so hard that I would have decorated any cat during a molt. I had to cut everything under a short square and another year to grow my hair in order to completely cut off all that "burned" from the paint. So my idea of ​​regaining my color and growing my hair was put off by as many 2 years.
I was not the only one who suffered; my sister somehow agreed to make herself small highlights (melirovanie), although her hair color, in contrast to me, is very beautiful chestnut. After returning home from the salon, she painted over all these highlights with a dark hair dye purchased at a nearby store. So we live here. You want the best, it turns out ...
Advice! In connection with this nightmarish experience I will say that if you decide to dye your hair in an American salon, look for your master as you didn't even look for a husband. Look for masters through friends or in social networks, see their work inside and out! I do not like anything, do not go to them.
Carry always photos of what you want on your head. Haircut, hair color, shade. Explain what and how you want, ask the master about everything that he does on your head. Alas, but with the phrase "To your taste. As a specialist, you know better. "I tied up. Now I'm getting ready to go for a new hairstyle almost in a month, planning what and how I want. I am glad, of course, that the hair grows back and is restored, but if it were not for that case, my hair would obviously have already reached the shoulder blades, but I still have grown it just below the shoulders and have not even reached that length It was before going to the ill-fated Koreans.
As for the eyebrows, I never found a good master. I did a thread correction once, in the same salon where I cut my hair the last time. They made the eyebrows even, but, alas, as usual, standard, that is, without choosing the shape for my face. And, of course, they mowed half of what I painstakingly grew in order to be eyebrowed in the current fashion.
Then I was interested in "eyebrow" salons from popular cosmetic brands Benefit and Anastasia Beverly Hills, but they have double reviews, who like, who does not. Plus, again, where the reviews are even good, Benefit, again you have to go through half the town. Have Anastasia I've been reading a lot of complaints that they don't do anything special, but working in 10 minutes costs $ 60 (for example, you will be charged 15 bucks to correct eyebrows in a regular salon). In short, I gave up on them, went to Moscow and quickly disaccustomed my brother from a girl, a top Russian blogger and professional makeup artist, who gives her master classes. Therefore, I mock my eyebrows at home, and in the way I want.
With other cosmetic procedures, alas, I will not tell you. Once I went to a cosmetology clinic to remove a capillary star from my cheek, 15 laser minutes cost $ 500. The asterisk was removed (pah-pah-pah), but new vessels still appear. I plan to go in the future still, I hope, there will be something cheaper.
If you went to beauty salons in America and to a beautician, please share your experience in the comments. It will be interesting for me and other readers to read.
Stacy Kireev, author Blog "Russian notes about American life" and Instagram about life in America.