The article has been automatically translated into English by Google Translate from Russian and has not been edited.
With a child in the US: shops, prices, tips
Extremely useful material about where and for what price you can buy everything you need for your baby, based on my personal experience.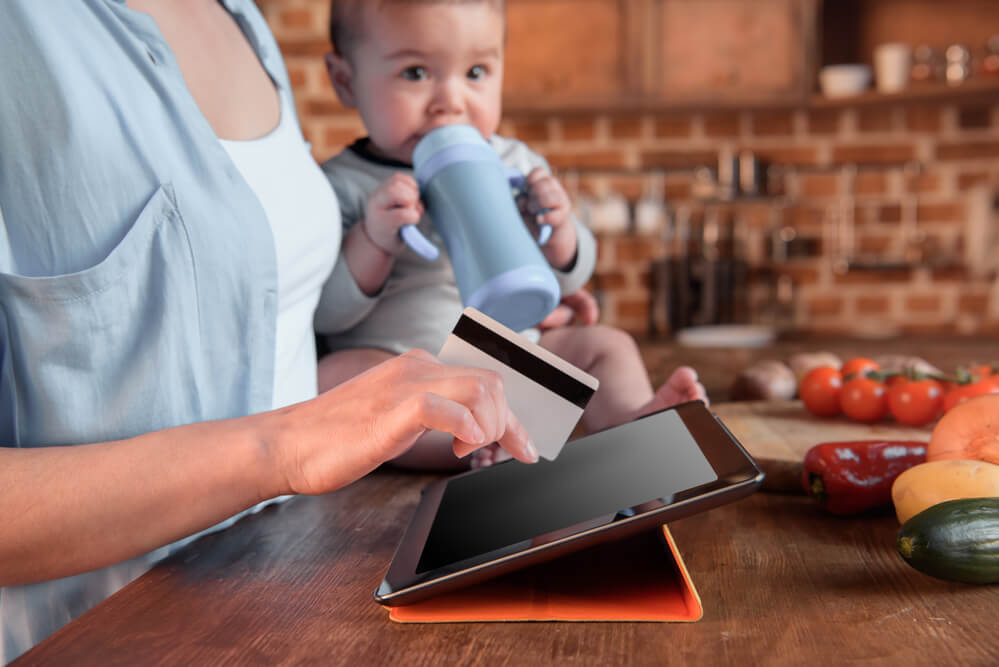 Furniture. In America, it is customary to buy the entire furniture set before birth, i.e. cot, changing table and chest of drawers for clothes. The bed also bought a mattress and, of course, a whole set of sleeping accessories (sheet with elastic, pillow, blanket, skirt on the bed, bumpers). I used the cradle bed for 6 months, it was on wheels and it was convenient to transport it to the living room and in general throughout the apartment, the wheels were removed, and the bed got up on the runners, on which the cradle swayed. As a bed sheet, I used ordinary diapers, and the duvet was fleece. After the child began to sit steadily and pull himself up by the sides to improve visibility, we had to move the baby into a standard bed, i.e. crib (crib). As a new bed, we chose a crib from Ikea and a mattress too. I was looking for a mattress for a long time, but in all American stores they did not even hear about the famous Russian coconut fiber, and the mattresses themselves were covered with oilcloth. This did not suit me at all, since I myself had to sleep a couple of nights on a disposable diaper and I did not want my child to feel such discomfort. Only in Ikea I found mattresses on removable covers that can be washed. I didn't buy a bed set, I found only a couple sheets on an elastic band, the blanket for us was a blanket or a fleece cape. The bumpers were from Ikea, but then I got taller and more colorful in a regular store. Prices: A cradle and a bed at 70-100 $ (Ikea) or from 150 $ (amazon, target, toyRus), mattress 40-70 $ (Ikea) or from 100 $ (amazon, target, toyRus) Sheet with elastic from 4 $, baby pillow and pillowcase found in Ikea for 3-5 $, bumpers near 6-10 $.
Car seat. The main means of transportation for an infant, as well as for an already adult child, is not a stroller at all, but a car, which means you need to buy a seat in the car (car seat). There are many brands that produce these newfangled devices that save the lives of kids on the road, one of the most common is Graco, Britax, Evenflo, Safety 1st etc. The first two brands are in a more expensive price category, and I liked the quality of workmanship more. To the first (infante) the base is attached to the carcite, which must be fastened with straps in the car, the seat itself is already installed on it. This is very convenient, because the child often falls asleep in the car. It is possible, without unfastening the child, simply to click off the entire seat from the base and bring it to the destination. Prices: from 50-300 $ (all online stores and supermarkets).
Stroller. Like cars, strollers in America are huge compared to European ones. Many strollers are sold under the name Travel system - This is when a car sits on top of a regular stroller (big, with big wheels, shock absorbers), it snaps onto the bumper, like on a base in a car, and will not fall. It looks very cumbersome, but very convenient: I drove to the store, pulled the carriage out of the trunk, unhooked the carts out of the car with the child, and put it in the carriage. Many buy tricycles with huge wheels. Jogger... They are very manoeuvrable, and the inflatable wheels smooth out rarely seen bumps on the road. Remember that in the USA, if there is a staircase, then there is either a ramp and / or an elevator nearby, all curbs (curbs, for whom how) at intersections and exits are sloped to the level of the main road, the roads are flat, sometimes there are hatch covers or small irregularities on the sidewalks because of the roots of the trees. You will not need to lift or carry the stroller, if only to throw it into the trunk of the car. The cost is very different. European brands are slightly cheaper than in Russia. You can take a ride and see what's what, in large stores - for example, ToyRus, and buy online. So almost always it turns out cheaper.
Diapers. I was sure that nothing is softer, more comfortable and better for my baby than the Japanese diapers in all forums, no diapers. I began my search for this product here, brought out the brain to my husband and all my acquaintances, but I did not find diapers, the locals did not even see them. My search ended up in the Japanese district (yes, I dragged my husband to Downtown) at a supermarket when the manager explained that the diaper manufacturers in Japan had not paid any bills and commissions and could not sell their goods (diapers) in the United States. On this my quest is over. I stopped at the famous brand Pampers. Also tried and Huggies, but they are harsh and massive, the child looks like with a cardboard between his legs. I ordered them in boxes on The Amazon + made out a subscription (it resets the cost a little more). After the box appeared in my house, I refused to subscribe. Once I tried to order cheaper diapers, the choice fell on the brand Luv's. I was shocked, they were no different from the famous diapers, and saving almost 30%. Therefore, I want to advise you first to try several brands, and then buy in bulk boxes. Price: 30-45 $ per box (each box contains a different number of diapers, for example, Pampers the largest box in 272, under No.1, No.2, is already around 200, and so on, for a decrease, but the final price almost does not change). The box lasts about a month. Order online stores or buy in supermarkets.
Clothing. Clothes are everywhere in America! There are famous brands and sales everywhere, it is difficult to resist buying, but the main thing is to completely delete all Russian prices. This very seriously hammered my head, and I could not understand many of the actions of Americans and friends. There are a lot of children's clothing everywhere, you can order it online or buy it in the store. The main brands are Carter's He also Osh Kosh, Gymboree aka Crazy8, Gaur, Old Navy, also almost every supermarket produces its own clothing lines - for example, Target or Walmart. If you have a couple of watches, you want to save money and buy not only the brands mentioned above, but also Calvin Klein or Michael Kors, then go to the stores Ross, Marshals or TJmaxx. These are stores that carry a lot of goods that for one reason or another are not sold in regular stores. You can dress your child with 50-70% off completely. It has everything: from socks and handkerchiefs to elegant ceremonial-weekend suits, all of excellent quality, not inferior to what is sold in the original store. Prices in Ross, Marshals or TJmaxx: 3-5 body kit - 4-5 $, slip on buttons or zipper 3-7 $, suit (T-shirt or tunic with pants) - 5-12 $ PS: There are no caps and caps for ties here. This is because of the safety of strangling the baby with ropes. If there is something resembling a tie, it is only for beauty, or with velcro, so that the child can tear off the velcro in an extreme situation. A lot of effort is required each season to find a normal stitch on velcro strings. In America, there is also a real problem with pantyhose and sliders. Finding them is very difficult, and they are often unreasonably expensive. I have seen them 2,5 of the year only a couple of times. Local kids go all in pants and socks, such a culture in clothes. As for tights, then you can find them on girls, but more often there are models that look like dense nylon clamps, regular knitted ones can be found much less often. Moms of boys are saved by buying girly tights without patterns and choosing appropriate colors.
Food. As for jars or boxes with ready-made baby food, it is practically the same as in Russia. Local stalls are full of brands Gerber, Earth's Best, Plum Organics etc. Some position themselves as a high-quality balanced diet, others try to blame the poor quality of the first ones, and the brands of the stores themselves are quietly asked to compare with the products of advertised brands and make sure that they are almost identical, and the cost in 2 and more times cheaper. Based on my experience, I realized that everything on the shelves is the same, rely on your toddler's taste and value. Food (from the mix to meat or fish ready meals) can be found in any supermarket with food, as well as in any store where there are children's products.
Toys, hygiene and other. There are enough toys here, but there are some pitfalls. For example, you will not find the usual for us rattles or toys with elastic, which stretches over the crib, they are not safe by local standards. For newborns there is only mobiles, which consist mainly of small textile toys.
For older kids a huge number of developing rugs, gaming centers, jumpers, walkers, etc. Everything is much cheaper than in Russia. Creams, oil, bath gel - all this can be found in ordinary supermarkets. Baths for the baby are sold in children's stores and large supermarkets. They are of the most varied type, color and functionality, but almost all are already with slides, i.e. the bath is not a flat bottom. If you want a flat bottom and support the child while swimming, then you need to go to Ikea, only there I saw the necessary baths. There are diapers here, but most often they are used as a simple cover or a napkin. For swaddling a child, such a sheet will fit up to 2-3 months to a maximum. I bought in Walmart cuts different bikes and hemming the edges. If you do not have a typewriter, then almost every dry-cleaner, there are a lot of them, there are services of sewing and repairing clothes, there you can ask to sweep over the diapers, the size you need. If I moved with the child to America and I had nothing for his existence in the new house, then the first thing I would go to the shops:
Ross, Marshals or TJmaxx: all clothes, dishes, bottles, towels, sometimes strollers appear, toys, educational mats, baths with slides, kangaroos, slings, shoes, special bags for the baby.
Walmart, Target: cheap food + own brands, you can see here furniture and strollers, diapers.
ToyRus: I use as a poster store. I come there to choose something, to touch and assess the quality, and I buy online, because the prices there are seriously overestimated.
All online stores indicated in the text: to compare prices and buy everything you need from home. Do not worry, everyone will bring and deliver to your apartment, and if they spoil it (it happens very rarely), they will exchange them without any problems.
There is a famous site craigslist.org, on which we sold and bought a huge amount of things, for example, jumpers. Such products do not stay in the house for more than 1-2 months, and I don't want to spend 100-150 $ on them, it's so nice when my mother has her hands free and you can do a little more. Products there are sold with 50-70% discount, just yuzanye. It cost me nothing to remove the cover and wash it and dry it with a tumble dryer; there are definitely no microbes left! 🙂 There you can see all the furniture at very reasonable prices.
The author Svetlana Belova. Los Angeles. Especially for "Russian notes about American life».