The article has been automatically translated into English by Google Translate from Russian and has not been edited.
Russian stars for 60, who are not afraid of fashionable experiments
No wonder that people say that after 45 years, a woman becomes a berry. Hollywood celebrities are a clear confirmation of this: having celebrated a half-century anniversary with chic, they do not plan to retire at all! Shining on the red carpet and smiling from the screens, the star beauties for 50 cause sincere envy even of very young girls. So why on earth did many Russian women think that in 50-60 years it was time for them to become a grandmother?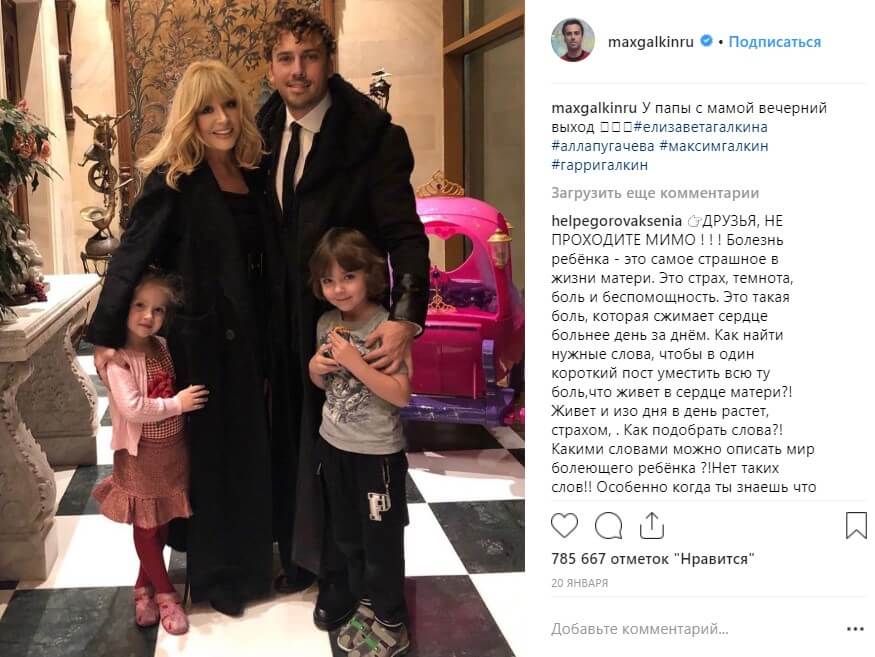 Everything is absurdly simple - falsely formed stereotypes, writes Eva.ru. However, every year, thanks to many celebrities, these decrepit attitudes are crumbling more and more, and women finally stop being shy and choose for themselves the clothes that they like, and not the one that someone else thinks they should wear at their age. But who are these heroines and pioneers?
Natalia Andreichenko, 62 of the year
Actress Natalya Andreichenko is familiar to many viewers by the role of the charming babysitter Mary Poppins in the multi-part musical film Leonid Kvinikhidze. The celebrity has lived abroad for many years and, finally returning to her homeland, managed to conquer many admirers with her love of life, openness and, of course, light style of clothes. In her 62 of the year, she is as elegant, charming and bright as 30 years ago.
Larisa Dolina, 63 of the year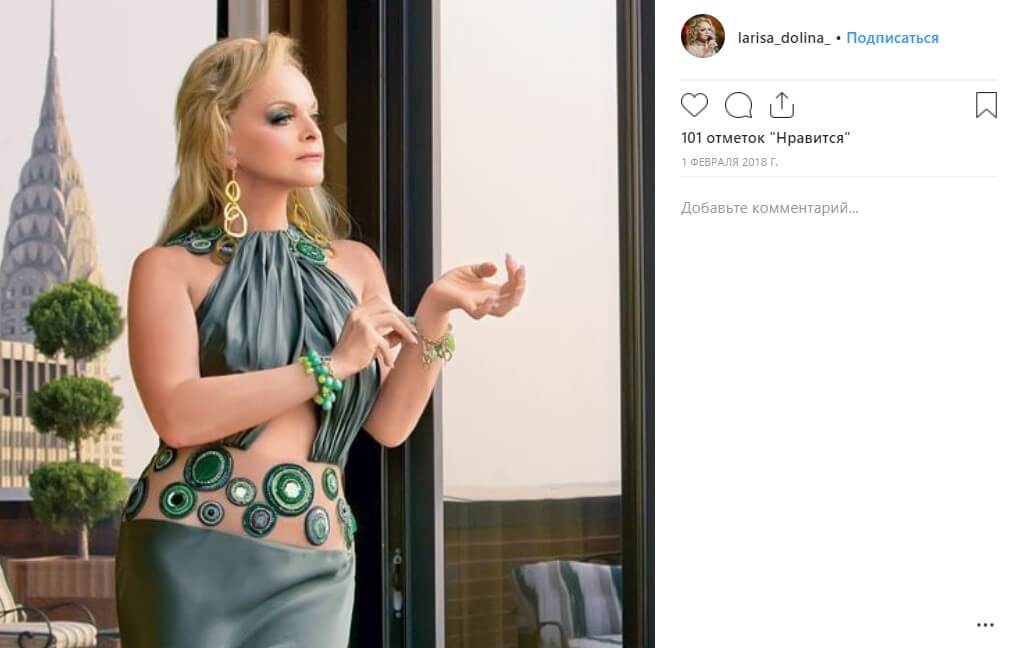 Unsurpassed singer and simply amazing woman who has achieved incredible success in losing weight, which raised her to the rank of national heroes in the eyes of most compatriots. However, the style of Larisa Alexandrovna is often criticized. Ever sincere dresses, naughty cuts and a shockingly deep neckline. But you must admit, the ability to lodge themselves, confidence in their beauty and the desire to keep up with the times are worth a lot!
Larisa Udovichenko, 63 of the year
Actress Larisa Udovichenko also prefers youth style clothes - jeans and shirts. However, it is published only in dresses and intriguing costumes. The famous heroine of detective TV series is sure that you have to love yourself at any age, and instead of hiding a woman in yourself, it's better to give her beauty to the world.
Love Assumption, 64 of the year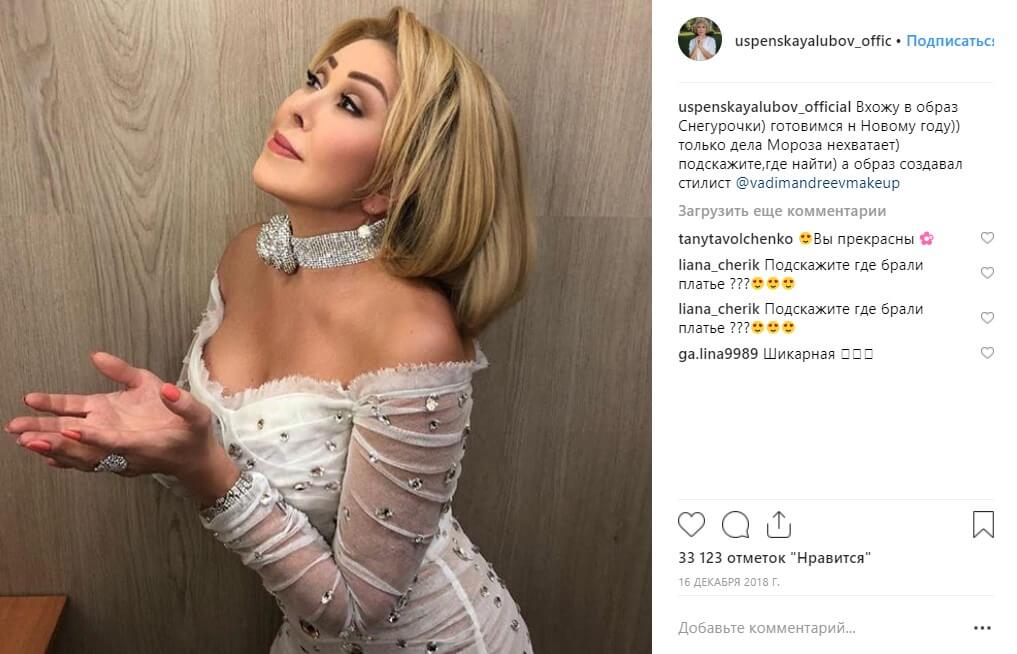 Glitter, rhinestones and extreme mini. Lyubov Uspenskaya knows how to make an indelible impression on everyone who has ever been to her performance. Yes, and on the carpet the singer always appears fully armed. And let the envious men whisper whisper in the shadow of a successful actress, she nevertheless deserves respect for the courage and motivation bestowed on other women.
Irina Ponarovskaya, 65 years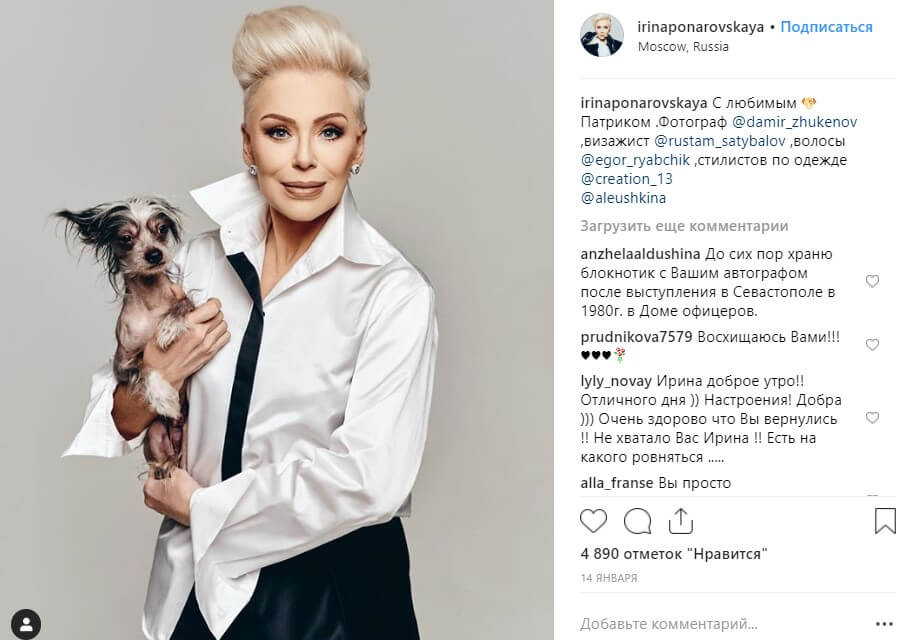 This singer is familiar to all residents of the former Soviet Union. And it is now not about her hits. Irina Vitalievna's ability to dress deserves special attention: always stylish, bright and distinctive. The singer admits she never bought things in the mass market. Moreover, Ponarovskaya is confident that with a skillful approach and the presence of fantasy it is possible to turn an ordinary cloth flap into a chic stage outfit.
Irina Allegrova, 67 years
January 20. The main empress of the Soviet and Russian pop music, Irina Allegrova, celebrated her 67 anniversary. Incredibly, the owner of a smart voice and bright appearance, it seems, is completely devoid of any kind of complexes. Luxurious woman in every sense of the word! Elegant and sexy, Irina (just the language does not turn to call her by patronymic) invariably causes delight in both men and women.
Alla Pugacheva, 69 years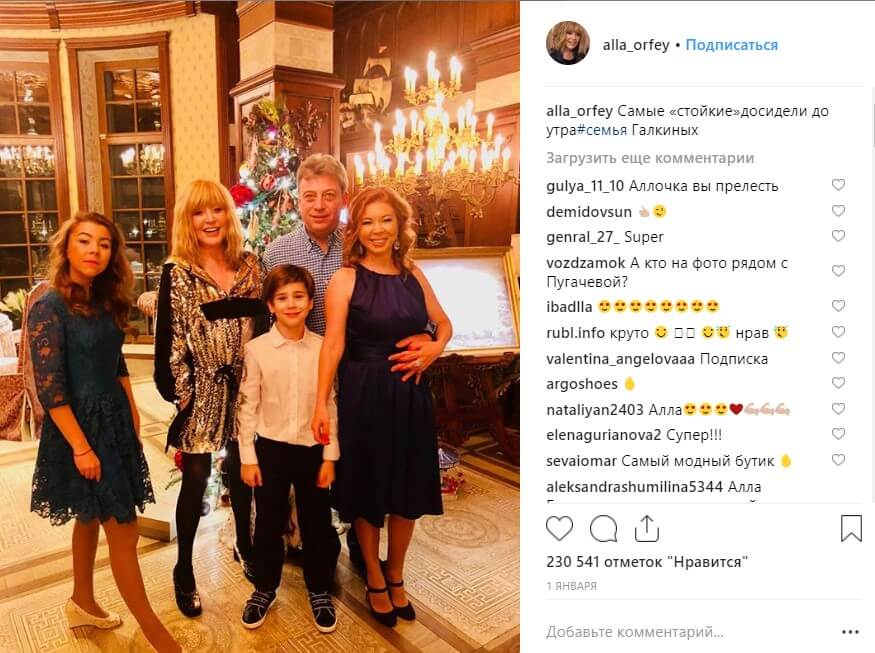 The style of Alla Borisovna Pugacheva in recent times greatly occupies many of her compatriots. Bright, youth, bold and completely unique. From extreme mini to tight-fitting maxi, fashionable hats, sports shoes and affordable jeans ... Thank you, the Prima Donna of All Russia that inspire our women and by your own example confirm the favorite words of Lyudmila Gurchenko: "It's never too late for a woman to be beautiful"!
Svetlana Svetlichnaya, 78 years
Svetlana Svetlichnaya - the standard of beauty 60-ies. But today, the actress is often condemned for too bold outfits and the desire to keep up with the youth. Here and trips to nightclubs, and participation in fashion shows.
After such comments, I would like to advise many to cast a glance at European and American showbiz stars. They are in 80 years, it seems, are not ready to give up their right to be a woman.
So why did Russian society decide that it is right to dictate its imaginary norms to a woman? Or does someone really think that after 60 it's time to tie a headscarf to the head and sit on a bench at the entrance in order to take the soul away in excursions with our own shoes, who imagined that we have an age after which it's time to put a cross on ourselves?
It was not there, dear ladies! A woman can and should remain a woman forever! So it is time for you to forget about your laziness veiled by age. Go ahead for a new dress and down with dimensionless coarse robes. Take a cue from the stars and learn to love yourself at any age.