The article has been automatically translated into English by Google Translate from Russian and has not been edited.
Five best recipes for 'Olivier' salad for the New Year
'30.12.2022'
Source: Today
Olivier is one of the most popular salads. It is considered festive and traditionally New Year's, reminds "Today".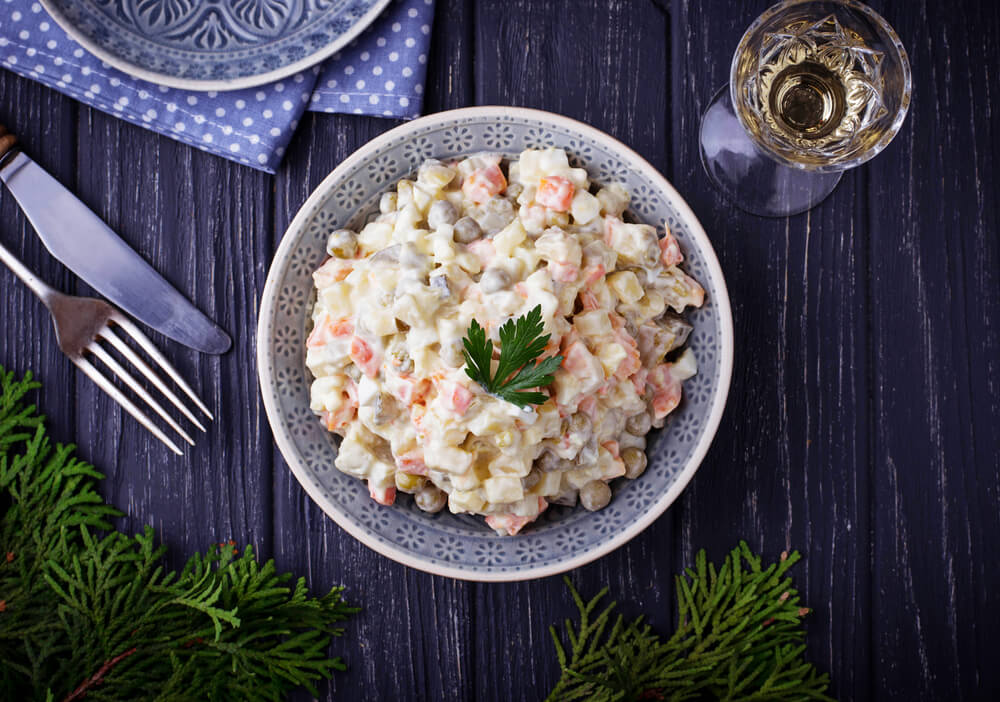 Eggs, potatoes, green peas and mayonnaise can be called immutable components of Olivier, the rest of the ingredients can vary indefinitely.
Olivier: traditional sausage recipe
Cooking time: 1,5 hours
Ingredients:
3 medium potatoes
3-4 carrot
4-5 eggs
350 g ham or doctor's sausage
450 g of canned green peas
5-6 pickled cucumbers
5 shoots of green onions
1 dill
250 g mayonnaise (preferably homemade)
Salt, black ground pepper
Method of preparation:
Wash the potatoes and carrots with a brush and boil in salted water until tender. Boil the eggs separately, not allowing the yolk to digest. Peel and cut into 5mm cubes. Cut the ham into the same cubes.
Mix all the ingredients in a salad bowl, add finely chopped green onions and dill. Season with black pepper, season with mayonnaise and refrigerate.
If pickles with large seeds, remove them. Then cut into cubes of the same size. Place in a separate container. Drain the liquid from the peas, transfer the peas to a separate container.
Add pickles and green peas to the salad before serving. Stir the salad again, taste and add salt and black pepper if necessary.
Olivier with shrimps
Cooking time: 1 hour
Ingredients:
200 g boiled peeled shrimp
3 medium potatoes
1 large carrot
3 eggs
2 pickled cucumber
100 g peas
150 g homemade mayonnaise
Salt - to taste
Method of preparation:
Leave small shrimps whole, and cut large ones.
Boil the potatoes and carrots in their skins, and it is better to cook the carrots in a separate container, adding a pinch of sugar to the water during cooking - it will be tastier this way.
Potatoes and hard-boiled eggs are best immersed in cold water after boiling to make them easier to peel.
Finely chop potatoes, carrots, cucumbers, peeled apple and place in a salad bowl with shrimps.
Eggs need to be peeled and grated on a coarse grater.
Season with a little salt and season with mayonnaise. Garnish with herbs when serving.
On the subject: New Year's Eve 2021: what dishes can and cannot be served on the table
Olivier with chicken and fresh cucumbers
Cooking time: 1,5 hours
Ingredients:
2 chicken fillets (you can take thigh fillets)
3 pcs. potato
3 eggs
1 carrots
250 g frozen peas
2-3 fresh cucumbers
Mayonnaise - to taste
Salt, pepper - to taste
Method of preparation:
Boil potatoes and carrots in a peel, cool and peel.
Boil green peas in salted water until soft. This will take about 5 minutes from boiling.
Boil eggs hard-boiled, cool and peel.
Wash the chicken fillet and boil in salted water for 30-40 minutes. Cool it down.
Cut all ingredients into cubes.
Add green peas and season with mayonnaise. Season with salt and pepper to taste.
Real Olivier salad: a classic recipe
Cooking time: 1 hour
Ingredients
200 g quail
240 g crayfish necks
Xnumx g boiled potatoes
60 g boiled carrots
100 g peas
100 g pickles
40 g chopped capers
140 g homemade mayonnaise
8 quail eggs
Truffle oil to taste
Salt - to taste
For mayonnaise:
800 g of vegetable oil
1 yolk
7 g white vinegar
80 g Dijon mustard
8 g of salt
40 g sugar
Method of preparation:
Bake the quail with salt and pepper in the oven until tender. Cool and disassemble into fillets.
Mix all chopped vegetables with meat, crayfish tails and season with homemade mayonnaise.
Put the prepared salad in a deep plate. Decorate with half boiled quail eggs and crayfish tails. Place a light drip of truffle oil on the salad.
To make homemade mayonnaise, whisk the yolk, add mustard, vegetable oil, vinegar, salt and sugar. Mix everything thoroughly.
On the subject: 'Darling, I left you the liver': what are the usual foods and dishes that Americans do not eat
Olivier with beef
Cooking time: 30 minutes
Ingredients:
250 g cooked beef (hip)
Xnumx g boiled potatoes
150 g boiled carrots
150 g of canned green peas
150 g pickles
4 hard-boiled eggs
75 g mayonnaise
75 g sour cream with a fat content of 10%
5-7 g mustard
10 g fresh spicy herbs
Salt, freshly ground black pepper
Method of preparation:
Cut the beef, potatoes, carrots, pickles and eggs into small cubes (about the size of a pea).
Mix in one bowl and add green peas.
Stir, salt, pepper and season with a mixture of mayonnaise, sour cream and mustard. Garnish with herbs when serving.