The article has been automatically translated into English by Google Translate from Russian and has not been edited.
Lost in US national parks: creepy stories from the most beautiful corners of the country
Majestic wildlife, incredible views, fresh air, a riot of herbs and adventure are what attracts tourists to the US national parks. But each of them keeps many secrets that may never be solved, writes Rezuan Darmanov in his blog at Yandex Zen.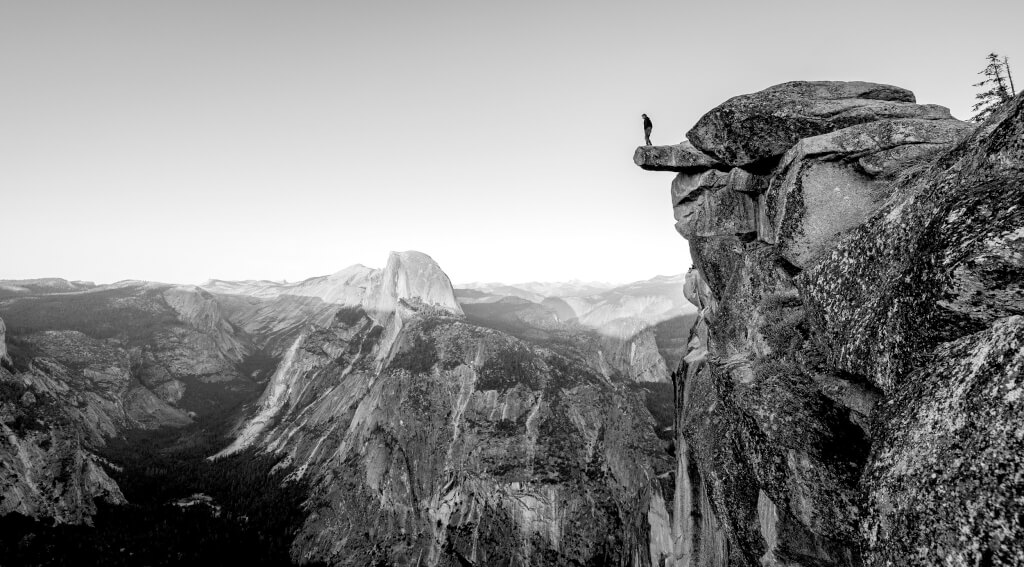 The US National Parks are renowned for being majestic and safe havens for wildlife and a favorite for adventure seekers. Nevertheless, many men, women and even children have disappeared or were found dead in the country's most beautiful nature reserves. What happened to them? Are America's National Parks Safe?
These questions plague people who learn about the vast list of mysterious stories that take place in the United States every year. And this uncertainty gives rise to many guesses and conspiracy theories.
We suggest recalling the most sensational incidents from which frost on the skin ...
Joshua Jacobsen
Joshua Jacobsen, 39, from Laurel, Nebraska, arrived in Badlands National Park on July 12, 2015. The man was a seasoned tourist and no one was surprised when he decided to travel alone. But when Joshua did not return and did not go to work on his shift, the guy's family and friends became worried.
Large-scale searches have yielded no results, and on July 31, 2015, the rescue operation in the national park was officially suspended.
In September 2015, tourists found a body in a ravine. It was later identified as the remains of Joshua Jacobsen. The cause of death was never announced.
Morgan Hymer
Morgan Hymer disappeared in 2015. The man was a tour guide and on that ill-fated day led his group through the Grand Canyon and the Colorado River.
His clients say that he disappeared in just a minute: here he was, but he is no longer there. Morgan Hymer left little or no clue to find him, and we can only guess what happened to the 22-year-old.
Michael Dahl
Michael Dahl mysteriously disappeared in Mesa Verde National Park on June 9, 2013. He went on a trip with his family, but on that ill-fated day he decided to take a walk alone and disappeared. His personal belongings or body have not been found.
On the subject: Romance Maniac: How a Serial Killer Became an American TV Star
Drake Kramer
In February 2015, 21-year-old Drake Kramer from Texas went missing. He told his father that he was going on a solo trip to the Grand Canyon National Park in Arizona - he needed to "return to mother earth and clear his mind." The guy came to the park behind the wheel of a white Mazda model 323, left it and left in an unknown direction. Drake's further fate remains unknown.
Catherine Truitt
In January 2015, Catherine Truitt of Alameda, California, disappeared into Point Reyes National Park. Several searches have been conducted, but they have not been successful. Friends and family say that Katherine loved the national park, especially its beach, where she is believed to have disappeared.
Around the same time, two other women disappeared. One of them was 34 years old, the other 77 years old. Investigators believe that it could be a series of murders. Later, the body of one of the women, 34-year-old Erica Shane, was found in a stream.
Gregory Mook
In August 2014, a 46-year-old man from Santa Cruz, California went hiking in Kings Canyon National Park and never got out alive. The National Park Service officially declared him missing and noted that the man was an experienced tourist. More than 40 people were involved in the search. Flour's body was found a week later. The cause of death is a fall from a height.
Justin richardson
On June 29, 2011, 13-year-old Justin Lee Richardson, who visited the Grand Canyon, mysteriously disappeared. He reportedly went to the forest to attend a secret party and purchase methamphetamine. Justin came with three acquaintances, all between the ages of 18 and 21. He disappeared shortly thereafter. Since then, no one has seen him.
On the subject: "Smolensk Twin Peaks": the death and search for the body of Vlad Bakhov, about which the whole of Russia is talking
There is speculation that he may have traveled to Chicago to meet his girlfriend and disappeared along the way. The guy is reported missing.
Stuart Isaac
Stuart Isaac, a 48-year-old native of Maryland, went missing in Yellowstone National Park. He was last seen in September 2010. Subsequently, a large-scale search began in Yellowstone. Park rangers and police officers searched the area, but they were unable to locate the man. Stuart Isaac is reported missing.
Samuel Bolke
Samuel Bolke, an 8-year-old boy with an autistic disorder, came with his family from Portland to Crater Lake National Park in October 2006. The boy lagged behind his parents and disappeared without a trace. The Oregon State Police began an extensive search, but they ended without result. The boy's family considers him dead, although the child's body was never found.
Bruce Pike
Bruce Pike, a 47-year-old man from Wyoming, disappeared into Yellowstone National Park on August 2, 2006. Pike's disappearance started a serious search, but all the rangers managed to find was his abandoned car.
It was rumored that Pike disappeared near the Indian camp. Perhaps it was there that some events took place that caused his disappearance.
Patrick T. Whalen
In November 2000, 33-year-old Patrick T. Whalen went missing in Glacier National Park. The man disappeared on the east side of the park, and his personal belongings and car were found at a nearby campsite. Neither him nor his body was ever found.
Dikran Knajyan
On July 24, 1972, Dikran Knajian went missing in Yosemite National Park. Decades later, the body has never been found.
Dennis Martin
On June 14, 1969, Dennis Martin disappeared into the Great Smoky Mountains National Park. He was only 6 years old. The mystery of his disappearance still haunts the minds of investigators.
Joseph Halpern
One of the most notorious missing persons cases is the case of Joseph Lawrence Halpern. The man, nicknamed "the teacher" by his friends, was last seen on August 15, 1933. He walked in Rocky Mountain National Park, but his further fate is not known. His body was never found.
On the subject: Live bait fishing: a woman for 6 years followed the trail of her aunt's killer
Bessie and Glen Hyde
In 1928, Bessie and Glen Hyde, newlyweds from Idaho, went on their honeymoon to the Grand Canyon. While there, they decided to go boating and disappeared. The boat was found the following winter, but no bodies were found.
Some speculate that the newlyweds tried to climb the dangerous canyon rapids on their own, while another theory claims they were caught in a deadly whirlpool of the river. Their bodies have never been found.
Timothy Philpott
When Timothy Philpott's car was found parked outside Aceidia National Park in Maine in January 2016, it was too late to begin the rescue operation. The frost didn't give the guy a chance. Later, despite the almost 100% probability of the death of a tourist, a search group was organized.
Park staff and volunteers could not find the body of the missing man, as well as his tracks.
Randy Ruscoe
The missing person's sister said her brother was an avid outdoor enthusiast and regularly traveled to national parks. The first time Randy Ruscoe disappeared in May 2015. According to his sister, he did not contact anyone. The family filed a missing persons report and was found in Washington state in June. It turned out that he was traveling and just wanted to retire.
A month later, tired of city life and bustle, he headed to the national park to the "Mammoth Cave".
On the subject: 'It was a big mistake to choose me': the blogger ran away from the rapist and helped the police to detain him
On the day of the disappearance, a hunting and fishing enthusiast left his apartment and sent mail. Randy Ruscoe's car was found in the parking lot of the tourist center. The car stood there for several days without attracting the attention of the rangers. Then the season was in full swing, and the parking lot was always occupied by dozens of cars.
Further, his path and fate are not known, searches in the reserve did not bring any results.
Cody Dayal
Famous traveler Roman Dayal's son was hiking unauthorized trails in Costa Rica's Corcavado National Park in July 2014 when he disappeared into the wild. Despite being the hero of a National Geographic documentary on the missing, the subject of a month-long Red Cross search and private detective investigation, Cody was never found.
Randy Morgenson
During a routine patrol in Sequoia & Kings Canyon National Park in July 1996, Randy Morgenson, 68, a veteran of the National Park Service, disappeared into the wild. When he failed to check into the control room after the patrol, the rangers began looking for him.
First, there were two theories about Morgenson's disappearance: one describes him as a person who could commit suicide; the second suggests tragedy while on patrol.
Despite a thorough search, his remains were only found in July 2001, almost five years after he disappeared. The investigation showed that Randy probably fell into a snowdrift and broke his leg, as a result of which he died of injuries and hypothermia. The remains were washed down the river into a small cascade, where they lay in the rocks for many years.
Dale Steling
Stealing and his wife Denian came to Colorado from Texas to take part in a 21-day tour of the national parks.
On June 9, 2013, they were in Mesa Verde. On the fourth day of the tour, Dale told his wife that he was going on a hike to the ruins of a spruce house, a landmark reportedly dangerous. When her husband did not return a few hours later, Denian raised the alarm.
A two-week search began, involving dozens of rescuers, helicopters, two dog teams and rope teams that descended from cliffs in the vicinity. The body was never found, and there was no information about what could have happened to it.
The disappearance of Dale Stehling was the catalyst for a petition urging the US Department of the Interior to create a national database of missing persons in America's national parks.
Original column published on the blog. Rezuana Darmanov at Yandex Zen.
ForumDaily Woman is not responsible for the content of blogs and may not share the views of the author. If you want to become the author of the column, write to us - woman@forumdaily.com.