The article has been automatically translated into English by Google Translate from Russian and has not been edited.
#Procrastibaking: what Americans bake during quarantine, and how it helps fight stress
As the new realities of life forced everyone to be at home, some have to work remotely, and the rest just sit idle. And no one knows when this forced quarantine will end. It remains only to discuss ways to pass the time, says "Voice of America"... Such goodies are baked by Americans during self-isolation - you can immediately do the same!
The computer screen remained the only window into the world. Now online you can not only play sports and watch cartoons, but also listen to the opera, visit the most famous museums in the world. Some are busy with serials, others read, and there is a separate category - baking lovers.
Among the myriad of options, baking is the perfect solution to all problems.
The smell of freshly baked pie is the smell of childhood and home warmth. Baking in tough, depressive times is nothing new. They baked in America even during the Great Depression: then there were "despair pies", charlotte without apples and cookies "out of nothing". Today in the USA there is a term #anxietybaking - "baking anxiety", or "baking in a state of anxiety" and #procrastibaking - this is when you are baking in order not to do important things or, in this case, not to think about the future, but in the present feel skillful and caring.
#procrastibaking is the practice of baking something completely unnecessary with the intention of avoiding real work. This is a surprisingly common habit. Such a hashtag becomes popular on social networks during sessions, in the last days before taxes, as well as in psychologically difficult times like now.
On the subject: How to bake real American chocolate chip cookies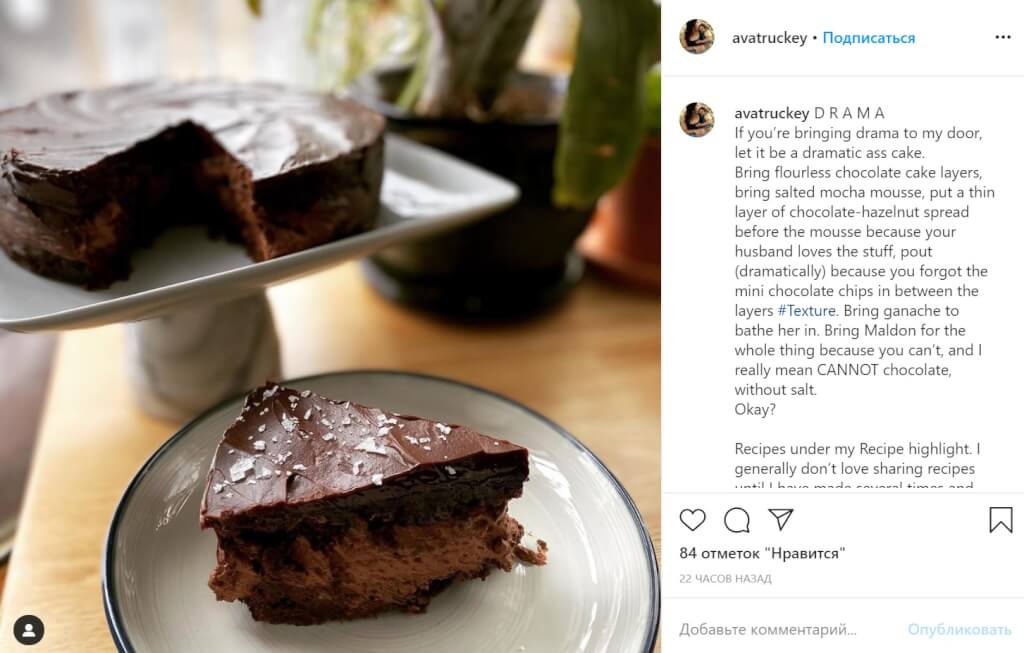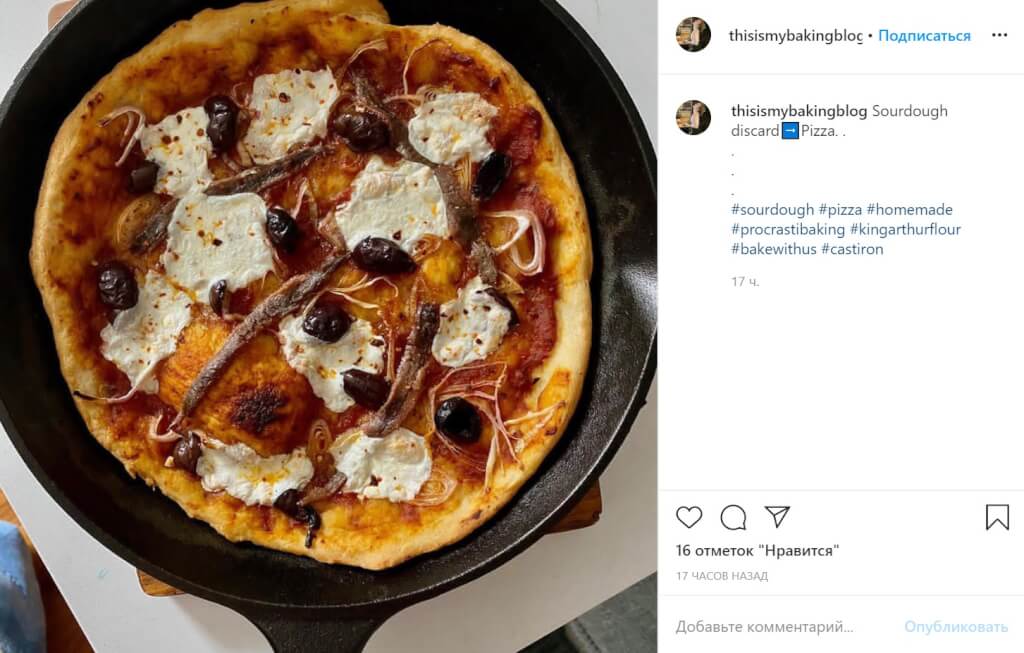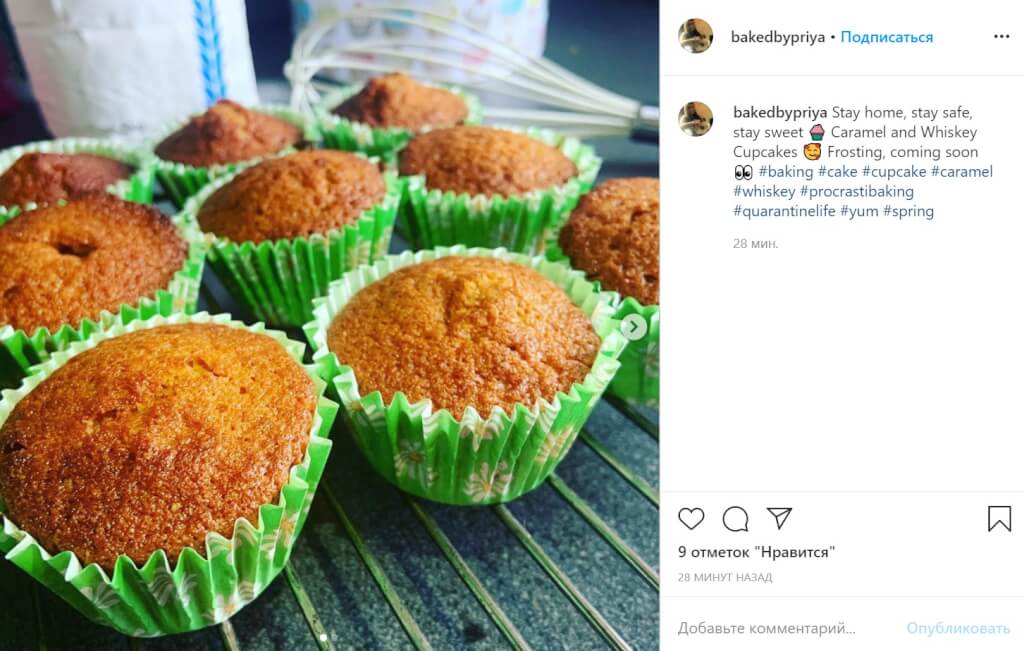 This is not about logic - you can't eat a lot of cakes anyway. This refers to lightheadedness, which is the most important part of the whole process.
"We are now in critical," combat "conditions," says Svetlana Komisarruk, a psychologist and professor at Columbia University. - In war as in war: everyone is saved as he can. So if you feel like baking, please enjoy what you bake. Firstly, the pastries smell very good - coziness, family. Secondly, it contains a lot of carbohydrates that you need for energy. Even such improper carbohydrates that nutritionists would have banned in normal times are now possible. And thirdly: getting down to business is better than trying to control something that cannot be controlled. So enjoy yourself. However, be prepared for the fact that you have to change the size of your clothes when it comes time to go outside. But that's another topic".
In any incomprehensible situation - bake. For the sake of your mental health, you should use some kind of distraction that gives you a sense of calmness.
What to bake?
A very large selection of recipes offers The New York Times. Here are some ideas for inspiration.
Cake with rainbow sugar decor (pastry topping)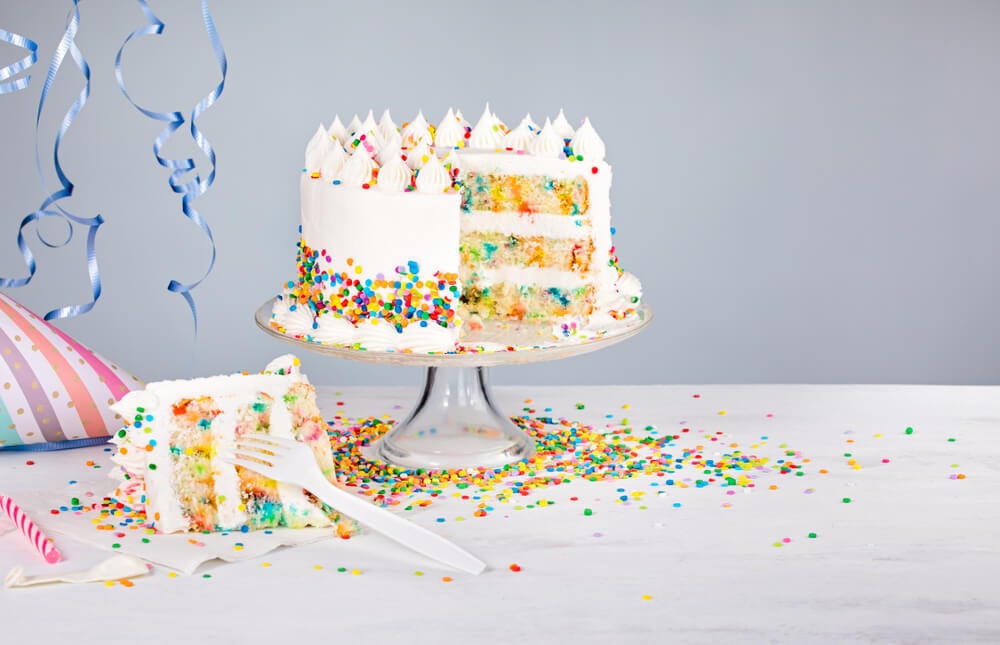 For the dough:
½ cup / 110 g unsalted butter (1 stick), slightly softened
1 ½ cup / 190 g general purpose flour
1 teaspoon baking powder
¼ teaspoon baking soda
¼ teaspoon of fine salt
⅔ cup / 158 ml whole milk
1 ½ teaspoon of pure vanilla extract
1 cup / 200 g sugar
1 whole egg plus 2 egg whites
⅓ cups of confectionery powder (take multi-colored)
For the glaze:
8 oz / 225 g cream cheese, lightly softened
½ cup / 110 g unsalted butter (1 stick), slightly softened
⅛ teaspoon of fine salt, more to taste
3 cups / 300 g powdered sugar, more to taste
½ teaspoon of pure vanilla extract
1 cup pastry topping
Preparation:
Bake the cakes: Preheat the oven to 325 F (approximately 160 C), set the baking rack in the center of the oven. Lubricate the two round molds with a diameter of 8 inches (20-21 cm), spread greased parchment paper and sprinkle flour on the inside. Shake off excess flour.
In a medium-sized bowl, combine flour, baking powder, baking soda, and salt. In a small bowl, combine milk and vanilla.
In a mixer with a nozzle-blades, beat butter and sugar at medium speed until light and fluffy for 2-3 minutes. Reduce the speed to low and with the mixer running, slowly add the egg and proteins and beat until a homogeneous creamy mass is obtained for 1-2 minutes. Scrape the mass from the sides of the bowl to the center. Add half the mixture with flour, then a mixture of milk and vanilla, then the remaining mixture with flour, whisking after each addition. Scrap everything from the walls to the center again and mix again. Remove the bowl from the mixer and use a spatula or spoon to manually mix the mass.
Spread the dough evenly over the molds and bake until the surface is dry to the touch and the toothpick inserted in the center comes out clean (this is 20-25 minutes). Turn the molds half a turn while baking. Rearrange the cake pan forms on the wire rack and allow to cool completely (approximately 4 hours) before removing the cake pan from the forms.
Make icing: in a mixer with a nozzle-blades, beat the cream cheese, butter and salt at medium speed until a light and fluffy mass is obtained (2 minutes). Reduce the speed to low and with the mixer running, slowly add sugar and beat until smooth. Add vanilla. To taste in the glaze, you should distinguish between hints of cream cheese and light salinity and sweetness. Add more salt or sugar if desired. Keep in the refrigerator.
Remove the chilled cakes from the molds. Using a bread knife, cut off any convex or uneven parts of each cake so that the surfaces are flat. Place one of the cake layers on a dish or cake stand, cut it side up. Using a spatula, apply icing on top, and then lay the second cake on top, cutting the sides. Spread the product on top and sides of the icing.
Sprinkle on top of the pastry decor, then walk along the sides (you can gently squeeze a pinch of sprinkles).
Refrigerate for about 30 minutes.
Original recipe in English - here.
Chocolate cookies without flour and with sea salt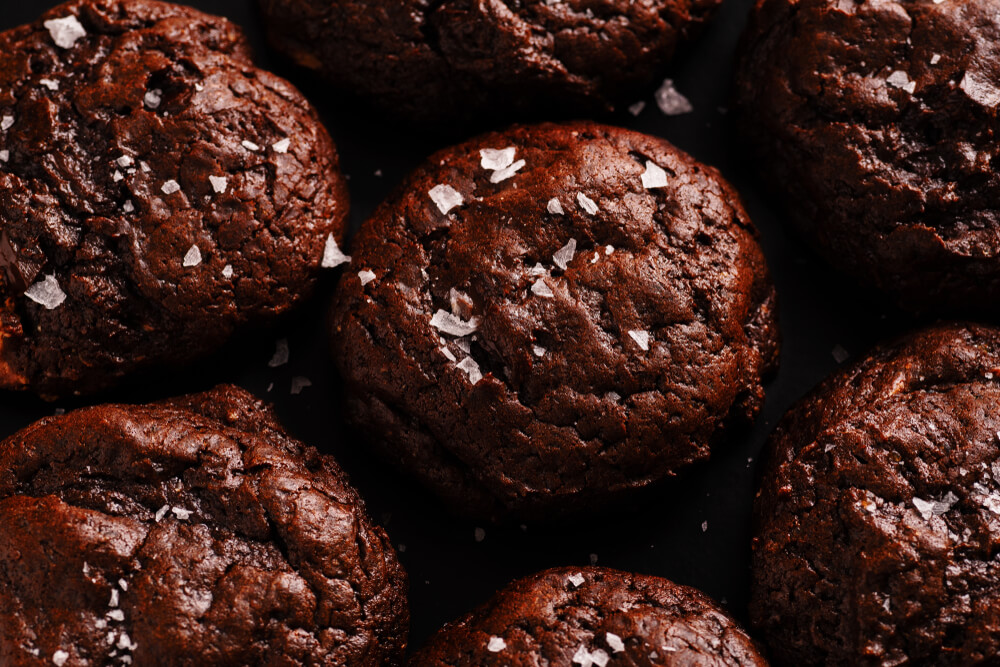 Ingredients:
3 eggs
3 cups / 340 g icing sugar
1 ½ cup / 106 g unsweetened cocoa powder
½ teaspoon ground cinnamon (optional)
¼ teaspoon of shallow sea salt
1 ½ teaspoon vanilla extract
1 cup / 140 g pieces of dark chocolate
Sea salt in flakes (for sprinkling)
Preparation:
Preheat the oven to 350 F (approximately 175 C) and place 2 baking sheets with oiled parchment paper.
In a large bowl, beat the eggs until smooth.
In another large bowl, sift the icing sugar, cocoa powder, cinnamon and salt. Mix with eggs using a spatula until a thick consistency of mass. Add vanilla and chocolate.
Use a 2 tablespoon round biscuit spoon to place the cookies on the prepared baking sheets, leaving approximately 1 1/2 inches (3-4 cm) between them. Sprinkle flakes of salt.
Bake until the cookies are tight at the edges, slightly cracked on top and baked in the middle (10 to 13 minutes). Remove from oven and let cool completely on baking sheets. Store in an airtight container.
Original recipe in English - here.
Homemade crispy bread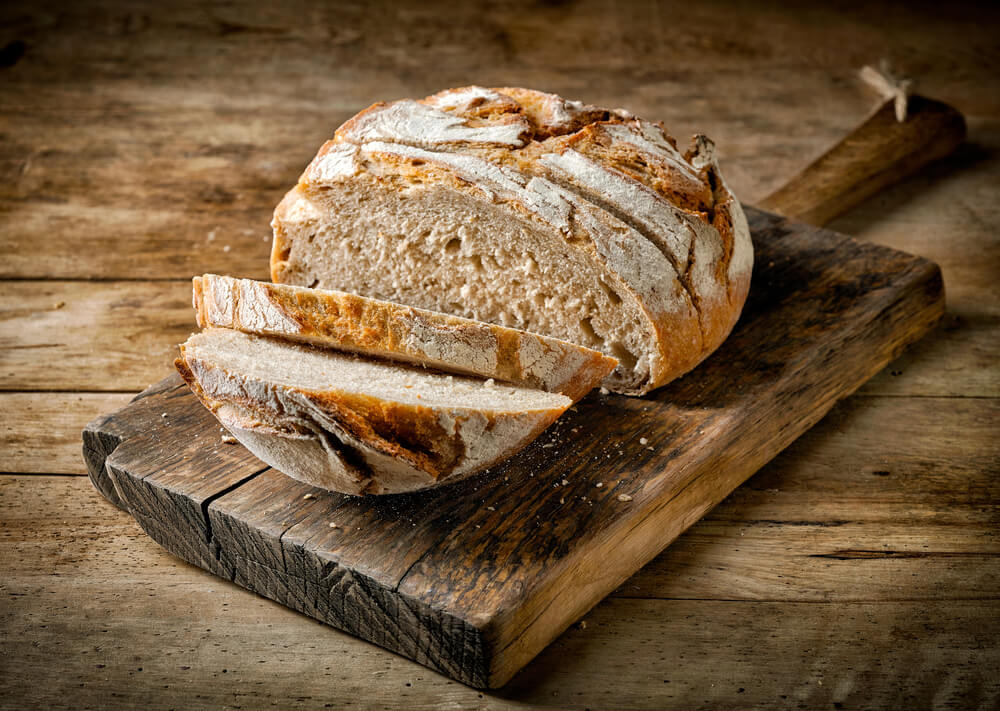 Ingredients:
1 ½ tablespoon yeast
1 ½ tablespoon kosher salt
6 ½ cup unbleached flour (all-purpose flour), more for sprinkling dough
Oat flour
Preparation:
In a large bowl or plastic container, mix the yeast and salt with 3 cups of warm water (about 100 F or 37-38 C). Pour in flour, mix until smooth and moist. The dough will be quite loose. Cover, but not with an airtight cover. Let the dough rise at room temperature for 2-5 hours.
Bake no later than 5 hours, or store raw dough in the refrigerator under the lid for two weeks.
When you're ready to bake, lightly sprinkle flour on the dough and cut a piece the size of a grapefruit with a toothed knife. Slightly stretch the lump of dough with your hands so that the future bread has a rounded top. Put the dough in a greased form or on a baking sheet, first sprinkling the surface with oat (or plain) flour. Let rest 40 minutes if the dough is fresh, or another + hour if chilled.
Preheat the oven to 450 F (approximately 230 C). You can use a baking sheet, mold or stone for baking, but do not forget to grease with butter and sprinkle flour on the surface on which you will bake.
Sprinkle the dough with flour, cut three times on top with a serrated or very sharp knife. Place on a baking sheet and place it in the center of the oven. Place a refractory cup or other container of the same volume of hot water in the oven and close the door quickly. Bake until browned, about 30 minutes. Cool completely.
Original recipe in English - here.