The article has been automatically translated into English by Google Translate from Russian and has not been edited.
Why one of the most beautiful women in the world was called 'the shame of the nation': the successes and failures of Aishwarya Rai
Popular actress Aishwarya Rai is one of the most beautiful women in the world. These are not empty words, in 1994, being quite young, the girl received the title of "Miss World", participating in a beauty contest. But not always the girl's path to success was smooth, writes Culturology.ru.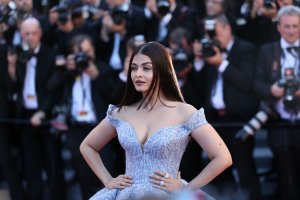 The name of the Indian fashion model and actress Aishwarya Rai is known not only in her homeland, but throughout the world. In 1994, she received the title of "Miss World", and after that conquered Bollywood, and then Hollywood. In the late 1990s. the whole world admired her beauty and talent, but after 15 years, fortune turned her back on her. For what the most beautiful woman on the planet was suddenly called the "shame of the nation", and what caused her indignation of her compatriots - further in the review.
From childhood, she was a favorite of fortune. Aishwarya Rai was born in 1973 in a wealthy and respected family: her father was an officer in the merchant navy, and her mother was a popular writer. In Bombay, where the family soon moved, Aishwarya received a good education in a prestigious college, where she studied foreign languages, which were very useful to her in the future. In parallel, she studied music and dancing.
From youth, the bright beauty of Aishwarya attracted the attention of others - everyone noted gray-blue eyes and fair skin, atypical for her people. Once she was chosen from 2 thousand applicants for the Pepsi advertising company in India, after which modeling agencies literally began to hunt her. After Aishwarya appeared on the cover of the Indian Vogue, she became the most successful and sought-after fashion model and the most recognizable girl in India.
On the subject: Don't be born a girl: what women have to endure in modern India
A new round of her modeling career occurred in the mid-1990s. At the Miss India beauty contest, Aishwarya Rai did not receive the crown, taking 2nd place, but in the same 1994 she took part in the Miss World international contest, and here she became a triumph. The girl not only won, but was also named the most beautiful Miss World in the history of this contest.
After that, Aishwarya Rai became known throughout the world. She participated in advertising campaigns of Indian, European and American fashion houses, more than once became the face of cosmetic brands, and since 1997 she began acting in films. Her debut work was Indian melodrama. Possessing not only beauty and natural grace, but also talent, Aishwarya easily conquered cinematography and began acting in 4-5 Bollywood films annually.
And its next peak was Hollywood, which was an unattainable dream for Indian actors. Since 2004, Aishwarya Rai has regularly received offers from Hollywood directors. Interest in her person in the early 2000s. was so great that she was constantly invited on American television to various talk shows, including the rating Oprah Winfrey Show. At this time, Indian cinema began to regain its former popularity, largely thanks to the participation of Aishwarya Rai.
The personal life of the beauty also developed happily. On the set of the film "Bikers-2: True Feelings" in 2006, she met actor Abhishek Bachchan, and they really were overwhelmed by true feelings. Soon they announced their engagement, and after the parents approved their marriage, in 2007 they got married. In 2011, a daughter was born to the spouses.
It would seem that she achieved everything that one could dream of, but it was at this time that the most difficult stage in her life began. During pregnancy, the actress gained weight and after giving birth stated that she was not going to make efforts to regain her former form, and that the main priority for her was happy motherhood. At first, admirers admired: a real woman is not afraid to break stereotypes and knows how to accept herself as she is, a real mother does not immediately run from the hospital to the gym! But soon everything changed dramatically.
Once in the media there was a photograph in which the paparazzi photographed a star at a time when she was not ready for the shooting. She was sitting in a car, and in the photo her face looked swollen and puffy, a second chin was visible. At that time, she weighed about 80 kg, and yesterday's fans, who admired her beliefs, were not ready to put up with her changed appearance.
A flurry of criticism fell upon the beauty queen: they set Victoria Beckham and Angelina Jolie as mothers of large families, demanded to immediately take care of herself and reproached for the unwillingness to get in shape after childbirth and that she could not live up to expectations. Until recently, Aishwarya Rai was called the pride of India, and now her compatriots contemptuously called the actress "the shame of the nation."
On the subject: How Russian woman could become a Bollywood star
The Internet was swept by a wave of angry comments addressed to her: a symbol of Indian beauty, the first beauty of the country, which the whole world is looking at, cannot afford to run like that! Haters even shot a video in which Aishwarya was compared to an elephant, and hundreds of thousands of "likes" were put under it! They did not stop there and began to spread rumors that the marriage of the actress was on the verge of collapse, because of which her husband broke out in an interview with an angry tirade and refuted these speculations.
The actress, who was just trying to enjoy motherhood, was horrified by the hatred and aggression with which yesterday's fans attacked her. Over time, she was able to return to her former weight, but did not hide her disappointment at how volatile success and audience love are. Aishwarya Rai today urges all mothers to think first of all about children and their own physical and moral health, and not about a floating waist.