The article has been automatically translated into English by Google Translate from Russian and has not been edited.
From the early feminists to Kamala Harris: how the pantsuit became a political symbol
In January, the cover of the February issue of Vogue appeared on the Internet, the main character of which was Kamala Harris, the new vice president of the United States. In the picture, which caused violent indignation in social networks and the media, Harris poses in his favorite suit and sneakers. How pants with a jacket contributed to the formation of the brightest women of the last century, says Blueprint.
1850-e
In the early 50s, activist Amelia Bloomer began to appear in public in a shocking set of trousers and knee-length skirts (her predecessor in terms of emancipated wardrobe, Amelia herself called another activist and member of the Oneida women's commune Elizabeth Miller). Bloomer believed that women should be able to wear clothes in which they are comfortable, and they should have exactly the same amount of rights as men. Her initiative in the 70s of the XIX century was taken up by Sarah Bernhardt, the most famous actress of her time. All these experiments with menswear invariably turned into a scandal.
1917
British and English Vogue came out with an illustration cover, which showed a girl in trousers and a white fur coat - she was killing a polar bear with a spear. Such a belligerent image did not appear in a vacuum. It was then, during the First World War, that women began to wear trousers en masse: at first they were part of a military uniform, and then completely came into fashion as a symbol of modern times and the avant-garde (both Coco Chanel and Marlene Dietrich had a hand in this).
On the subject: Success story: how Max Factor fled to America, leaving his career as a tsarist make-up artist
Later, on December 15, 1927, illustrator Pierre Mourgue drew a skier in an elegant pantsuit for American Vogue, and in 1933, Women's Wear Daily published an article Will women wear trousers ?. So the trouser suit gradually began to appear in the press in the status of fashionable women's clothing.
1930
In Morocco, her first Hollywood movie, Marlene Dietrich appeared in a tailored tuxedo for her. This had a double effect: on the one hand, "woman in trousers" and "scandal" were still synonymous; on the other hand, this is how Marlene immediately made it clear who her future American fans were dealing with. The costume was designed by the legendary Travis Banton, one of the first film artists in the modern sense.
1932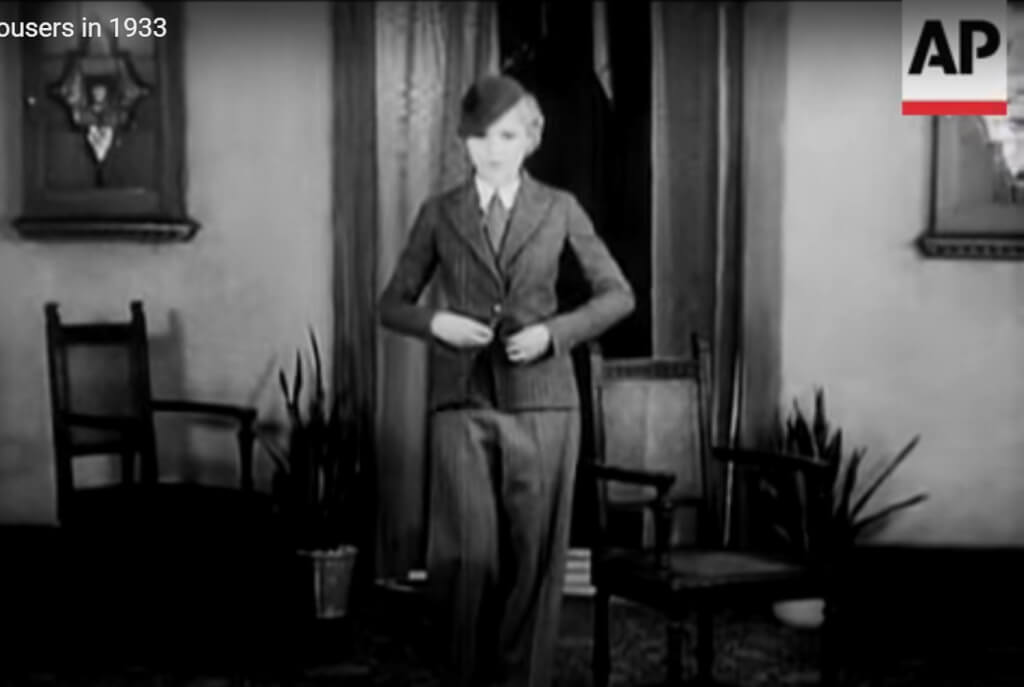 Marcel Rocha became the first French fashion designer with a name to include trousers in women's everyday wardrobe. Loose, made of soft suiting fabric, they demanded courage from the owner: at that time women had already begun to wear trousers, but it was understood that they could only be worn on vacation or during horseback riding. Before Roche, no one in the haute couture segment dared to replace a skirt in a city suit.
On the subject: From rebel to shy: how the fashion for wedding dresses has changed over the past 100 years
1939
Elsa Schiaparelli knew how to make not only hats in the form of shoes: in 1939 she took part in the cultural and social revolution by inventing a trouser suit made of wool. It was absolutely utilitarian (that is, "masculine" in terms of approach to clothing), fastened for convenience with four large buttons and did not restrict movement. Now a copy that belonged to billionaire Millicente Rogers is kept in the archives of the Metropolitan Museum.
1940
The iconic film "The Philadelphia Story" has been released with Katharine Hepburn in the title role. In the film, she appears in a trouser suit, about which all the newspapers later wrote, and the most daring girls ordered copies of it from the tailors. If you drive Katharine Hepburn style into a search engine now, you will only find one in a dress or skirt for nine photos of the actress in trousers.
1964
Despite the generally accepted opinion, in the modern women's wardrobe, the suit appeared not by the forces of Yves Saint Laurent, but thanks to André Courrezh. In 1964, the king of miniskirts and futurism included a women's trouser set with a straight elongated jacket in the collection. After that, the designer came up with variations on the theme of trousers almost every season, turning them into a fashionable attribute.
On the subject: 'Man is a man by default': why snow removal infringes on women's rights
1966
And yet, Saint Laurent's contribution cannot be underestimated: it was he who proved that a pantsuit can be classically feminine and sexy. Yves made the first ever tuxedo designed specifically for female customers. Yves Saint Laurent costumes have been worn by Bianca Jagger, Catherine Deneuve and Loulou de la Falaise. And in 1975, French Vogue published the legendary pictures of Helmut Newton: models on the night rue Aubriot in pseudo-male tuxedos "from Saint Laurent" - this is how a girl might look in 2016.
1969
On December 23, 1969, Charlotte T. Reid came to the US Congress, where she represented the state of Illinois, wearing a wool pantsuit. Today it seems that this is still news, but a little less than half a century ago, the news feed was sufficient for the material in The Washington Post. Charlotte told the publication that she takes her work very seriously and would not want anything in her work to be perceived with irony. She also added that in the future, many women will wear pants.
1973

Diana Ross appears on the Oscars red carpet wearing silk pants designed for her by Cher's favorite designer Bob Mackie. Her release was the first case of a free interpretation of the dress code of large awards: traditionally, all women came to such events in dresses.
On the subject: Spectacular, but terribly uncomfortable: 5 outfits from which actresses had nervous breakdowns
1975
Patti Smith released Horses, featuring Robert Mapplethorpe on the cover. photographed her in a man's shirt, suspenders, suit trousers and a jacket thrown over her shoulder. The singer's wardrobe was generally built around a suit slightly "from someone else's shoulder": everything is slightly loose, dangles a little - and there are no alphabet accents "chest-waist-hips"
1981
The jacket with hypertrophied shoulders, in which Grace Jones appeared on the cover of the Nightclubbing album, will be repeated by Jean-Paul Gaultier in the spring / summer 2013 collection - as a tribute to the singer. This cover can be considered a landmark for the decade when all women will suddenly change into suits with an exaggerated shoulder line. Just in 1981, the first episode of Dynasty will be released, where jackets with shoulder pads and trouser suits will take a special place.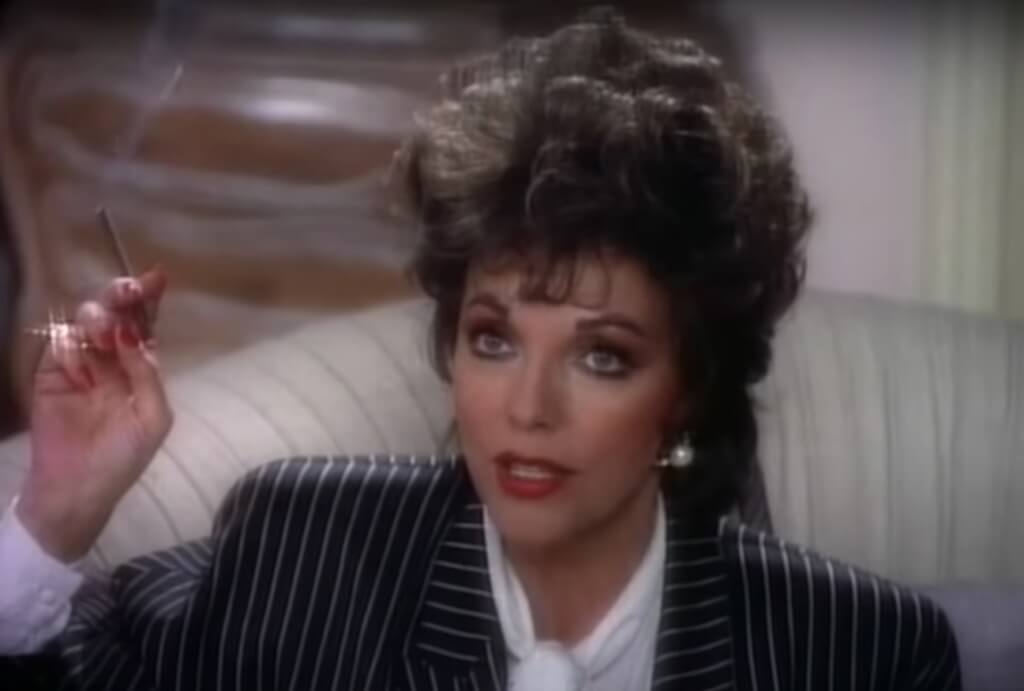 Nolan Miller, the show's dresser, had $ XNUMX a week for the heroines' wardrobes.
"When she walks into a room, you may not know who she is, but you immediately realize that she is rich and that it is better not to get in her way," Nolan said of the collective image of the female characters in Dynasty.
It was in the 1980s that the pantsuit became firmly rooted in pop culture as clothing for women who know what they want and can get it.
On the subject: The series 'Dynasty' is 40 years old: how the fate of the actors of the cult soap opera developed
1994
In the late 80s and early 90s of the last century, pantsuits became the ultimate uniform for working women - remember Glen Close in Fatal Attraction or Kim Basinger in the 1994 film Haute Couture. In many ways, this was facilitated by Giorgio Armani, Ralph Lauren and Calvin Klein, who in advertising campaigns of those years focused on trousers and jackets. In addition, in the 1990s, a massive expansion of women into big business began, and, stepping into this then male territory, they did not want to look "feminine" - they needed to be perceived as equals.
2005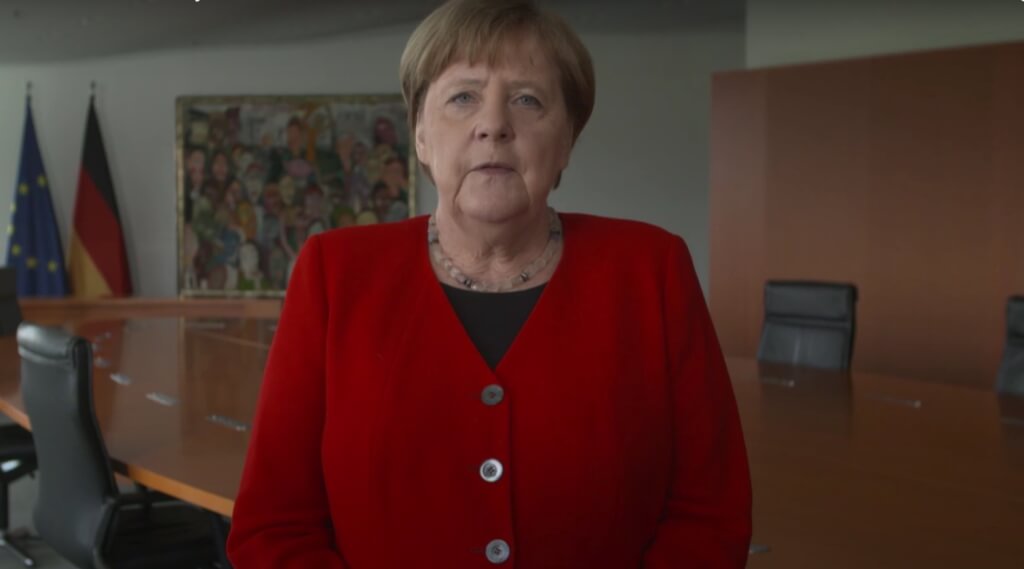 Angela Merkel became the Federal Chancellor of Germany. Since then, she has been regularly criticized for her political decisions, year after year she has confirmed the title of the most influential woman in the world and wears the same pantsuits in different, even the most unobvious colors. It was she who created the image of a woman in a bright trouser suit who managed to become a serious politician. Strictly speaking, Hillary Clinton used this ready-made image.
2013
The rubric "surprising, but true": the official ban on men's clothing in Paris was lifted just three years ago. Formally, women wore whatever they wanted, but there was a law according to which the one who was going to wear trousers was required to ask permission from the city authorities.
On the subject: New style icon: Kamala's stepdaughter Harris knits hats and doesn't shave her armpits
The law appeared during the Great French Revolution and was supposed to prevent women from joining the rebels, and then they simply forgot to cancel it. And in 2013, Turkey allowed women parliamentarians to wear trousers.
January 2016
Susan Sarandon came to the Screen Actors Guild (SAG) awards ceremony in a white suit and a black crop top, resembling a bra. The situation was ambiguous: the fact is that the actress conducted part of the ceremony dedicated to the departed workers of the film industry. Famous TV presenter Piers Morgan criticized Sarandon on his Twitter for "inappropriate outfit", which caused a wave of protests and brought into the public field the question of whether it is possible today to tell a woman how tightly her body should be covered.
November 2016
Hillary Clinton is the first woman in history who had a real chance of becoming president of the United States (Donald Trump beat her by a margin of 1%). Of course, both she and her rival are ambiguous figures, but they fought as equals. It was the image of Hillary Clinton in a suit that became a symbol of truly equal opportunities for men and women at all levels. And note: even now CNN writes about the #PantsuitNation movement not in the Fashion section, but in the Politics section. Although, it would seem, who can be surprised by pants in 2016.
January 2021
Kamala harris - Vice President-elect of the United States and the first woman, the first African American and the first Asian politician in this position. Her signature "uniform" is a white T-shirt, Converse Chuck Taylor sneakers and a pantsuit.
On the subject: Guess again: The Simpsons predicted Kamala Harris' outfit at Biden's inauguration
She fell in love with the latter while studying at Howard University in Washington. Political science student and African American Women's Society member Kamala Harris wore a short haircut and cropped jackets with puffy shoulders in the spirit of the 1980s. On one of the February covers Vogue, the one that hit social networks before the official publication and caused a flurry of discontent, Harris poses in his favorite combination of a suit with a Converse - against the background of a green and pink drapery, in the colors of her university (first African American!) Community.