The article has been automatically translated into English by Google Translate from Russian and has not been edited.
From flight attendant to millionaire and grandmother of the heir to the throne: what we know about Carol Middleton
Duchess Kate's mother will turn 66 at the end of January. The former flight attendant and owner of the family business lived in the shadow of her daughter for many years. How did she become a multimillionaire and why does Queen Elizabeth II often disagree with her? Learn the story of Carol Middleton from the channel author "Royal Life" on Yandex.Zen.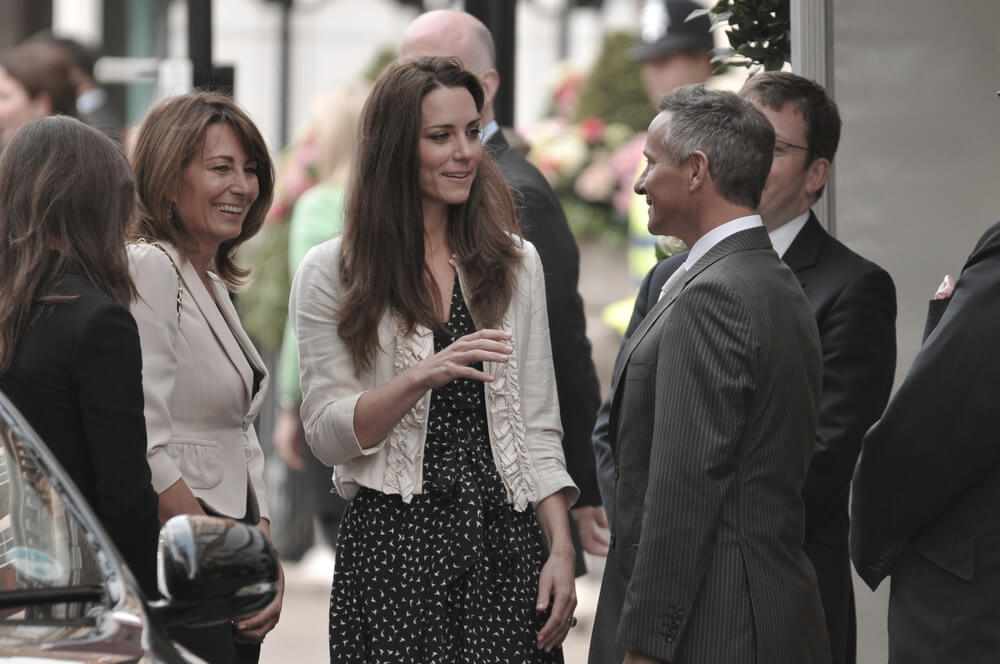 Carole Middleton has appeared regularly in the British media for over ten years due to the high position of her eldest daughter. Since Kate Middleton got engaged to Prince William, the Duchess of Cambridge's family has become one of the most protected in the world. However, Carol has lived on the sidelines for years, running her own business and proving herself as a caring grandmother for three grandchildren: George, Charlotte and Louis. She does not give interviews or comment on the Windsor scandals. Although she is the mother of the future Queen of Great Britain and the grandmother of the heir to the throne, little is known about her. What is Carol Middleton really like?
Carol Middleton, née Goldsmith, was born on January 31, 1955 in Perivayne, London, to Dorothy Harrison and Ronald Goldsmith. She spent her early years with brother Gary Goldsmith (now a multimillionaire) in a small house in Southall while attending a local public school.
She dropped out of school at 16, but soon returned to continue her education. All because in the future she wanted to become a teacher. Unfortunately, the financial situation did not allow Carol's parents to pay for the studies she dreamed of. Having abandoned the dream of a teacher's career and at the same time wanting to earn a living, she got a job as a secretary in one of the companies. She constantly studied French, which later helped her get a job as a ground employee for British Airways, where she was soon promoted to a flight attendant. It was there that she met air traffic controller Michael Francis Middleton, whose father, Captain Peter Middleton, was Prince Philip's co-pilot in 1962.
On the subject: No curtsies: what will change in Kate Middleton's life when she becomes queen
Love happened between Goldsmith and Middleton. The couple were married on June 21, 1980 at St James's Church in Dorney, Buckinghamshire. Kate (now Duchess of Cambridge) was born two years later. Two more children were born in the marriage: a daughter known as Pippa and a son, James.
In 1986, Carol Middleton and her family returned to Bradfield Southend, West Berkshire after almost three years of moving to Jordan due to her husband's professional commitments. Kate was four years old and attended St Andrew's Private Preparatory School in Pangborn. In 1987, Carol wanted to be financially independent and realize herself not only as a mother, but also as a businesswoman. This is how the family-owned company Party Pieces was created, making gadgets for parties and themed events. This happened by accident.
The Middletons were renowned for their inventive birthday celebrations. The neighbors were jealous of their decorations and fantasies, and more and more often they asked Carol to help organize a party for their children. The Middletons realized that this was a great business idea, supported by their children. Kate, for example, took a photo for the company's website. The idea got into the top ten. Carol and Michael have had great success, becoming multimillionaires for about ten years. British media have estimated their fortune at £ 30 million ($ 40,4 million). However, both of them don't like to stand out from the crowd, they are known for their modesty and don't show off their wealth. Apparently, Carol buys most of the things for cash, not wanting to shine gold cards.
Now the Middleton live in the Bucklebury estate, in the town of Bucklebury, near London. This is a Georgian mansion set on over 18 acres. The couple's grandson, Prince George, spent the first few weeks of his life there.
On the subject: 'She would have made friends with Kate and Megan': Princess Diana's letter moved her fans
In addition to running a thriving company, Carol Middleton primarily cares for her daughter's children. Despite the fact that the royal family has a skilled nanny, Kate's opinion is the most important thing for her mother. As the British press recently reported, the upbringing of George, Charlotte and Louis did not always appeal to Elizabeth II, who brought up her children quite harshly at court. And in this her opinion is at odds with that of Carol. The Middleton do their best to let their grandchildren know real life.
Original column published on the blog. "Royal Life" on Yandex.Zen
ForumDaily Woman is not responsible for the content of blogs and may not share the views of the author. If you want to become the author of the column, write to us - woman@forumdaily.com.