The article has been automatically translated into English by Google Translate from Russian and has not been edited.
The founder of the 'Turetsky Choir' arranged a luxurious bat mitzvah for his daughter. A PHOTO
Quite recently, Mikhail Turetsky married his daughter Sarina, and the family again has a holiday - this time the middle daughter of the famous singer Emmanuel celebrated her 12 anniversary, and with it, the holiday of Jewish maturity, bat mitzvah, writes Tatler.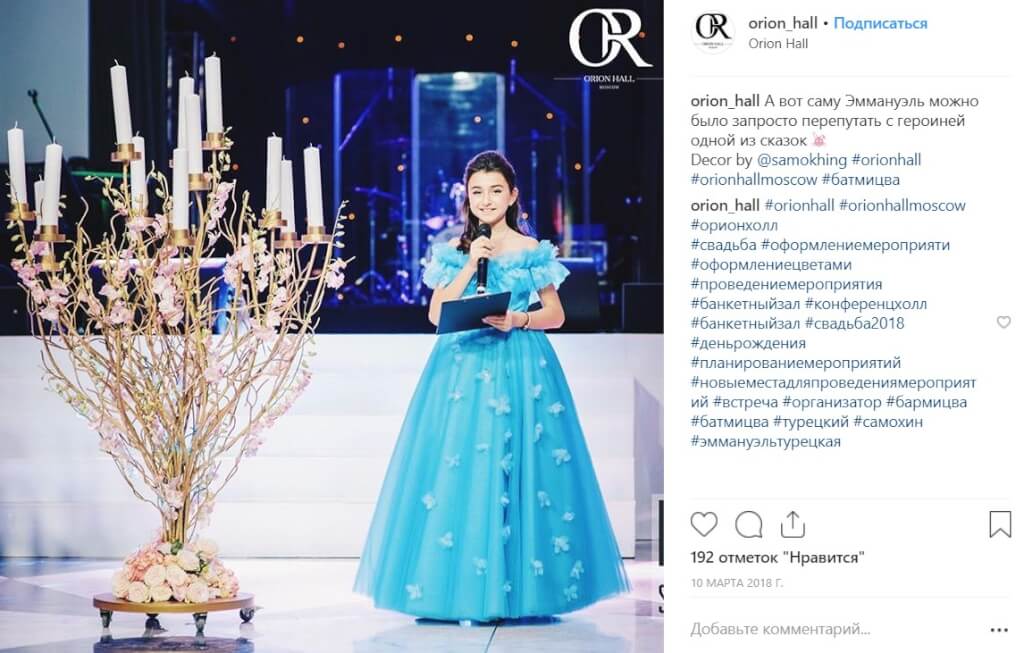 A loving father did everything so that the celebration would be remembered by the girl and numerous guests. In the large banquet hall Orion Hall guests gathered in Moscow, including the minister, the head of the hockey federation, fashion designers and other representatives of the Russian elite.
Lighting a festive candle, the daughter of the Turkish, most likely, made her most cherished wish - traditionally they do it on the Bat Mitzvah when the candles light up (in traditional Russian culture they make a wish, blowing out the candles). With this, the celebration began.
Charming Emmanuel greeted the guests in a long, lush dress of blue color, resembling a fairy-tale princess attire, later the girl changed it to a knee-length dress, made in the same style.
Of course, the holiday was attended by the Turkish family: Sarina, who had recently got married, Liana and Beata, sisters of the main character of the festive evening, as well as numerous friends and relatives.
Emmanuelle willingly performed on stage: she sang with her father's choir, and then danced with her father to the touching song "Star Bridge". And it wasn't just an amateur performance, the girl has a really great voice.
The hero of the occasion dreams of becoming an opera singer - she has already performed on the stage of the opera house in Venice, sang in the main square of the German capital and is preparing to perform in Leipzig, at the opera ball. The same evening, the first solo album of Emmanuel Türkis was presented.