The article has been automatically translated into English by Google Translate from Russian and has not been edited.
'We love both!': Fans are delighted with Pugacheva's comment on Rotaru's photo
'03.09.2020'
Source: Today
On her Instagram page, the famous singer Sofia Rotaru published several photos from the celebration of the birthday of her son Ruslan, who turned 50, writes "Today".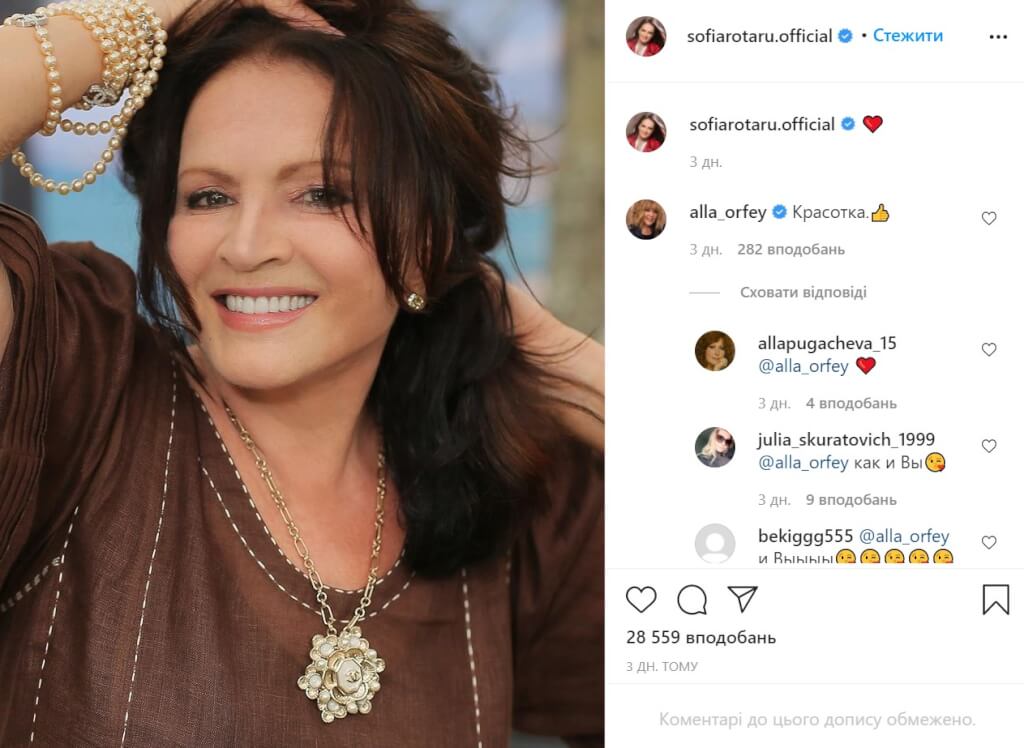 The portrait of the singer, which she shared on the social network, fans bombarded with comments with compliments. Among others, there was the famous Russian singer Alla Pugacheva, with whom Rotar was attributed to the enmity and competition for a long time.
"Pretty woman", - wrote Alla Pugacheva under the picture of Sofia Rotaru.
Rotaru's subscribers reacted violently to Pugacheva's comment:
"Sofia Mikhailovna, Alla Borisovna, both of you are wonderful and give an incentive to live for many people, inspiring with your life and work!",
"You are both the most beautiful on Earth",
"We love both, two stars."
Note that Rotaru has not yet responded to Pugacheva's comment.
On the subject: 'Alla will not forgive': Kirkorov recorded a video with the younger Rotaru and called her queen
In addition to this photo, the artist published several pictures with her family - her son Ruslan, his wife Svetlana, grandchildren Sofia and Anatoly and sister Aurika.