The article has been automatically translated into English by Google Translate from Russian and has not been edited.
Poverty youth, leaving Menshov and a knife in the back from colleagues: the difficult fate of Vera Alentova
"By her presence, she will stop any vulgar scene, any violation of taste. With one glance, behavior. They will not continue this with her, "- this is how Oscar winner Vladimir Menshov answers the question" what is your wife like ". Refined and graceful, aristocratic and thoroughbred - this is how the magnificent actress Vera Alentova knows in life and on stage. But what kind of woman is really behind the replicated image? The story of the actress tells TUT.by.
Her Katerina from the landmark film "Moscow Does Not Believe in Tears" was empathized by the entire Soviet people, and then by American and European moviegoers. Overnight, the modest theater actress became a real star who traveled a lot abroad and gave interviews. Few could believe that the path to fame for this brilliant beauty was by no means lined with roses. Perhaps the heroine of the picture was so good at Alentova precisely because their biographies were somewhat similar.
Vera Alentova, formerly Bykova, was born on February 21, 1942 in the small town of Kotlas. Her dad, mom and grandmother were actors - talented, but not too lucky. She was only three years old when her father suddenly died of the disease.
"Dad died very early, I was three years old. Mom worked hard. I stayed at home. What is a very small child at home alone? I was afraid of mice. Mom taught me: "Stamp your foot, she will leave." I stomp, she does not leave - the mouse understands that I am not a threat to her ... I was sick with malaria and had to drink Akrihin by the hour, a very bitter medicine. And I independently followed the hand of the clock to receive it on time. A lot in childhood I was alone. I was thinking about something, fantasizing, playing with myself and had no idea what could be different. "
In search of a better life and, of course, to escape from a place where everything reminded of a bitter loss, Vera's mother decided to move with her daughter to Ukraine, to Krivoy Rog. But there they lived poorly and hard.
"For some reason, for nine whole months in Ukraine they did not pay wages to cultural workers. And the workers were paid. And my mother was forced to get a sewing shop under a false name. I got real pennies, and we somehow existed on them. They ate sparingly, black bread with sunflower oil was considered a treat. And I wanted sweets. I dreamed about ice cream! Once I noticed my mother had an open wallet and pulled out a ruble. I bought ice cream. I didn't feel the taste, because I swallowed huge pieces. The next day, she again took the ruble and bought ice cream. At home, my mother met me with a question: "You didn't take money from your wallet?" I don't remember my answer. I only remembered that my mother cried very bitterly. There was everything in her tears, including the pain of not being able to buy sweets. "
The Alentovs moved frequently. From Ukraine to Uzbekistan, from there - to Altai, to Barnaul. There, Vera graduated from high school and, at the insistence of her mother, tried to enter the local medical institute. I passed the first few exams perfectly. And before the last test I heard about the recruitment of the Orsk State Drama Theater named after A.S. Pushkin. And rather ran there, because I always dreamed of becoming an actress, not a medical worker. She flunked her medical exam on purpose in order to appear in almost all repertoire performances during the new theatrical season.
On the subject: A colleague showed how 77-year-old Vera Alentova looks without dark glasses
The next year, she goes to Moscow and easily enters the Moscow Art Theater School on the course of Vasily Markov.
"I wanted to study there. When I saw my last name on the lists, it was ecstasy, euphoria, glee. We worked a lot of students. They wanted to know everything, they were afraid to miss something. We grew up in a talented environment. Not so long ago, Sovremennik and Taganka were opened. Young Yevtushenko, Akhmadulina, Voznesensky, Rozhdestvensky read their poems at the Polytechnic Institute and at the monument to Mayakovsky. And Vysotsky with his songs, and Twardowski with the "New World"! "
At the Moscow Art Theater School, Vera meets her classmate Vladimir Menshov. The hot friendship between two young people soon develops into a deeper feeling.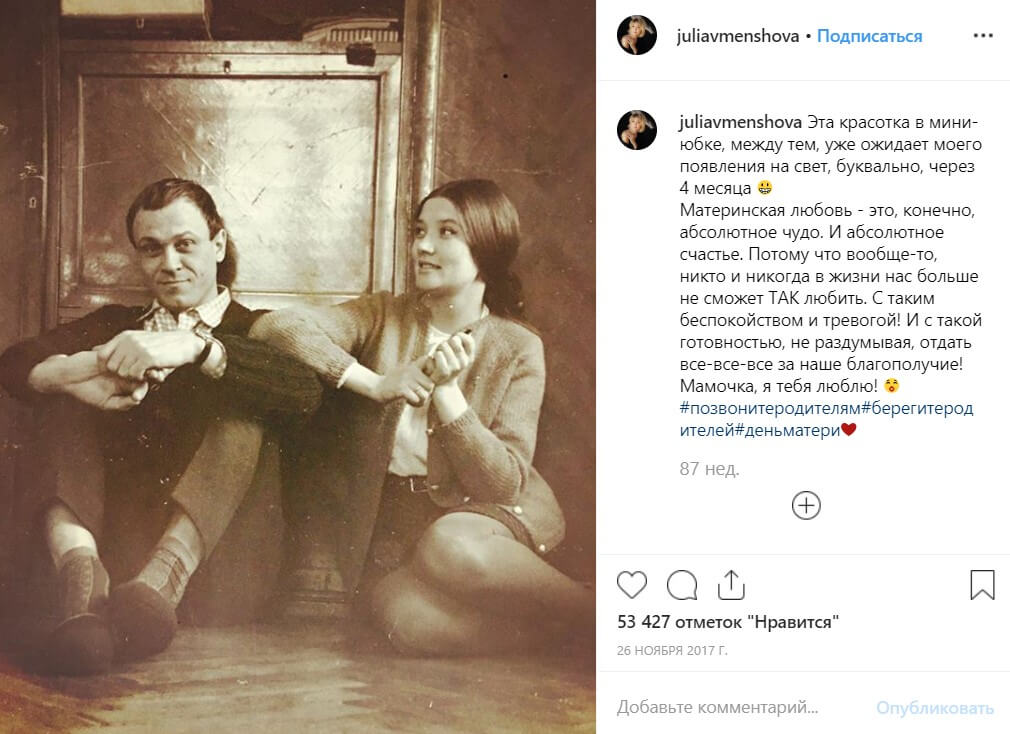 They signed already in their second year. The first months of the life of the newlyweds could not do without all kinds of incidents, recalls Vladimir Menshov.
"When we got married, she took a five-liter saucepan and said: 'We need 200 grams of meat there.' I didn't know anything either. "200 grams - isn't it enough?" - just in case, I asked. "Just right," she said very authoritatively. We went to the market: "Cut off 200 grams of meat for us," we said to the butcher. He looked at us with such interest, but nevertheless chopped off. Then they put this piece in a five-liter saucepan, began to cook. They pushed cabbages there, it was cabbage soup - cabbage, carrots ... It seems that while it was hot, there was nothing. Well, in general, I ate this borscht and did not fill up. And I realized that I would stretch my legs with this kind of nutrition. He began to slowly learn to cook. Everything turned out to be delicious for me, and she ate everything that I cooked with pleasure. "
Many who knew the couple did not approve of their marriage at all. Menshov was considered an unpromising student, while Vera had high hopes.
"You will be the sad wife of an artist-loser," they told her, and she only waved it off. And not in vain. After the Moscow Art Theater School, Menshov was immediately enrolled in the second year of the directing department of VGIK. The legendary Mikhail Romm praised his first works:
"When Volodya and I were young and poor, we often went to visit Mikhail Ilyich, and he not only had interesting conversations with us, but also fed us. It was a miracle for us. We were very poor in those years. I lived in the hostel of the Pushkin Theater, Volodya - in the hostel of VGIK. Nothing has changed, even when Yulia was born. She dreamed that we would have at least an eight-meter room in a communal apartment. Such rooms were given to all the dormitory neighbors, but we didn't. "
When the family with a three-year-old child finally decided to give the room, someone more in need was found. Alentova in tears ran to the department of culture. The reception official suddenly felt sorry for the exhausted woman: "You have a two-room apartment. Write a statement. " And a year later, Vera was handed the keys to her. The family could finally reunite, but both spouses were so exhausted by their unsettled life and financial turmoil that they decided to live separately. Separation lasted almost four years.
"When we parted and gradually began to move away from all this, it became clear that separately, worse than the two of us. That was the most important thing. At first I did not even meddle. She cut so hard ... And then I saw that she had some kind of process started. She said that she saw so much of mine in Yulia ... And she realized: this is what she struggled with in me, as if I simply did not change myself out of laziness or out of harm ... And I returned. "
The troubles in family life were offset by a very successful career in the theater. While still a student, Vera Alentova was busy in several productions at the Moscow Art Theater. She literally dreamed of this scene and was sure that she would stay there after graduation. But suddenly she was refused. But they took to the Moscow Theater. Pushkin and immediately gave the main role in the "Chocolate Soldier" by Bernard Shaw. Soon, literally the entire repertoire was built under the talented actress. It is not surprising that, many decades later, Vera Alentova remains faithful to Pushkin's stage and continues to serve in this theater to this day.
On the subject: 'Dad said that my child is lagging behind in development': Julia Menshova spoke about her father's criticism
"In the theater, everything turned out well with me. Although it was not always comfortable to exist in it. Theater is an intriguing place. Anything happened: for example, the director offers the main role, and then I find out that she is not involved in the play. I meet a leading actress who treats me very well, she shakes her head: "What a pity, Vera, that you leave the theater for a year." I say: "I ?! How ?! "-" We were told that you will be filming all this time. " To win the role, they invented a tale about me ... They chatted that I had some kind of wild number of lovers, that I was in close relations with all the directors. She was experiencing, but did not try to justify herself and did not prove anything. It just worked a lot, as before. "
But to declare himself in the movie, it took much more time. The role in the debut picture of Vera Alentova passed almost unnoticed.
After several failures, she for 10 years forgets about cinema. All in order to return to the screens in 1979 with a triumph in the title role in the picture of the spouse "Moscow does not believe in tears." True, the first reviews of Soviet critics about the film were completely flattering. And he took and won the prestigious Academy Award.
"It was a miracle that the film Moscow Doesn't Believe in Tears, for which critics and colleagues stoned her husband, won an Oscar! Of course, we did not understand the full scale of this award, but were more pleased that justice had triumphed. After all, Volodya was very hard. He went so far as to seriously think: "Lord, why did I take this off?"
Alentova traveled a lot around the world, presented a picture in various countries and literally bathed in the rays of audience love. For the role of Katerina in the film "Moscow Does Not Believe in Tears," Vera Alentova was awarded the USSR State Prize and recognized as the best actress according to the version of the magazine "Soviet Screen".
In 1984, she has another very significant role. Together with the actor Anatoly Papanov, she will play in the drama of Yulia Raizman's "Time of Desires". For the embodiment of the image of the main character in this picture, Vera Alentova became a laureate of the State Prize named after the Vasilyev brothers.
Alentova managed to re-act with her husband. In the mid-1990s, the comedy "Shirley-Myrli" was released with a whole star trooper of actors in roles of varying degrees of significance: Oleg Tabakov, Armen Dzhigarkhanyan, Inna Churikova, Oleg Efremov, Mikhail Kokshenov, Lyubov Polishchuk, Leonid Kuravlev and many, many others ... But, of course, the first violins in "Shirley-Myrli" were played by a great acting duet: Valery Garkalin - Vera Alentova. They got not one, but as many as four main roles each, and they did an excellent job with them.
Vera Alentova had a lot of main and simply memorable roles after "Moscow". By the way, since 2009, the actress has been teaching at the Department of Acting at the Gerasimov All-Russian State University of Cinematography. But the theater still remains her main love.
"She rehearses in full force, then goes to try on a costume, which is as important for her as creating a role. She begins work on the role by designing a costume. But for this she is very respected in the sewing shop and even loved for the fact that she meekly stands at the fitting for several hours. He stands for hours trying on without sitting down. Her over-responsibility - her cross, which she bears, her duty to God, if you like - is theater, service to the theater, "confirms her husband Vladimir Menshov.
When the time comes for a vacation, the actress finds a lesson here too. Lying around with a book and not doing anything - this mode it can withstand a maximum of a couple of days. And then she begins to knit, sew, engage in her beloved summer house, the design of which was completely invented and realized on her own. He likes to spend time with his grandchildren - Andrei and Taisiya - the children of the daughter of Julia, who has already grown up and has become an actress and host of projects with high ratings on television.
Vera Valentinovna in her elegant age is in great shape and completely does not feel her age:
"Once I read a story. The elderly priest was asked what he had to say about people. And he replied: "There are no grown-up people." How sure is it! Indeed, I have not changed much since I was 5, 10 or 30 years old. And now my soul is just as open, I am just as offended and cry if I was hurt. And I just want to be understood and loved. "