The article has been automatically translated into English by Google Translate from Russian and has not been edited.
"Wasn't my life instructive?": The story of Whitney Houston
February 11 marks seven years from the day the pop diva passed away. She was 48 years old.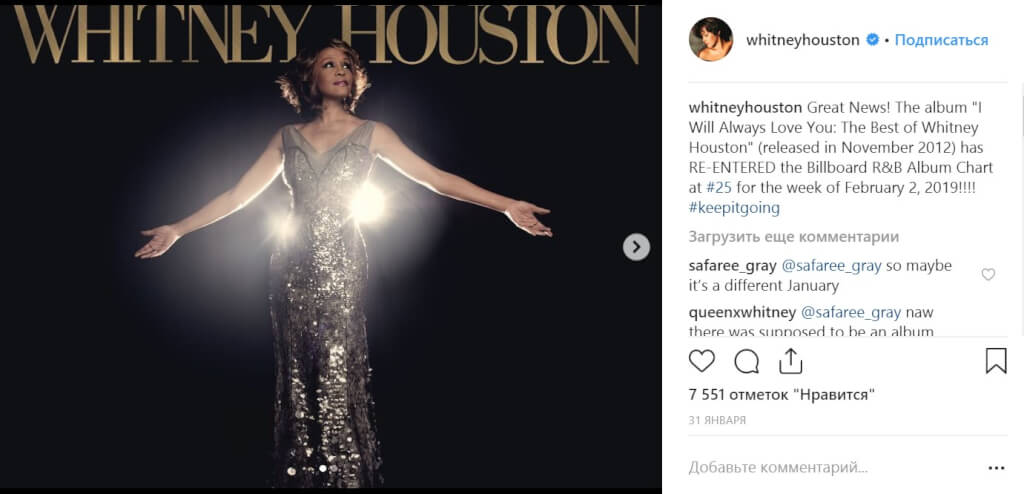 On the eleventh of February, 2012, a week before the Grammy ceremony, Whitney Houston, in Hollywood, hiding her eyes behind glasses of black glasses, moved into the Beverly Hilton hotel under an assumed name. The singer took the junior suite number 434: a small living room, bedroom and bathroom. From this bathroom she did not come out, tells Tatler.
At four in the night, Whitney's assistant found her face down in a bath. The bodyguard on duty at the door - alas, not the one in the cinema - rushed after the doctor, but it was too late. On the table were plates of food, a bottle of beer, and stale champagne.
A spoon with "white crystalline substance" was found at the sink.
It took the experts as much as six weeks to reach a verdict: Whitney Houston drowned. The causes were atherosclerosis of the heart vessels and cocaine, which she used immediately before her death. In addition, traces of marijuana, sedatives and allergy pills were found in her blood.
That evening, Houston was supposed to go to a party with her agent Clive Davis. At the reception held in the same hotel, the actor Tom Hanks, singers Tony Bennett and Neil Young were already having fun. "Whitney will not be able to get out ... She is dead," said assistant Houston, who was descending to them. Half an hour later, relatives of the deceased arrived at the Beverly Hilton and rose in general crying. Bobby Christina, the eighteen-year-old daughter Whitney, begged to let her into the room to her mother. With aunt, Pat Houston, there was a tantrum. Only her cousin, singer Dionne Warwick, quietly shook the forensic scientist's hand (by the way, the same one that recorded the death of Michael Jackson): "Thank you for your work."
The body was carried out only at half past one the next day.
A few days later, a close friend of Houston, black singer Chuck Khan, denounced the "vampire show business" who dragged Whitney into Los Angeles only nine months after she was discharged from the rehab. Obviously, she meant producer Clive Davis.
But even before the ill-fated trip, Houston, who seemed to have tied up with a green snake, welcomed her acquaintances with a glass — at the birthday party of boyfriend, singer and actor Ray Jay, known mainly for playing homemade porn with Kim Kardashian. bars: they say, why dilute alcohol - and arranged the scene at the counter with the magazine National Enquirer. The cover was boorish, even by low American standards: "Whitney fell! Under the buzz and without a penny in my pocket: everything is much worse than we thought. "
This death was unexpected. For all the dangers, it seems, are in the past. Yes, 48-year-old Houston lit at parties - but in moderation, in moderation. She was sure that she was on the threshold of a new life - without drugs. She promised to quit smoking, starred in a new film - "Glitter", established a relationship with a new man, agreed to sing a duet with the winner of the American "Star Factory" - the American Idol TV show. Yes, they somehow saw her walking around the pool in her arms, but relatives reassured the alarming public: Whitney simply showed her athletic form and "crystalline substances" had nothing to do with it. In addition, colleagues in the "Shine" say: at the shooting she was sober, like Lalique glass, never late.
Only Aunt Whitney, Pat, the one who had a nervous breakdown at night at the Beverly Hilton, was quite frank. "It's not the drugs that are to blame for the death of my niece," she said at the Oprah Winfrey Show. "In recent years, everything has gone to that."
Whitney was indebted to her voice for all the good things that happened in her life: he became a symbol of a whole epoch. One of its producers put it like this: "Nature rewards such powerful voices of imposing women with a weight of one centner, and Whitney weighed fifty kilos!". Voice Houston really took over the soul.
Mick Jagger told her: "I am your big fan." Singer Natalie Cole admired: "Whitney sang - as she breathed fire." People said about her: "This voice is direct evidence of the existence of God." Whitney sang precisely what soulfully. She used to pray in the studio.
Popular gospel singer Bebe Winans once heard young Whitney opening up for a second-rate musician and went backstage to meet her. "I asked her:" What church are you from? The way you sing, you can see that you are from some special church, "recalls Winans. "And she proudly replied," From the Baptist New Hope! " The choir of this modest church in New Jersey was led by Houston's mother, Cecilia, who immediately assumed her daughter's talent: "Whitney sang with her eyes closed. It was mesmerizing. " They lived in the same place, opposite the church - in the area for the poor.
On Saturdays, the girl greedily devoured all the films that went to the local cinema. She especially remembered "Blesk" - a difficult picture of the torment of three young black singers, their struggle with pimps, scammers and thieves. The current "Splendor" from Whitney Houston, coming out on screens in August, is a remake of the very one that once hit her movie in seventy-six. Cecilia, as she could, took care of her daughter from too early glory. In her youth, she was also a singer and performed in the band The Sweet Inspirations to warm up with Elvis Presley and Aretha Franklin. That is why she knew everything about show business and his temptations. Professional talent gatherers hung around Whitney, but Cecilia rolled her lips: "It is still too early for her." But in her 18 years, in her opinion, the youngest Houston was already quite ready.
Whitney, who by then appeared as a model on the cover of Seventeen magazine, was entrusted to Clive Davis. He dreamed of making a singer outside the genres, a real pop diva. He worked with Aretha Franklin, but it did not matter: the title of the soul queen was firmly established for the owner of the eternally young voice. But Whitney unconditionally approached him.
Her first disc - Whitney Houston - sold a huge circulation. The second, with the same straightforward name - Whitney, broke this record. By 88, the singer overtook The Beatles in the number of hits that took first place in the world charts.
At the beginning of her career, Whitney was not interviewed as often as the press wanted. It was rumored that the producer forbade her to communicate with the press because of the discrepancy between the image and the real "I" - believed that she was too good-natured for a self-confident, successful young singer. Her silence spawned many rumors. It was rumored that she was a lesbian.
Since school, Whitney was friends with Robin Crawford, a famous basketball player. They were like sisters and even lived together until Davis moved Whitney to a more prosperous area. In 85, Houston went on tour without Robin and missed her very much. It was decided to buy a girlfriend a ticket. Eighty dollars, spent on no business, surfaced in the accounting department. Rumors about gay singers began to spread with monstrous speed. The girls themselves assured: there was no romance. However, the managers and parents of Whitney panicked - the carefully woven image of the "American Princess" crumbled.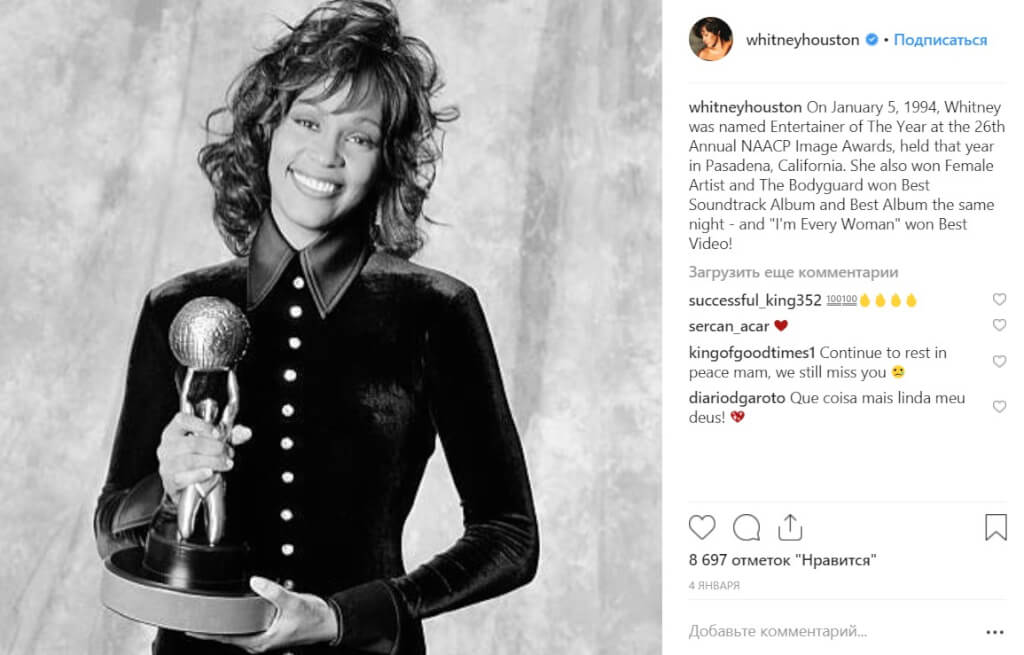 But then Whitney Houston began to appear with the actor Eddie Murphy. She was credited with an affair with Jermain Jackson, Michael's brother. Secret - "officially" she did not meet with anyone. "The prospect of being with her and forever in the shadows was scary for everyone," explained Bebe Vinans, who had once asked Whitney about church, long ago.
In 89, at the music awards, Whitney met r'n'b star Bobby Brown. He also grew up in the ghetto, and they quickly found a common language. Twenty-year-old Bobby was already a man, as they say, "with the past": they shot him, they stabbed him with a knife, killed a friend in 11 years in his presence, he founded a musical group in 14 and was once again thrown into girlfriend's cowards, first became a father, and then he survived three more children out of wedlock. In general, he was what is called a bad guy. Over the next few years, he will beat a visitor to Disneyland (admittedly, an adult), a couple of times he overtakes his face with heroin, sits in jail and goes to rehab. And he will say: "In our couple, only Whitney is crazy."
That evening, Houston, whose image, by contrast, had already begun to seem too sweet, monstrously booed. "For some reason everyone was against her," recalls her friend, an eyewitness of what happened, "they made fun of, gossiped, forgot about the songs. It was unpleasant. Bobby Brown could easily tweak the re-cracked image of the singer. Seeing him, Whitney whispered: "He will become my husband."
And indeed - in 92, Whitney married Bobby. Her father was against it. Producers, too. Everyone knew what that type was, but they believed: Whitney is smart enough to handle it. However, after a couple of years in her life, alarming bells rang.
Then, at the height of his musical career, Whitney wanted to act in films. Hollywood helpfully opened its doors to her. During the filming of "The Bodyguard" with Kevin Costner, Whitney was pregnant and had a miscarriage on the set. Costner, who not only played, but also produced the film, at the last moment replaced one of the songs with that legendary I Will Always Love You. With such a feeling, Whitney performed the composition, which was wading to the roots of her hair, that everyone in the studio was already frozen in a daze. "Bodyguard" was a real hit, and the soundtrack to it set a new world sales record.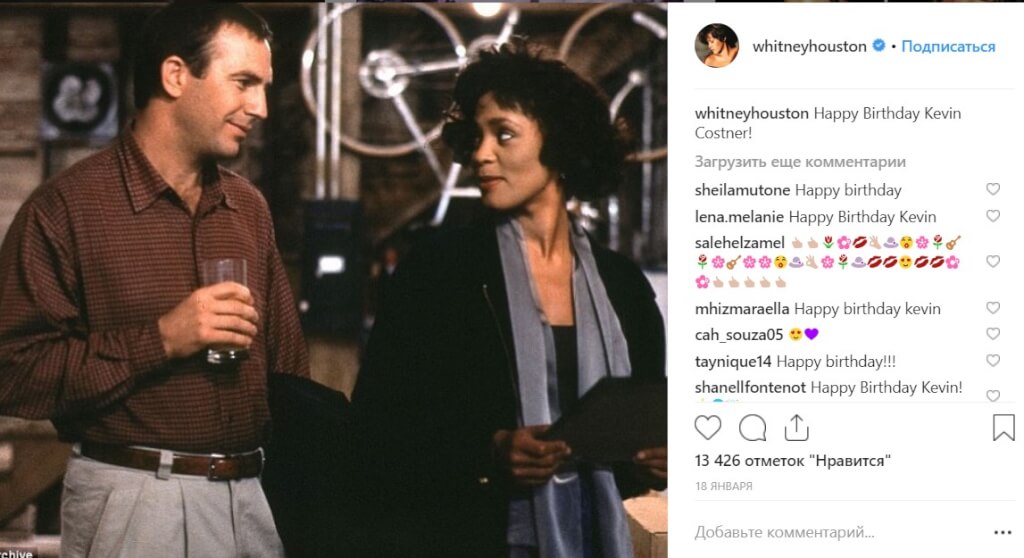 For the next 6 years, Whitney focused on her acting career: in 95, she had a sentimental drama "Waiting for Exhalation" with her participation, and then a pious love story "The Wife of a Priest".
Spending a lot of time on the set, Whitney didn't care about her voice at all - unlike, for example, Celine Dion, who sometimes doesn't talk for days before a concert. Houston, even after a busy day, ran into the studio, pulled off her coat and sang in full force.
But by the end of 90's voice began to let her down. In live performances I had to take an octave lower. It was not only the years and cigarettes that were to blame: after the birth of her only daughter, Bobby Christina Houston-Brown, Whitney began to use drugs - marijuana and cocaine. She admitted that she used to lie for days in front of the TV with Bobby, smoking in the trash, and hadn't come out of her pajamas for months.
And then Brown went down the crooked path. "He destroyed everything in his path, broke furniture, cut my face out of photographs," Whitney cried to Oprah Winfrey. Then, years later, she said: - Houston deliberately lowered herself so that her husband looked more dignified against her background.
The pop diva was rapidly turning into a street girl from New Jersey. "You think I'm a princess?" Nothing like this! - she persuaded the whole world in the person of the interviewer from the magazine Rolling Stone. - I grew up in the ghetto. And - yes, I, damn it, I take drugs. But they do not prevent me from working and living. "
Writer Kevin Ammons in his book "Good Girl, Bad Girl: The Biography of Whitney Houston from the Inside" blames Bobby Brown for everything - he says, he is a scoundrel, put Whitney on drugs to keep the goose that laid the golden eggs in his hen house. Somehow a parcel came to the publishing house with a dead snake - the snake, apparently, was sent still alive. Ammons, who miraculously escaped the fate of the bayadere, is sure: Whitney found out about the book and sent a warning - they say you are all snakes and write horrible things.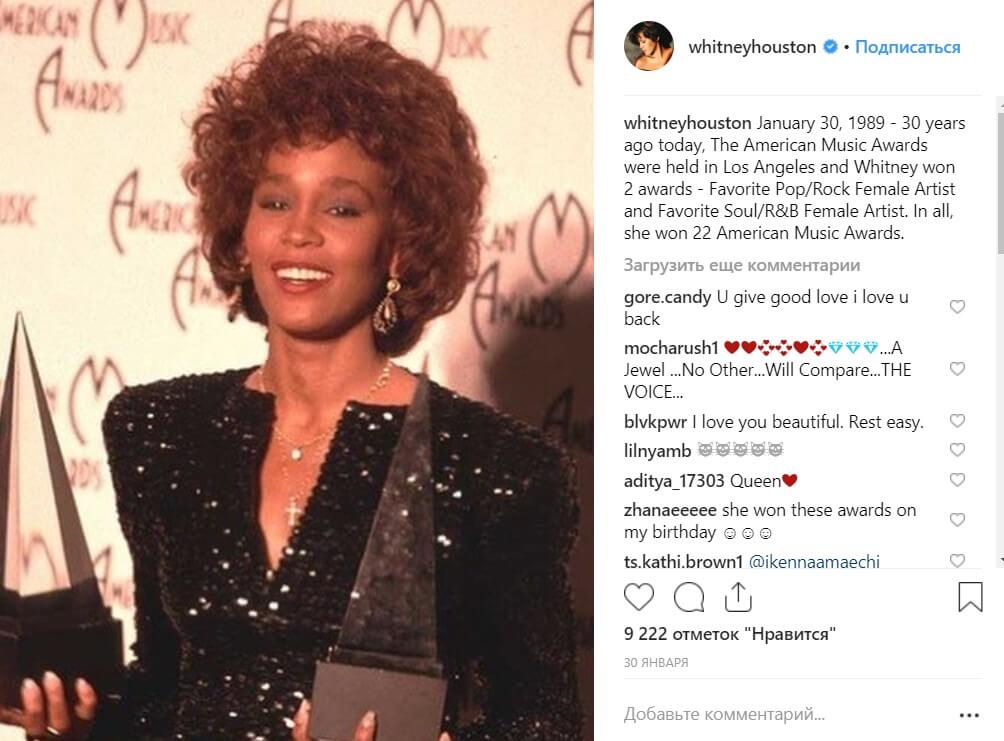 In 94, Houston was two hours late for a dinner party at the White House, where she was supposed to sing for Nelson Mandela. By 96, when the Priest's Wife came out, she used drugs every day. "I was losing myself," she admitted to Oprah again. In the ninety-ninth, the singer canceled five concerts; in two thousand, she was caught with marijuana at the Hawaii airport: the rest was apparently set.
In March of the same year, she had to perform the lyrical composition Somewhere Over The Rainbow at the Oscar ceremony, but at rehearsals she was insane and forgotten the words. Bobby Brown was sitting there dead dead drunk in the first row. Houston was removed from the program.
Once she was asked what the difference was between the president (and Whitney was introduced to Bill Clinton and George W. Bush in the White House) and a drug addict. She replied: "None. The president catches the buzz from power. The addict comes from a couple of successful songs that have become hits. "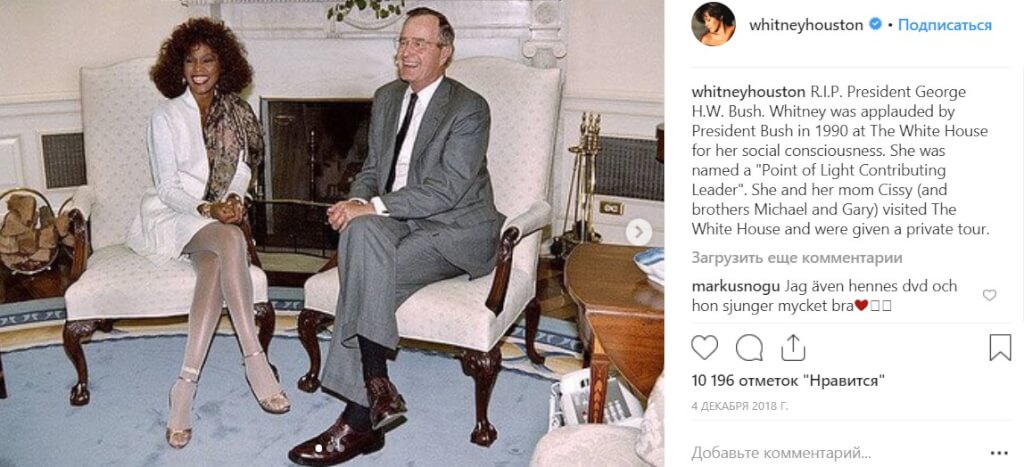 At a party to celebrate Michael Jackson's XNUMXth solo career, Houston appeared haggard, unpleasantly skinny - a walking anti-drug ad. "It's all stress!" - the producers assured. "She looked so bad that I couldn't help it," recalls hairdresser Houston, "and told her," If you don't stop, you'll die. " Whitney burst into tears and replied, "I know." And the stylist praised her that night: "You look great!" What for?".
September 10, 2001, after the cancellation of the next concert, it was rumored that Whitney died from an overdose. The next day, the eleventh of September happened, so the "news" was not discussed for long.
In two thousand and two, Whitney was asked: "What is the greatest evil?", And she replied: "I myself."
Every time Houston sank into depression, she turned to God. She even prayed in nightclubs.
In 2000, Clive Davis decided to start his own record company and left his ward. In the same year, Bobby was once again imprisoned for drunk driving. Friends persuaded all abandoned Whitney to contact a rehabilitation center - at least for the sake of her daughter. We were convinced that if she surrendered to the doctors, then Bobby would follow her example, as soon as she was released from prison. But this tempting offer was rejected.
And then something happened that Whitney said: "The Lord awakened me to life." The role of the Lord was played by an old friend of Houston, r'n'b-singer Pebbles. One time, Whitney helped her: "I broke up with my husband and stayed at home for days, devouring candy," recalls Pebbles. - Whitney flew to me, burst into my room, pulled off a rug and snapped: "Do not let anyone ruin your life!". The Whitney Board acted on Pabbles as follows: she took off her gold trinkets, threw out the microphone and cut her hair into a nun.
So Perry's sister, the former Pebbles, decided to return the favor and called Whitney to preach. She came to her church in Atlanta and sang. "I don't remember what she sang. But she did it so heartfelt that I shed tears, "recalls one of the parishioners. - At this moment it became clear: she is fantastically talented. No music, no backing vocals - only Whitney and her dialogue with God. " "Bobby and I decided to devote ourselves to raising children," Whitney said in an interview after a visit to Atlanta. And really - she began only occasionally to go on stage. After a long pause, she performed only at the World Music Awards in Las Vegas: she was awarded by her former producer Clive Davis. Houston looked and sang amazingly. The audience was delighted.
Having washed in the Jordan River, Whitney and Bobby moved to the suburbs of Atlanta - to live a quiet and inconspicuous life. In addition to Bobby Cristina, they had three Brown children and Nick Gordon, an orphan boy, whom Whitney adopted when he was twelve.
Bobby then went to jail again, but despite this habitual circumstance, Houston's life was getting better. And here reality producers became interested in this life. "We are especially interested in Brown," they clarified. An invitation to the show to the prisoner Bobby was given by his brother Tommy. The producers promised to redeem a lover of fast and drunk driving out of prison, and he happily agreed. The show was called "Being Bobby Brown." Whitney could not stay away: "I am his wife, and I will also participate."
The show was released on screens in June, two thousand and five. Ratings - Millions. The reviews are terrible. "Being Bobby Brown" is the most disgusting thing that has ever been shown on TV, "wrote the authoritative The Hollywood Reporter. "In it, Brown is shown to be even more vile than he really is, and Whitney, apparently, has completely lost human dignity." In the first series of the show, Houston joyfully met Bobby from prison. In the next series - sued him for domestic violence. Little by little everything returned to normal, and the singer did not appear in the frame without a cigarette in one hand, a glass of apple martini in the other and swearing through the word flown from her sensual lips. During filming, she again got addicted to drugs.
It was all over when her mother Cecilia came to the shooting in the company of lawyers - with a warrant for the forced hospitalization of her daughter. "Move your finger, Bobby, and they'll bother you right there," she warned Brown and promised Whitney that she would not allow the devil to completely ruin everything.
Houston was sent to a rehabilitation center. In two thousand sixth, Tina Brown, sister of Bobby, who also suffered from drug addiction at one time, sold the story of Whitney and sibling to National Enquirer magazine. The article was published under the loud headline: "In the Whitney addict hangout."
It said, among other things, that when Bobby was in prison, Houston wandered around the house in paranoid confidence that she was being watched. "Under the buzz she saw demons," reports Tina. "And one time, Whitney said she saw the devil himself, pointing to her own reflection in the mirror." Houston assured that the demons beat her, but Tina thinks: bruises and scratches are not the work of demons, but of Whitney herself.
This stress, coupled with drugs gave results: the famous voice left Whitney Houston forever.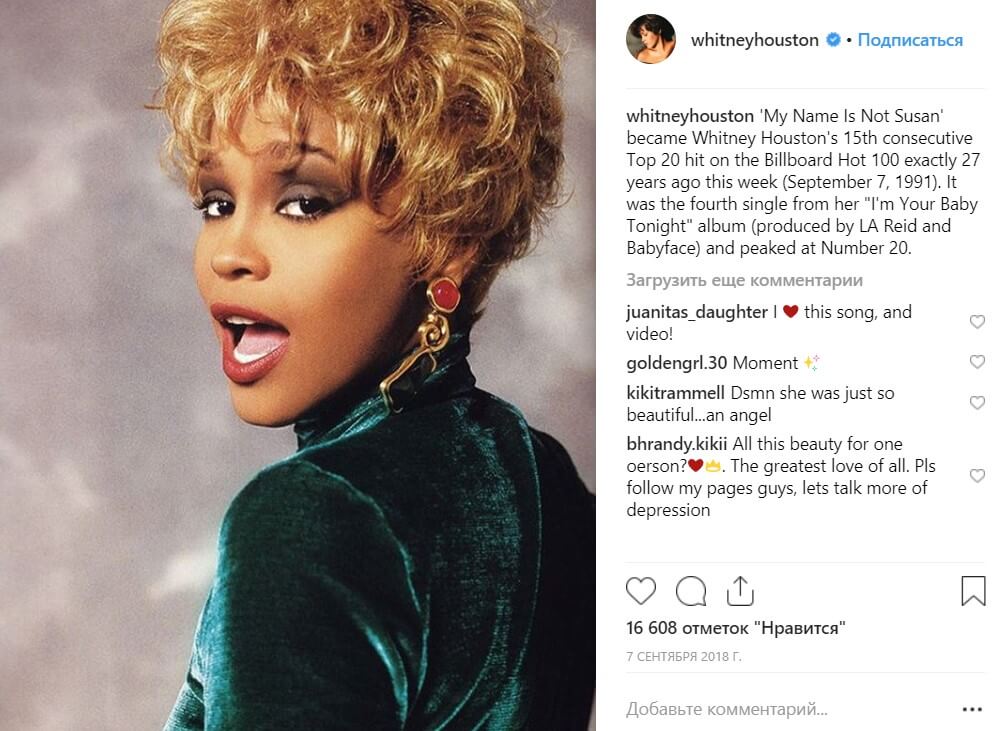 On the advice of friends, Whitney turned to Gary Katone for help — an outstanding teacher who cast Andrea Bochelli, Lisa Minnelli and Schade. He went to meet her: "I was told that Houston wants to return to normal life. But without a voice, she does not have a normal life. "
They met in Atlanta. Whitney's marriage was falling apart, her career was flushed down the toilet, relatives were on duty by the bed. "My voice is stuck in my throat," she complained. "I'm trying to sing, but nothing comes out." "She looked terrible," confirmed Catona, "was thin, her hair stuck out in all directions. But singing at the limit of human capabilities is her calling card. But I believed that she would cope. She has a strong character. "
And Whitney did not disappoint. Katona admitted that he had never had such a passionate student. Houston rented a house in California and moved there with her daughter, leaving her husband in Atlanta. "She just bloomed," recalls Gary.
Houston made a volitional attempt to quit smoking. "Once I left, forgetting her synthesizer," says Catona. - He returned, and she opened the door for me with a cigarette in her hand. She looked at me, hugged me - and threw out a cigarette. "
Houston filed for divorce in September 2006. Bobby was terribly angry: he shouted that no one knows the real Whitney - they say, her true "I" is reflected only in the show "Be Bobby Brown". In addition, he was left penniless: his credit cards were written to the Houston company, and during the quarrels, Whitney blocked them. Once Brown was even put out of the hotel, which he booked on his wife's credit card. And he had to wander around Los Angeles waiting for Whitney to allow him to return to Atlanta. It was then that Houston had an affair with Ray Jay. Pat Houston said about this connection with merciless accuracy: "In the relationship, Whitney was looking for something that hurts her."
Ray owes his dubious fame not to Kim Kardashian alone. He built a career on sex and even starred in a series of reality shows (oh, these reality shows!) "For the love of Ray Jay", where from a huge crowd of girls he chose the best one; with her, he went to bed. Later, Ray published the book The Death of a Traitor: all that every woman should know about men who have gone astray - he was an expert in this matter.
After a couple of dates with Houston, Jay called Bobby Brown. "I fucked your chick," he boasted. And Whitney, alas, was not the only girl they "shared." At two thousand seven in her life, Clive Davis reappeared: "I was tired of listening to others sing. I want you to come back. Are you ready? "-" Yes! "
Clive did not come empty-handed, but with a new song, although he was not sure that Whitney would pull out a hit: by November 2009, according to Katona, 75 percent of the voice had returned to her. But the name of the song - I Didn't Know My Own Strength ("I didn't know that I was so strong") - spoke for itself, and when Houston came on stage in a white dress and sang, the audience exploded: "Whitney has returned!"
The song was followed by an album. New Houston was adored by fans and meticulously evaluated by producers and critics: "She hired eight dancers from the troupe of Michael Jackson, but at the same time it was difficult for her to sing and dance: she lost her breath on the third song. You are not Britney Spears, people want to hear a voice! ".
"If the Lord sends me tests, it means his will," Houston humbly accepted the attacks. She courageously moved forward. And on the song I Will Always Love You always broke a standing ovation. The hall applauded while standing. She sang almost perfectly.
Whitney was very happy that her career had gone to a new level, and even made a facelift. She banged on more, but her heart, liver and lungs were not in the best condition, and she was denied a more serious operation.
A week before her death, she went to have fun with Ray Jay. In the Hollywood nightclub Tru, she attacked a young pevku: she allegedly "dodged for her man." Houston, furious, jumped out of the club and went to the hotel. In the light of dozens of camera flashes, it became clear that her arms and legs were torn into blood.
In the hotel, Whitney asked her stylist to read the Bible with her. "Her glasses were broken, so she read through one lens," he recalls. - The last thing she said to me was: "I just want to love and be loved. I want to love like Jesus, without any conditions, no matter what. "
In recent days, a suspicious type has been spinning near Whitney - Raffles van Excel, a fraudster with a lot of pseudonyms. Being in fact an illegal immigrant from Suriname who spent all his childhood in Amsterdam, Raffles hid his past and claimed that he was related to the owners of the Raffles hotel chain. In the late eighties, he became acquainted with the Earl of Calloway, a real British aristocrat living in America. Tom really liked the young man, so he took him everywhere with him. In Chicago, Raffles went to Whitney Houston - there he was introduced to the singer.
In two thousand and two Raffles ruined his reputation in the Netherlands: he promised his wife one millionaire, which organizes her performance at a concert in memory of the eleventh of September. That concert with Houston, Madonna and Michael Jackson was performed by Jermaine Jackson. The trusting Dutch woman spent a lot of money on endless Raffles flights between the Netherlands and the USA, and shortly before the concert it turned out that Jermaine had never heard of her or Raffles van Eksele.
After that, Raffles moved to Beverly Hills. There, to this day, he openly tells how he rubbed himself into the credibility of the stars of show business and milked the rich. The scammer even filmed the documentary The Art of the Scammer. "Everyone has their own rules and laws. They exist to break them, "according to this film episode.
In two thousand and two, Raffles was tried for stealing a Ralph Lauren sweater for seven hundred dollars. Then, without an invitation, he came to the party to Michael Jackson and began to greet the guests in the hope that he would be accepted as a friend of the family. "And now he is already talking to Michael himself! - One of the angry invited people sounded on Twitter. "Then I snuck into Michael's bedroom, but he was caught." He even managed to come to his funeral and read a whole heartfelt speech there! In general, an artist. Be alert! "
The fraudster was deported from the USA three times. But this did not prevent him from getting into Whitney's confidence and even working as an assistant. Then he met Ray Jay.
Raffles everywhere was dragging for Houston, lived in her guest house, helped Bobby in the studio and went to all the concerts. Whitney often asked him to look after Bobby Cristina. But she spent the day of her death alone: ​​had breakfast at a hotel restaurant, and then went to a spa. She was wearing sweatpants, a black sweater and black sunglasses. She smelled of alcohol.
Clive Davis's party turned into a singer's memory night. Among the guests was the "assistant". "He said that he had Houston tickets, so he would sit at the table intended for her. Picture sighed and told everyone that it was he who first discovered the body of Whitney, "according to eyewitnesses.
"Now I am sorting out her things," Raffles said in one interview. He also attended the funeral of the singer.
Someone took a photo of Whitney in an open coffin that National Enquirer bought for four hundred thousand dollars. There was no doubt who this cynical "someone" was: photographed Raffles.
In "Glitter," the heroine of Whitney has a remark: "Is my life really not instructive enough?" And in these words - it is all. But alas, not everyone can learn from the mistakes of others.
31 January 2015, a week before the Grammy, Whitney's only daughter, Bobby Christine, was found lying face down in the bathroom. A few days later, when you search again in the house where the accident happened, the police will find drugs.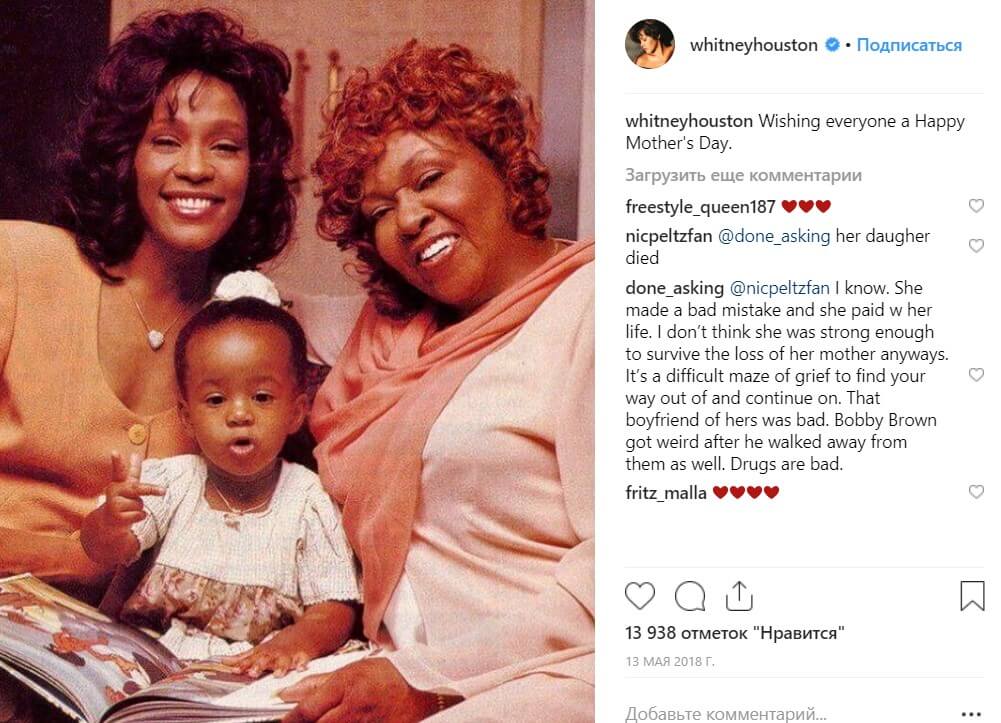 Kristina was still found in a living civil spouse Nick Gordon (yes, the same orphan that Houston took under her wing, and Christina called her elder brother, until she suddenly announced that she was getting married to a boyfriend) and his friend. The heir to the pop diva was immediately hospitalized with cerebral edema and entered into an artificial coma. 26 July 2015, she died at the age of 22 years.
Consciously or not, but Bobby Christine repeated the fate of her vocal parent. Or is it fate played with the long-suffering family of Brown-Houston another cruel joke?