The article has been automatically translated into English by Google Translate from Russian and has not been edited.
'You can't be afraid that you will be condemned': 5 secrets of a Ukrainian woman who has become a successful model in New York
The incomparable Brigitte Bardot claimed that there is no harder work than to look beautiful from eight in the morning until midnight. Well-groomed appearance requires a lot of work on yourself. Eat properly, actively engage in sports and give up many temptations - this is the only way to succeed! Model, teacher of New York FASHION TV School and Miss South Florida US Nation 2019, Ekaterina Saveiko told the portal The vmeste about how much time you need to spend in the gym, why it is important to consume potassium and magnesium, as well as how to do self-PR on Instagram.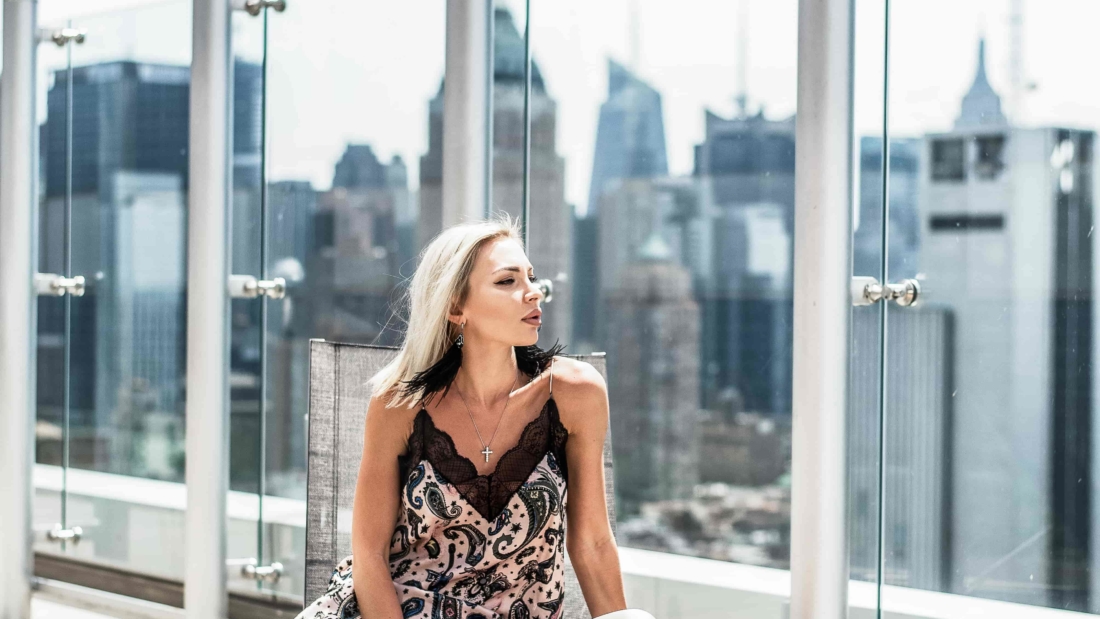 ⁃ Katerina, tell me why you chose New York for life?
⁃ I come from Ukraine, from the city of Nikolaev. I first came to New York 5 years ago when I came on vacation for a week. I was captivated by the spirit of this city, I felt like I was on the set of the movie "Alone at Home" (Laughs). Sirens, yellow taxis, Central Park - all this I have seen many times from the TV screen. It became interesting for me to travel around America, to get to know this country better. The next time I came to Miami. But, despite the fact that it is a very sunny and beautiful city, it did not suit me in terms of energy. Maybe then there was simply not the right person next to me. In Miami that time, I arrived for two months, went home, and returned back after 7 months to New York. I still live here.
⁃ And when did you decide to start a career in the modeling business?
⁃ Since childhood, I dreamed of becoming a model. At 11, I went to study at a model school. Mom took me there, and a year later she died and we were left alone with dad. My father was always against modeling, but I continued without telling him that. Once he saw my photo in a magazine, after which we had a major scandal. I did not want to quarrel with my father, so I decided to stop filming. But I understood that my childhood dream did not come true and it was not my decision, so the circumstances were. Over time, I returned to this idea and began to look for castings.
⁃ What was your first casting like?
⁃ During the first casting, I stood in line for 2 hours, 3 thousand people participated in it. I was chosen, and it was the most unforgettable experience! I was immensely happy. I got to the show, to the world that I dreamed of since childhood - shooting, photographers, invitations to events. I came home every time with a pile of business cards and new contacts. But everything spun so quickly that I didn't even need to get in touch with all these people.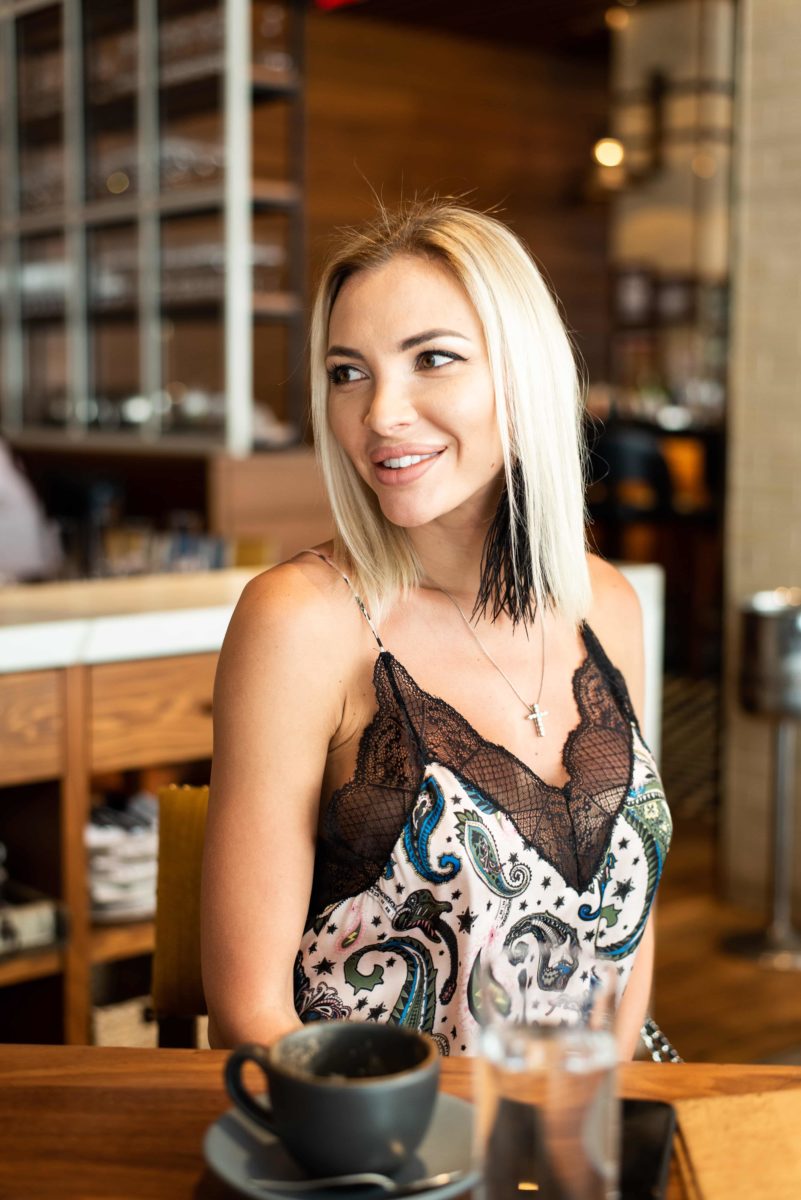 ⁃ Did you do self-PR? How it was?
⁃ First of all, I started using hashtag Instagram. I wrote to photographers, asking them if they needed a model, a new face. And many agreed to do photoshoots with me. I got new photos, my portfolio began to sparkle with new colors, and after that, the photographers themselves began to invite to shoot. Once I was invited to shoot for ISC, the shooting took place at the Marmara Hotel, where I met the founder of New York FASHION TV School, Dimitri Manuel, who offered me some free lessons. I liked what he talks about in his lectures, I paid for my studies. After graduation, he suggested that I work as a teacher. Now I have two groups. The first is girls from 14 to 25 years old, and the second is children from 4 years old. We have just started recruiting this group, it already has three small students, we plan to recruit 10 people in total.
- How can I get to your training?
- We accept only those who seriously want to develop as a model. First of all, it is very important that the student does not have excess weight. We tell our students a lot about diet, about what is needed in order to get on the podium, what parameters need to be met, etc. And people change, go to the gym, stop eating sweets. The feeling that I can help someone change for the better inspires me very much.
- How are your workdays distributed?
- I do not have a standardized work schedule - it changes every month, depending on the schedule of students. We call parents and agree on hours of study that are convenient for everyone.
When I go to the gym, I work too. I go at least 2 times a week. There used to be more time, and I ran every morning. In the hall I spend 1,5 hours, when there is an opportunity - I go back to the sauna. I shoot 3-4 times a week, depending on the season - less in winter, more in summer. Plus 2 times a week I go to work at NY FASHION TV School.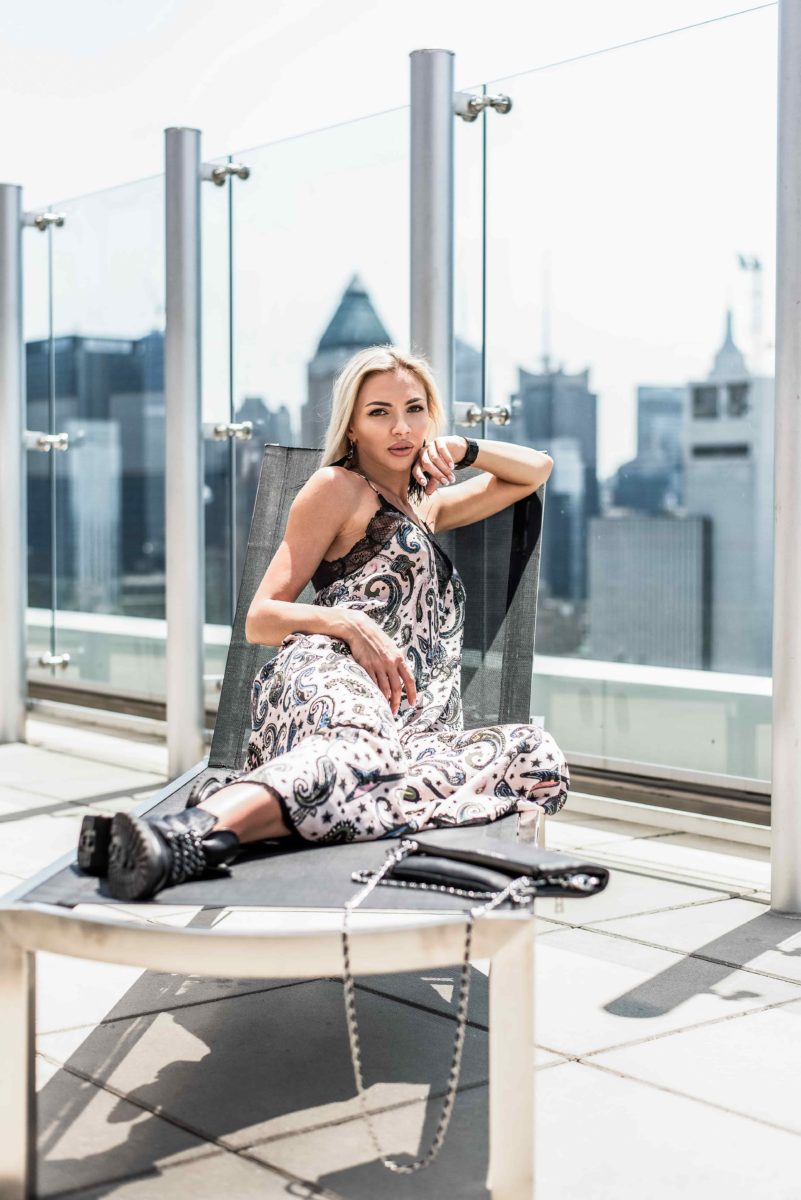 - What do you teach your students?
- I teach catwalk - how to move and keep your posture, as well as how to choose colors in clothes and combine styles. These are very important topics, as the model should stand out and be different from all other people. She cannot put on herself something tasteless, for example, at the same time raspberry, violet and pink. But novice models do not know what to wear. I explain, advise, I go shopping with them. And the classes that Demetrius conducts are built mainly on the educational program - he talks about the history and development of modeling and the business as a whole.
In addition, we help all our students to get to fashion shows, organize cooperation with designers at different Fashion Weeks: ASC Fashion Week, COUTURE Fashion Week, IMG Fashion Week, STYLE Fashion Week. Also, we share with them the necessary contacts and arrange photo shoots. All in full. The main thing is to meet the growth requirement, this is a minimum of 172 cm.
- Is there a difference between model business in Ukraine and the USA?
- In America, the market is more democratic, it gives models great opportunities. For example, in Ukraine, if a girl is 25 or 30 years old, then she is no longer in demand, there are age restrictions. But there is no such thing. When I first got to Fashion Week in New York, I saw a model who was 45 years old, she defiled on the catwalk, kept herself perfectly and looked amazing. In addition, plus size models are gaining more and more popularity here, which has never happened before in the world. There is freedom of choice. In addition, the market is changing and influenced by the Internet. If the model has few subscribers in social networks, for example, on Instagram, then it is usually not interesting to large companies. But, if the model is popular on the Web, then even in the absence of growth and some other parameters, it will receive interesting promotional offers.
On the subject: 'I found my calling - to help people': how an immigrant from Siberia became a firefighter in Miami
- How can a model interest people and gain a large number of subscribers on social networks?
- You have to be interesting. Often set stories, set hashtags, indicate locations. Put tags that your audience can see. For example, I always put #newyork, #modeling #photography, etc. Companies mark your stories, where you originally noted yourself, on your pages, and people who see their history will be able to go to your page already. So subscribers are gaining and popularity is growing.
- What is important in model photographs?
- Of great importance is the look. The model should look straight, the look should be sharp. Many beginners do not know where to look. They look right, left or down. Of course, this cannot be done. When several cameras are directed at you at once, you should choose one or two and look directly at them so that your eyes are in the frame. Only then will the photo turn out beautiful. In the end, when the model leaves, her look should be the last to leave.
- Can you demonstrate it?
- The model should be able to hook photographers so that they do not want to let her go. Like this. (Shows).
- Uh ... If I were a man, I would run after you, forgetting about everything in the world!
- Thank you!
- You constantly advertise something, act in film for fashion magazines ... Tell me, what do you think about today's fashion? How has it changed, for example, over the past 5 years?
- Today, fashion has become free as never before. There are no canons. You can look exactly the way you like. If a few years ago, each took over something from each other, but now the fashion has become different. Designers create and open their ideas of the Universe, not limiting themselves to standards, therefore their works are completely different from each other, they create crazy things. Of course, I can not wear all of what I see at fashion shows, but each of us is individual - someone else will like something that, for example, does not suit me. Designers create things for different consumers.
- In your opinion, what should you pay special attention to when composing your own wardrobe?
- First of all, do not chase high fashion. None of us should be a slave to clothing. And if a girl sees cool Gucci sneakers, but she doesn't have money for them, then don't be upset and be ready for anything to get them. I advise you to reconsider your views and find other values ​​in life. You can dress beautifully without spending huge amounts. Now there is a large selection of clothes in stores, but it is impossible to keep up with all the trends. If earlier people came to work in business suits, now many companies have switched to casual style, allowing employees not to adhere to strict office attire. Now everyone can choose what he likes, feeling comfortable with himself. Individuality is paramount.
- What are the 5 rules for your success?
1. Do not be afraid, be confident. This is the key to success, because if you do not believe in yourself, then no one will believe in you.
2. Be organized, clearly distribute your time.
3. Follow a diet.
4. Observe sleep patterns. For people with insomnia, I recommend consuming more magnesium and potassium, as these components normalize the nervous system and sleep.
5. Follow the beauty. I have to like myself in the mirror. Of course, not everyone has super days, but you need to be able to control yourself. Stress affects the face and general behavior. People feel each other's energy and if a person is not positive, then no one wants to deal with him. The model should be polite and smiling, but it should come from a pure heart, and not because it is necessary. There are evil people who, starting to follow these tips, become kind and rejoice in it, forgetting that they were once in conflict. For example, I do not like to swear, I want to be friends. In fact, aggressive people are unhappy, and anger is taken from this. I always want to help such people, to support them with something. After that, they cease to be aggressive and we become friends. Initially, not everyone loves me because of their bold appearance - many people think that I am not good, but starting to communicate with me, they change their minds, and I am very happy about that.
- How do you relieve stress?
- I have a friend Maria, my countrywoman, with whom we perfectly understand and support each other, we come to the aid in word or deed when I or she is ill. I am very glad that this person is next to me.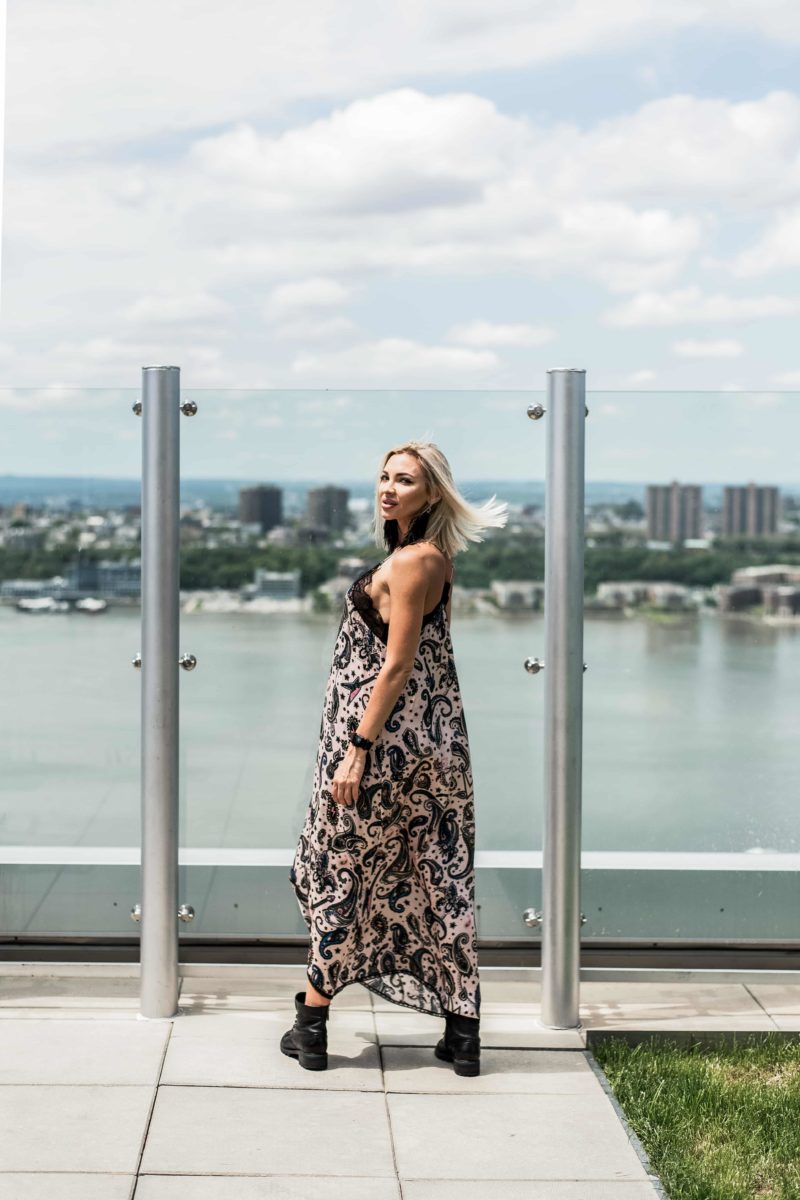 - Many girls jam tears with sweets ... Do you have any such practice? What is your relationship with sweets?
- I love sweets, but I try to buy them in small quantities, just to feast on. Glucose is needed for the proper functioning of the adrenal glands, especially women. I believe that sometimes you can eat sweets, but if you want to actually lose weight, then you must completely abandon this at least for 21 days. The fact is that we, without suspecting it, consume a lot of sugar daily. It is in juices, ketchups, sausages, etc. I always look at labels and how many grams of sugar is contained in a particular product. Of course, I do not always buy what I want.
- Do you drink alcohol?
"I can drink some alcohol, but only one that does not contain sugar." My favorite drink is sake. I can also drink vodka with soda or tequila.
"Why don't you eat at all?" Do you have a favorite diet?
"I don't eat bread and everything flour." Of course, I can break a small piece in a restaurant when I really want to, but this is more an exception than a rule.
Recently, I discovered a very interesting and effective diet. The first 16 hours you can't eat absolutely nothing, and then every 4 hours you can eat whatever you want. First three times a day, and then two. You can eat any healthy fats - cream, sour cream, coconut milk, etc. In this case, the percentage of fat content of products may be the highest. By the way, our brain and the nervous system as a whole are the main consumers of healthy fats, so we should not be afraid to eat them, they are vital for us.
The only thing that needs to be limited is carbohydrates. They can be eaten only in the morning and a little bit - this is buckwheat or oatmeal. For example, I try not to eat potatoes and rice at all. On such a diet, I dried out pretty quickly.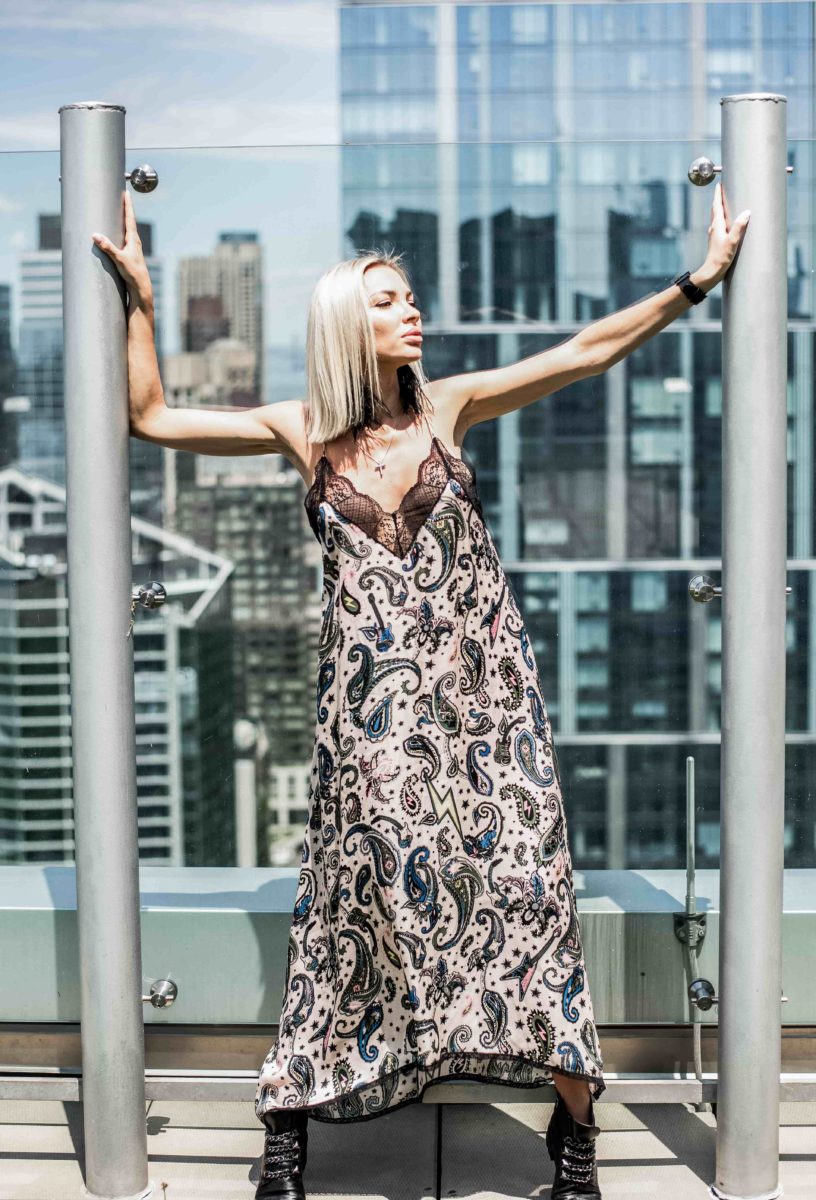 - What does your breakfast look like?
- As a rule, this is oatmeal, salad and coffee. For lunch - meat and salad, for dinner - meat or fish and salad. I never forget about salads.
- It turns out that a well-groomed face and a chiseled figure is a daily painstaking work, and not a tribute to genetics, as some say?
- Yes, that's true. And this is far from everyone's strength. You need to be purposeful and resistant to many temptations. For example, to the same desserts that we have already talked about - no matter how you wouldn't want to eat stress with something sweet, you can't do this. Going to bed early, I don't have everything I want to, actively doing sports, posing for hours in front of cameras, rubbing corns with high heels on the podium, etc. In general, a lot of effort must be made to achieve good results.
- It was this attitude that helped you become the Queen of Beauty at the Miss South Florida US Nation contest, which took place in mid-May in Miami? Congratulations on your new title!
- Thanks! Yes, I worked hard on myself to win. By the way, I always support other girls - if I see that someone is doing something better than mine, then this person becomes for me a model and example, and not an object of envy. We all initially have the same set of tools to achieve goals - a head, two arms, two legs, etc. Everything else depends on aspirations and hard work. 25 girls took part in the competition, the competition was high, but still a competent jury chose me, which I am very happy!
On the subject: "Want to know who you are - go to America!": How a Russian woman created a successful business in Los Angeles
- What will be your wishes for girls who dream of becoming models?
- Firstly, stop being afraid. Fear is the deepest emotion that we often cannot control. After love, of course. Love, in my opinion, is the most powerful drug. But this is a separate issue. When a person is afraid to go somewhere or take his position, he will not be able to move forward. You can't be afraid that you will be condemned - then you won't be able to express yourself and become a miserable person. But if you boldly go to your goal and, falling, rising, brushing yourself and moving on, everything will turn out!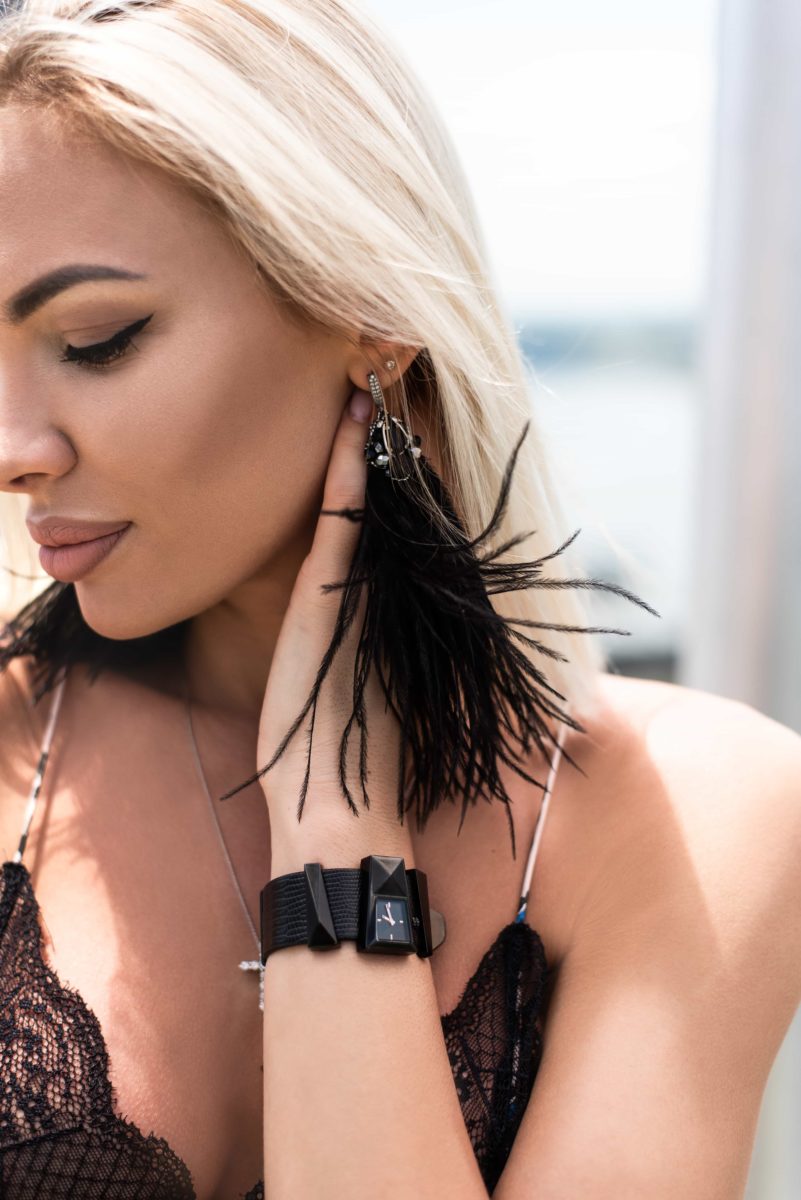 Katerina Saveyko: @happy_kateryna
New York Fashion TV & S&D Academy Modeling and Catwalk Classes: 265 West 37 Street, 2 floor, Studio 206. You can sign up by phone: (347) 784-8578
Text: journalist, writer Anastasia Yakovleva
Photographer: Anna tim
Material prepared Thememeste.