The article has been automatically translated into English by Google Translate from Russian and has not been edited.
Lack of sleep, hump and complexes: is it possible to build a successful business in Instagram
Lia Oleinik, the most ridiculous instagram mom and co-founder of the brand Misha Combearzon, about what it is like to be a popular blogger, what pitfalls you can run into, launching a business project in social networks, and why real life is more interesting than virtual one.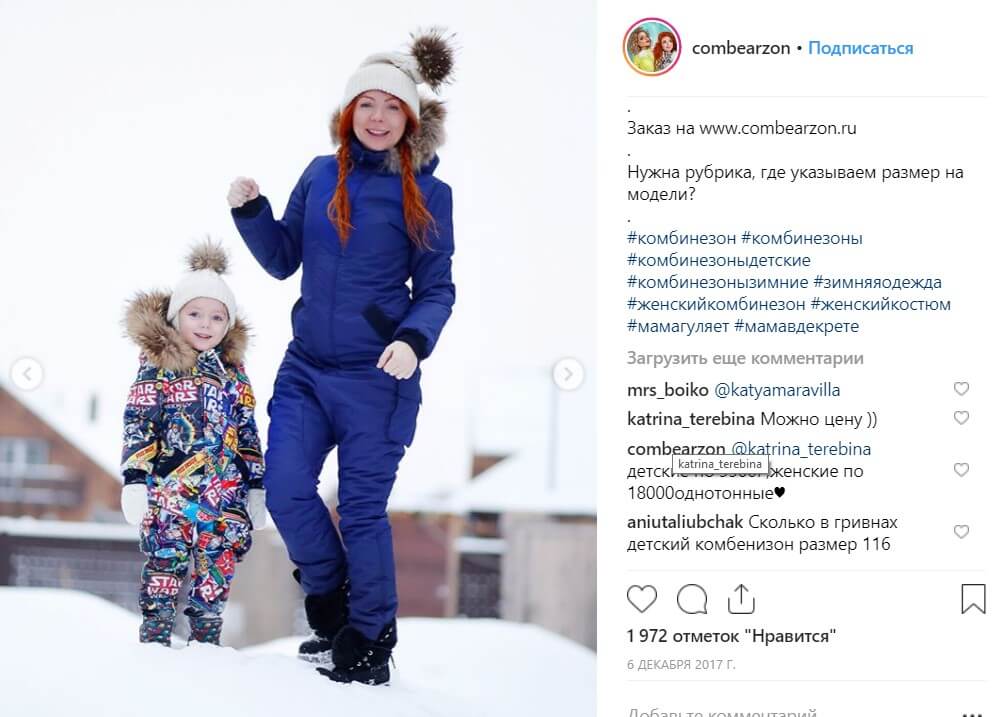 There is an opinion that instagram is the best platform for those who want to launch their project and earn money, Leah writes for Matrony.ru. What is instagram business in reality?
Yes, I was faced with the opinion that you can become a millionaire on instagram, especially without straining. Promote a blog, just making interesting content for it, and make money from advertising. Or come up with a cool idea - and now the money flowed like a river. Of course it is not. Today, to make your product or service recognizable and sold in social networks, you have to spend a lot of time, not hours, but years. Or you should have a good start-up capital, a large investment to support your instagram business. And this is risky, as in any other business.
Well, let's say I have a great idea and money for its implementation. Should I go to instagram to see how much it is in demand? Or is it more logical to start a marketing research for the beginning, to pay specialists, and it will be cheaper than launching and subsequent failure of this business?
With ideas, too, everything is not easy. You never know what will shoot and what does not. It seemed that this is exactly met with a bang, and the reaction is zero. Marketing is right, but in practice everything is completely different.
If you are thinking about an advertising campaign with the participation of bloggers, and while you are preparing it, bloggers become unpopular. Advertise your product with the stars, give it for free, and from their posts - zero sales. But yesterday it worked! Instagram is a very mobile, flexible, lively social network. Something new is constantly happening: the settings of the system itself, the rating of posts, shows, new technologies of promotion are changing. All this needs to be monitored, adjusted, even sag. Only you seemed to start acting in unison, like bang - and everything changes again, the old methods no longer work. For example, today, instagram strongly "pinches" large accounts, to which we also belong. Intentionally reduced coverage, reduced views storiz. Instagram business is a constant struggle with competitors and the system itself. Playing by the rules, whose task - to knock out a maximum of money from you.
What is the difference between instagram-competitors and ordinary ones?
As soon as your brand becomes popular, they immediately begin to forge it. And not only the product itself is copied, but also the account - the style in which posts, design, etc. are served. For example, one designer came up with felt boots with shaggy pom-poms, launched production, and started selling. And everyone began to make such boots! And cheaper. Be prepared for the idea that you have. In a business that does not promote instagrame, plagiarism does not occur so quickly. And you can prove that you are a pioneer. And there is no copyright protection.
Your blog is a whole story, a way of life that can cause different reactions, from delight to anger, but it's impossible to pass by. When you started an instagram page, and that was more than 5 years ago, did you assume that you would become a popular blogger?
At first it was just a personal page. I started it when I was pregnant with my first child. Basically, from boredom. Until the very birth she hid her belly behind trees, cars and friends. But the photo regularly laid out. She supplied them with funny texts. For me, it was just communication. Somewhere in a thousand subscribers I had an idea: they can also sell something necessary and cool. It remains only to invent this necessary.
My friend Mira and I had a brainstorming session and decided that we should proceed from the needs of the people. The Russian man needs to be warm, and the Russian woman is also beautiful. We both mothers and managed to evaluate how it is a chore to gather children and ourselves together for winter walks. And invented overalls.
The mistake of many startups is that they make great products and only then look for a distribution channel. We already had it. The first batch was sold through my instagram and through my acquaintances with Mira. And then word of mouth worked. It became clear that we correctly selected the frequency.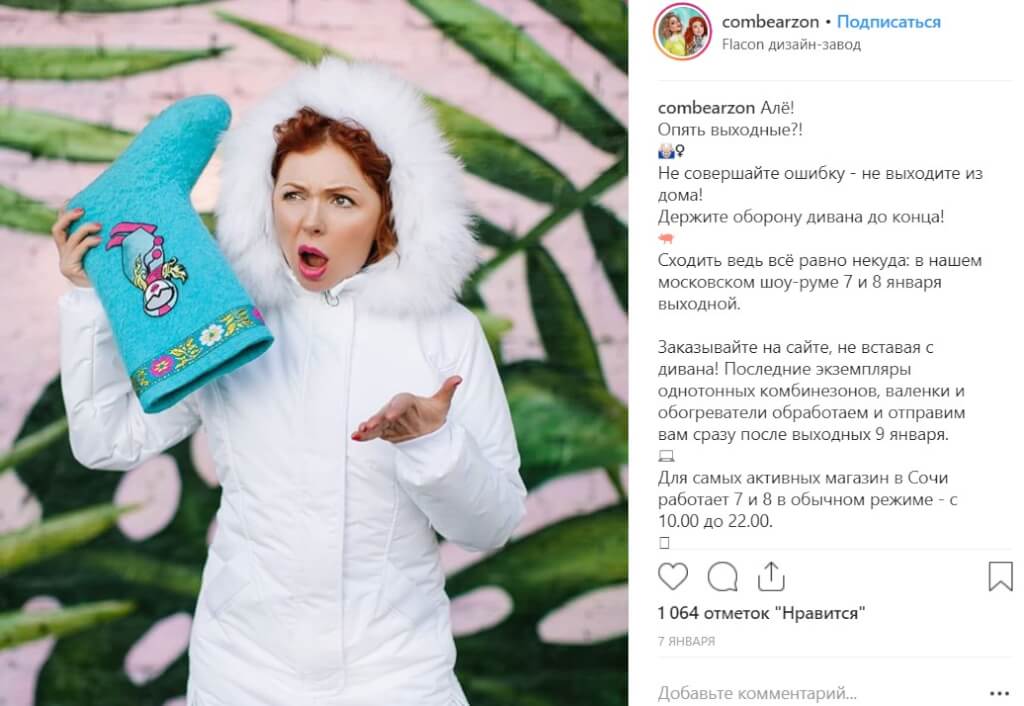 That is, you initially led the blog with the intention to sell products for moms through it?
Not really, the pleasure of writing, of course, was a priority. Two years ago I also gave birth to Katyusha's daughter. I lay in the maternity hospital and thought that since they were reading me, it means that I need to write further. Perhaps people liked my style, my jokes, the fact that I was not obsessed with children and developing, sometimes I drink wine and I can say strong words. I was sincere with my readers. However, it turned out that many new bloggers, taking my author's style as a basis, turned everything so that their blogs became disgusting to read. The image of a bad mom was quickly raised to a cult. They advised children not to give a damn, let them grow, and mom should think only about herself and her own comfort, which is wrong, I did not call for this at all.
I'm just a cheerful, cheerful woman who believes that life does not end with the birth of a child, but only begins. I wrote about motherhood without illusions, but by education I am a journalist and have a responsible attitude towards what I am writing about.
I do not understand how some bloggers and modern resources for parents turn motherhood into some kind of dill, shoot a video, how they rock children in their underwear, and even topless, they say, this is the "truth of life". I realized that you need to be very careful about what you write, especially if you are a headliner. Because people sometimes take it too seriously, they start to try on your image and they go too far.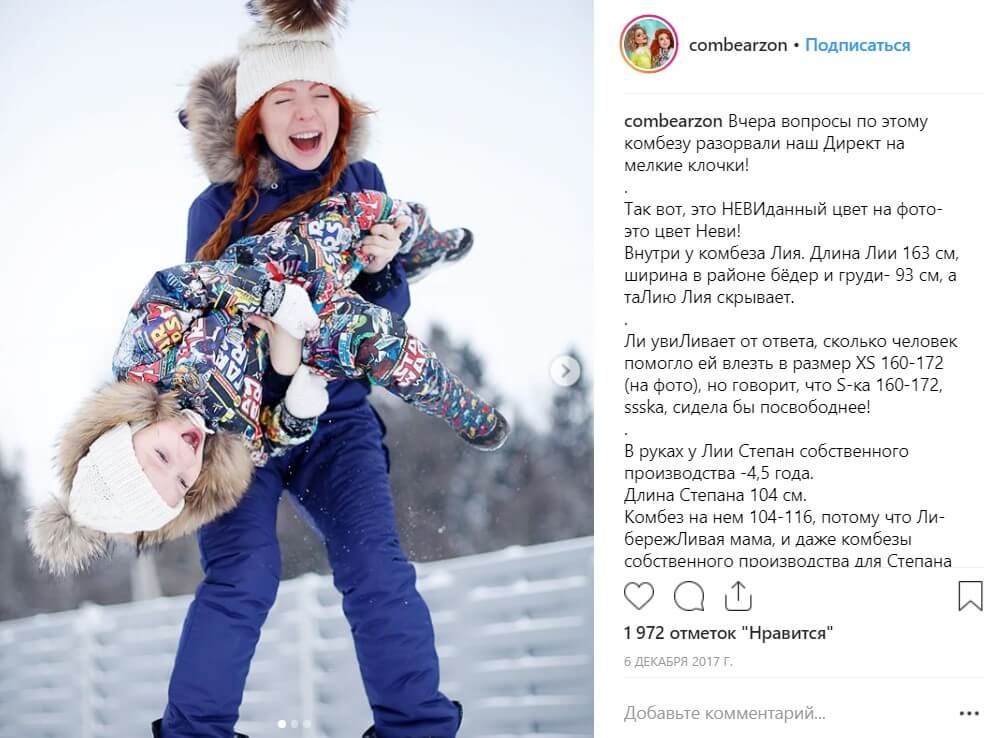 What you need today to become a popular blogger?
Now the main thing in blogging is HYIP. People do not realize at all what they write, how it will affect them, their loved ones. The task is to collect more comments, since comments raise the post in the feed. Not surprisingly, the attitude towards bloggers has become more cool. At some point I did not want to belong to the caste of these people. For several months now I have almost never appeared on instagram and made an official statement on the page that I am no longer a blogger. Although I am often asked to return. But if I come back, then in some new role. To do something unusual, you need time and money.
How do you feel about the problems of modern motherhood? What do you think about the current trend - parents-helicopters who care too much for children? Are you familiar with postpartum depression?
I can't say anything about postpartum depression — I didn't have it, I only know that it happens, and more often than it is thought. What is being treated is the main thing - do not be silent and do not run. I am glad that today it is not a shame to talk about depression. Hyper-drug is what leads, in my opinion, to exactly this result that parents fear. Many children from such families cannot then decide on a profession, understand what they want, and it also happens that you don't want anything. Parents complain that they sit on the couch until 30 years and only ask them for money, do not want to learn or work. There were parents who, on the contrary, do not care at all, their two-year-old children run around the edge of the pool, and this does not bother them at all. Of course, this is also an inflection point. I am for a middle ground in any business, including motherhood.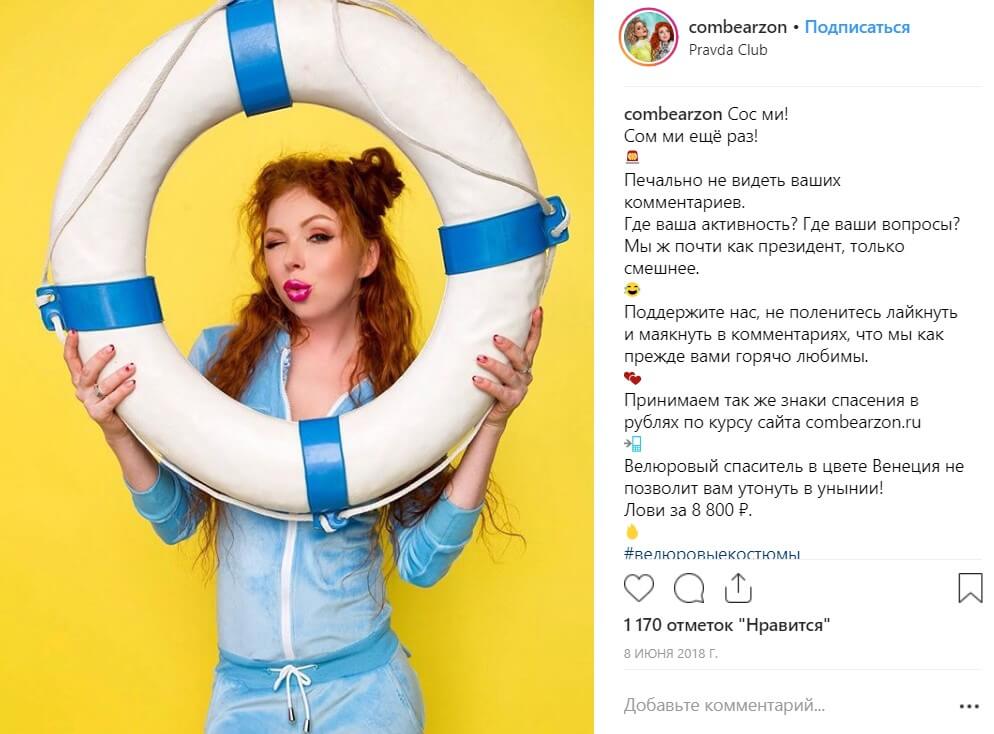 What are you mom?
I'm definitely not a parent-helicopter. We have a democratic upbringing, but I understand that a child, the older he is, the more rules and boundaries are needed. So now it is a little squeezed by a vice, too liberal children cannot be managed, and they should live in a society and in something limit themselves. So you need to start with the family. Let them grow as independent and diversified people, for this you need freedom. But within the framework of the laws established by the parents. To start.
My son Stepan is five and a half years old. He can not read, write and does not know the letters. But from the 2 years he names the participants in the Beatles by name and knows that "Twin Peaks" was shot by David Lynch.
How do you feel about the fact that maternity in instagram and in society as a whole is customary to present in a rainbow of light?
Yes, it's beautiful, even if some slyness. It is better to write about children in the rainbow light than in the spirit of "bad motherhood", as it is now fashionable: "I am a bad wife, I am a bad mother, I shake the child's leg and forget the car". And people like it. People want HYIP. As for me, mothers who bake cakes and dress their daughters in pink crinoline are nicer than such "Hipage mothers" who say for fame that they don't like their children.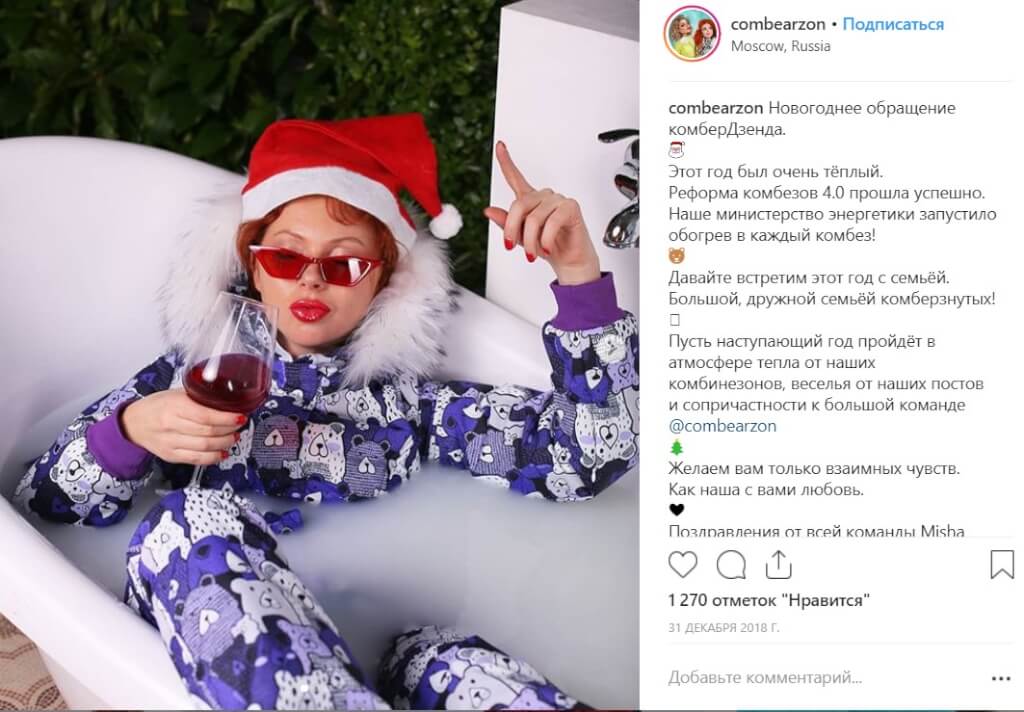 Was it difficult to maintain interest in the blog, what are effective methods? How often did you have to sacrifice personal time for the sake of business?
I used to do this all the time. Instagram takes all your time, not only free. For several years I lived in a blog, I had to keep my finger on the pulse, so that no one overtook you, did not surpass it in order to remain interesting to readers. Responses to comments take several hours a day. In addition, you need to participate in contests, mutual recommendations, likes, givah, remove the "story" and live broadcasts. All this requires enormous resources and begins to devour your life.
I finally gave up my personal blog, and hired a team for a business account. It was difficult to gather people who were just as crazy and with the same sense of humor as Mira and I had, but we did. My family no longer suffers from business. But we still develop a strategy, control the process. And our instagram is one of the most popular among stores.
Bloggers need to give milk for harm and to export water for treatment. Bloggering is both a hump and a second chin, and a decrease in vision. And at the same time neurosis, psychosis, complexes and loss of appetite.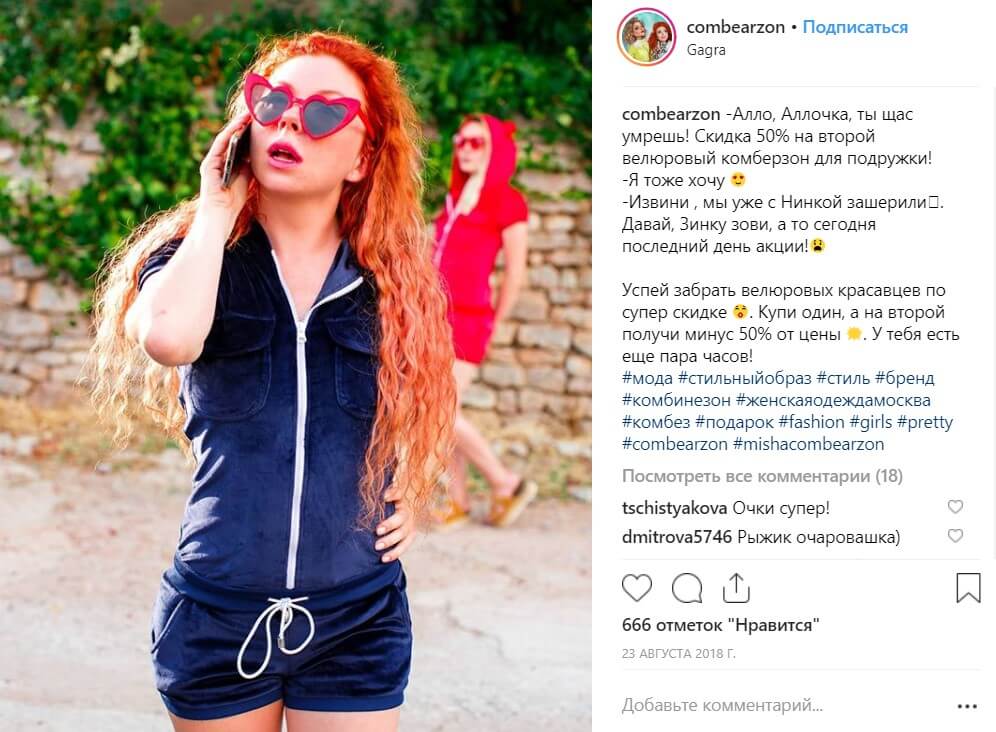 How did your husband react to the popularity and title of the funniest instagram mom?
My husband liked everything, and he admired, but exactly until the moment when I asked me to take a picture. Swore that I was on the phone all the time. But how our lives have changed now! I started to buy clothes and decor that I like, and not that "perfect for instagram". She began to read more books in exchange for instant messengers and tapes. The husband stopped feeling deprived and even several times offered to take a picture of me. Himself! And the hump disappeared. Improved vision. Glorify a free blogging life!