The article has been automatically translated into English by Google Translate from Russian and has not been edited.
Not childishly cool: 11 richest sons and daughters of Russian stars. PHOTO, VIDEO
By the way, these boys and girls have not even received a passport yet, but they can already be called wealthy people.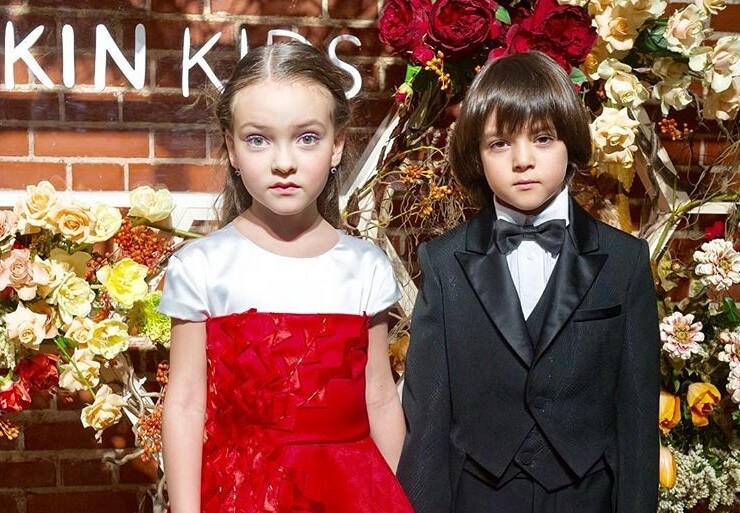 «Letidor»I decided to conduct my own investigation and find out how the children of one of the most wealthy famous moms and dads in our country live.
Alice, 5 years (daughter of Alena Shishkova and Timati)
Even if you do not really like the musical creativity of this star dad, you are a fan of at least one Black Star label project. Timati has a clothing brand, a barbershop, a tattoo parlor and, of course, a burger. Not surprisingly, his 5-year-old daughter Alice fell into our current rating.
However, we urge you not to make hasty conclusions. Yes, Alice is stylishly dressed (but stylish is not always expensive), yes, she goes to a beauty salon, yes, dad occasionally gives her presents, but the girl doesn't wear gold chains and her ears do not adorn 10 carat diamond studs.
And Alice has a wise grandmother Simon. Oh, she just will not let a girl grow up overly spoiled.
Angelina Letitia, 7 years (daughter of Victoria Boni and Alex Smurfit)
About this girl, it is quite possible to say "was born in luxury." Moreover, in the literal sense of the word.
Victoria's daughter, Boni and Alex Smerfit, was born on 2012, in one of the most respected (and expensive) medical facilities at Fondation Lenval's Santa Maria Clinic Hospital in Nice. We will not bore you with the details, let us say only that the lovers had to pay for delivery more than 40 thousand euros (almost 45 thousand dollars).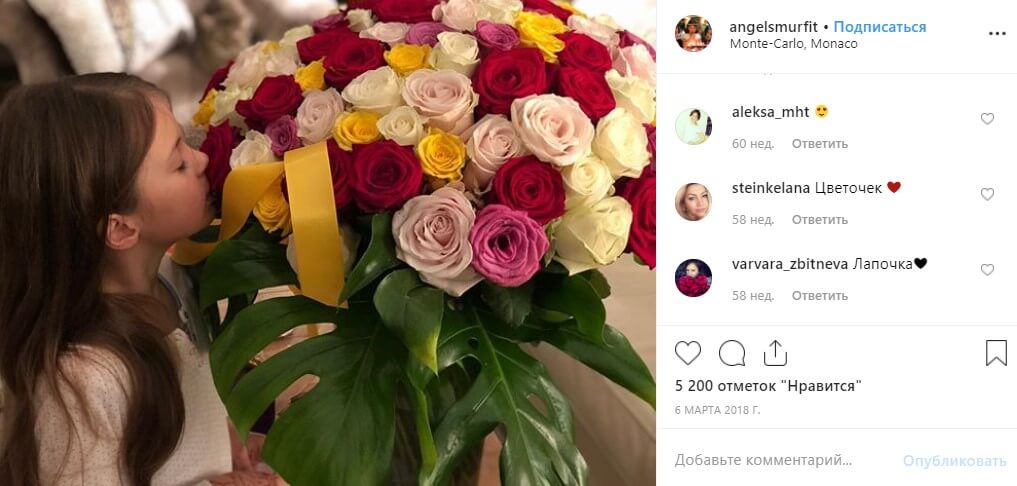 Angelina Letitia is also growing in more than comfortable conditions. And this is not surprising, because her father is the heir of the Irish billionaire Michael Smurfit. You understand what it means. The girl, to put it mildly, does not need anything even after her parents broke up in February 2017.
On the subject: The Russian star has spent on the birthday of her daughter in Monaco more than a million rubles. A PHOTO
But this absolutely does not mean that in twenty years, Angelina Letitia will start mercilessly burning her parents' money.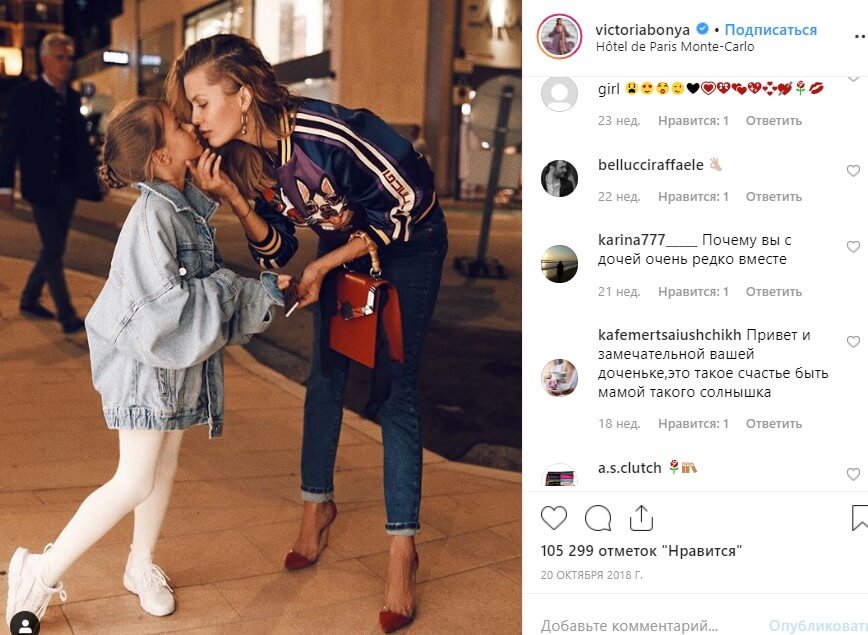 This is what Victoria said in an interview with "OK!":
"This is a Russian stereotype: I married a well-to-do man - you can do nothing, but just go shopping and salons. It seems to me that in this situation complete degradation occurs. Well, would you wish your daughter such a fate? Me not. I think it's much more important for a woman not to meet a prince, but to make herself unique. A woman must develop physically, mentally and spiritually. "
"Letidor" has no doubt that the girl will be able to make herself herself, as her mother could at one time.
Alexander, 6 years (son of Yana Rudkovskaya and Yevgeny Plushenko)
Alexander Plushenko got into our rating not only because his father is one of the most titled figure skaters in the world, and his mother is a very successful producer.
Of course, the boy's parents earn excellent money (in the Forbes 50 rating of Russian stars of show business and sports, Yevgeny Plushenko ranks the 21 line with an income of 5 million dollars) and can afford luxurious rest on a snow-white yacht, expensive clothes, a magnificent designer house repair, but Sasha himself, despite his more than young age, already knows what money is and how hard it is given.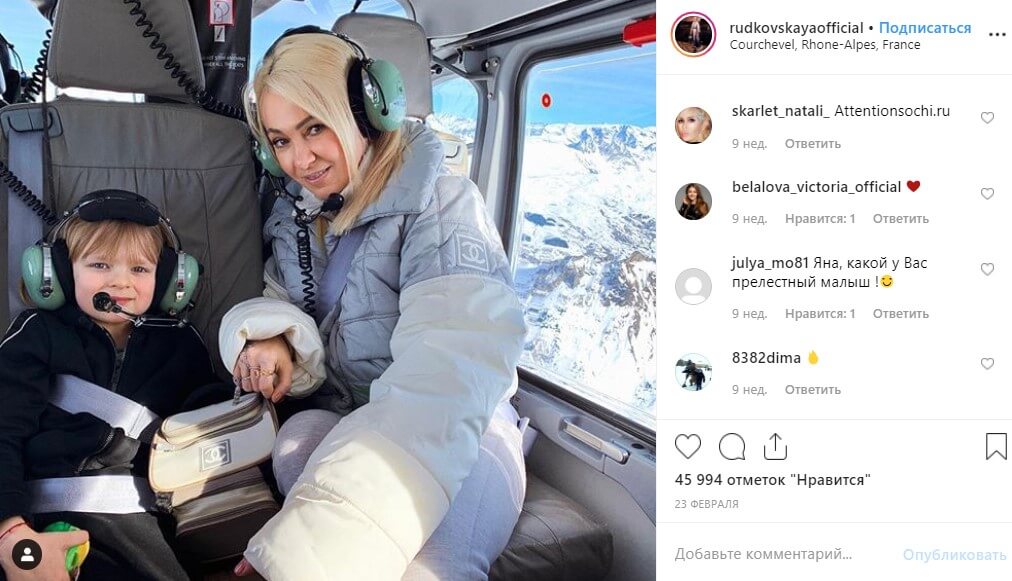 Yes, yes, you heard right. The dreams of this 6-year-old boy are somewhat different from the desires of his peers.
First, Sasha seriously intends to repeat the success of his father on the ice and is already making tremendous progress.
Secondly, the boy has been earning for a long time (shot in advertising, participates in fashion shows and photo shoots for glossy magazines, shines in mom and dad ice shows).
Thirdly, already saves on the apartment!
On the subject: Millionaire with diapers: how Yana Rudkovskaya earns her son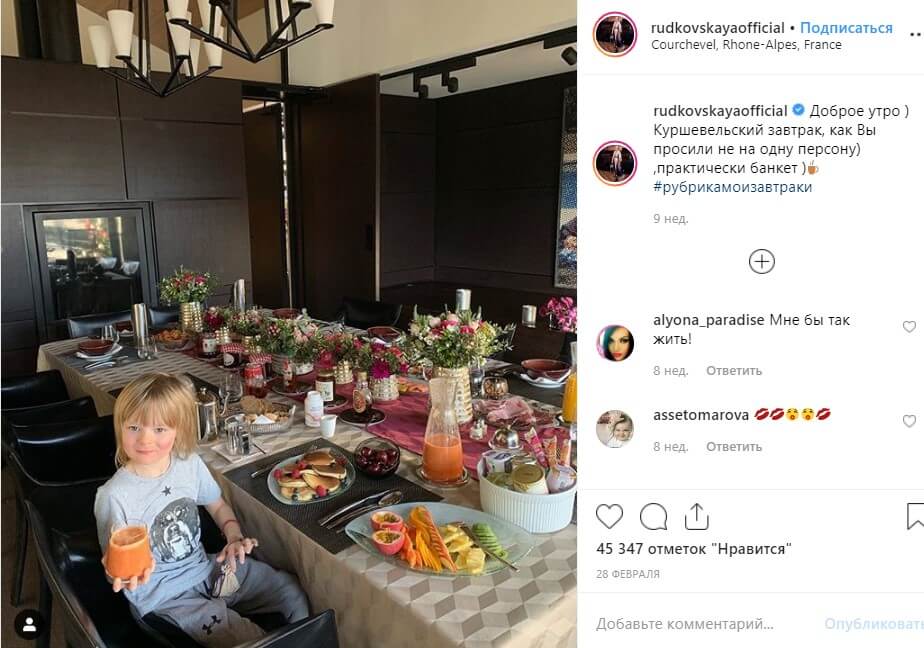 "Money is at home. I keep them in the box. While not going to buy anything. Here I grow up and take an apartment, but now I won't, "said the young figure skater and businessman in an interview with StarHit.
However, hardly anyone doubted that the son of such perfectionists and workaholics like Yana Rudkovskaya and Yevgeny Plushenko would grow lazy.
Sergey, 7 months (son of Anastasia Shubskaya and Alexander Ovechkin)
This kid's dad is a three-time world champion, the Stanley Cup winner, the first hockey player who signed a contract for an amount in excess of 100 million dollars.
Talking about the merits of Alexander Ovechkin can still be very long, but the essence will not change: according to Forbes for 2018 a year, Ovechkin tops the rating of "50 Russian stars of show business and sport" with an income of 14,5 million dollars!
As for the sole heir to the attacking NHL club, the Washington Capitals, Seryozha lives a very earthly kid's life: he dresses up in a New Year's suit for a photo session with his parents at the Christmas tree, floats on an inflatable circle in the pool, rolls in a wheelchair.
What kind of person Sergei will grow up, it's too early to say, but we remind that the boy's grandmother and grandfather, like his father, are athletes (Tatyana Ovechkina is a basketball player, a player of the USSR national team, two-time Olympic champion, Mikhail Ovechkin is a football player, a player of the Moscow club " Dynamo "- Ed.).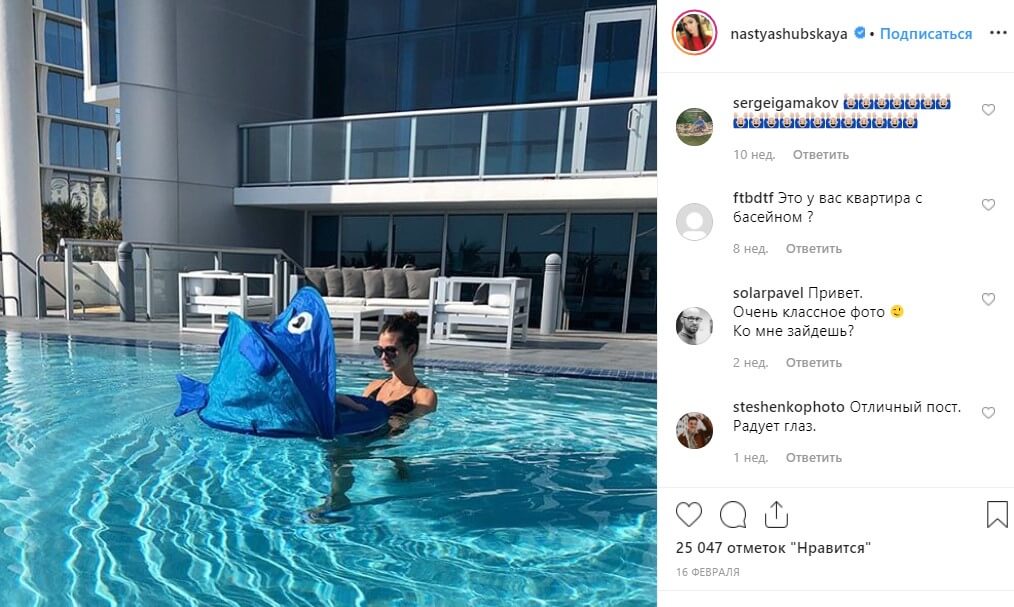 You understand what kind of hardening in such people and what efforts they have achieved success in their work.
Alla Victoria, 7 years, and Martin, 6 years (children of Philip Kirkorov)
There is no doubt that these guys are long-awaited and grow in the maximum concentration of love and care. Philip Kirkorov (Forbes says that in 2018, the pop king of the Russian scene replenished his family budget for 8,9 million dollars) in principle does not belong to the type of people who deny themselves everything.
But his generosity is most pronounced in all matters that concern his beloved children.
Fans know that at the end of June and the end of November, celebrities and their children will definitely come together to celebrate the birthdays of Martin and Alla-Victoria. And these holidays, without exaggeration, can be called large-scale and bright, like the show of the singer himself.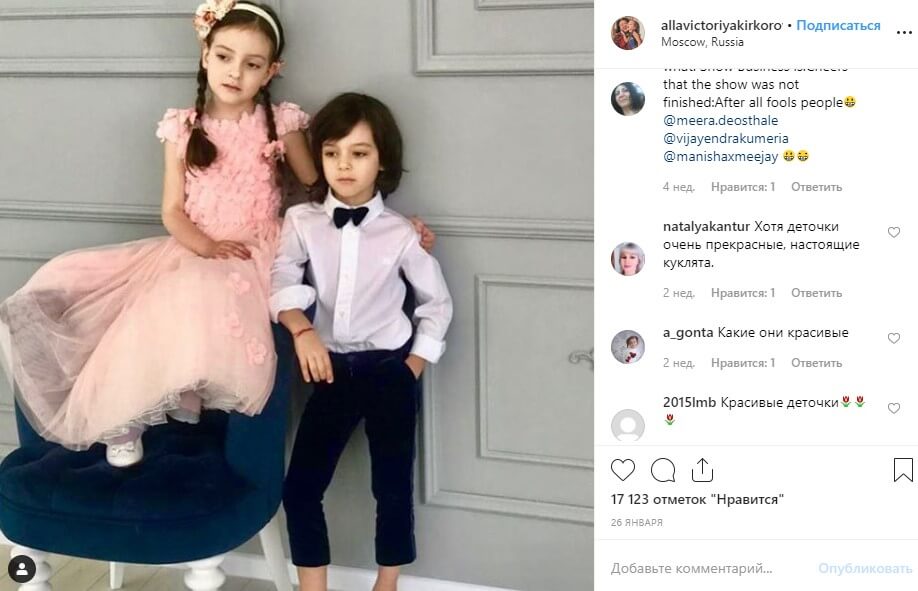 We should also say about the style of the guys. Philip Kirkorov does not save here either. Caring dad buys new clothes for his son and daughter in the same boutiques where he dresses himself. Just do not think that Kirkorov is extremely spine. As the singer assured in an interview with StarHit, he understands that investing in outfits for children that grow incredibly fast is not very rational. And so the artist often buys for Alla-Victoria and Martin something that will be useful to them in the future.
And how do the guys themselves react to the gifts, you ask. Kirkorov answered this question in an interview with Hello !:
"I try not to indulge them, but I suffer from it myself. It is very difficult to keep from shopping. I recently spent almost a whole day in a children's store in London. Bought them clothes and toys. When I am not there, the children are entirely on my beloved aunt Marie, my dad's sister. She is the smartest woman, an opera singer in the past, very educated and wise. Therefore, my children are doing well with both worldview and behavior. They, of course, like to receive presents, overeat sweets, break the regime, but they never abuse the love of their relatives, do not be capricious, if they are denied something. "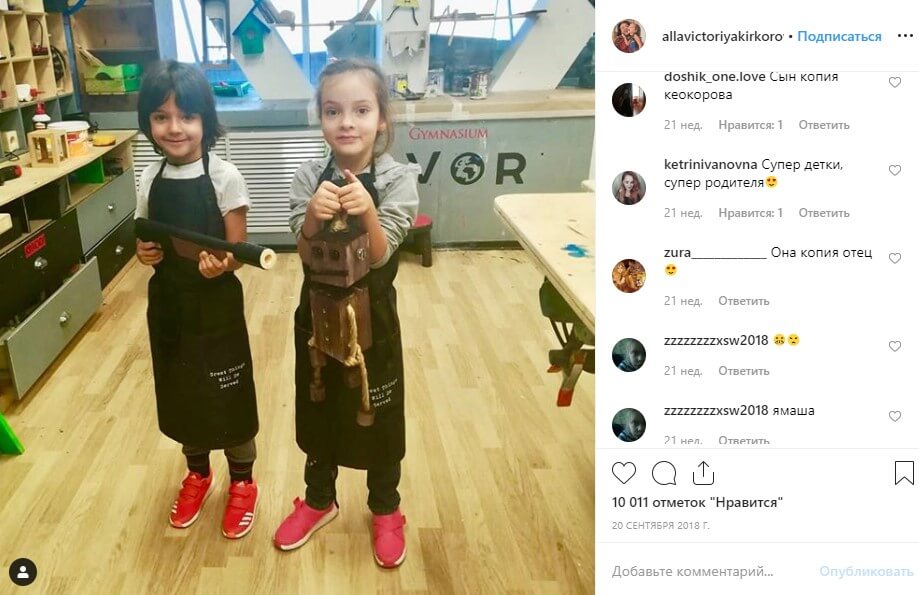 By the way, Martin and Alla-Victoria go to kindergarten. And, as their father says, teachers ask the children the same way as they do with other boys and girls, without making allowances for the fact that they have a famous dad.
Lisa, 5 years, Harry, 5 years (children of Alla Pugacheva and Maxim Galkin)
Friends of Alla-Victoria and Martin - Lisa and Harry Galkina - were also in our ranking. The parents of the guys are not somebody, but some of the most respected and highly paid artists in the country (according to Forbes, Maxim Galkin earned 2018 million dollars for 4 a year), and the twins live in a luxurious castle!
True, unlike many other children of wealthy parents, the energy of these children is mainly focused not on social life, but on developmental activities.
On the subject: How much Pugacheva and Galkin pay for raising twins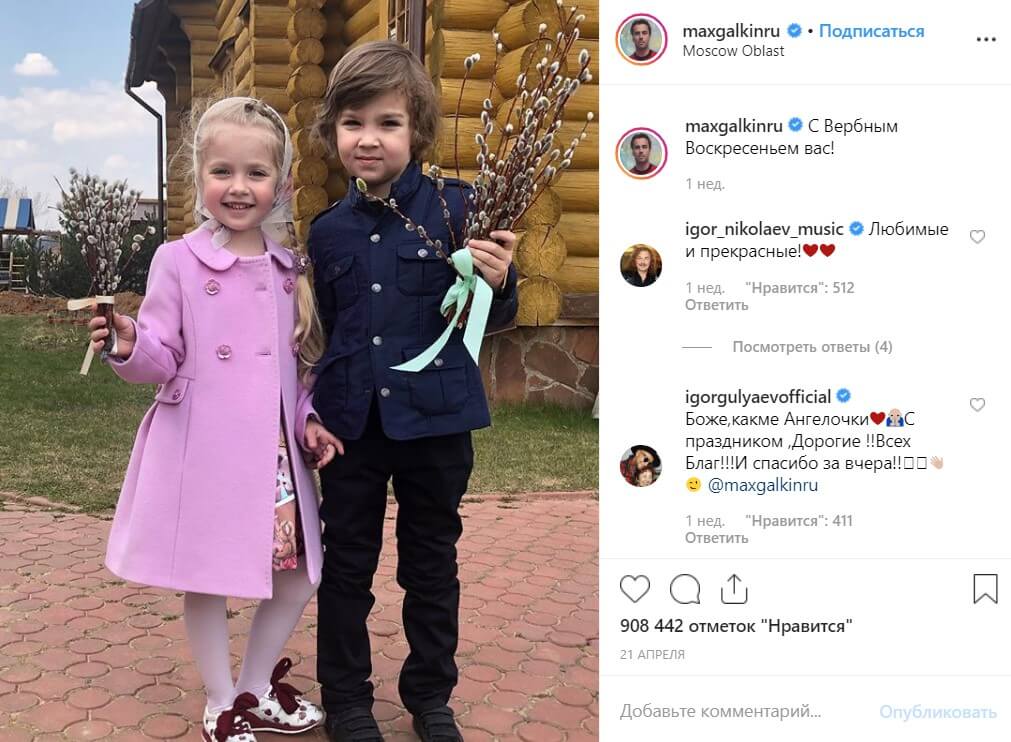 In their 5 years, Lisa and Harry learn foreign languages, music, play intellectual games with their parents, learn poems, swim, deal with complex designers, learn the basics of driving under the guidance of a dad and even clean the house!
"Yes, they have no permissiveness. They are very educated, very helpful, modest. You try to behave in such a way that they have a worthy example in front of their eyes - that's all, "said Maxim Galkin in an interview with the TV Program.
Nika, 10 years, Angel, 8 years, Miron, 4 years (children of Regina Burd and Sergey Zhukov)
In creative people with the gut of a businessman are born the same children. Doubt? Look at this family. Before you are a singer, businessman Sergey Zhukov (Forbes estimated his income for 2018 a year at 4,7 million dollars), his wife Regina Burd and three young children.
It would seem that when your parents do things in the family confectionery shop like clockwork, it is quite possible, if not quite to relax, so surely not to think about money. But, apparently, 10-year-old Nika, 8-year-old Angel and even 4-year-old Miron have their own views on everything related to finance.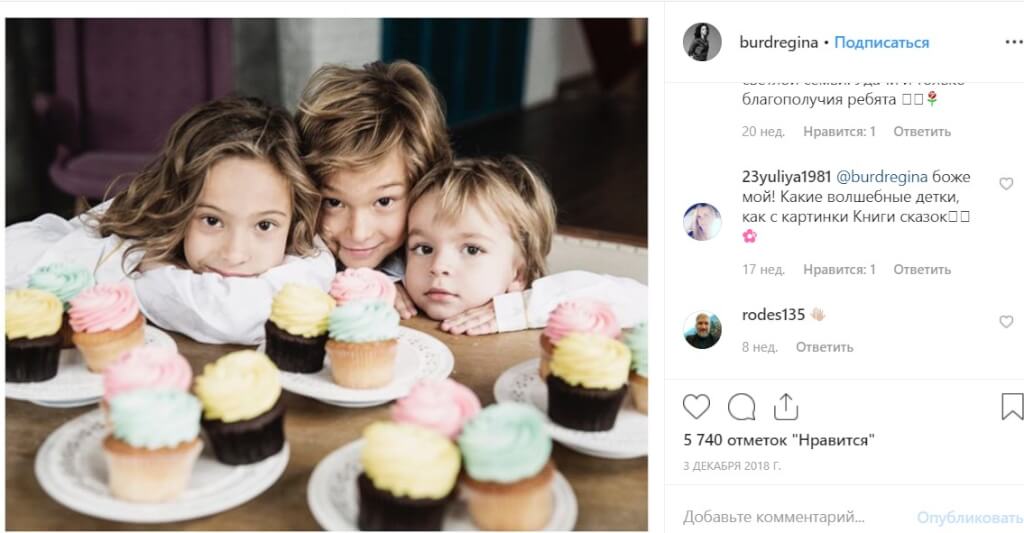 In an interview with Letidor, Sergey Zhukov said that his children are already receiving their salaries. Not for visiting the circle, of course.
The guys can come to the shop of the confectionery "Love and sweets" and help the workers, for example by making their own figures or making decorations for cakes, or they can take part in some project on television and get a deserved fee.
"After participating in one project on the children's channel, children after the change received 3500 rubles (53 dollar). Regina and I asked the children to share the money. Explained that participation in the project was provided by managers who need to pay salaries. Moreover, there is a family budget, which also needs to be replenished. If necessary, if you need to buy something for the family, from there you can take money. The children, of course, were initially surprised and frightened by this turn of events, but after they figured it out and put 1000 rubles (15 dollars) into the family budget, "Sergey recalled with a laugh.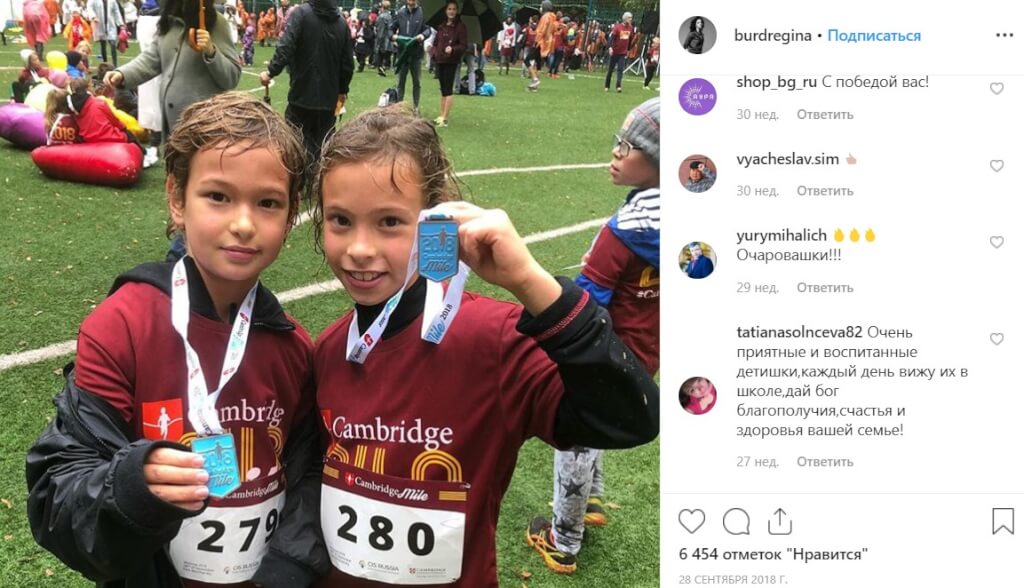 By the way, Zhukov does not deny that children may want to continue the family business:
"We will support. But we will not insist on this in any way. If they like doing the same thing as us and they are good at it, why not. "
A few years later we will learn what business Nick, Angel and Miron decided to connect their lives with.