The article has been automatically translated into English by Google Translate from Russian and has not been edited.
Nastya Rybka confessed about three abandoned children
Figurative scandal with Russian oligarch Oleg Deripaska, 29-year-old model Nastya Rybka (Anastasia Vashukevich) stated that she has three children from three men. "The Millionaire Huntress" told Radio "TVNZ»That now she has neither the time nor the desire to engage in their offspring. According to the model, she only sometimes calls up with the elders, "but no more."
The names of Nastya Rybka and her faithful companion and ally Alex Leslie became known to the public after a scandal erupted over the adventures of the Huntress on the yacht of one of the rich. Recall that the girl, as a diligent student, described in detail her sex exploits on the oligarch's yacht in her book, where she constantly mentioned a certain Alex Leslie as the person who instructed her for the correct "cadre" of rich men. After her "adventures" began to be widely discussed in almost every home, everyone became interested - who is this Rybka, why is she so good?
Yes, Rybka "on the wave" positions itself as a professional hunter of billionaires. Leslie is like the guru of sex and a pickup (the art of a quick pick), ready to teach anyone to get any woman.
In fact, Rybka is called Anastasia Vashukevich, and her coach is Alexander Kirillov.
Nastya was a foster daughter. Lyudmila Ivanovna took her small and brought up, according to her neighbors, for some unconventional books. She believed that children should not be forbidden anything. If jumping, let him jump. If he does not want this, let him not. Lyudmila Ivanovna wanted her daughter to be a worthy person in life.
A native of Belarusian Bobruisk has already managed to do a lot: to be married several times, move to Moscow and meet here her teacher and mentor in sex education - the same Leslie, get into his "harem" (the man does not hide that he has close relationships with several women at the same time), become a professional seductress, disgrace yourself with your novels and frivolous photos on the Internet, write a couple of books on how to seduce a millionaire. It would seem that children do not fit into all this "dolce vita" at all. So, in general, it is, but Anastasia already has three of them.
We talked to the new Internet star and learned from her the details of her personal life, as well as other exclusive details of her difficult share.
It turns out that the nickname "Fish" stuck to Nastya for a reason. "I was very shy, so one girl from Alex's harem began to call me Rybka, and then everyone else," she said on the air of KP radio.
Now, Nastya cannot be called silent.
"Someday I will become president. Before, I "collected" oligarch deputies, hoping that they would give me Russia sooner or later. And recently I got to the gathering of one party, and there was a phrase that the woman who will become the president of Russia has not yet been born. And this thrilled me so much that I decided - why not? I understand that in some things I would handle much better than it is done now. And I also have such a feature that I am very good friends with all my exes. And I can attach them where necessary.
- Don't you have such a feeling that you yourself are now a pawn in someone's political game? You released your scandalous book about a year and a half ago, but now it appeared so "in time" - not from someone's submission, to frame some people?
- No, what are you? Look how beautifully we all hooked. Maybe from the outside it seems that someone is a puppeteer. But sometimes you have to give in to someone in order to achieve your goal.
- Why do you need this whole scandal?
- How! All this is a very big provocation for men. Before that I was quite a popular girl, but now they are all simply "torn apart". Everyone wants to see what kind of miracle is there? I, as a woman, have become even more in demand ...
- You said that you did not take any money or gifts from the millionaire ... It turns out that you were not paid for "services" at all?
- They paid for the day, like an image model. This is a small amount of money, like a toastmaster is paid to entertain guests - the same thing. "Image girls" dance, smile, create an atmosphere at the event. Someone stupidly takes whores to the bathhouse, and someone just needs to be in the company of beautiful, educated girls.
- And what is your education?
- Biology teacher. But at school I worked only in practice. I've been teaching seduction training for two years now. So, you can say, my teaching need is fulfilled.
- What is your most successful student?
- Well, a two-three-year-old coach cannot make "stars" yet. And if there are some serious games with politicians and oligarchs, then Alex joins in himself. Of course, I am not yet as professional as he is. I myself turned to him for advice. For example, an annual affair with Ruslan (as Nastya calls a millionaire from a yacht - ed.) Cost 17 euros.
- So Alex took money from you?
- Well, what does it mean - took ... This is an official service, it is on the site. When you hire a tutor, do you pay him? In this sense, seduction is no different from any other science.
Has your investment in this novel paid off?
- Of course they paid off (short pause - ed.). Well, how paid off, such a game with a millionaire of the level of Ruslan costs much more than money, cars and apartments. I don't know if I'll have at least one more like this in my life. Recently we reviewed the video, analyzed it at the training. I watched our last vacation, he has such a loving look, and it is so pleasing to my vanity, kapets!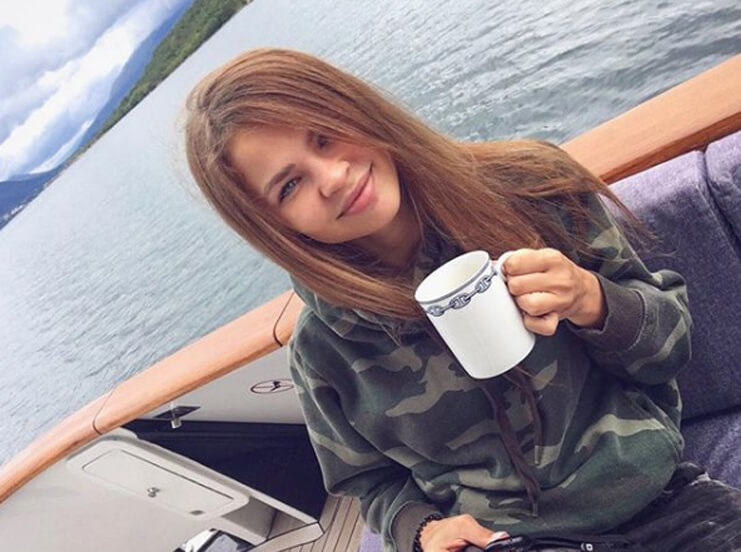 - You stated that you have 6 dollar billionaires in your "piggy bank". Can you name at least 2-3 names?
- What for? You see, it is necessary to reveal a person only if he has a fear of being exposed, or if it somehow helps seduction. And just to voice that this man is with me? What for? It will not help in any way for my purposes now.
- Did Ruslan have a fear of being exposed?
- No, not at all. He just dragged me everywhere with him, but at the same time he was afraid to give our relations some kind of official status. Our last meeting hit me hard. He came to the restaurant with a girl who, as he proudly said, "is not an escort". And, it turns out, he called her his girlfriend in front of me. It hooked me. That is why everything that happened next happened.
- Nastya, how do you earn your living?
- Everyone asks this question ... Well, damn it, seriously, in the society in which I grew up, it was indecent to ask about it. I conduct trainings, I film, I advise girls. It is better to ask about a hobby, about what I read, than live….
The trainings conducted by Leslie and Rybka are on the verge of closing in Moscow. Many people are outraged by what goes on under the guise of pickup training. For example, Kirillov can calmly bring his friends to class, who choose any student and immediately copulate with her. Group and perverted sex, often in public places, is also in the order of things for a "sect", as this "school of seduction" is called on the Web. Woman ForumDaily wrote that the other day the police detained Nastya Rybka in Thailand for illegal sex (read and watch VIDEO)
However, the teachers themselves do not see anything terrible and illegal in this.
- Well, people like it. Nobody forces them, - Rybka shrugs. And he adds that he and his partner always act within the framework of the Criminal Code.
If Nastya can talk for hours about the oligarchs and these courses of sex enlightenment, then talking about the children will make the conversation bored. The Network wrote that Rybka has a son who lives in Bobruisk with his father (the press wrote that the boy was sentenced to his father for the immoral behavior of Anastasia). But it turned out that there are two more children.
- I actually have three children, from three different men.
- Wow…
- Yes, a boy and two girls. The elders live in Belarus, and the youngest in America. I initially had such agreements with men that if they want, I give birth. But I have nothing to do with education.
- You don't communicate with them at all?
- Sometimes we call up with the elders, but no more. They are only interested in the fact that the toy is more expensive than that of their peers. Anyone can feed them with porridge, but I will take up the upbringing only after 14 years, when the brains appear. Until that time, honestly, I don't want to have any influence on them and I don't see any sense in this. One way or another, a mother is a mother, and children will come to her. And if the mother is famous and rich, the children will be happy.
- Did you give them right in the hospital?
- No, during the year somewhere. Children are such bullshit. I have 60 students a month, in which I invest. And my maternal instinct is 1000% implemented. And to reproach me with three kids, with whose fathers I immediately had an agreement, is strange. Much more important and essential is what I do with adults already. Think about the children of presidents, where are they and what are their names? People of this level live on the plane, and not look after their offspring at home! They have more important things to do. Just understand, there are people who are created to raise children, and there are those who work for a higher mission. And despite the fact that they have nothing to do with children, they raise them.
- Clear. Everything is clear with the students. Tell me, have you already chosen your next hunting object?
- Yes. And this is a very, very famous person. I will not name the name yet, you yourself will soon find out everything.