The article has been automatically translated into English by Google Translate from Russian and has not been edited.
'We need to change something in ourselves': Valery Meladze spoke about the quarrels with Albina Dzhanabaeva
Valery Meladze and Albina Dzhanabaeva have long been happy together. In appearance they give the impression of a harmonious couple, but in fact, the stars sometimes experience crises in relationships, writes Star hit.
Valery Meladze rarely talks about his relationship with Albina Dzhanabaeva. The thing is that the couple's romance began with a scandal: the musician cheated on his wife for a long time with the lead singer of VIA Gra. That is why now any mention of artists together causes a stream of negativity.
However, in a recent interview, Meladze nevertheless admitted that he sometimes quarrels with his wife. The artist considers skirmishes to be completely normal, because everyone in a relationship has crises.
"When we quarrel, I am the first to go to reconciliation, sometimes Albina does it, of course, and it's very nice. If I don't like her doing something, that doesn't mean I have to yell at her. We need to change something in ourselves, "Meladze is sure.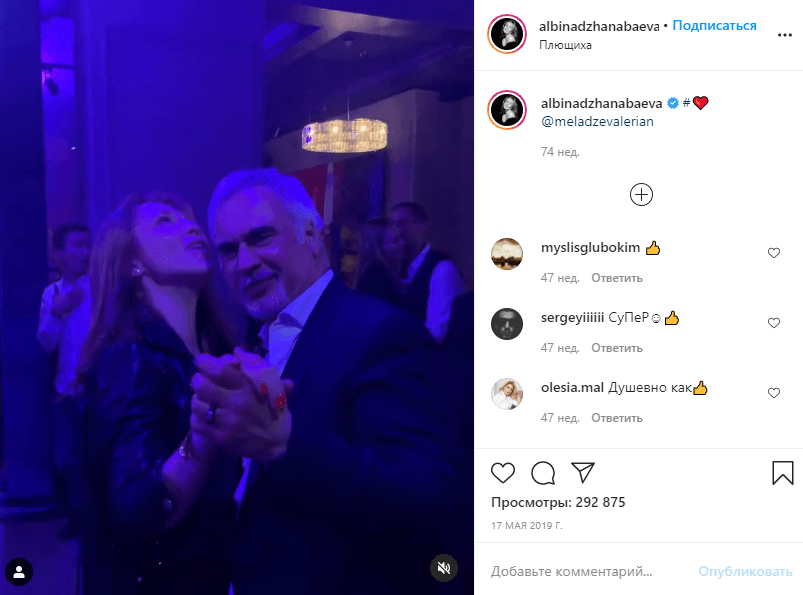 Albina and Valery are raising two sons together. The artist also has three daughters from a previous marriage. He managed to maintain a close relationship with the heiresses after divorce and now often meets with them.
"I mostly pamper girls. It so happened, first of all thanks to their mother, of course, that the daughters are well brought up. Clever, hard workers, they are responsible for their studies and work. They have everything in their place, they know where and how to behave. With boys, of course, things are not the same as with girls. I work with them, if I may say so, more, I try to show some moments that a guy should know so that it becomes part of his thinking when he becomes a man, "the musician emphasized.
Valery also dreams that his sons will someday be as close as he is with his brother Konstantin.
On the subject: Meladze brothers consider their marriages with the soloists of the group 'VIA Gra' 'fatal'
The Meladze brothers have been working together for many decades, and during this time they have never had major quarrels. According to the singer, he always feels Constantine very subtly, understands all his worries and doubts.
"Everyone should have their own life, their own plans, but a moment comes when we understand: our strong point is our loved one. Kostya and I are ready to go ahead of each other, always and in everything to help. I would like my children to have such a relationship as we do, "the artist shared.
Despite the fact that Meladze has been working almost without days off for more than 30 years, he is not going to leave the stage. The artist loves both his profession and his audience.