The article has been automatically translated into English by Google Translate from Russian and has not been edited.
'Men don't go for a manicure, they bite their nails with their teeth': all about the trend in men's nail art
Western men's magazines call men's manicure mainstream, and 2021 is the year of "menicure" (men's manicure). Why are they talking about male nail art now and will it take root - says with the BBC.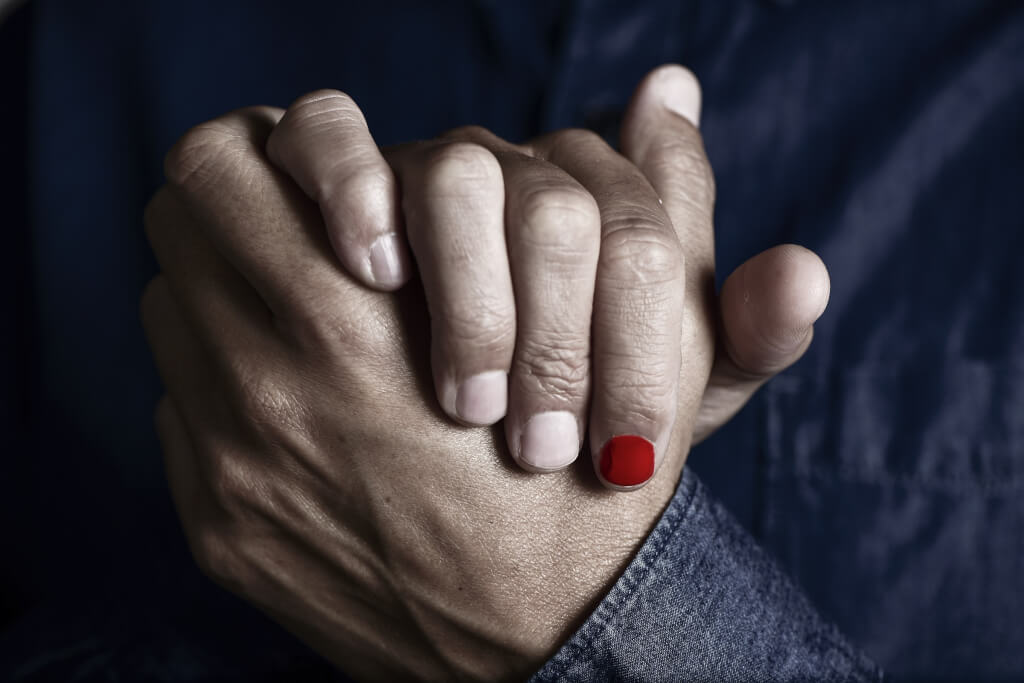 A real estate agent with purple, a bartender with pink, a dancer with a silver metallic look - more and more often nail polish of various colors is applied by men who have not thought of such a way to decorate themselves until recently. Decorative painting of nails (or nail art) is promoted by Hollywood stars and manufacturers in the past of exclusively female coatings, and men's nail salons periodically appear on the maps of Russian cities - from Moscow to Barnaul.
"It feels like I'm jumping off a cliff," says real estate agent Derek Brex. It's morning in Los Angeles, Derek sits in a women's nail salon, and the master carefully paints his nails in a pale purple color.
On the subject: 'Every second person here dreams of the USA': how our immigrant lives in South Korea
For Derek, manicure is an unusual procedure. He took part in the OPI Men Who Mani-Up commercial to promote manicure. In him three men, including Derek, paint their nails and share their impressions.
Nail polish company OPI isn't the only one blurring gender lines in the beauty industry. Last year, Chanel launched Boy De Chanel, a men's nail polish line, and for the first time, a man - American blogger and host Jonathan Van Ness - became the face of the famous brand of Essie varnishes. In the photo, Jonathan poses with a multi-colored manicure.
From David Bowie to Yegor Creed
From Hollywood stars to rap artists and fashion designers, the vibrant coating has firmly established itself on the nails of all industries.
David Beckham's son Brooklyn poses for the cover of Icon magazine in turquoise lacquer, designer Marc Jacobs shows off an elegant burgundy rhinestone manicure on his Instagram, and American artist A $ AP Rocky has a separate pattern on each finger. Model and brother Gigi Hadid Anwar, musician Harry Styles, rapper Bad Bunny and Instagram celebrity Luka Sabbat also occasionally appear in public with coverings ranging from conservative black to bright lemon.
In Russia, the trend was picked up by the singers Morgenstern and Yegor Creed: the latter regularly posts different variations of manicure on Instagram and asks for feedback from subscribers: "Girls, do you like it with or without design?
"This is a wave that made itself felt last year," says beauty expert Karina Andreeva. "Everyone was looking for some ways for creativity and a new breath of quarantine."
But men's nail art did not emerge yesterday. 70s iconic musician David Bowie painted his nails turquoise long before it became mainstream, and Aerosmith frontman Stephen Tyler experimented with the black stripe that later became part of his image. Kurt Cobain, Ozzy Osbourne, and later Johnny Depp joined the advanced class of nail art lovers.
Beauty expert Karina Andreeva associates the renaissance of bright nail polish, rooted in the second half of the XNUMXth century, with the cyclical nature of fashion trends and the ability to promote them more actively through social networks.
"Nails were really painted back in the days of David Bowie, but now social networks are bringing new trends into our lives, we see it in the stars - for example, Brooklyn Beckham comes to the Dior show with a red manicure. This trend was noticed by magazines and social networks, it also came to us in Russia. This is not just a one-time story, this trend exists and is gaining momentum, "Andreeva says.
"This is a challenge to society"
"It's very cool that you can paint anything you want on your nails, this is an endless opportunity for creative realization," says Kirill, editor-in-chief of a large Russian publishing house (the hero asked not to name the name of the publishing house). "I really like that a bright manicure is a little flirting with society, walking on the edge between masculinity and femininity, which is unusual for men in our culture."
On the subject: Personal experience: what you can't wear in America if you don't want to embarrass yourself
Kirill first thought about bright nail polish after watching an interview with the Russian group IC3PEAK Yuri Dudyu, where they discussed, among other things, the topic of manicure.
"I could afford something bright before in terms of clothes, accessories. [After the interview] I realized that you can not just paint your nails black, but make some special shape, color, bright print, even 3D drawing. "
"The first time I did everything I could on my nails," Kirill recalls. - I had both foil and geometry, thank God, ten fingers, so there was a place to go. I really liked it. This is a story about "Go big or go home" ("all or nothing").
Kirill's observation about blurring the line between masculinity and femininity through manicure is true: it seems that nail art is really not an isolated phenomenon, but part of a broader movement for equality and blurring gender boundaries. It is worth remembering that more and more Western designers are offering an agender style of clothing (not divided into male and female), often releasing guys in skirts on the catwalks, and beauty brands launch makeup lines for men.
"Nowadays, the trend is individuality, the possibility of self-expression. You can observe how at the same fashion show the model has a new make-up for each outfit. Nail art is also a way of expressing yourself. This is a story about the fact that everyone wants to be beautiful. It is a desire to equalize rights, but to do it delicately, "explains Karina Andreeva.
"Manicure is the embodiment of my fantasy"
"When the guys on the street saw me with painted nails, they had a shock, and then they said: what's cool, they asked where I did it," says Anatoly, the lead singer of NoNative.
Anatoly lives in Moscow. He first painted his nails about a year ago as an experiment. Since then, a black finish with hieroglyphs, metal stripes or any other nail design has become an integral part of his image.
"Nail art is a way to convey the inner world. I can't come up with a design for a pair of jeans, but I can come up with a design for my nails. Everything that you see on my hands is the embodiment of my fantasy, my vision. "
On request in Google in Moscow, you can find dozens of nail salons and barber shops offering services for the processing and design of nails for men.
But, as Kirill notes, finding a quality nail art salon is not easy.
"I was looking for a master for a long time, because the salons that I found on the Internet did simple, boring hygienic manicure. What they called nail art was just a beige finish, he says. "Studios that offered sophisticated designs, made more feminine nail shapes and finishes, and had a small portfolio of men's nails."
On the subject: My own master: how to do manicure and pedicure at home so as not to spoil your nails
Manicure master Evgenia Golubeva connects the surge of interest in men's nail art with the fact that many Western and Russian celebrities are increasingly doing bright manicure, as well as with the trend towards femininity (femininity) in general.
"I have clients from 25 years and older, mostly people of creative professions, they can afford it, because they think nail art is beautiful, regardless of the orientation of the man," notes Evgenia.
"Anything can serve as inspiration: from paintings and posters to ornament and color combinations in your favorite photograph," says Evgenia. - The more creative a person approaches the issue, the easier it is to work with him. Usually a man comes and we come up with a design together: I ask what inspires him and what he wants to see on his hands. "
"Man's manicure. Confidentially"
Interest in male nail art goes beyond Moscow: upon request on Instagram, manicure salons for men can be found in Berdsk, Barnaul, Tyumen and other Russian cities.
"Don't try to place our hands in your lilac account," my male clients tell me, "says Olga, a manicure master from Barnaul.
Olga has been working in a hairdresser for a long time, but a year ago she decided to rent a small room and open a manicure salon for men.
"The mentality of men from Siberia is different from that of Muscovites," the woman explains. - Three years ago, men's manicure in Moscow was a common procedure, while for my city it was something forbidden. We have a bunch of stereotypes - real Siberian men don't go to manicure and pedicure, they gnaw their nails with their teeth. "
It is no coincidence that on the page of Olga's salon on Instagram, the issue of anonymity is given great importance: "Manicure and pedicure: quickly, efficiently, confidentially".
There is also a prejudice towards male manicure on the part of the staff, Olga believes: "When a man came, all the masters refused him, no one wanted to work with male hands".
Olga now has a steady base of customers, but many of them still prefer conventional bare-metal processing.
"Many are still afraid and do not even make a transparent varnish, they ask to remove the cuticle oil so that no one, God forbid, will not notice," Olga believes. - Young people, on the contrary, are not shy and live without complexes. They not only do not hide their manicure, but post photos on their Instagram.
On the subject: 6 consequences of using gel polish, which the manicure master will not talk about
Why does everyone need to paint their nails?
Despite the growing popularity of nail art, manicure specialists and men themselves are convinced that painting nails for men in Russia will never become commonplace.
"I don't understand why all men would need this? - Evgenia asks. - Not all women paint their nails, and men even more so. It has always been a layer of the underground, and it will remain so ".
The meaning of male manicure is in its uniqueness: if nail art were mainstream, no one would do it, Anatoly believes.
"I don't understand why a person dressed in an expensive suit should have their nails done. It looks strange, - says musician Anatoly. - Nail art is rooted in rock and roll, nails are painted by those who are rebellious at heart. This is a rebellious story, this is a story about an alternative. To what extent the alternative can be mainstream is a good question. "
The year of "menicure"
In matters of men's manicure, the most important thing is to act decisively and not look back at the opinions of others, says the author of the column for Esquire magazine, writer Garrett Munce.
In an article titled "2021 is the year of menicure" Garrett (who paints his nails on a regular basis) refers to his own experience: he recalls how he first met a guy in a business suit with black nail polish and realized that any man can wear a manicure.
"You have to understand that by painting your nails, you automatically move into a more advanced echelon of style, which is available to those who are ready to take this step. Of course, there are those who will open their mouths by shaking your hand with a fresh manicure. Send them to hell. This is the world of menicure, and we all live in this world, "Garrett is convinced.