The article has been automatically translated into English by Google Translate from Russian and has not been edited.
Model in Kazakhstan beat after going out in a transparent dress
Model from Kazakhstan Dinagul Tasova said on Instagram that she was beaten after she took part in a fashion show. According to the girl, physical abuse was triggered by a wave of negative comments in social networks.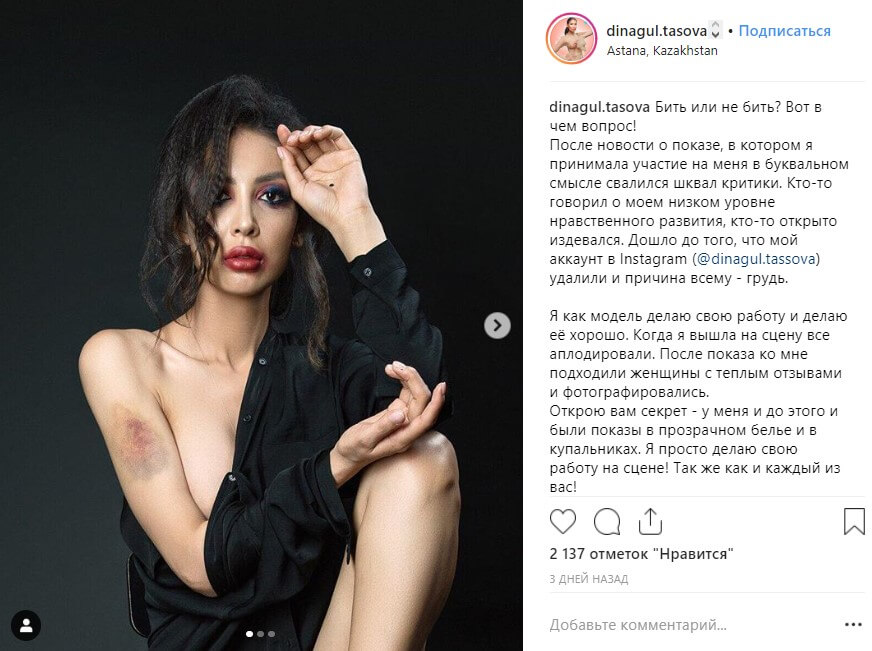 Tasova accompanied her statement with bruised photographs and the information that more than 40 thousands of women annually seek help from domestic violence in the country. Bi-bi-si talked to the model about what happened.
Bi-bi-si: What exactly happened to you?
Dinagul Tasova: It all started with the Astana Fashion Night. It was November 30. And I performed at the show in the clothes of Kazakhstan designer Dana Duissenbaeva. It was a transparent, delicate dress. I got it, because the designer chose me, and I performed on stage on it.
After that, a week later there was a blow, which I did not expect. After the show there was no negative, everyone reacted very warmly, clapped, took pictures with me. And then the photos from the show hit the social networks and information portals, and everyone began to discuss them. Someone saw a beautiful dress, someone saw a naked body, and everyone began to heytit my image. I didn't know that people here could react to fashion.
My young man saw my photos, then began to read comments everywhere, mostly negative ones. And he began to attack me and sort things out. There was a lot of negativity from society, and it hurt it. It turns out that I am showing an open chest on the stage, and not a dress. 8 December he hit me several times, humiliated strongly. I left, but he took the phone from me, my laptop, I could not get in touch. I deleted my accounts everywhere, including on Instagram.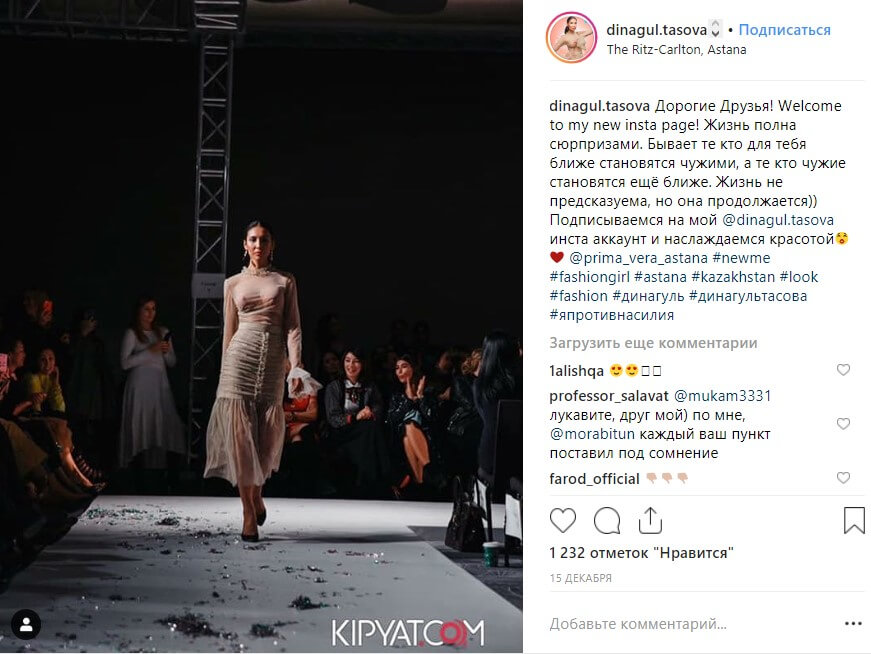 Bi-bi-si: At the same time, you published the post only a couple of days ago - why?
Dinagul Tasova: I could not make up my mind for a long time. First, I was not physically ready. The photo [with bruises] was not taken immediately, unfortunately. Only ten days later I agreed to a photo session. Before that, I could not even walk, I had problems with housing, with a telephone - I simply could not contact my family, I had no contacts.
I was shocked because I trusted this person very much, we had been together for five years. I waited from him at least some support after the show, because there were so many discussions and negatives. I thought he would at least support me with words. But in the end it turns out that I myself went loaded, and he took and beat me. I did not expect this.
Ten days later, I decided to pull myself together, take a picture and show people that they should not raise their hands on a woman. And show him what he did. Because we have not seen since then, and he did not know what the consequences were on my body. So I wanted to write a post so that he saw it. And, on the other hand, my pain in the soul was immense, and I wanted at least to pull it out from the inside, to convey through a photo.
Bi-bi-si: Did you call the police?
Dinagul Tasova: I personally do not, I decided not to apply. He is officially nobody to me, he is not my husband, he does not owe me anything. I already trampled on it, exposing my photos bruised. Let him see it, let the people condemn, let the people make a conclusion. I do not want to dig further, meet with him, mess around, sort things out. Therefore, I decided not to write statements, I do not want to see him.
I want society to discuss. Someone [in the comments] wrote that "I would kill at all". So you can hit? And girls simply cannot work in their profession? If a girl goes to the podium - it turns out that you need to beat for this? This is what I wanted to find out, so that the people themselves condemn it all.
Bi-bi-si: The media call you not only a model, but also a deputy - are you really a deputy?
Dinagul Tasova: No, this is not parliament. I am a deputy of the youth maslikhat of Astana city. This is a non-governmental, public association. I am not a civil servant, but rather a volunteer, an activist. The youth maslikhat of Astana is a group of active youth who work with society. We can go to orphanages to help, to nursing homes. This is not paid, we do everything in our free time.
With a modeling career, it does not intersect. I performed on stage at the weekend at night. I have a contract with a model agency, this is my main job. I have been engaged to her for five years, I have an official contract, and then I also intend to work in this area. I just wanted to participate in a public association and entered there for a period of one year.
Now I want to open my organization to support women and children, to contribute to the development of the concept of family and gender policy in Kazakhstan. I want to work on this project.
Domestic violence is not only in Kazakhstan, it is everywhere. I decided to deal with this topic, meet, conduct trainings, be useful. Now I'm writing a concept, putting together a team. Many people write to me in direct: "Yesterday my husband beat me up, but I don't even know where to go". There was even one call from a man from Canada that he didn't have exactly the same situation, just the opposite, a woman raised her hand to him.