The article has been automatically translated into English by Google Translate from Russian and has not been edited.
'I was more comfortable with an aunt with a stomach': the thinner Lolita spoke about her new life
The other day, Lolita performed in a Moscow club, where she performed both old hits and new compositions. The star was in a good mood and full of energy. It seems that the story of divorce is slowly becoming a thing of the past.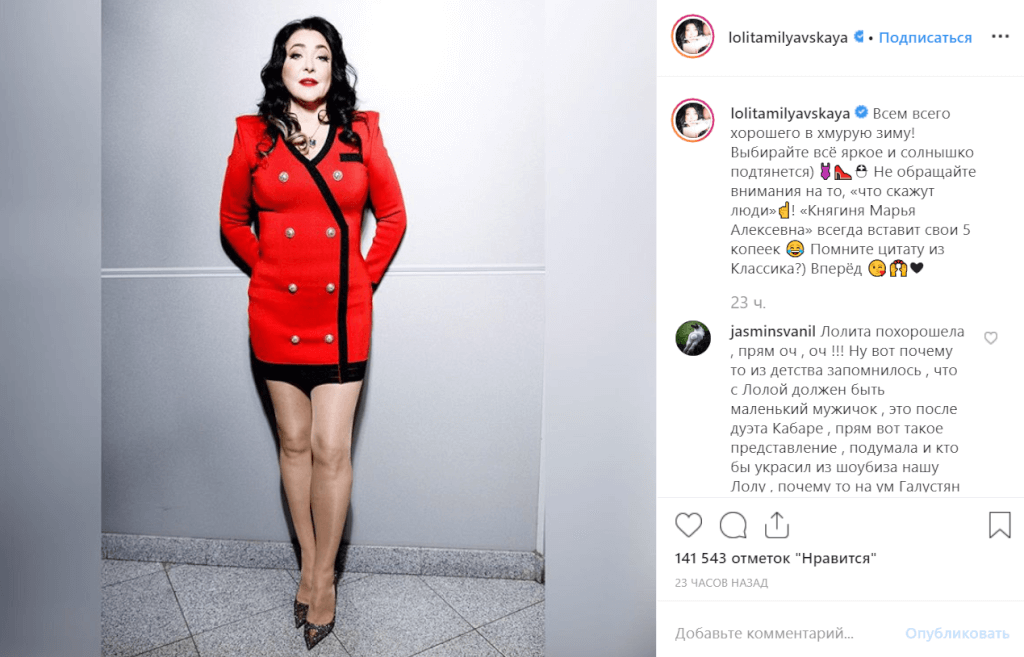 The singer appeared in front of the audience in a black transparent dress with flounces. According to her, the atmosphere in the club was very friendly, writes "StarHit".
"It is here that I can remain myself, I can come here, as in one of my apartments. Here are close friends who are with me in joy and sorrow, in poverty and wealth, "said the artist.
Due to a divorce with her husband Dmitry Ivanov, Lolita had to be very nervous: the artist even threw off a few pounds. She was not quite used to herself, who had been built, yet.
On the subject: 'For him it was a fictitious marriage': Arkady Ukupnik exposed Lolita's ex-husband
"I was much more comfortable with my aunt, whose stomach is sticking out, as if she was pregnant all the time. Do you think I'm still nothing? Can I still ?! "joked from the stage of Lolita.
The hall was glad to see the artist and actively applauded. It seems that the singer has already forgotten about her former husband. "I got rid of the slag, and immediately it became easier - to the soul, heart and body," shared Lolita.
At the end of the performance, the singer admitted that she was waiting for a real winter. "And December is so annoying that there is no snow in a city where there is no sun anyway, so God, make sure that winter finally comes!" The artist asked.
According to insiders, an athletic handsome man accompanied Lolita at the club. But earlier, the star said she was in no hurry to start a new relationship.
"I'll tell you honestly: I work and I work. There is no time to fix attention on someone now. I officially declared a year and a half of freedom, based on the data of the horoscope. Such a relationship period without obligations suits me, "Lolita said on" Song of the Year ".
On the subject: 'She planned this story': Lolita's husband commented on her interview about divorce
The singer wants to meet a strong man who does not need to be supported, like Dmitry. The artist bought him things, made expensive gifts, and then he moved with all this goodness to a new passion. Recall now Ivanov is in a relationship with businesswoman Olga Kulieva.
"I did everything in one day - I packed my things and moved them to another apartment. Time passed, began to meet with a girl. Her name is Olga, we are not hiding anything from anyone. Our first joint photos were taken at a friend's wedding in Lithuania in September, and they posted them on the Internet. And the yellow press found and decided to hype, betrayed that we had been together for a long time ... Nobody began to check the information. And when it came to Lola, she, too, without understanding, began to pour mud at me through journalists, "said Ivanov.