The article has been automatically translated into English by Google Translate from Russian and has not been edited.
Personal experience: how to live if your husband takes you abroad
'06.05.2019'
Source: vc.ru
From 7 May to 30 September, the results of the Green Card Lottery will be available: how to check and what to do after a win says ForumDaily, and we, in the meantime, offer to learn how our compatriots live in immigration in different countries. Here, for example, Alisa Yastremskaya-Semenova tells vc.ru from personal experience, as in 2014 her husband was unexpectedly offered to move to Hong Kong for work - and the family lived in the metropolis for three years.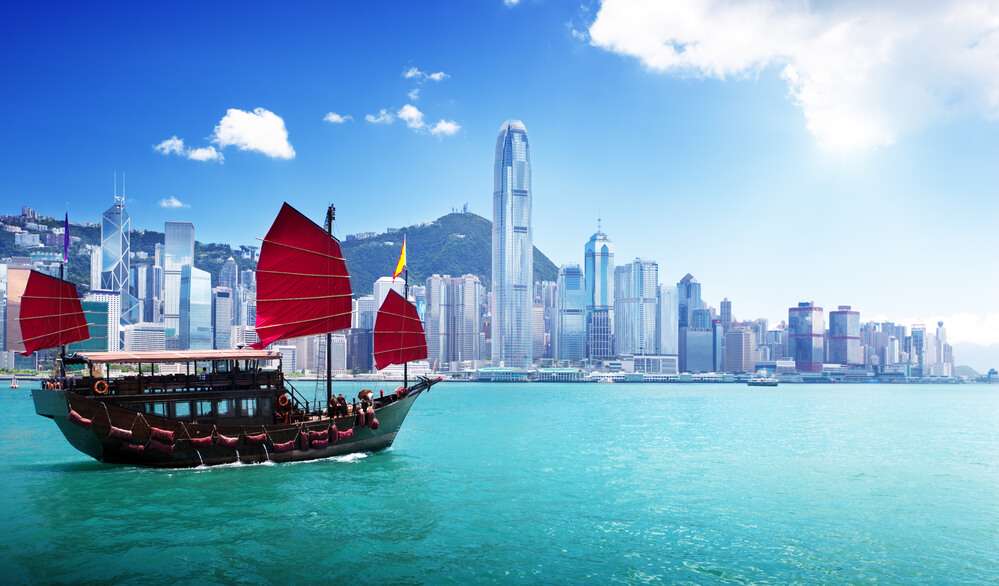 How is Hong Kong
Hong Kong is not a city or a country, but a special administrative region of China. Over the years 150, Hong Kong was a British colony. Since 1997, he is no longer a British city, but also not entirely Chinese. Now the transition period lasts.
Until 2047, Hong Kong will exist on the principle of "one country - two systems". Formally, it is part of the PRC, but on special conditions. It has its own currency, economy, tax system, migration regime. The legal system is British, and China is already responsible for foreign policy and defense. And every year the influence of mainland China on Hong Kong is increasing.
Hong Kong and China are two different planets. And Hong Kongers do not like very much when they are called Chinese. In China, English is rarely understood, in Hong Kong almost everyone speaks it. Even Chinese is different here: Mandarin is spoken in China and Cantonese in Hong Kong.
Hong Kong is not covered by the "great Chinese firewall"; all social networks, instant messengers and Google work here. In China, there are search engines and application WeChat, which combines everything: social network, instant messenger, through it you can even transfer money. WeChat is also popular in Hong Kong, but everyone also uses WhatsApp. Any application is available in two languages.
In Hong Kong, you can go out at any time of the day and feel safe. The crime rate is low due to severe penalties. For driving in alcoholic intoxication - imprisonment up to three years. For the sale of drugs - life imprisonment and a fine of 5 million HKD (637 thousand dollars), for use - seven years and a million HKD (127 thousand dollars). But here it is not as strict as in Singapore: at least there is no death penalty.
I love London, and that's probably why Hong Kong hooked me up. Since colonial times, left-hand traffic has remained here, double-decker buses, English and typical units of measurement for Britain: weighed in pounds, area is calculated in square feet.
Hong Kong is a mixture of west and east, an Asian metropolis with an international character.
Map
Hong Kong is 262 island and part of the mainland to the border with China. In total, 7,39 million people live here, of which only 1,2 million live on Hong Kong Island. The island is a historical and business center, most expats live here.
From the Hong Kong airport, you can fly to almost anywhere in the world. It is built on artificial land, due to which the area of ​​Hong Kong has increased by 1%.
Visas
I moved to Hong Kong with my husband. He was offered to open and develop an office of a Latvian consulting company there. To get a work visa, you had to prepare a whole stack of documents, including a detailed business plan for the development of the representative office. I made out the dependent visa, which is obtained on the basis of my spouse's work visa. Such visas can be with or without the right to work, depending on the profession of the partner.
For a visa, I was asked for a marriage certificate, a diploma of completed higher education and photos from the wedding. Later asked for pictures where guests can be seen - this is proof that the wedding is real. Some of our friends were even called in for an interview and asked where they met.
We received a visa for six weeks. They did it through an intermediary company and paid 4000 HKD (510 dollars) per person. The price range for such mediation is large, there are visas for 16 000 HKD (2000 dollars) per person. If you apply for a visa yourself, the duty will be 190 HKD (24 dollar).
You can also get a student or investment visa for living in Hong Kong. For an investment, there is an unspoken rule: there must be at least 1 million HKD (127 thousand dollars) in the account or in the assets of the company. Officially, this is not said, but the agent firms call just such a sum.
If you are going to open a business here, you must provide a detailed business plan and proof that you have the funds to cover the costs for the first six months.
With a visa you can get a Hong Kong ID-card. It will come in handy to open an account at a local bank, enter into an agreement with mobile operators and so on. It is possible to pass control at the airport with such ID in one minute. You put your card in a special terminal, put your finger on it, take the card and you're in the departure area. And no queues.
To get permanent residence in Hong Kong, you must live for seven years. It gives the right to work, learn, open a business, vote in elections and receive social benefits. A foreigner can obtain citizenship only if he marries a Hong Kong resident.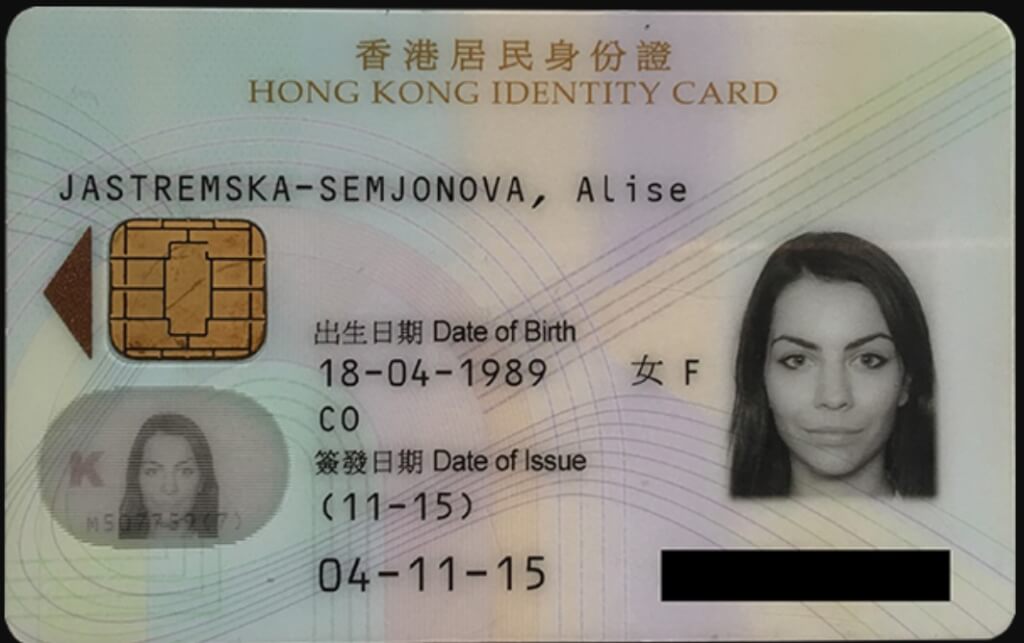 Salaries and work
In Hong Kong, there is a huge gap between the poor and the rich. A person with a high salary can earn 44 more times than an ordinary worker. The minimum wage is 34,5 HKD (4,40 dollars) per hour. So many get cleaners. Working ten hours a day, six days a week, they can earn 9000 HKD (1150 dollars). Surviving on this money is extremely difficult.
The salary of cashiers, waiters and university graduates in their first job is about 14 000 HKD (1700 dollars). An accountant and marketing manager earn around 25 000 — 30 000 HKD (3200-3800 dollars). The average salary in the field of finance - 40 000 HKD (5100 dollars). I give average values ​​because the variation of salaries is very large. The amount depends on your experience, company and other factors.
The average income per person in Hong Kong is incomplete 16 000 HKD (2040 dollars). Most in demand are specialists in the fields of finance and insurance.
Work here must be sought through friends. There are many job search sites, but the competition is very high. The probability that the company will open a job at all is very small. But there is a lot of networking meetings. They decided to drink wine and meet in an informal atmosphere.
In Hong Kong, it is perfectly normal to start a conversation with questions about work and the presentation of yourself or your business. So you can find useful contacts for business, partners, employees or just friends. In Hong Kong, a pack of business cards from one hundred pieces can end in one evening. Once I found a SMM manager for my project, just talking to a girl in a cafe.
My husband worked for three years in Hong Kong as head of the consulting services company, and I was engaged in my own marketing business.
Taxes
In Hong Kong, everyone submits a declaration and pays taxes. Businessmen pay 16,5%, but only from the profit that they received in Hong Kong. Since April, the 2018 of year on profits is less than 2 million HKD (255 thousand dollars) tax is half as much - 8,25%. Individual entrepreneurs pay 15%. Employees pay a progressive rate, from 2 to 17%, depending on the amount of income.
There are tax deductions that allow you to compensate for some expenses, for example, pension contributions, training costs, donations, payment for a dependent relative who is in a boarding school.
On the subject: Our emigration: what Russian people can not get used abroad
In Hong Kong, you can quickly and easily register a company, there are low taxes and an ideal tax regime for large businesses. There is an agreement on the avoidance of double taxation with other countries, including Russia. And the first reports need to be provided only 18 months after the registration of the company.
Hong Kong earns on real estate taxes, prices for apartments and offices here are among the highest in the world. VAT is not here, so it is customary to go there for shopping.
Money
In 1997, Hong Kong ceased to be a British colony, returned to China, but retained its currency - the Hong Kong dollar, HKD. The HKD rate is pegged to the US dollar, but can fluctuate within 7,75 — 7,85 HKD for $ 1.
British central Hong Kong did not have its own central bank, money was issued by private banks. HSBC was the largest issuer of currency in China from the end of the first opium war to the proclamation of the PRC. Later, Hong Kong dollars began to issue Standard Chartered and Bank of China. Now three banks issue money, so there are bills with different designs. And the coins and ten-dollar bills are the same, only the Hong Kong government issues them.
Almost everywhere you can pay with cards. Cash will be needed only for taxis and some small shops and cafes.
Chinese yuan is not accepted here, with rare exceptions. One day, tourists on the street asked me why they were so reluctant to accept cash. It turned out that all day they were trying to pay in yuan.
Both Visa, and Mastercard, and Union Pay are accepted for payment, as in China. More locals pay via AliPay, Apple Pay, WeChat and Octopus transport card.
To open a personal bank account, you need a Hong Kong ID card and address confirmation - any account sent to your address in your name will do. I opened an account with HSBC. With waiting in line it took an hour. They asked where I was going to work, how much I planned to earn, and everything was issued.
At first glance, the Internet bank seemed confusing to me, but I quickly figured out: in half an hour I connected everything and made the first payment. To make payments on the Internet, you can use the Digipass code calculator or download an application to your smartphone where confirmation codes come. The application has Chinese and English versions.
Operators and employees of the bank speak two languages. I managed to get through to support in about five minutes, no more 20 waited in the queue at the office. All standard issues were resolved quickly, I did not have non-standard ones.
Real estate
In Hong Kong, you can forget about personal space. The demand for housing is high, and there is little space, so the housing problem is the most painful in this city. Property prices in Hong Kong are the highest in the world. Offices in Hong Kong are also among the most expensive in the world, more expensive only in Monaco.
Officially, Hong Kong's population density is 6830 people per 1 km², this is information for 2017 year. In 2016, Kwun Tong was recognized as the most densely populated area, where 57 530 people lived on 1 km².
All land belongs to the Hong Kong government. They do not sell it, but rent it out for 50 years. The tenant is selected through a tender: the participants make their offer with a price, the government chooses the one who gave the maximum.
The mortgage rate in Hong Kong is 2 — 3% per annum. But taking a real estate loan is not so simple: you need to have a good income, and you can only use 40% of it for paying a mortgage. You have to pay a huge down payment - this is the main problem when buying a property.
The first installment for an apartment worth 6-10 million HKD (760 thousand - 1,2 million dollars) - 40% of its price, more expensive than 10 million HKD - 50%. Most young families with a down payment are helped by their parents.
Rental housing
On average, renting an 40 apartment in the area of ​​Hong Kong Island, where expats live, starts from 26 000 HKD (3300 dollars) per month. In remote areas, renting an apartment with an area of ​​40 m² is around 16 000 HKD (2040 dollars).
In both cases, in order to rent a house for this money, you will have to try very hard: spend on finding the week, look through dozens of apartments and put up with shortcomings. For example, that the bed occupies exactly the entire area of ​​the bedroom.
You can find a more comfortable layout, but the view will then be close to the neighboring house. If you want both a view, and more space, and a convenient location, you will have to increase the budget.
At the entrance you must immediately pay the amount for the first month of rent, the same security deposit and broker's commission Without him, finding accommodation in Hong Kong is difficult.
There are no apartments with the usual European layout. Often the bathroom is separated from the room by a glass door. In our first apartment from the doorway we went straight to the living room, it was also a corridor and a kitchen. The bed was separated from the living room by a glass wall, and it was also visible from the threshold.
We had two weeks to search for the first apartment - and we met them. But over time, they realized that the apartment had many drawbacks: it was an old house with thin walls, the last floor - the room quickly heated in the summer and cooled in the winter, the kitchen did not have hot water. When the mandatory rental period has expired - 13 months - we immediately moved to an apartment with a normal layout and doors. Looking for her for a month and a half, I think that on the Internet I looked through more than a thousand options.
The expats who work for hire here are paid by the company. The budget depends on the company - usually $ 3000-9000. Our apartment cost 26 000 HKD (3300 dollars) per month.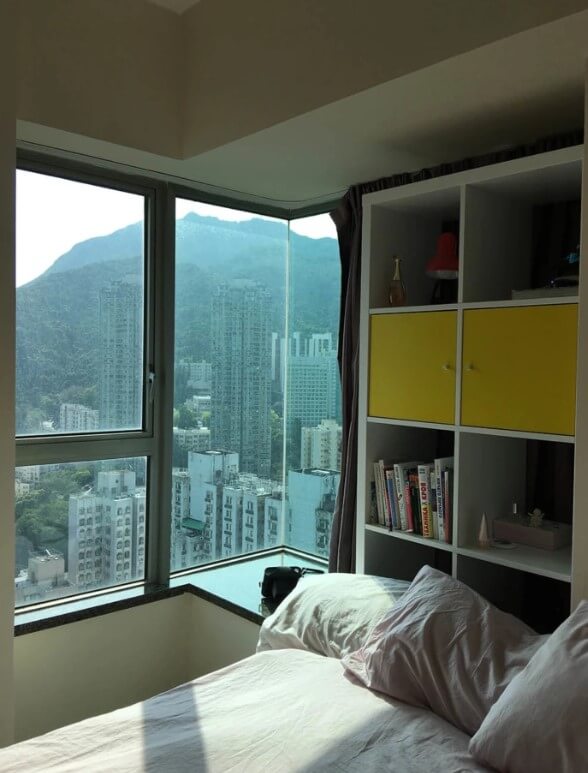 The main item of utility costs - air conditioning in the hot months and the heater in the cold. Electricity, water and gas in the apartment 40 m² sometimes reached 1500 HKD (190 dollars) per month.
All pipes here are brought out to increase the area of ​​the apartment. The climate allows it, since the temperature does not fall below zero. But in the summer there is no cold water, day and night it is almost room temperature. And in winter, though it does not freeze, it still becomes icy.
Apartments are rented empty - so they look great. Furniture is bought at IKEA or at the local Pricerite furniture store. Those who move to Hong Kong for many years, order furniture from China. And expats with experience are looking for everything they need for their home in groups on Facebook. They sell things to those who leave Hong Kong. We bought a sofa from the Swiss, chairs - from the French, a table - from the British. It is more profitable than to buy even in IKEA.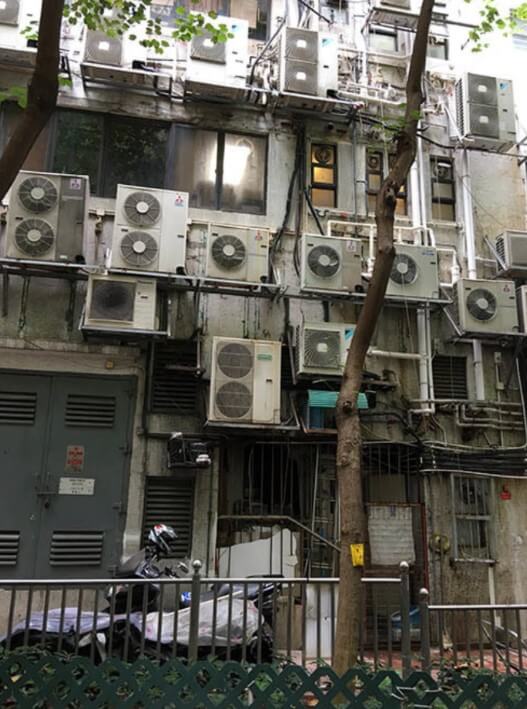 Personal car
The car in Hong Kong is needed only if you live really far from the center and without it in any way.
The rest of the car will only be more difficult. The main problem is that the parking is expensive and there are few places. Parking is possible only in shopping centers and office buildings. Parking on the main streets of Hong Kong is prohibited, a yellow line is drawn along the sidewalks. Often parking is busy and you have to stand in line. In homes, there are also less parking spaces than residents.
Parking is expensive: 5000-7000 HKD (from 647 dollars) a month must be paid for a parking space in an office or home near the central stations of the island. Place in a residential building in remote areas - from 3000 HKD (382 dollar) per month. Parking in a central shopping center at a central station costs 28 HKD (3,57 dollars) per hour during the day and 15 HKD (1,9 dollars) per hour at night, for purchases will give free time.
This summer in Hong Kong they sold the most expensive parking space in the world - for 6 million HKD (767 thousand dollars). The owner sold the place almost twice as expensive as he bought it less than a year ago.
Fuel costs from 17 HKD (2 dollars) per liter. The tax to register a new car depends on its price. Minimum - 40% of the cost. There is also an annual fee for a car - an annual fee. It ranges from 4000 to 13 000 HKD (509-1656 dollars), depending on the type of fuel and engine size.
Used cars are cheap, and mostly they are in perfect condition and with low mileage, because the territory is small.
On the subject: Our emigration: how does the Russian woman live in British Columbia
Общественный транспорт
Since the personal car in Hong Kong is not cheap to maintain, everyone drives by public transport. It is fast, clean, convenient and affordable.
My favorite transport here is the subway. The network is developed, the train runs on most branches every 2 — 4 minutes. Metro works from six in the morning until the morning. It is better to avoid rush hour, then you can sit down and calmly read a book. The price of the trip depends on the distance. The ticket costs from 3,5 to 50 HKD (0,45-6,37 dollars), but for 50 HKD you can get to the border with China. On average, one trip will cost 8 HKD (slightly less than 1 dollars).
Also in Hong Kong there are buses and minibuses. Ticket price - from 4 to 40 HKD (0,51-5,1 dollar). The cost depends on the route and stop, which you have come to: the closer to the final you sit down, the less you pay. On average, a bus ticket costs the same 8 HKD as on the subway.
The slowest transport is the tram. Trams here are double decker. The ticket costs 2,60 HKD (0,33 dollar), pensioners and children - twice cheaper.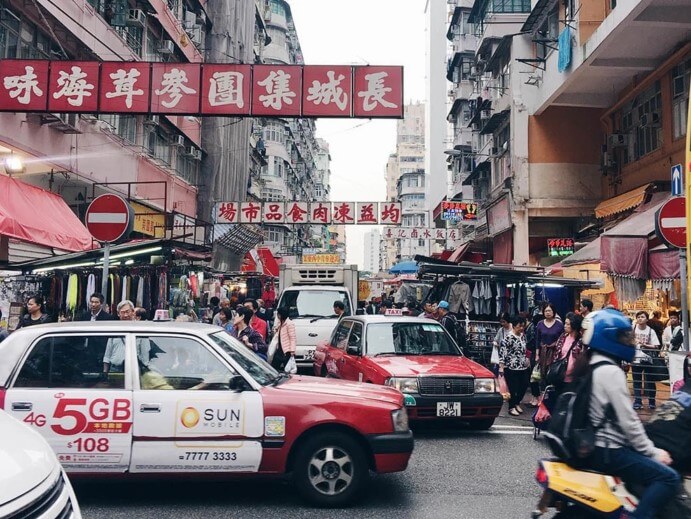 For payment of travel using the Octopus card, it can even get a traveler. It is profitable and convenient: trips are cheaper, no need to buy one-time tickets.
Taxi rides in Hong Kong are inexpensive: 24 HKD (3 dollar) landing plus the first 2 km, every next 200 m costs 1,7 HKD (0,22 dollar). By taxi it is advantageous to travel short distances.
Many taxi drivers come from mainland China and do not speak English. Sometimes it was necessary to negotiate through the operator of a taxi service, which translates the address to the driver by phone.
Especially for taxis in Hong Kong and Japan, the 1995 model of the year, Toyota Crown Comfort, is still being produced. On the island of Lantau blue cars, and closer to the border with China - green.
There are some nuances that only local people know. For example, if you want to leave the island of Hong Kong to the mainland, you need to catch the car, pretending to wave a wave, or look for special parking. Parking lots usually have to stand in line.
In Hong Kong there is Uber. It is a bit more expensive than ordinary local taxis, but there you can ride a Tesla. But the most popular form of transport in Hong Kong, I would call the escalator. They are here all over the place.
There is the world's longest indoor escalator in the open air. It is called Central - Mid-Levels Escalators. This is a system of 18 escalators and three travelators, with a total length of 800 m. The height difference between the first and last step is 135 m.
In the morning, the escalator goes down, because everyone goes down from the residential area to the subway. The rest of the time until midnight, the escalator moves up, because people are returning home from work.
Food and Products
In Hong Kong, you can find products from around the world: Chinese tofu, Thai mangoes, meat from New Zealand and even Latvian chocolates. Many products from the UK. Chinese is cheaper, but not always edible: eggs, meat and vegetables are tasteless, with a specific smell. The Chinese themselves often travel to Hong Kong to buy products of better quality than on the mainland. Milk is drunk and produced here, but fermented milk products are all imported.
Vegetables and fruits tastes best from Japan. Are expensive: 200 HKD (25,5 dollars) for 10 strawberries, 90 HKD (11,5 dollars) for a head of cabbage, or 50 HKD (6,37 dollars) per kilogram of carrots. Cherry tomatoes are considered to be berries, they are added to oatmeal and fruit salads.
We bought groceries in supermarkets. Sour milk sometimes ordered in the Russian store, fruit - in the markets. Cooked the usual food, sometimes in the Asian version: oatmeal on soy milk with mango, stewed chicken fillet with Korean kimchi cabbage, buckwheat in soy sauce with vegetables and soy sprouts.
Of the drinks, the Chinese love beer most of all. Alcohol in Hong Kong can be found any - from Australian cider to Japanese sake. Locals love wine, and in bars they drink cocktails more often.
Everyone in Hong Kong drinks water from the tap, but it has a specific smell and taste - in my opinion, it looks like mold. We first bought bottled water, then put a filter at home.
We spent about 5000 HKD (630-640 US dollars) on food per month, excluding meals.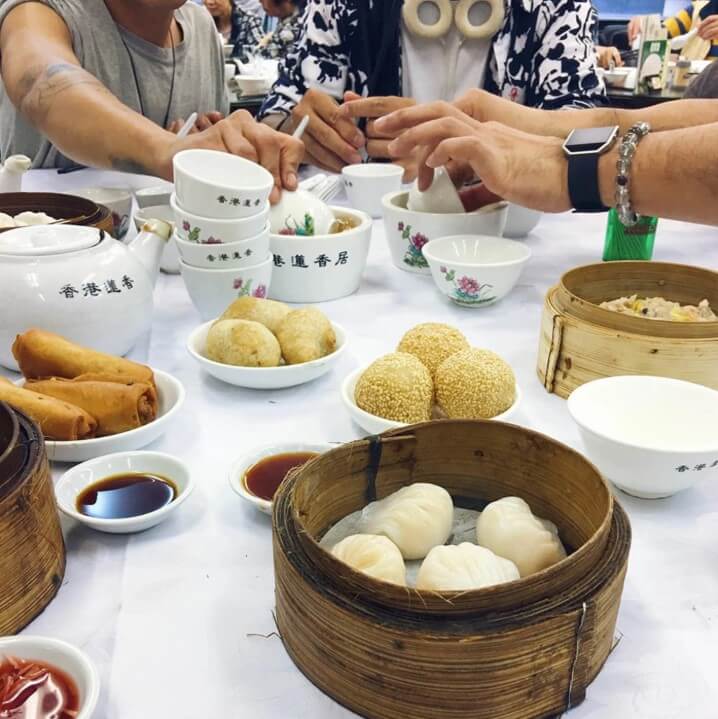 Cafes and restaurants
In Hong Kong, it's cheaper to eat at a cafe than to buy groceries and cook dinner at home. In addition, everyone is constantly working, and the kitchens in the apartments are small. Therefore, it is rarely cooked on its own.
In the Chinese dining room, you can have dinner for only 40 HKD (5 dollars), if you are not against strange smells, strange textures, by-products and Asian-flavored sauces. For the first six months, we often ate there, because it was interesting to try local food. But over time, I began to feel that my body does not particularly like Chinese food in such quantities. Then we began to try to eat more often at home, cook more vegetables and greens and less meat.
We have already left Hong Kong, but I still don't want to be fried, fatty or spicy. Chinese cuisine is exactly like this, and I ate it for many years to come. After Asia, I began to eat a lot of flour, because I missed the usual European baking. In Hong Kong and Asia, they bake bread that is unusual for us: airy, like a sponge. The cupcakes here are even called: sponge cake.
The budget option for an expat dinner is Vietnamese pho bo soup, or Thai chicken with rice, or Korean bibimpap. Bibimbap is a traditional Korean dish: a portion of boiled rice with egg, soy sprouts, carrots, kimchi cabbage, dried seaweed and finely chopped beef, chicken or squid. A serving of this dish costs 60 — 80 HKD (7-10 dollars).
For 200 HKD (25,5 dollars) in Hong Kong you can have dinner together in the simplest cafe without drinks. Prepare the same dinner at home will be much more expensive. Therefore, food delivery is very popular here. When we first opened the Foodpanda food delivery application, we learned that 15 has thousands of restaurants within a radius of two kilometers from our home.
The range of prices in cafes and restaurants is large. At the same time, the high price does not guarantee quality: a dinner for $ 100 per person can easily turn out to be tasteless. In Hong Kong, there are a lot of places marked in the Michelin restaurant directory. And many of them are not pretentious restaurants, but the simplest Chinese canteens with plastic dishes and very inexpensive food.
Traditional Hong Kong drink is called kofechaj. It is made from a mixture of tea, coffee and sugar-free concentrated milk. It is also called yin-yan-tea or "stocking tea", because the drink is filtered through a filter that looks like a stocking. Drink coffee and cold and hot. He does not look like tea or coffee. I drink all the hot sugar-free drinks, but it's almost impossible to drink unsweetened coffee. The taste is very tart, but tender milk.
Tips are not given here. 10% for service is added to the invoice amount, but this does not always mean that the waiter will receive this money. In traditional cafes, they immediately open a check, write down your order there and leave it on the table. Sometimes they just bring a piece of paper with a number - a total amount.
If you come to a restaurant, then you need to wait for seating arrangements strictly behind the drawn line. We somehow stepped one step behind her, it was far from the tables, but the waiter insistently asked to take a step back first - and immediately after that he led us to the table.
Internet and communication
In ordinary cafes, good Wi-Fi is rare. In 2013, Wi-Fi was rare here: even in hotels, it was possible to connect to the network only for money.
Now in Hong Kong there are a lot of coworkers, where you can come without signing up in advance, and just sit on the Internet. In my favorite place for 70 HKD (9 dollars) gave access to the Internet and drinks (tea and coffee) for three hours. Sometimes I worked from the central library with a beautiful view of the city. To get to the library, you need a reader card, it can be issued by anyone who has a Hong Kong ID.
For the Internet at home we paid 368 HKD (47 dollars) per month. There were no claims to the provider for three years.
In Hong Kong, work all sites and social networks. There is Google, Instagram, Facebook, but the most popular social network is Chinese WeChat. WeChat must be downloaded if you are going to China. But already in the neighboring city of Hong Kong - Shenzhen, where to go the whole hour, - Google, Instagram, Facebook and WhatsApp do not work. Even Gmail is blocked and does not open without VPN. And using VPN is illegal here.
I paid 176 HKD (22,4 dollar) per month for my mobile phone. I had a tariff with unlimited internet. To get a Hong Kong connection number, you need an id card and address proof - any document that proves that you live in Hong Kong. A typical utility bill will do.
Language
In Hong Kong, two state languages ​​- English and Cantonese. Cantonese differs in sound from the mainland North Chinese language - Mandarin.
Without knowledge of Chinese in Hong Kong, you can easily live. Hong Kong has been a British colony for over 150 for years. Here, everyone speaks English, on signs and signs information is duplicated in both languages.
Communication problems may arise with taxi drivers and residents of the mainland of Hong Kong. Sometimes locals help if they see that an expat cannot agree with a Hong Kong seller. I didn't learn Chinese, and for three years I haven't had cases when, due to ignorance of the language, I would be in an intractable situation.
Some expats are learning Chinese, but not Cantonese, but the mainland - the very Mandarin, he is Putonghua. It is easier, it will be more good if you leave Hong Kong. A billion people in the world speak Mandarin, and only 60 millions speak Cantonese.
The main difficulty of learning a language is in the keys: in the mandarin there are four for each sound, in the local Cantonese there are six. From what intonation you pronounce the sound, the meaning of what is said depends.
There are no floors in buildings in Hong Kong that end in number four, because the number four in pronunciation is consonant with the word "death."
Medicine
Without insurance in Hong Kong it is better not to get sick. Expats are usually paid by the company, but we didn't have that. Our friends had insurance from $ 2000 to $ 6000 per year - they were paid by employers.
At the state clinic, a therapist's appointment costs from 100 HKD (about 13 dollars), but a long queue to receive. To get to a specialist or for an examination, you have to wait for months. In private clinics, everything is simpler, but more expensive: a general practitioner admission costs about 700 HKD (89 dollars).
The dental consultation at the state clinic cost me 800 HKD (102 dollar). Remove wisdom tooth costs from 3000 HKD (382 dollar). Expats on such issues usually fly home or go to Thailand — it's cheaper there.
Another option is traditional Chinese medicine. Such offices are in the usual public clinics. At the reception you can get the next day. The doctor asks questions, checks the pulse, looks at the tongue and prescribes healing tea.
The composition of tea is indicated only in Chinese. Friends who know Chinese have explained to me that these are untranslatable terms and they themselves do not know how they are treated. I tried: tea has a disgusting taste, but it helps. The stock of this tea for a week cost about 300 HKD (38 dollars), a visit to a Chinese healer - 100 HKD (12,75 dollars).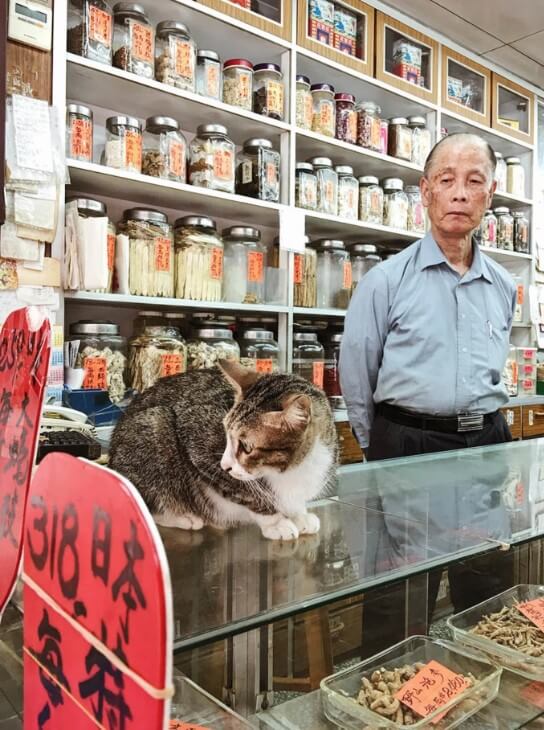 In any case, you pay immediately and take the medicine, and then with a check go to the pharmacy at the clinic. Medicines, including medicinal tea, are sold not in batches, but in doses. If you are prescribed an anesthetic for three days, three tablets will be torn off.
Prescription pills are bought in pharmacies at clinics. Without a prescription, you can buy pills for sore throat, painkillers, antipyretic. Such over-the-counter medicines are sold in health and beauty stores - here are the Mennigs and Watsons chains.
Colds are most often treated by themselves - herbal teas from street shops. Cough treated with Chinese syrup helps instantly.
Locals know which tea to drink from which disease. It is believed that all diseases come from an imbalance of fire and cold in the body. The level of this "fire" must either be raised or lowered. If in doubt, drink tea from 24 herbs, it will not harm in any situation. This tea is bitter and tasteless, but I occasionally drank it for prevention.
Even in China and Hong Kong, it is believed that hot water heals everything. Headache? Stomach? No forces? Is it sad Coldly? Drink hot water. Everyone, from schoolchildren to retired people, goes everywhere with their bottles. I now also do not leave the house without a thermal bottle with hot water. It invigorates better than coffee because it warms from the inside.
Everyone remembers the outbreak of atypical pneumonia in 2016 — 2017. This disease was even called the "Hong Kong flu", because it was here that the first person caught it. Now public spaces are thoroughly disinfected here: rubbing the handrails of the escalators and elevator buttons several times a day. At the airport, people who have flown in by a contactless thermometer are checked; patients can be sent to quarantine.
Work and weekend
Hong Kong has a six-day working week, but this does not apply to international companies. The work schedule is often non-standard, especially in the financial sector. My friend worked at a bank, her work day officially ended at 18: 00, but almost every evening she was busy having dinner with clients, partners, or colleagues. And this is the norm rather than the exception.
By law, a resident of Hong Kong has the right to 7 — 14 paid vacation days per year, depending on the length of service. Save seventeen official holidays a year. Weekends in Hong Kong are Christmas, New Year, Chinese New Year, and Buddha's Birthday.
Representatives of foreign companies rest by their own legislation. My husband has a weekend 20, as in all Latvian companies. At the same time, he still stayed at work every day until late because of the time difference with the main office of the company.
Shopping and entertainment
Prices in Hong Kong are higher than in Europe and the USA. Things in Zara are more expensive on average by 30%, and with luxury brands the same. Friends wanted to buy a Berberri raincoat, but it turned out that in Hong Kong it costs 17 800 HKD (2268 dollars), and in Russia 135 000 rubles (2072 dollars). The reason is that rich Chinese constantly travel here for shopping. They are ready to buy things for any price, because clothes, food, alcohol, and baby food are better than in China.
Collections of many brands differ markedly from European ones. In Hong Kong, they sell more variegated and brilliant, so that people from mainland China like it.
I loved buying clothes in Korean stores. Good quality, interesting design and reasonable prices. Only all clothes of the same size, and then how lucky. Often I had to roll up my shirt sleeves, because they were short for me. In Korean stores you can find good things from 300 HKD (38 dollars).
Prices are now the same as in Europe, and were previously lower.
Online shopping here is done on Taobao. Everything comes quickly, is cheap, but the quality is as lucky. Amazon use less, mostly expats buy something there. Clothing can be ordered on Zalora.com, this is the local version of Yoox and Asos.
I do not like to go shopping, but they are everywhere. The road from the subway to the street, from one office building to another - everything passes through shopping centers. You do not even go to the store, but you have to go around the stands with new fragrances, dresses and shoes.
Everyone here goes with their shopping bags, no one takes a package at the checkout. You can buy a package at the checkout, but you will be reminded that, actually, it costs 50 cents, and they will look that you feel like an enemy of the people. And this is despite the fact that in supermarkets everything is packed in plastic - each paprika is in a separate package.
Leisure
In Hong Kong, everyone is engaged in hiking - they go for walks in the surrounding mountains and hills.
There are a lot of places for hiking, there are special paths everywhere, steps and signs, places for a halt to have a picnic. There are buttons on the paths, if you suddenly need to call rescuers.
Climate
From April to September in Hong Kong is hot and sticky as in a sauna. Temperature + 30 degrees, humidity 99%. Even on cloudy days, at night and during rain, the temperature does not drop. It's difficult to endure, but the locals somehow manage to wear costumes and look fresh. Expats wear stuck shirts.
Air conditioners in the city work at maximum, it is insanely cold in transport. For the first year, I always carried a sweater and scarf with me to save myself from the temperature drop.
October - November - the velvet season in Hong Kong, when the heat subsides a bit. This is the best time for exploring the mountains and parks.
Winter begins in November in Hong Kong. The temperature at this time is + 15 degrees. I thought it would be like summer in the Baltics, but I have never been so cold. Humidity in the city remains, the wind appears. There is no central heating in the city, the floors are often tiled, the walls are thin.
Once the temperature outside fell to + 10 degrees. I slept in two pairs of pants, two sweaters, put on two pairs of regular and two more pairs of wool socks, only a nose stuck out from under the blanket. When outside it got cold to zero, the apartment completely cooled down. Our 40 m² had to be heated with three heaters. We pasted the fan through the bathroom with foil, and warmed the shower cabin before entering it.
That winter of 2015 — 2016 turned out to be a record cold in the last hundred years. People rented hotels to warm themselves, and specially went to the mountains to look at the ice on the trees. An ordinary winter in Hong Kong lacks a light coat, sometimes a scarf, a hat and gloves are needed.
In March, there is a thick fog, outside the window instead of a view of the city - thick clouds. Without a heater, the clothes and bed are wet, and the laundry does not dry. Every Hong Kong apartment must have a dehumidifier.
Typhoons
In Hong Kong, typhoons often occur. If a particularly dangerous typhoon moves from the ocean, residents receive an alert through an application that is installed on all smartphones. We must give up everything and go home.
In a typhoon, offices, shops, schools are closed, the ferry service is stopped, sometimes flights are canceled. All gather quickly, without panic. Trees are tied, electrical tape is stuck on the windows and glass doors to prevent fragments from scattering if the glass breaks. Gusts of wind sometimes exceed 100 km / h and can break a tree or tear the air conditioner off a building, so you really shouldn't leave the room.
Typhoons have several levels of danger. If the level is less than T8, then everything works as usual. A typhoon of T8 level and above happens a couple of times a year. About once every 10 years, the typhoon Т10 comes to Hong Kong - this is a real hurricane.
Typhoons here love: this is an extra day off, which can be spent at home with family and movies. It happens that a typhoon falls on a Sunday - then it's a shame. In the event of a typhoon in the apartment should always be a supply of food and water for a couple of days. The bad weather usually subsides after half a day.
We caught four typhoons. It was very uncomfortable to be in the apartment, where in every room there are windows, including the bathroom. It seems that the glass is now burst. And through the window frames water seeps through, and the wind howls through the hood.
But Hong Kong was better prepared for typhoons than it was cold.
People
Local people are disciplined, hardworking and strictly follow the rules. In Hong Kong, it is customary to work a lot, to rest a little and live constantly under stress and high competition. Already in two years, the child must pass an interview to get into a good kindergarten. An acute problem is the wave of suicides among students that occurred in 2015 — 2017.
It's hard to do business with Hong Kong residents. They never say no. Sometimes it is impossible to understand whether their "maybe" or "next time" is a form of refusal or is it true?
There is a community of Russian expats. But I did not miss the Russian language, so I spent my free time mostly in international companies. Expats here are less than 5% of the population. You will not be photographed with you, as in China, because people from other countries have been living here for a century and a half. But children like to photograph expats without permission.
Build a romantic relationship in Hong Kong is difficult. Most of my friends who came here alone, over the years have not met their man. Dating and parties happen, and a serious relationship - rarely. Probably, the fact is that 95% of the population are modest Asians, while the remaining 5% expats are busy working deep into the night.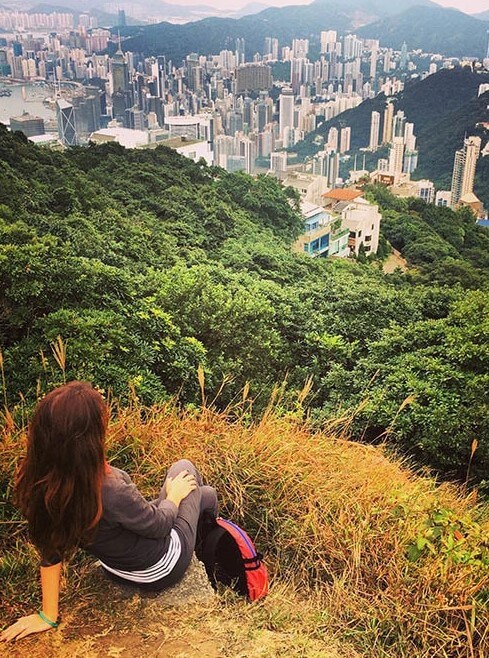 Results
Hong Kong either love or hate. You can safely go here to live, if you have an employer who will provide an apartment, insurance and a decent salary. We must be prepared for the heat, humidity, crowds of people and the fact that everyone is chomping around. To spend several years in Hong Kong is an invaluable experience, but you have to understand that your usual standard of living here will be a luxury.
Hong Kong has many shortcomings, and I would not want to live here all my life and raise children. Here is a bad environment, dubious products, a lot of stress and a feeling of eternal race. And to live here is corny expensive. You can survive together on 20 000 HKD (2500 dollars), if you rent not an apartment, but a room and really save on everything: do not spend money on entertainment and not buy anything extra.
To live in Hong Kong with comfort, in my experience, for two you need to earn from 70 000 HKD (about 9 thousand dollars) per month. Not all local and expatriates can afford such a standard of living.
And all the same over the years I fell in love with Hong Kong. The madness of this big city, its possibilities, views, skyscrapers, extraordinary history and nature make Hong Kong so special that I would love to live here for another couple of years, despite all its flaws.