The article has been automatically translated into English by Google Translate from Russian and has not been edited.
Personal experience: Schengen visa to Europe for residents of the USA
An article with helpful tips on obtaining a Schengen visa in America: documents, nuances, our experience
I hope, this article will be somehow useful to those who, like us, decide to visit the EU countries, but at the same time live in America and still do not have American citizenship.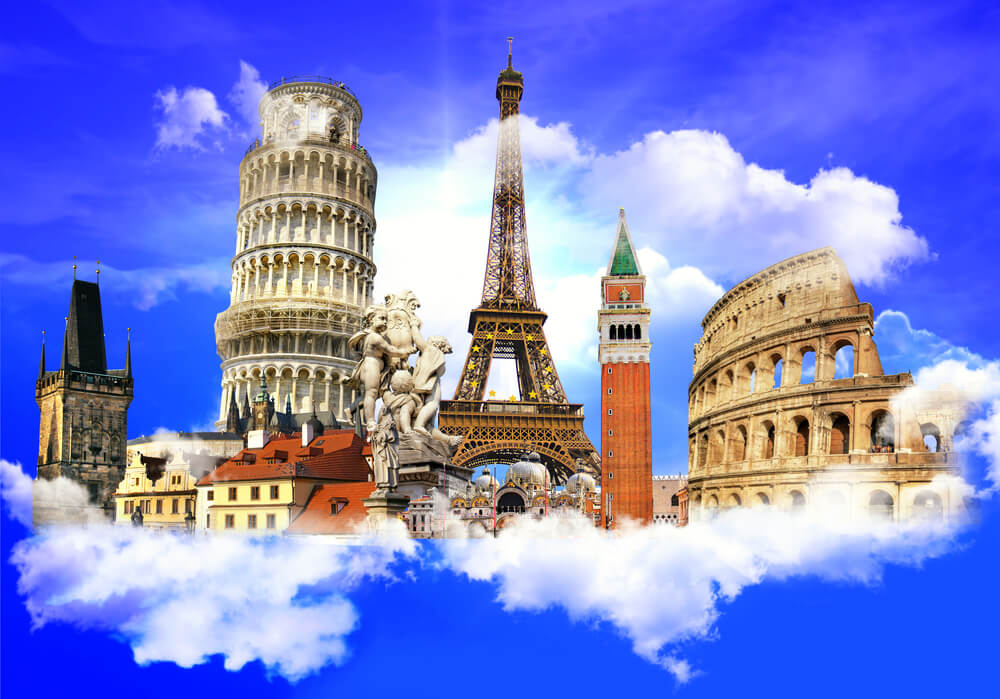 It is worth clarifying here that Americans (those who have American citizenship, that is, a passport) do not need to get a Schengen, they are open to enter many countries of the world, including Europe. Of course, there are some nuances here too (for example, if an American stays in Europe for more than 90 days) and they also put a stamp in their passport at customs, but the point is that they don't need to bother with a visa to Germany . Anyone else who has an American green card and other visa options needs a Schengen.
Schengen countries: Austria, Belgium, Czech Republic, Denmark, Estonia, Finland, France, Germany, Greece, Hungary, Iceland, Italy, Latvia, Lithuania, Luxembourg, Malta, Holland, Norway, Poland, Portugal, Slovakia, Slovenia, Spain, Sweden, Switzerland , Liechtenstein.
As a result, if you are not a citizen of the United States of America and, for example, like us, you have only Russian citizenship, if you want to visit any of the Schengen countries, again you go to the consulate of one of these countries, just like would do it while living in Russia.
To choose which consulate to go to, you naturally need to choose the country to which you are going.
Example: gathered in Berlin, go to the consulate of Germany.
If you are traveling to several countries, then choose the consulate of the country in which you are going to spend the most time on the trip.
Example: gathered in Paris, Prague and Barcelona, ​​and at the same time decided to stay in Barcelona and arrange a beach holiday - then you should go to the Spanish Consulate.
If you are traveling to several countries, but at the same time in some of them are equal time, then the priority for obtaining Schengen is the country through which you enter Europe.
Example: gathered on 5 days to Rome and on 5 days to Amsterdam, go for a visa to the consulate of Rome, because you fly there first.
Something like that…
Due to these rules, we got into some difficulties, making our trip plan through a whole bunch of European countries. At first, we had the most of Germany, and we made an apartment in the German consulate, then there was more Prague, and we made an apoment in the Czech consulate, then we moved all Spain, because we decided to assign Ibiza, where you can relax and swim.
In this regard, I give you ...
1 Tip: Immediately clearly decide for how many days and where you are going, because then something is very difficult to change. Of course, it would be more logical to enroll in the Consulate of Spain, but it was not there - they didn't have room for almost a month on 2 forwards, everything was taken. That is, first go to Europe on September 13, and then get the number of visas so October 20, we obviously would not work. Therefore, in order to somehow get out of this tourist puzzle, we had to stretch our stay in Prague right up to 9 days in order to "kill" Spain, it's good to live cheap in the Czech Republic by our monetary standards.
2 Tip: as soon as possible, make an appointment to the consulate to apply for a Schengen visa. In large cities, it is also in summer (vacation time), and even more so in the embassies of popular countries, everything can be blocked and the queue is planned for a month in advance (besides, do not forget that the embassies usually work until lunchtime or on certain specific days weeks, not daily and not full time). Mailboxes can also be made in different embassies, and then, if that, cancel unnecessary options (you can do apoment online on the official embassy sites, or via e-mail letter (as we had in the Czech embassy), or simply by calling).
And we went for Schengen to the Czech consulate in Los Angeles.
3 Tip: Go on the official website of the embassy you need and see if it is in your city. We have all the embassies in Los Angeles were almost on the same street.
Although we first collected a bunch of papers for visas.
4 Tip: carefully look at the official website of the embassy for a list of the documents they need.
General requirements are similar, but each country has its own nuances! Do not take a list of documents for Schengen from one country to carry it to the consulate of another country.
Our documents on Schengen:
Schengen application form (fill in online and print)
international passport and its copy
Russian passport and its copy (we flew from Schengen to Russia)
The document by which you live in the USA (we carried the green card) and its copy
plane tickets to and from Europe
all hotel reservations that you will live in during your trip
letter from work
30 000 Euro Covered Health Insurance
photocopy of credit card
payment history for the last 3 of the month (bank statement)
marriage certificate, its translation and its copy (if one spouse does not have a job)
35 bucks for a visa (cash)
We had the most difficult moments with hotels and plane tickets, with insurance and proof that during the trip I would use the money of my husband, since I myself do not work.
With hotels it was all the more difficult because of our fault, since we usually had a grand travel plan with lots of stops in different cities. As a result, for a few days we had to urgently book a bunch of apartments, hotels and hostels to print all these papers and carry with us.
5 Tip: Booking an apartment from the Airbnb website also works for the embassy, ​​as does the official hotel reservation. We had no problems with this, and everything was counted as it should be as consul.
6 Tip: we chose housing, which we can, if anything, cancel and return our money back, because we were afraid that if we were denied a visa, we would lose a lot of money. True, the nuance is that hotel rooms without cancellation always cost noticeably cheaper than with free cancellationand apartments on airbnbwhich are the most beautiful and at a good price, have a more stringent money-back policy if you cancel the reservation (usually only 50% of the paid value is returned). In general, here we had to specifically tinker, we then dreamed at night that I was still booking hotels.
It is also worth adding that during the interview we suffered only part of the reservation (I assumed that if I buy the longest tenure in different cities (which is three days or more), then small overnight stays will not be so important, but the main We will have the "documents" ...), but the consul asked where the rest was and told us to complete all the omissions, although the plan is large, but it is necessary to bring home accommodation for all the days in Europe.
7 Tip: Book everything at once!
It was easy with plane tickets, we immediately chose which options were suitable for us (we carried with us only tickets from the USA to the Czech Republic (our first country in Europe) and from Europe to Russia (since after the trip we planned to call in Russia to our relatives.) We bought tickets just before visiting the embassy, ​​because we found at least an option from the USA to the Czech Republic with the possibility of cancellation within 24 hours - suddenly there would be a refusal.
How we will move between countries, we were not asked. The embassy is most important when you arrive in Europe (in the Schengen countries) and when you fail to return home from them, so to speak. Due to the fact that we are flying away from the USA, and then we arrive in Russia, we carried the documents of two of our countries with us at once, the green-map of America and the Russian passport of Russia, to show that we are official residents, and we openly they have the free right to enter.
With insurance (must be such that it necessarily operated in the Czech Republic) also had to tinker. We ordered it online at Square mouth - a site-aggregator of various insurance companies, which allows you to choose the best option for yourself insurance plan.
And about the money, there is also an amusing nuance. In the Schengen application form, there is a point in which you should indicate your employment (who you work with), and there is no one note that you may not work, and in general, you can't do anything great. For her husband, we made an extract from his work and employment filled it, but in my application we left the field empty. They carried with me, just in case, the marriage certificate, which we have in Russian, and completely forgot about its translation, because they did not attach much importance to all this necessary evidence of their five-year marriage, in honor of which my husband would pay for our trip score. And in vain! At the consulate, I was told to assign a pen in my application in the employment section, that I was a "housewife", and the marriage certificate was made to be translated into Czech or English. We ran away and translated into English at one of the translation agencies, and then found another translation at home (they forgot it in the folder). In general, this was called pre-traveled stupidity! Rebooked!
8 Tip: all documents in Russian must have official translations into English with the seal of the registered translation office.
9 Tip: think about how you will prove your solvency if you do not have a job (or no official job) at the time of applying for a Schengen visa.
Documents from the consul we took immediately, in order to bring the missing reservation and the translation of the marriage certificate, gave three days. It was surprising that he was quite strict with us and with all these pieces of paper, which I did not expect, since we are all here in the USA and we hardly have any further needs (as they say, is it really better?), But when we brought him the missing documents, it became clear that he had already sent our international passports to print Schengen visas. Apparently, he simply found fault with the lack of armor and translation, or "because it is necessary," or was simply not in the mood.
In general, we were given visas exactly one week later, officially the seal is done up to 15 days.
10 Tip: specify the time of visa processing in each embassy separately, somewhere faster, somewhere slower. In the Czech Republic quickly, because, again, there are apparently few requests for Schengen in America through them. In general, we were alone at their embassy, ​​and all the time the documents were received by the same consul, it seems the only one in the entire office.
We were very pleased with our trip to Europe, and even were glad that with all this turmoil with Schengen we managed to spend so much time in Prague - a wonderful city, which I would return with great pleasure again, but still with a US passport that does not require additional visas and hassle of obtaining them.