The article has been automatically translated into English by Google Translate from Russian and has not been edited.
Leonid Agutin frankly spoke about the relationship with Angelica Varum
Singers celebrate 21 a year of living together. On a page on the social network, Leonid Agutin wrote a touching post on his wife Angelica Varum. Fans admire their pair.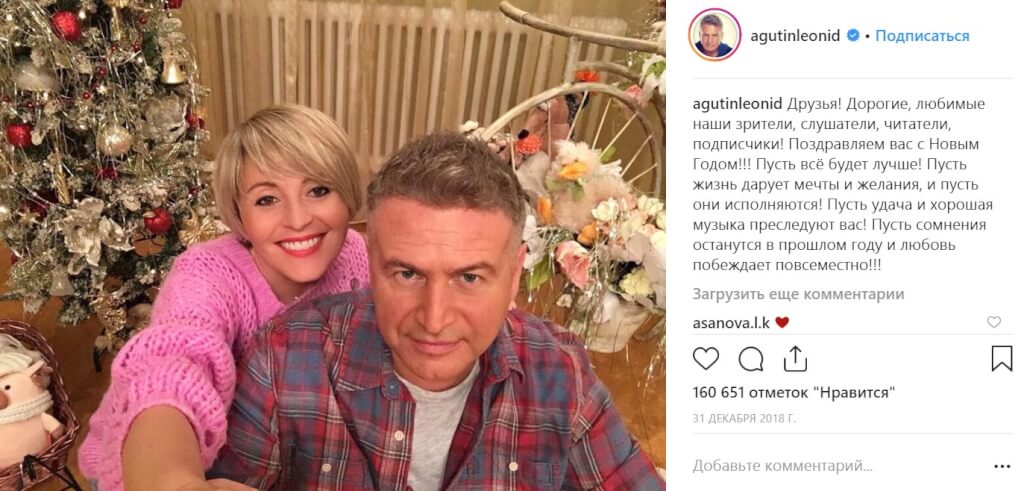 Leonid Agutin and Angelika Varum have long been considered one of the strongest couples in the show business. The other day, they celebrated 21 a year of living together. Despite the fact that some time ago it was said that Agutin was cheating on his wife, peace reigns in the family. In support of his feelings, he dedicated the post to Angelica Varum, writes StarHit.
"We are adults. Together we stepped into the XXI century. We had it all. It was a happy childhood in the form of the first carefree years of marriage. There was a difficult and wayward adolescence. Stormy youth. And finally, we matured. Now, when practically everything is already possible for us, we periodically start denying ourselves something. But the main thing remains the same - an aching feeling of mutual necessity and tenderness, which is stronger than any words. Love is beautiful and, oddly enough, indeed, the most important engine of all. I love you, the woman of my life, and I can't even imagine this life without you, "Agutin noted.
Now the couple spends time in the US, where their daughter Lisa lives. She followed in the footsteps of her parents and enjoys music. True, the girl prefers to record rocker songs. Artists are happy to be close to their child and relax in the company of the heiress. The last few weeks of the outgoing year have been tense, since both spouses were busy at concerts and filming.
In 2018, Angelika Varum and Leonid Agutin presented the public a joint song "On Pause", and also released a video for it. Fans decided that it was in this work that they tell their love story. Varum thought many times to stop recording songs, but it was creativity that always helped her to better cope with the emotions that filled her.
"Every time I say to myself:" Everything! This disc is the last! It makes no sense. Other times ... ". And every time, when I heard music with simple, but so honest lyrics, in many ways consonant with my soul, I simply cannot deny myself the pleasure of not singing them. It's not so much a matter of pleasure as it's the realization that if I hadn't poured out all my joys, sorrows and sorrows in my work, I'd just be torn to pieces, "noted Varum.