The article has been automatically translated into English by Google Translate from Russian and has not been edited.
Lady in red: stylist Melania Trump spoke about her outfit for Paris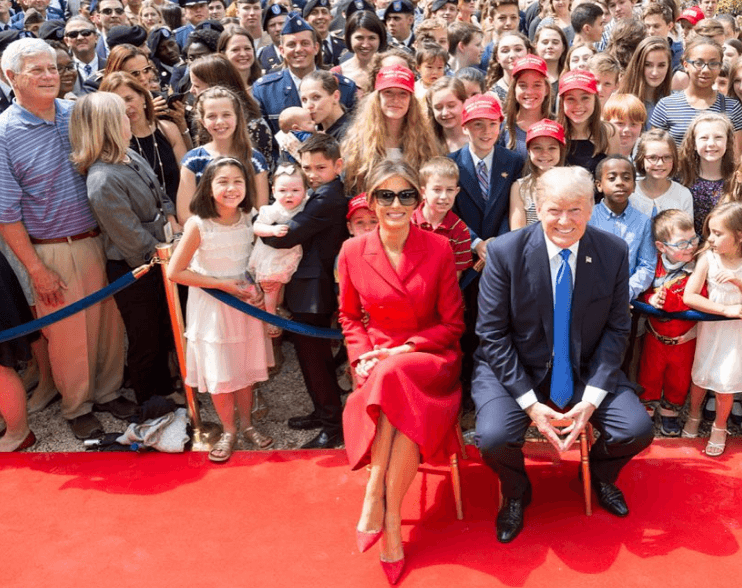 US President Donald Trump and his wife Melania arrived in France on a working visit. Emmanuel Macron invited the Trump couple especially to celebrate Bastille Day. Despite the fact that Melania will stay in Paris for the entire 36 watch, she has thoroughly prepared herself to make an indelible impression on the French.
The stylist of the first lady of the United States, Herve Pierre, spoke about her outfit for Paris, reports WWD.
Melania went down the plane in a red suit from a classic jacket and a skirt below the knee from Christian Dior. This outfit helped her choose Hervé Pierre. He is a native of France, but since 2016, he has become a US citizen. The stylist admitted that he was glad to assist in choosing a wardrobe for the spouse of the American president. According to him, this work was of particular importance to him.
With this outfit, the first lady and her stylist wanted to pay tribute to the 70 anniversary of the fashion house and the recently opened Parisian retrospective. Dior. According to Pierre, for the first state visit to Paris, Melania Dior was the only logical choice.
"Dior is forever attached to France. This is a name that is part of the vocabulary, "he added.
The celebration of Bastille Day begins on Friday, July 14, from a parade on the Champs Elysées to mark America's entry into World War I along with French troops.
As the designer, his work was to ensure that the first lady looked beautiful and adequately represented her country. In the choice of attire, he always tries to find something simple and not too intellectual.
According to Hervé Pierre, he likes to work with Trump.
"The irony is that I'm not a stylist at all. I am a real designer and couturier, "he concluded.