The article has been automatically translated into English by Google Translate from Russian and has not been edited.
American Teriyaki Chicken: New York Times Recipe
Teriyaki comes from Japanese words teri (shine) and yaki (grill). This is how a real teriyaki looks like - shiny chicken slices with mouth-watering traces of grilled stripes. Today we are publishing the "American" Teriyaki chicken recipe proposed by the publication The New York Times.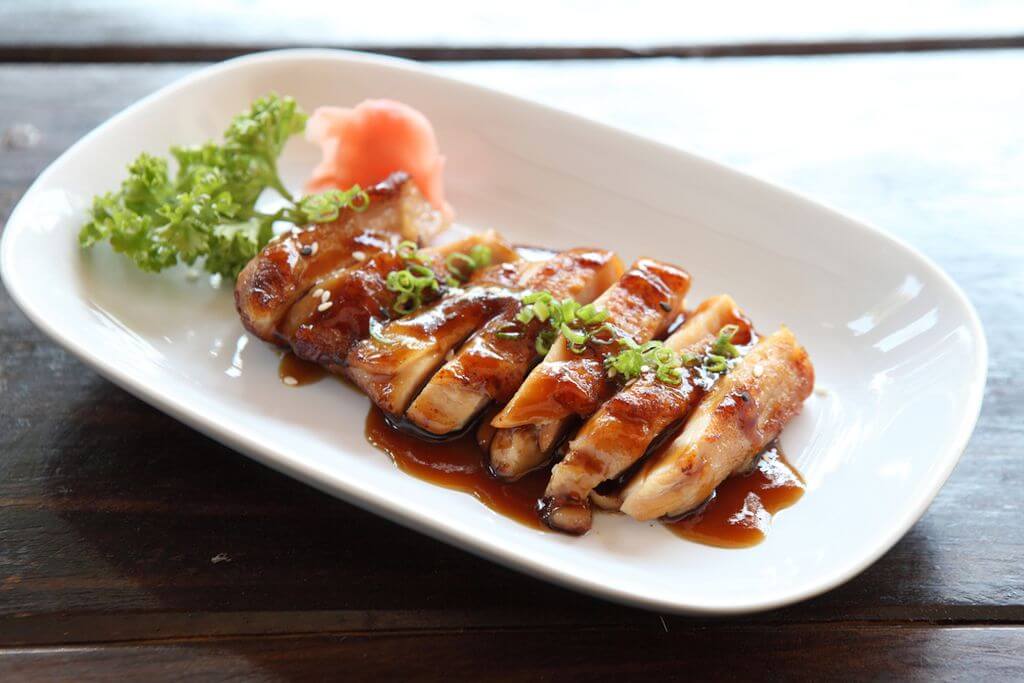 In Japan, teriyaki is a mix of soy sauce, sake and rice wine, which makes the sauce sweet. Teriyaki, which is prepared in America, is somewhat adapted: cooks sweeten the sauce with pineapple juice and white sugar, thickening cornstarch and adding ginger or garlic. It turns out fragrant and incredibly tasty dish that is easy to prepare.
Schedule time in advance, as you will need to pickle the chicken before cooking. There will be enough nights in the fridge, although you can do it in a couple of hours.
Ingredients:
1 cup soy sauce
1 cup of granulated sugar
1 ½ tsp brown sugar
6 crushed garlic heads
2 tablespoons grated fresh ginger root
Teaspoons black pepper
1 cinnamon stick long 3 inch (7-8 cm)
1 tablespoon of pineapple juice
8 chicken thigh without skin and bones
2 tablespoons cornstarch
Preparation:
In a small scoop, combine all the ingredients except starch and chicken. Bring to a boil over high heat. Reduce heat to low and stir until sugar is completely dissolved, about three minutes. Remove from heat and cool. Put the cinnamon stick in ½ cup of water, remove it and pour the water into the mixture.
Place the chicken pieces in a tight plastic bag. Add a small amount of soy mix, mix, seal the bag and refrigerate for at least an hour, or better at night.
Get the chicken and set aside. Pour the remaining marinade into the dipper and put on a large fire - as soon as it boils, make the fire minimal. Mix the cornstarch with 2 tablespoons of water and add to the dipper. Stir until the mixture begins to thicken, then add about ½ cup of water to a consistency of thick cream. Remove from heat and set aside.
Preheat the grill or skillet. Carefully fry the chicken pieces on all sides. While the chicken is being cooked, it is important to maintain the temperature of the sauce, you can heat it and stir it until necessary. You can also add water.
Serve by slicing the chicken into strips and spreading them on a plate. Pour warm sauce before serving.