The article has been automatically translated into English by Google Translate from Russian and has not been edited.
'How everyone creeps before Alla': Pugacheva publicly ridiculed Loboda. VIDEO
Singer Alla Pugacheva called her colleague Laima Vaikule "another" successor, referring to a recent statement addressed to Svetlana Loboda. A video with laughing artists was posted on Instagram by the husband of the Diva - showman Maxim Galkin.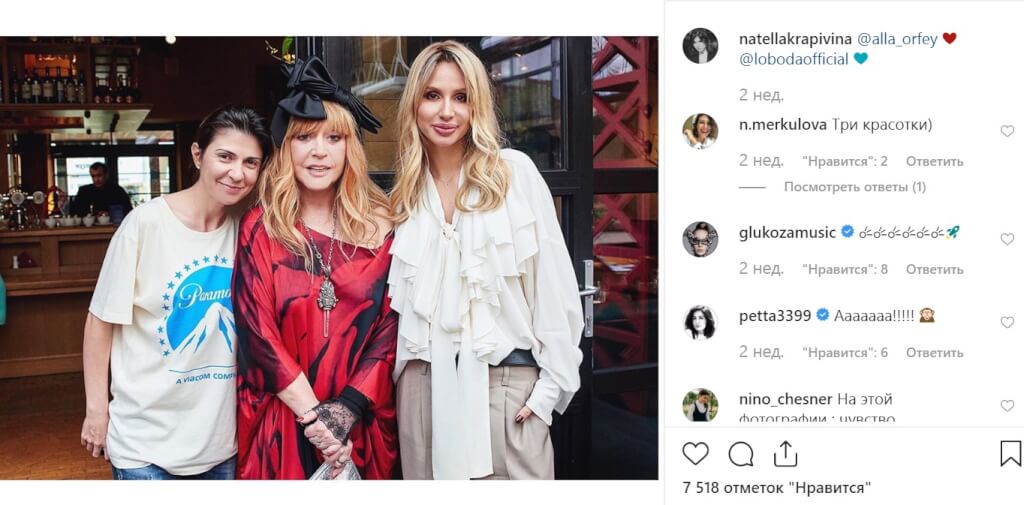 People's Artist of the USSR Alla Pugacheva and singer Laima Vaikule laughed at a video on Instagram of Svetlana Loboda, in which the Primadonna called her "another" - probably her successor, writes Newspaper.ru.
A few days after the publication of this video, TV presenter Maxim Galkin shared a video on instagram with his girlfriends laughing at the background of Jurmala sunset.
"Live calmly in the country, what will I say?" Laughing, asked Vaykule from Pugacheva, who, with a smile covering her face, asked not to talk about it.
Moving away from laughter, the Primadonna pulled herself together and, with ostentatious seriousness, uttered the phrase "Live calmly in the country, now we have one more."
On the subject: 'Live calmly, country': Alla Pugacheva named her successor on the stage. VIDEO
Surprisingly surprised, a friend asked Pugacheva whom she had in mind. "Everyone knows, well, that's enough," concluded the People's Artist of the USSR.
In the comments, some users noticed that the stars supposedly looked drunk, and reproached them for inappropriate behavior. Others laughed along with their idols, praising them for their sincerity.
"They are at that age and in the status that they can afford to live the way they want, they have the right," said one of the subscribers.
Recall that earlier after speaking at the opening of the New Wave international contest of young pop singers, Loboda posted a video on Instagram in which she thanked composer Igor Krutoy for the song. In the frame with the singer was Pugacheva, who the page owner called the "beloved" and "great" artist. In response, the Diva jokingly "blessed" Loboda to perform for the Russians.
"Live calmly, country. After all, you still have it, "said Pugacheva, pointing to the embarrassed Loboda. "Everyone else is in the shade."
Despite the laughter of those present behind the scenes and the generally ironic tone of the Diva, the singer was noticeably pleased with her words. Fans of Loboda in the comments to the post left many declarations of love and noted that she really deserved such an appreciation.
On the subject: 70-year-old Pugacheva looks the same age as 36-year-old Loboda. A PHOTO
"I always said that Svetlana Sergeevna double two Alla Borisovna! The same great, talented revolutionary and a complete personification of success, "wrote a fan of Loboda.
At the same time, many users accused the singer of hypocrisy, noting that Pugacheva was just joking "in her own style."
"How does everyone creep in front of Alla Borisovna," "And Sveta took everything at face value," "Pure water is a fawn," the subscribers laughed.