The article has been automatically translated into English by Google Translate from Russian and has not been edited.
How I work as a cashier in America: personal experience
'08.04.2021'
Source: TVNZ
A resident of Barnaul came to the United States through a student exchange program and spoke about her experience of living and working in the United States.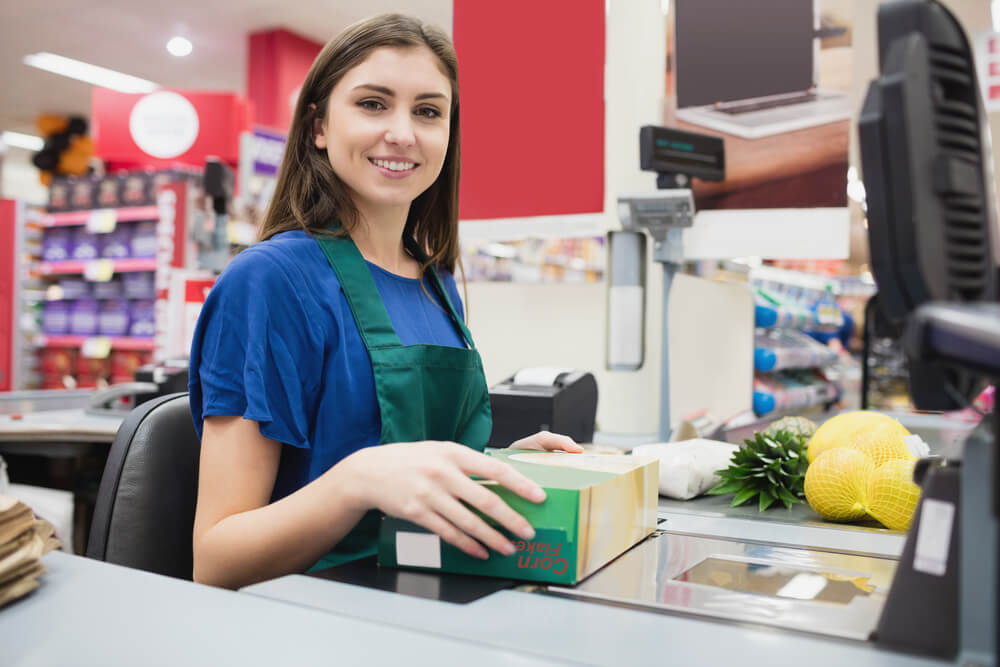 A bad student is the one who does not dream of leaving for the summer to work in some other country. New impressions, new acquaintances, new opportunities! And no need to brush it off, they say, this is not for me, writes Margarita Khanzhina for Komsomolskaya Pravda... Each student has a real opportunity to participate in the Work & Travel student exchange program in the USA.
Its essence lies in the fact that students can work in the USA for 2,5-4 months (summer period) and simultaneously travel across America, make friends from different countries, improve their knowledge of the English language and carry out cultural exchange. At one time, having learned about her, I, an ordinary girl from the provincial Barnaul, decided to try. Was not!
The idea to visit America came to me only at the end of February - don't repeat my mistake! It's too late, you need to start acting much earlier. Firstly, by this time there are already quite a few vacancies for the summer. And secondly, the preparation will take place in a turmoil, from which you will get tired and do not want to go at all, as I did.
So, initially I wanted to go to South Carolina with my girlfriend. But since we turned already quite late, all the jobs were busy. Therefore, the agency offered me a job search in North Carolina.
Interview
This is one of the main steps for entering the exchange program. I prepared for an interview on the questions that are usually asked during a job interview, but I was not hired. Why? I do not know.
The last option for me was a job as a cashier in a supermarket in the state of New Jersey, the city of Rio Grande, where I am now. At the end of May, I went to Moscow for an interview. Honestly, I prepared quite a bit, I just said the answer to each question once. The main thing is improvisation. The easier you are, the better everything turns out. And so it happened.
The embassy asked why I was going, where I study, why New Jersey, what I want to visit in America, and here are the cherished words in response: Your visa is approved!
After that, I immediately bought tickets to New York. Before the trip, I had to tighten my tails for my studies. I recommend that you take care of early exams. It will be morally easier for you to leave and return, so to speak, without a load on your shoulders.
What to take with you
I was advised to take food, household items such as shampoo, deodorant, and the like, but I tell you honestly, there is no need, especially if you have limited baggage. Here all these things are about the same as in Russia. But the first-aid kit - what should be put in priority. Indeed, in America, you can buy medicines only with a prescription from a doctor. Collect a first aid kit, starting with drugs, without which you can not do in Russia in certain cases, and ending with bandage, peroxide and adhesive tape.
Also, be sure to take with you a European outlet (with three plugs), it is difficult to find it here!
Дорога
I had no companions, like many guys who flew to other dates. But in general, the long, as it seemed, the flight went pretty quickly. On the flight to New York, I didn't sleep at all, but I always did something: I talked with my American neighbor, watched movies, read.
Upon arrival in New York, I found an air train, on which I got to the subway, and on it - already to the hostel near Central Park. It took me about 2,5 hours.
By the way, a little about the metro - it's disgusting: not only is it dirty, you can't go underground to the other side, a branch, that is, if you went in once, and then realized that you were in the wrong direction, congratulations, you spent 2,6 , $ XNUMX. There is nowhere without navigation and advice from the townspeople.
When I got to the center of New York, I did not realize that I was in such a metropolis, probably because of fatigue, but the scale, of course, is surprising. A city unlike the rest. The next day, I took the subway to the bus station, from there it took 3 hours to get to Atlantic City - this is already a city in the state of New Jersey. Another hour from the Atlantic on another bus. It took $ 25 + 5 on tickets.
Housing
Some sponsors and employers provide housing. If so, then you're in luck and you don't have to worry about where you are staying. But keep in mind that even in such cases, housing is paid. If you have to look for it yourself, then also take care of this in advance. Here it will not be a problem to find it, but you will simply get tired of the road, and there will be nowhere to sleep. For example, I found a place to live only upon arrival in New York, and I consider it a stroke of luck.
Basically accommodation costs 90-110 $ per week + deposit, which is given to you on departure. That is, from the brought money, you will immediately give 200-250 $.
Work
I work as a cashier in a supermarket. Upon arrival, I went to the manager, filled out all the documents, said to come in three days.
Monday was our first working day. At first we stood next to the mentor, watched the work. Then we were set to work independently, but under the control of an experienced cashier.
There were a lot of problems: I did not understand what the buyers were telling me, because American English was very different from British, and there was a language barrier. But with good-natured customers ("customers") you can just chat, ask how you are - and they will tell you what happened, and you can just smile, nod and say: Oooh, I'm so sorry / oooh, great / have a nice day. ("Oooh, I'm sorry / oooo, great / nice day").
But it doesn't work like that with everyone: many are outraged by the price, respectively, in such controversial issues, when, in principle, you still do not know the rules of what is located where, and even more so you cannot understand a foreign language exactly, you want to run away. Saved one phrase: "Sorry, I'm only here the first day, so I don't know yet."
But the "fun" itself began when people asked to pay with separate checks, state checks for free food, in different ways, and yes even second coupons bring coupons, but they don't get through, they don't act already.
All the difficulties to a greater extent rested against the ignorance of some words in English. Often it is so depressing that you don't want to go to work the next day, but where to go.
So that you understand, Americans in this supermarket are stocking up, it seems, for a month in advance - on average, a purchase comes out to $ 150. Of course, there are those who buy for less and those who leave at the store four times the average. I should note that most often the cashier packs the purchases himself, the packages are still free, plus someone else asks for paper in plastic, that is, a paper bag inside a plastic one, and all this takes time. In Russia, we are used to the faster the better. And here I try to break through faster, so to speak, work at speed. But the manager told me: "Take your time, serve a specific customer, do not start the next one until the previous one has left, they will wait." And they really are waiting, although each is standing with a cart heaped to the brim.
Moments of Despair
There were those days when I wanted to just cry. From misunderstanding, from the accumulated fatigue, from impenetrable goods, numerous requests for help. I even somehow thought that I would be fired because of so many questions. Many times, even after weeks, I didn't break through any goods, I simply forgot about them.
Once a man began to behave rudely and point out to me that I had punched the wrong watermelon, in general, without help we could not reach a consensus. And there are people, after a conversation with whom one would like to smile at the next customer. Many people ask where I am from, where I study, whether it is the first time in the USA, praise for my work and wish a great summer, unforgettable emotions. It is very nice.
Holidays
There is almost no free time left. After work, you want to fall on the couch and just do not get up for two hours. The work is standing, all 7 hours are not sitting down at all, only on breaks, of which there are only two and they last 15 minutes.
If you find a job with the schedule "free time", then there will be enough time to go to the ocean, read, walk.
Money
There are a lot of work options in the states, mainly cashiers, waiters, beach lifeguards, housekeepers (maids), consultants, cook assistants, supermarket handymen, animators. The average salary here is $ 7,5-12 per hour - it depends on the state you go to. In big cities, get more, but spend too. You can find a second job, which, most often, students do.
After almost two weeks, we received our first salary for the first 4 work day, that is, for 24 hours. I get paid 9,5 $ per hour. It's very good for Russia, but of this money you have to pay for lodging, food and some kind of entertainment. Probably, it is good that in our village there is no entertainment at all, except for an amusement park.
You can find a second job, which, most often, students do. At the end of the exchange, the guys usually bring the accumulated money, and as a result the program pays off completely.
I will give an approximate calculation. Participation in the exchange program costs an average of $ 1500, including job search costs. You will have to pay 9600 rubles for a visa, wherever you are traveling. Air tickets are also paid additionally: Barnaul - Moscow - New York - Moscow - Barnaul - one of the simplest options, it will cost about 41 thousand rubles. If you're heading to the nearby state of New York, you're in luck. If further, then you will need funds for a domestic flight to the desired location. Do not forget that the price varies depending on how much in advance you buy them, as well as on the route.
SIM card
Not that she is needed. Wi-fi is available at home and, most often, at work, as well as in cafes and restaurants. For some documents, a phone number is desirable, but you can give the number of your landlord - the so-called landlord of your house. So far, I only needed one time, when I warned the employer that I was sick.
I think the main points I told. Everything goes on as usual, new acquaintances, emotions, goals appear. If you sincerely want to visit America, then, in spite of any difficulties, do not betray your dream, because more often we turn around five minutes before the meeting. I hope you will succeed!
Tip:
To participate in the Work & Travel exchange program in the USA, several conditions must be met:
age from 18 to 24 years;
Full-time education;
having a conversational level of English;
international passport.