The article has been automatically translated into English by Google Translate from Russian and has not been edited.
How to look good with a cold
Everyone at least once in his life faced with such a situation: you start to fall ill, but you have no choice and you definitely need to go to an important meeting for work or an exam at the university. In the first case, you feel uncomfortable for the unpresentable appearance in front of colleagues, and in the second case, you make the teacher think that he did not sleep all night and was preparing for the exam at the last moment. Beauty hack collected tips that will help you look good at a crucial moment.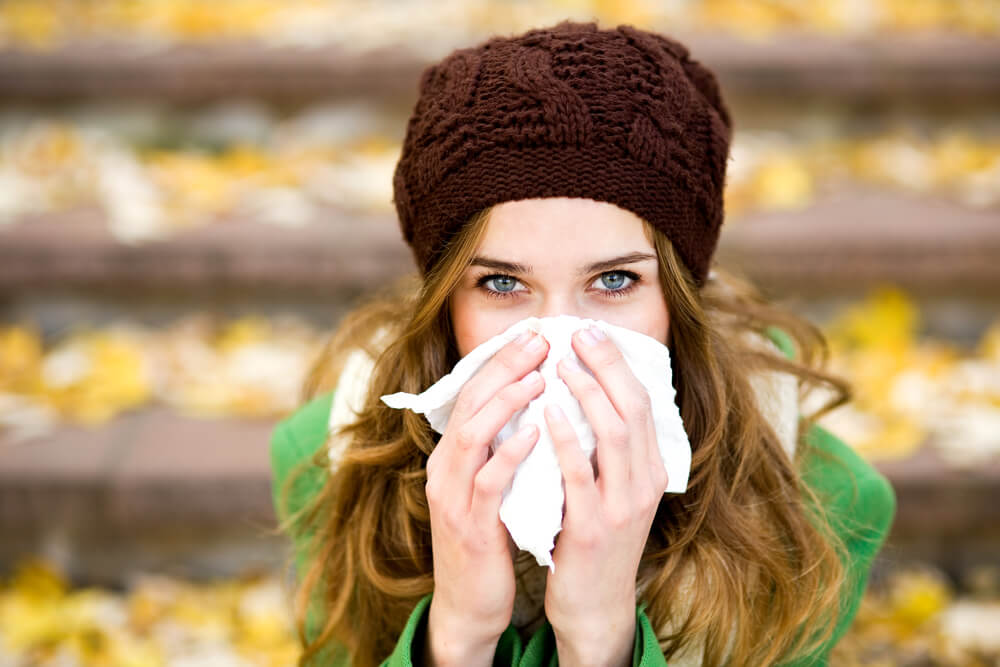 If your skin starts to peel off
Yes, it needs deep moisturizing, so a cream with this function should be with you all day. Apply it in the morning before leaving the house, in the afternoon on make-up and in the evening before going to bed. It should be a good product with a rich nutritional composition. We recommend trying creams Moisture Surge Intense or Comfort on Call Allergy Tested Relief Cream by Clinique. Funds based on citrus plant jabar soothe the skin, deeply nourish and moisturize it. Also in the moisturizer you can add a couple of drops of oil for the face - this is especially useful for you if it is very cold outside.
If you have a red nose
A red nose - that is, first of all, gives a cold person. To redness was not so obvious, do not rush to put on your face the whole arsenal of dense tonal means and concealers. First, remove irritation - apply a greasy layer of balm Cicaplast Baume B5 from La Roche-Posay. A remedy based on thermal water and panthenol will help reduce beauty and reduce peeling - it has a healing effect. Only after that you can apply a tonal tool, the truth will be better if on this day you give preference to BB or MOP cream.
If you have chapped lips
During a cold, the lips especially dry and need deep moisturizing - a simple balsam is indispensable. Oil is best - apply it on the skin with massaging movements. Can also help out cream lip balm Triple Protection Factor Lip Balm SPF30 by Elizabeth Arden. In the composition - shea butter, beeswax, vitamins A and E. Apply a thick layer and wait until it is completely absorbed - it takes about 2-3 minutes.
On this day, it is best to do lipstick with a good overlapping ability, but not matte: this is, for example, Bobbi Brown - in shade Bright rasberry. Something between glossy and matte lipstick does not sparkle, but the velvety finish does not give either. Cream, with a rich crimson hue, well conceal weathered lip skin.
If you have a dull complexion
Bruises under the eyes, pale face - it is immediately noticeable that you are sick. Vitaminized patches under the eyes and masks on the whole face go into battle Under the eyes try smoothing patches Super Aque Eye by Guerlain - for 15 minutes will make dark circles less pronounced. If the entire face is swollen, then a moisturizing mask for dehydrated skin will save Dermask Hydra Solution by Dr. Jart. For 40 minutes, oligo-hyaluronic acid and algae extract will refresh the skin with their duet and relieve swelling.
If you have a stuffy nose
Help not only drugs. In order to relax, take a hot bath with essential oils - after them you will breathe and talk easier. Suitable oils of mint, fir, spruce needles and calendula. Bubble with a particular extract can be easily found at any pharmacy.
If your eyes are tired
Eye makeup on this day, of course, should not be catchy, but you should not completely abandon it. Avoid sparkling and very light shades of shadows - they will only add soreness to your appearance. But curl eyelashes with pincers, and then add volume to them just worth it. Only preference nevertheless give the carcass that will look most natural - without dramatic or puppet effects. We recommend mascara Benefit Roller Lash - Silicone brush with a bend paints well every eyelash and cool lengthens.
If you have a swollen face
Do not avoid light contouring on this day - you need a bronzer to emphasize the cheekbones and the wings of the nose. Instead of a sparkling highlighter, use a bright concealer to help you whiten the skin under your eyes. It can also be applied to the nose, forehead and chin. This is Nars in shade Whipped Cream.
If you have turned yellow face
When using blush, avoid pigments with a red or pinkish subtone. But the peach and apricot on this day will be your best friends - they are perfectly refreshing face. Such there is, for example, Gasoline - blush Silky Touch Blush in shade Summer dreaming. Easily distributed with a big fluffy brush and instantly give the skin a healthy look.
But best of all stay at home and drink hot tea with raspberries!