The article has been automatically translated into English by Google Translate from Russian and has not been edited.
A widow from Tajikistan with five children became a model and a movie star
The story of Parvina Saidova, a 27-year-old mother of many children, clearly shows that success does not depend on age and that it is never too late to start life anew. And also - that sometimes incredible changes in a person's life begin exactly when it seems that life is over.
When she was 25, a tragedy happened in the life of a young woman - she lost her husband, and this changed her life forever. Left alone with five children in her arms, she was on the verge of suicide.
But now her life has changed dramatically. A year after the death of her husband, an ordinary housewife with a law degree, but who had not worked a day in her profession, who was exclusively engaged in raising children, accidentally entered the world of cinema and fashion.
A year later, the successful model Parvina Saidova won the title of Mrs International-2016 at the Miss World Beauty competition held in Astana and received an invitation to work in France. Parvina told the correspondent of the Russian Service about her life Air Force Anore Sarkorova:
I got married early. In my family, all the girls start families early. It was not a forced marriage, I myself made this decision.
My husband forbade me to work, but allowed me to graduate. He loved me very much - sometimes, he did not even allow me to leave the house without him, as he was very jealous.
We lived together for 8 years, and we had five children - three daughters and two sons. I am often asked why there are so many. I just dreamed of a son, and my girls were born 3 times in a row, and I decided to give birth to my fourth child (there are also four of us in my parents' family). So a son was born, and then another.
The youngest was a year old when her husband passed away. It's still hard for me to remember that time. I thought that life was over for me - the world stopped, everything turned upside down. I didn't know what to do, where to go with the children.
Everything that I saw in life, everything that I achieved - everything was thanks to my husband. He pampered me all the time, did everything I wanted. When he was gone, I did not leave the house for six months. I didn't want to see or hear anyone else ...
The only thing that connected me to the world was my children. They became my salvation: maternal duty and love are stronger than death. I still haven't told them that my father is no longer alive. For them, he is undergoing treatment somewhere far away.
It hurt so much that I thought about suicide, and once even decided to commit suicide. But by chance my mother came into the room - and immediately understood what I was planning.
She then told me important words - that life goes on, you need to work, you need to raise children. Then for the first time I began to think about work, but did not want to get a job in the civil service. I couldn't work as a lawyer either - I needed a flexible schedule so that I could spend most of my time with my children. So that they don't feel the absence of their father so much.
Once a friend suggested that I go to study at the Academy of Vocal and Acting. And literally immediately after that, they made me two offers - to play the main role in the film and to star in the video. I resisted for a long time.
My friends jokingly call me Madam Chance.
I also became a model quite by accident. The famous Tajik fashion designer Khurshed Sattorov was preparing for the show at the haute couture week, which was held in Odessa. He sent 9 photographs of professional Tajik models to the organizing committee, but he needed ten, and he did not have the tenth. Then he accidentally saw my photo on Facebook - and he sent it along with the others. He then could not have imagined that they would choose me.
Khurshed called me and began to explain how it happened, and persuade me to go. I refused, because I was so far from the world of fashion and becoming a model was not part of my plans at all. However, after much persuasion, I nevertheless agreed.
When I told my family about this, they didn't really like this idea - especially the male half of our family. But my dad and brothers really wanted to see me happy again, and they saw how depressed I was. And they supported me.
Before leaving, my mother told me: "Daughter, you must not forget that we are Muslims and that we can't wear everything. You acted so that after that it was not a shame to us. And they could walk with their heads held high. "
Considering the peculiarities of our culture, religion and upbringing, we are not forced to wear candid outfits. At any show, this is the main condition. In Odessa, I was offered to show an overly open dress, but I refused.
There were such proposals from other fashion designers from Russia, from France, but for me it is of principle not to go on the podium in revealing outfits. I am a Muslim and brought up according to the traditions of my culture. This is one of the reasons why I turned down several lucrative contracts. I am afraid that I will sign it - and they will force me to go out in swimsuits or in underwear, and this is absolutely impossible for me and my family.
In Odessa, I was recognized as the most beautiful model among 60 participants from around the world. Then there was a victory in the competition Miss World Beauty-2016 In Astana.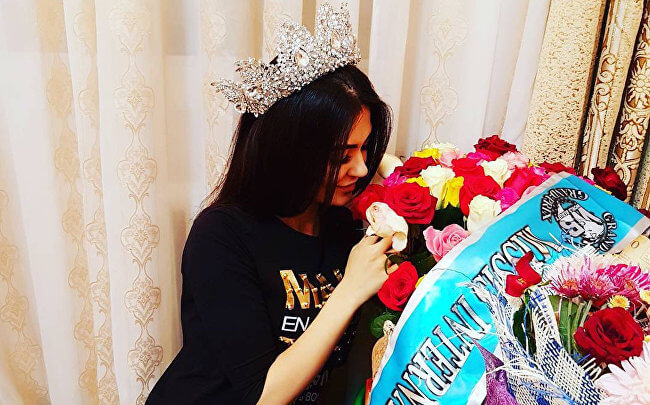 I take my modeling career very seriously. I understand that many are making tremendous efforts to break into this world, but I was just very lucky, and now I need to work hard and hard. But the main thing I think about now is about my family and my children, because I have to think about their future, about how to provide for it.
I feel philosophically about the glory, stardom, fame that suddenly fell upon me, knowing full well that this is all a temporary phenomenon. For a year or two they will talk about me and then forget. That is life.
In the summer of 2017, Parvina Saidova got married.
The identity of her new spouse Parvin Saidova still does not reveal for a very simple reason - the model has a lot of envious people and ill-wishers, according to her. It is only known that the faithful Parvins is a 33-year-old boxer, a prominent man who sought her for 6 years:
- Many people think that I keep my husband's name incognito, because this news is a duck, and thus I want to promote myself. Well what can I say? I have already married him, all the relevant procedures have taken place. And I do not divulge his name, because I firmly believe that happiness loves silence. I don't need to prove something to anyone, - she says. - By the way, I don't want his name to be known to the general public in the future. Let everyone live his own life and not climb into someone else's, and then everyone will be happy.