The article has been automatically translated into English by Google Translate from Russian and has not been edited.
How to make a classic Thanksgiving turkey: recipe and secrets
American families will celebrate Thanksgiving on November 28, 2019, and a whole baked classic turkey is sure to brighten the traditional holiday table. There are a few key secrets to a perfectly juicy turkey - and this recipe reveals them all.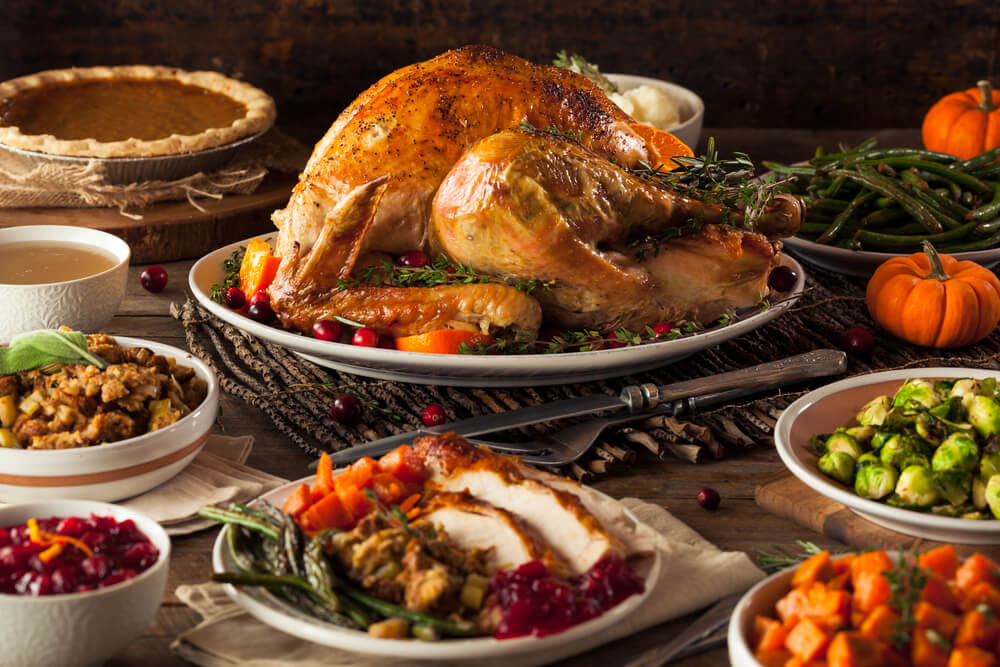 Turkey meat is healthy and dietary, besides, it will look much more solemn than chicken, writes Grandkulinar. Do not forget the classic gravy!
Time: 4 hours 40 minutes
Difficulty: easy
Servings: 8-10
The recipe uses volumetric volumetric containers:
1 cup (tbsp.) - 240 ml (8 oz. Or 1 US cup)
3/4 cup (tbsp) - 180 ml (6 oz.)
1/2 cup (tbsp.) - 120 ml (4 oz.)
1/3 cup (tbsp.) - 80 ml (2,7 oz.)
1/4 cup (tbsp.) - 60 ml (2 oz.)
1 tablespoon (tbsp) - 15 ml (0,5 oz)
1 teaspoon (tsp) - 5 ml (0,1 oz)
On the subject: Thanksgiving Dinner: Safety
Ingredients for the recipe:
Turkey
1 turkey between 5,4-6,5 kg (12-14 lbs)
1 onion, cut into 4 pieces
1 carrot, coarsely chopped
1 stalk of celery, coarsely chopped
3 sprigs of sage and 1 Art. l shredded leaves
3 sprigs of thyme and 1 Art. l shredded leaves
165 g butter (0,36 lb. or about 12 tablespoons liquid)
2 č. l. peppers
Classic gravy
10 tbsp. l. butter and a little more (if necessary)
Turkey neck and offal (liver should be removed)
1 onion, cut into 4 pieces
1 carrot (chopped)
1 stalk of celery (chopped)
3 thyme sprigs
2 bay leaves
1 / 2 Art. dry white wine
8 tbsp. chicken or turkey broth
3 / 4 Art. flour
roasted turkey juice
Preparation
Leave the turkey at room temperature for 30 minutes. Place the grate on the lowest level of the oven (remove the rest of the grates); preheat the oven to 170 ° C (350 ° F - similar to American ovens).
Remove the neck and offal from the turkey and set aside for gravy. Wipe the turkey dry with paper towels and brush inside and out with salt and pepper. Stuff the interior with onions, carrots, celery, sage and thyme sprigs. Tie your legs together using culinary string. Place the turkey on a wire rack in a large baking tray and place the wings underneath.
Melt butter over low heat in a small saucepan; stir in paprika, chopped sage and thyme. Allow the paprika oil to cool slightly, then coat the whole turkey with it. Place in the oven and bake for 1 hours. At this time, prepare a classic gravy.
After an hour from the start of baking the turkey, pour the juice over it. Continue baking, juicing every 30 minutes, until the skin is golden brown and a thermometer inserted into the thigh reads 75 ° C (165 ° F), about 2 more hours.
Put the turkey on a cutting board and leave to rest for 30 min. before cutting; let the juice stand out for gravy.
On the subject: Coconut Milk Pumpkin Soup: Thanksgiving Recipe
Classic gravy
Prepare a strong broth: melt 2 tablespoons. l. (30 g) butter in a large saucepan over medium heat. Lay the turkey neck and offal; fry, turning, until the meat is browned, about 5 minutes. Add onions, carrots, celery, thyme and bay leaves; mix everything. Pour in the wine and bring to a boil, scraping off any burns from the bottom of the pan. Cook for 2-3 minutes, until the liquid is halved. Pour in broth, reduce heat to low and simmer for about 1 hour. Strain through a fine sieve into a large measuring cup; Save the pan. You should get 7 tbsp. strong broth, if it comes out less, add more plain broth.
Melt the remaining 8 tbsp over medium heat. l. butter in a previously used saucepan. Add flour and whisk until smooth and bubbly (about 2 minutes). Gradually stir in 7 tbsp. broth; Bring to a low boil and cook, stirring occasionally, for about 10 minutes, until the gravy thickens. Set aside until the turkey is cooked.
Drain the juice released during baking in the fat separator and wait until the fat rises. Get rid of fat. Add skim juice to the gravy; salt, pepper. Preheat before serving.